Shopify Inbox is the resident Live Chat option for Shopify merchants.
It's an easy, inexpensive, and fairly straight-forward one-click application for you to enable live chat on your eCommerce store and start tapping into the power of conversations to start building relationships with your potential or existing customers.
It's a no-brainer, really.
Use eCommerce Live Chat and you can turn the power of casual conversations into sustained eCommerce sales and conversions.
It's only human. It shows that you care. It lets your casual browsers and random visitors turn into lifelong customers.
If you do it right.
Here are some live chat statistics, just in case you were rolling your eyes while reading this:
Customer support, meanwhile, is already a money-maker if you look close enough.
How you use eCommerce live chat directly affects user experience, customer perceptions, cart abandonment, and conversion rates.
There are several features and tools you'll need to use the right live chat software for your business.
This post is all about Shopify Inbox — a free Live Chat option for Shopify.
If you want to go pro, I wrote about 16+ live chat tools you could use. Further, there's also this comprehensive post on some of the best live chat software options for eCommerce businesses by Ryan Baum at Gorgias.
What is Shopify Inbox?
Shopify Inbox is Shopify's built-in live chat for eCommerce tool you could use, straight from your Shopify Admin panel.
You have Facebook Messenger. You have tools like Gorgias. So, why another live chat tool?
Shopify wants to make it simple, easy, and free for you to use Live chat for eCommerce. When you are just starting out, you can avoid having to pay for full-fledged customer support tools and software.
Instead of depending on any of the third-party tools (and there are many customer service and support related tools which also have live chat as a feature), you could launch live chat for eCommerce brands right away by using Shopify Inbox.
Say hello to your visitors, manage conversations, create automations to save time, focus on chats that have the potential to convert, and more.
How Does Shopify Inbox Or Shopify Live Chat Work?
You can add Shopify Inbox for free by heading over to your admin area, customize your online store chat widget (the colors, the styles), and launch.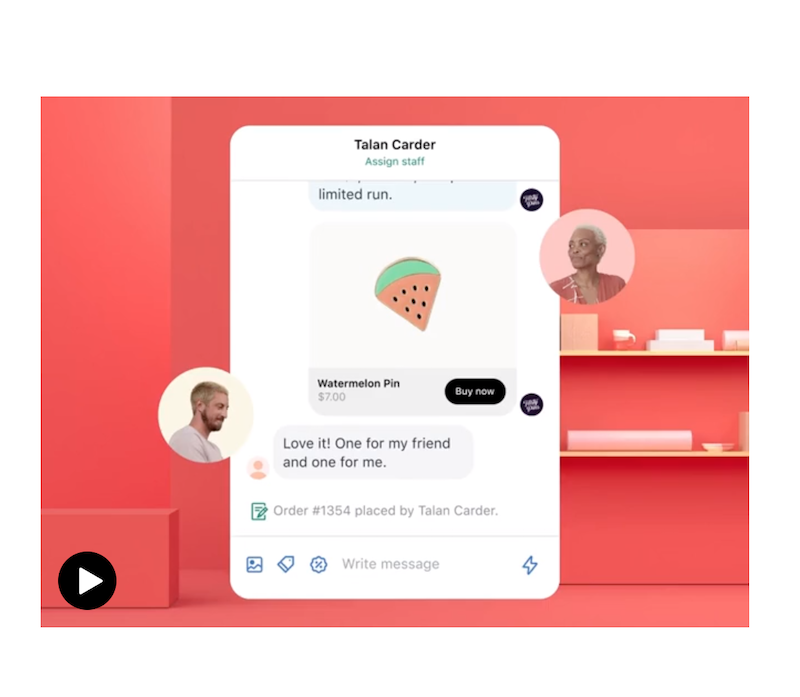 Once your live chat widget goes live, all you have to do is to talk to your existing or potential customers, eCommerce blog readers, or casual visitors to your eCommerce store.
You can manage conversations on the web or by using the mobile app.
Turn Conversations to Checkout
Use the Live chat tool to answer questions your customers might have, handle objections, and provide more information for potential customers to help them make informed decisions with regards to their purchases.
More than 70% of Shopify Inbox conversations are with customers who are already making a purchase decision.
Shopify Inbox also provides you with insights such as the products customers already have on their shopping carts (or those that they added) while you are talking to them on live chat.
Or, you could instantly push or share discount codes — right there in the chat box — to close the sale. Turn one-time cautious shopper into a lifetime evangelist.
If you identify conversations that are likely to lead to a sale, classify messages using automatic message classification feature.
Shopify Inbox = Quick Self-Service
When you use Shopify Inbox, you don't ask silly questions. What's your name? Where are you from? Your questions are about what product again, I am sorry?
You just don't do this anymore.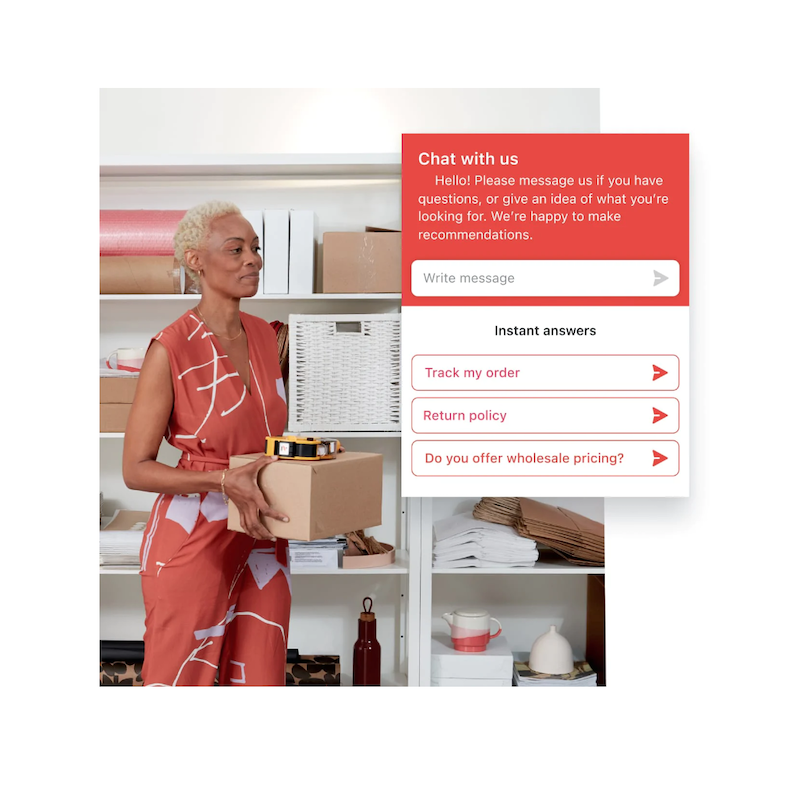 Allow your customers smart ways to "do their own thing". Let them track their shipping, lead them to frequently asked questions, track their orders, read policies or terms and conditions — all on their own.
Save time with instant answers (much like FAQ, but way faster and more customized). Provide quick replies and use saved responses. Shopify Inbox also allows you to send automated order or status updates from inside the Shopify Inbox chat box.
If you have to manage a much larger business and need more features, you could go with more comprehensive customer support and live chat tools.
Socially Connected, But Not Drifting
Chat with customers where they are. Instead of treating each social media network as a distinct (and unconnected) channel, treat it all as one. Shopify Inbox integrates with Facebook, Instagram, and the Shop App.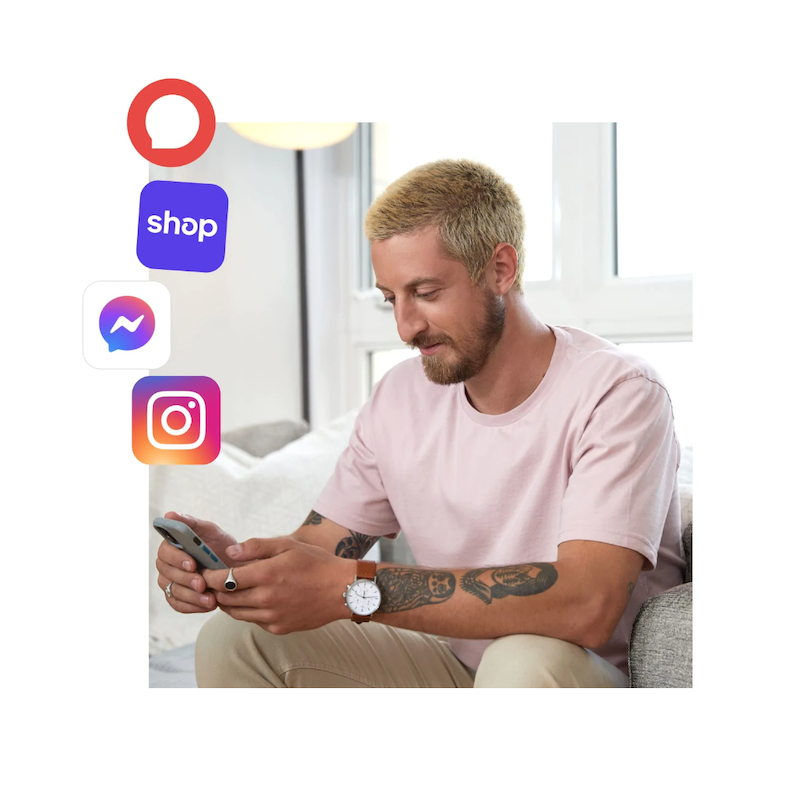 Shopify Email, Social Networks (each of the ones you are active on), online store chat — all of it rolls into one: The Shopify Inbox.
Nurture relationships with Shopify Email
Naturally, Shopify Inbox connects natively with Shopify Email — Shopify's own email marketing tool (available for you to use from within Shopify admin). Send out email automation workflows such as welcome emails, thank you emails, or automated notifications to let them know when you are back online to help them.
If your potential customers already asked questions and left an email address for you to reach out at, collect information at the start of the chat and continue conversations over email directly (without even leaving Shopify Inbox).
Do you use Shopify Inbox? Or do you use any other live chat + customer support tools?
Tell me all about it on Twitter, LinkedIn, or my LinkedIn Brand page.