Learning how to use Shopify Email to grow your eCommerce brand is like a free ticket to the most precious real estate there is: The Inbox.
There are more than 4+ billion email users, 310 billion emails (sent and received) — this is bigger, more critical, and absolutely precious for Internet users (with a loyalty that beats none).
Reaching those Inboxes is a delicate exercise — trying not to piss people off while achieving your goals as an eCommerce brand (whether you sell products or services).

If you use Shopify (or if you are thinking of getting started with Shopify), the good news is that Shopify Email is a free app (built by Shopify) that allows you to take advantage of the sheer power of email marketing right away (no extra software or other SaaS products needed).

What is Shopify Email? What's the Big Deal?
Shopify Email is a free app by Shopify (and there are several other Shopify Apps that you should seriously consider using for your eCommerce store) that helps you send out email marketing campaigns.
Shopify Email works seamlessly with your Shopify Store (direct, once you connect Shopify Email with Shopify Store). Shopify email also provides you with:
A dead simple interface which makes it really easy to deploy email marketing
Makes fully-branded email marketing templates (complete with branding elements of your eCommerce store — logo and colors are instantly pulled in (from your eCommerce store) and email message templates are automatically created.
Email templates for one-off broadcast messages, showcasing new products, and many others are instantly available.
Send email campaigns to all subscribers/customers. Or send carefully crafted, personalized, and relevant email campaigns to certain segments. For instance, send email only to customers who never purchased more than $100 or customers who abandoned their carts, and so on.
Measure results instantly from campaign results dashboard, orders, sales, and more.
This lets you start sending email campaigns right away and puts you on a warpath to bring in eCommerce revenue, build your sales pipeline, and inch towards profitability.
Watch this video to take an inside view on Shopify Email
Why Use Email Marketing For eCommerce? [Shopify Email Or Otherwise]
If you don't want to use Shopify Email, you can use Drip, ConvertKit, Klaviyo, MailChimp, and many others.

The point is that you should use it.
Why, you ask?
No, I won't bore you with the "Email Marketing Gets you 3400% for every dollar spent" spiel.
Email marketing is the primary channel for businesses looking to grow, according to a Campaign Monitor Survey — taking into account retail, marketing, technology, healthcare, real-estate, and nonprofits industries).
As far as eCommerce goes, use email marketing for:
Acquiring new customers through lead generation elements on your store (pop ups, for instance)
Retain customers by keeping them nurtured, leading with exclusive content (which inspires them, teaches them, or has them glued to your brand). What's not to love?
Increase the lifetime value of customers by building smart email marketing campaigns with the objective to encourage customers to spend more, to check out new products, and to have them join loyalty programs.
Increase the average order size of transactions
With Shopify Email, you get down to doing what you ought to do to start acquiring new customers, retaining old customers, boosting order value, building your loyal fanbase, and more.
How to Use Shopify Email
Shopify Email is built into Shopify. Search for the app, connect it, use it.
Here's exactly how you set out to achieve eCommerce marketing goals for your Shopify Store:

Connect Shopify Email With Shopify Store
Shopify Email is a purpose-built app (by Shopify). Yet, you'd have to first connect the app to Shopify stores (just like you'd connect any app to Shopify). Go into your Shopify Admin, on the left side panel, look for "marketing", and you'll see prompts to "create email campaigns" or "Create email".
Click on "Create Email" and Shopify will prompt you to connect Shopify Email with your store.
Design Revenue-generating Emails: Faster than Reading This
Shopify Email automatically pulls in your branding elements — logos, brand colors, fonts, the contact address, and social media buttons (with links) — into the email templates it'd display after you fire up the app.
Select a relevant template you'd like to use. You'd be presented with the Shopify Email designer or editor (right side panel of your screen) and this helps you drag-and-drop and build.
Faster than it takes for you to read this paragraph.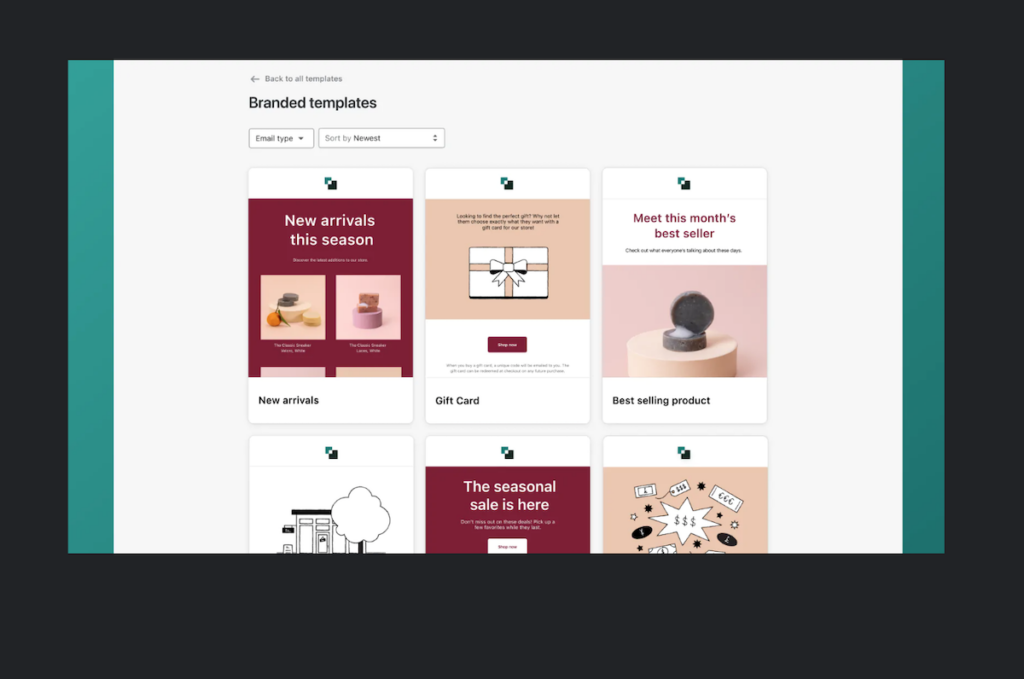 According to the type of campaign you'd like to run (more on that below) such as product collections, sales campaigns, restock broadcast campaigns, regular newsletters, event-based templates (such as holidays or events), choose appropriate templates.
Customize these templates in a way that helps you win with email marketing: Headlines, copy (or text beneath the headlines or alongside products), reconfigure or decide which products to show within the email (if you are showcasing products), change button copy, etc.
Shopify Email + Email Marketing Automations: Gold is Here
More than 47% of businesses swear by email marketing automation, according to VentureBeat.
More than 67% of businesses know that email automation helps improve targeting of their messages, and allows for precise segmentation of your audiences.
Email marketing automation allows you to automate several types of email marketing campaigns without you losing sleep over it.
With email marketing automations, you can send:
Welcome email messages (as soon as customers sign up, purchase something, and more).
Transactional emails are automated, giving you lots of time to do what matters.
Send out scheduled promotional emails
Boost revenue with upselling or cross-selling email campaigns
Connect With Shopify Flow and use email for housekeeping, order updates, inventory updates, shipping updates, and more.

…and we didn't even get started. Not even scratched the surface.
Unleash the super power that email automations give eCommerce brands.
Select conditions, triggers, segments, actions, and workflows to fine-tune and optimize exactly what kind of email marketing automation sequences you use (and when) for your eCommerce business.
Email Segmentation Is Mandatory [Your opinion Ain't Required]

Not everyone is your customer.
Not all your customers are equal.
Each of your customers has different motivation backing up their purchases, and their individual history with you.

As such, carpet bombing "everyone" with your email campaigns won't work. You need a strategic, personalized, and segmented email campaign sequence (to separate segments of customers).

The shopping cart abandonment email message is not the same as the sales email you'd send out to everyone on the eve of Christmas.
Further, don't ever start your email messages with [Dear Customer]. That's a dead beat, non-personalized email.

In this day and age, it's criminal to do that.

Shopify allows segmenting your audiences (based on products they buy, pages they view, product categories they browse, whether or not they purchased from you, and more) — using groups and tags.
Use segments, groups, and tags to send out email campaigns (automated or not).

Rolling your eyes already?
Here are some email segmentation stats for you:
Aleast 58% of revenue is generated thanks to segmented and personalzied emails. [Source: ActiveTrail]
More than 62% marketers believe that personalization is an effective technique. [Source: ActiveTrail ]
Further, segmented email campaigns boost open rates by 40%.[ Source: SuperOffice]
Revenue, email deliverability, leads, and sales — all of these increase by at least 24%. [Source: Campaign Monitor ]
Use segmentation to create appropriate segments based on total revenue, customer status, $$$ purchased, product categories purchased, Products purchased, and more.
With Shopify Email and Shopify Flow, deep segmentation is possible by matching customer behavior with store inventory, product purchase history, and so on.
Since your Shopify eCommerce store is directly connected to Shopify Email and Shopify Flow, target your existing customer lists and/or create new customer segments automatically.
Shopify Email Campaign Analytics [Data-Driven eCommerce Emails]
Without email marketing analytics, you'd grope in the dark. You don't have to.
Send and track email marketing campaigns, know the revenue-generating potential of each email marketing campaign type, stay on top of delivery rates, and purchases (thanks to your email campaigns).
With Shopify Email analytics, you'll also be able to see the "Add to cart" rate, total growth of revenue over time, product-specific details of "add to cart" and abandonment rate, and more.
Of course, you own your data when it comes to Shopify Email marketing analytics.
Stay sharp with data on leads, sales, conversions, order values, transactions, upsells, and more.
Read:

Learn more about some fantastic apps, Built by Shopify (available for free)
Read my Shopify Review
Learn how Nike Does World-class B2C (or DTC) Email Marketing Campaigns
Change the way you bring in revenue for your eCommerce business (applies whether you sell products or services on Shopify).
Get Shopify Email now.