Looking for successful webinar examples? Want to get a sneak peek into how some successful brands use webinars to further their growth, build their respective communities, and grow sales and revenue?
Webinars are money makers.
Yet, only 41% of marketers ever used webinars for what they can do (thanks to Jessica Swanda who wrote for Wyzowl, for the webinar statistics). If only 41% of "marketers" use webinars, can you imagine just how low the statistic is for content creators, bloggers, and business owners?

Answer: almost zero.
Here's a look at how brands with with webinars (and a list of successful webinar examples — your eat-all-you-want buffet): 
Podia Webinars
Podia is my absolute favourite online course creator platform — it's just the perfect way (as good as Payhip and maybe even better) to sell online courses, digital downloads, digital products, launch a community, and more.
Podia webinars are focused on content creators. Self-made entrepreneurs who set out on their own individual journeys to create content to teach, to nurture communities, and to grow their business that way.
Much like a virtual conference (but not on that scale), Podia webinars involve bringing in other content creators who've been successful with the platform. Several successful folks such as Becky Mollencamp (of The Gutsy Boss), Joseph D'Amico of Flex Lessons, Emily Mills of Sketchnote Academy, and others.
Demio Webinars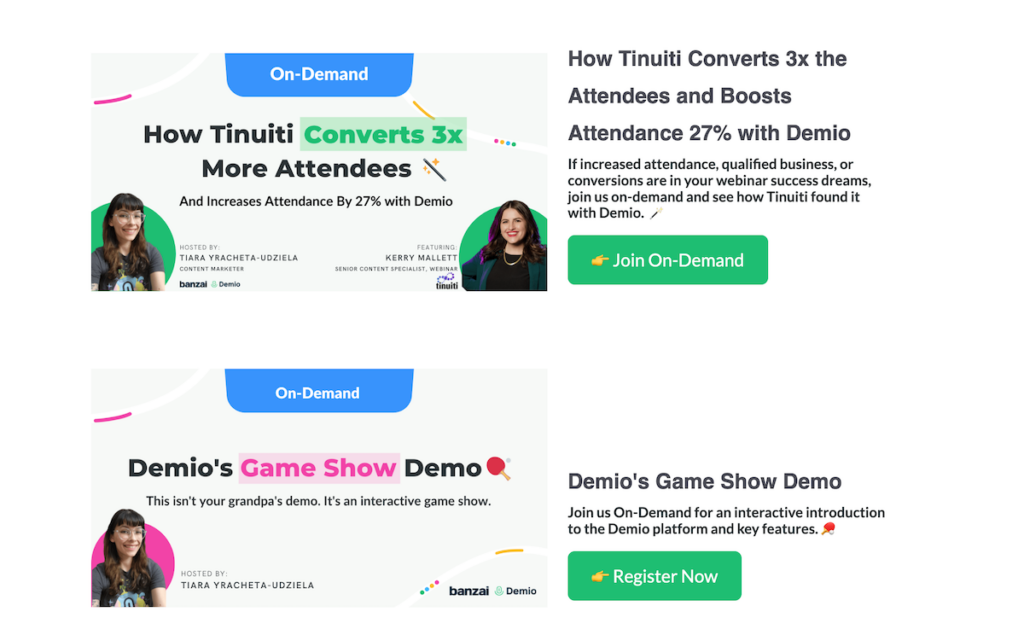 Demio is a fantastic, easy-to-use, and truly feature-loaded webinar platform.
It goes without saying (and is expected) that they practice what they preach.
The Demio team does webinars mainly for the sole purpose of product demos and specific webinars that show potential customers just how Demio works, features such as automated webinars, how to create landing pages for webinars, and how to use email marketing for successful webinars, and more.
Demio itself does webinars that are ready to access (on-demand) or you can sign up for Demio Webinars and learn how to do webinars like a pro. 
Demio Webinars feature other businesses that use Demio for webinars, community members who found success and ROI with Webinars, how brands generate leads with Webinars, and more.
Demio also has one of those awesome Podcasts that you ought to listen to and it's called SaaS breakthroughs — featuring several brands, businesses, entrepreneurs, and marketers using webinars (and other forms of related content) to succeed and take their respective businesses to the next level.
Demio also repurposes webinars into valuable insights in the form of blog posts featuring their guests (including the brands these guests are associated with) — along with podcast transcripts, show notes, and other nuggets of information.
Note: Want to automatically create podcast transcripts, edit videos with text, and repurpose webinars (or videos or live streams) into other forms of content? 
Use Descript 
Semrush Webinars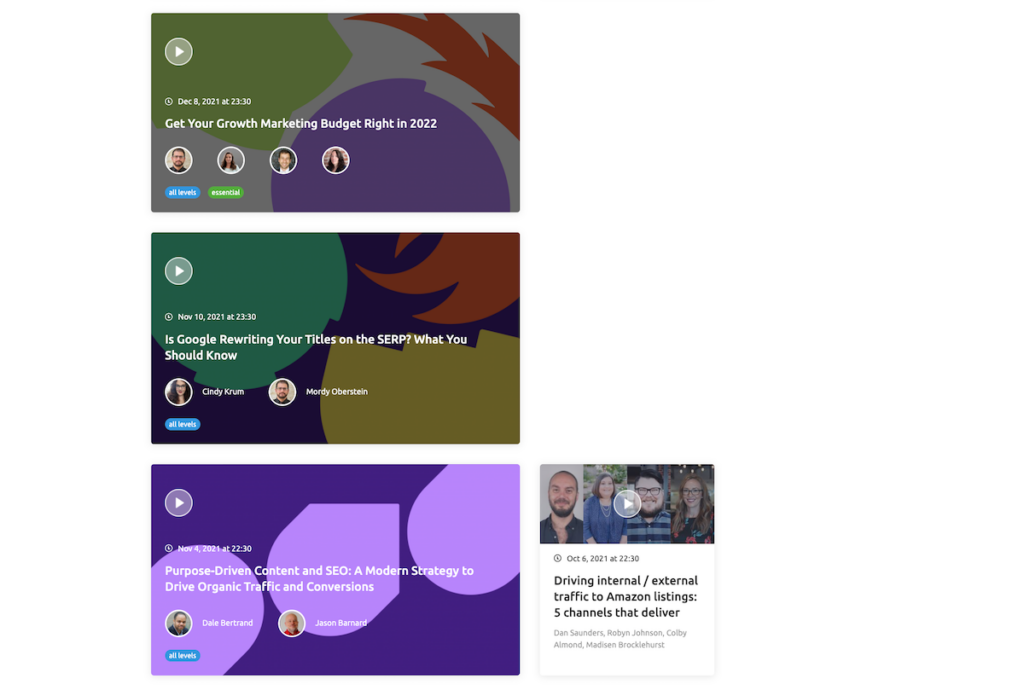 For a long time now, Semrush has been advocating, teaching, inspiring, and training business owners and marketers on content marketing and search engine optimization. It's been an inspiring journey for semrush and has a huge impact on the marketing community worldwide.
Semrush tool itself is much like a swiss-army knife — with many features and tools within. For instance, Semrush has a free social media poster (post and schedule updates with Semrush). You also get comprehensive social media kits.
This is on top of agency toolkits, SEM toolkits, actual tools for content marketing and search optimization, and more.
Semrush Webinars are one of the ways the Semrush team — along with partners and even users — provides value.
With a firm focus on consistency, sharing valuable content, and building a community, Semrush webinars (available to watch even if you don't use Semrush) is a classic case study on webinars that are used for long-term success.
Read:
Leadpages Webinars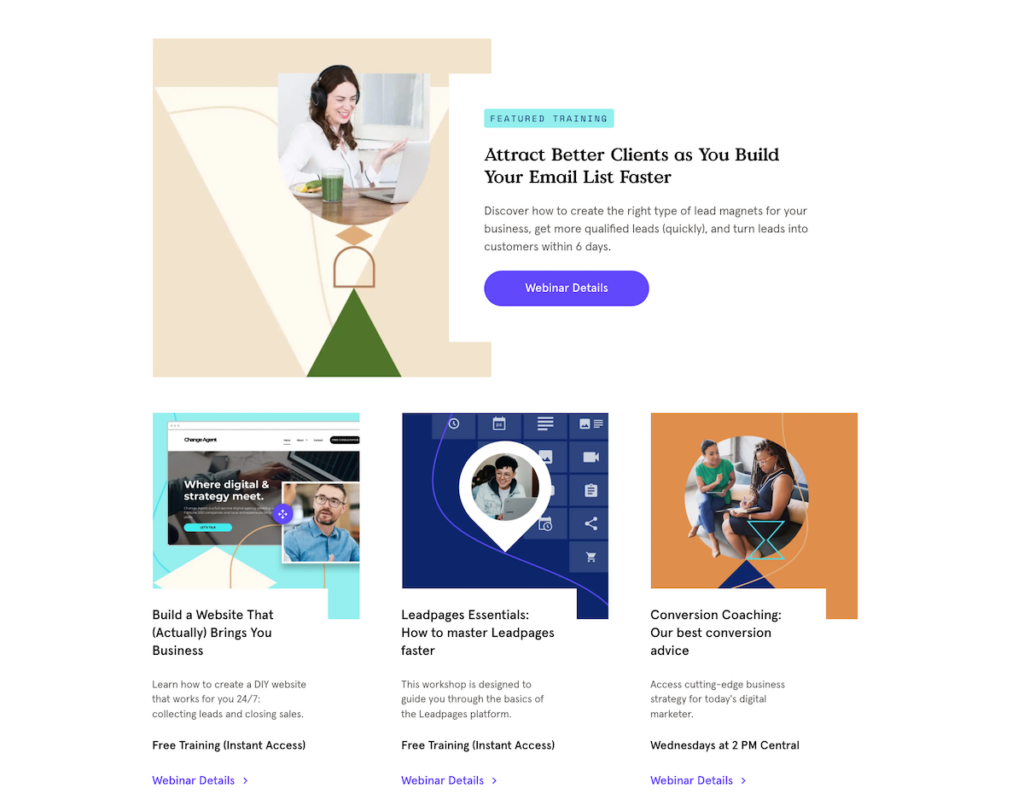 Leadpages — with its popular landing page builder and the relatively new LeadPages website builder — does many good things as far as digital marketing strategies go.
Some of the "recurring" and successful Leadpages webinars are as follows:
Converted Series: From Post to Profit (also featuring several modules of in-depth training on Facebook, Instagram, and Pinterest)
LeadPages Conversion Coaching (Membership Only): Expert advice on landing pages, websites, and conversions (with live Q & A)
Instapage Webinars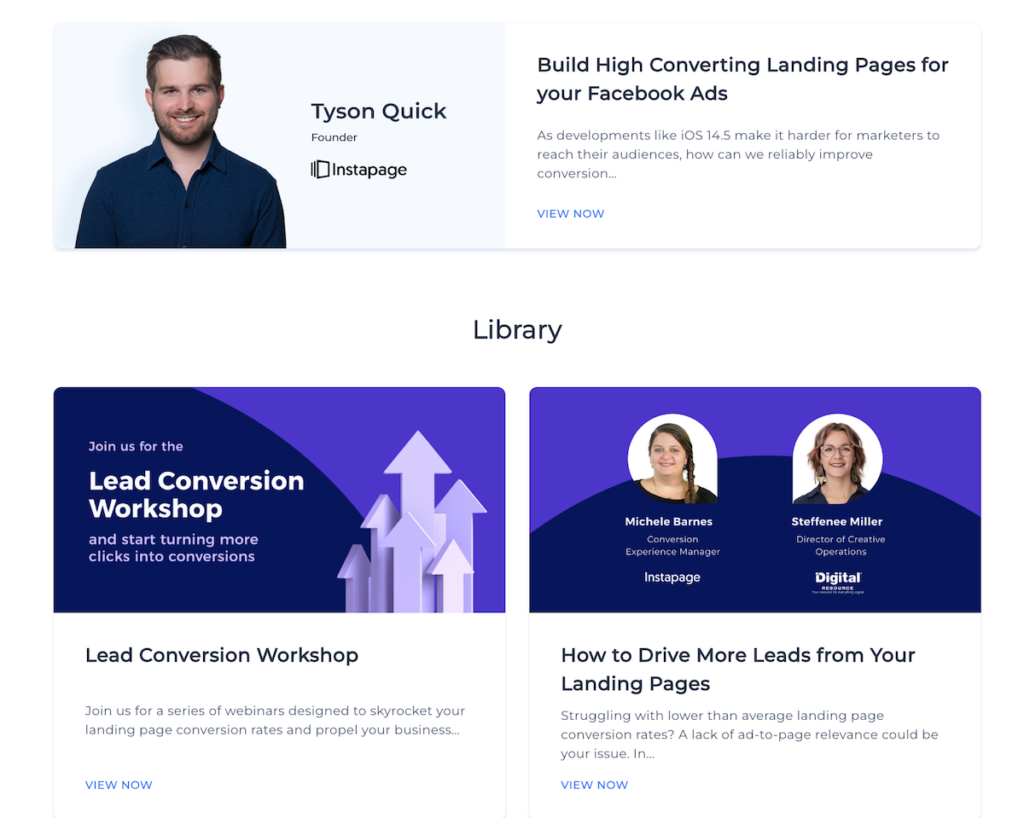 Instapage is a slick, quick-to-launch, and capable landing page software. Instapage's focus is on making brands and businesses win with their landing pages and marketing strategy (including marketing workflows and sales funnels).
Instapage does webinars regularly and several of them are tight and specific with respect to the audiences they cater to, the topics they dwell on, and more.
Instapage webinars aren't always about themselves either. Notice some product-centric webinars (using Instapage) such as:
How to Crush Landing Page Conversion Rate Benchmarks in 2022 . By Camila Franco, SVP product, Instapage
Maximize Your Google Ads Spend With High Converting Landing Pages. By Tyson Quic, founder of Instapage
… or even guests from well-known platforms webinars collaborating with the Instapage team to create webinars (win-win-win, anyone?) such as:
How to Triple Your Landing Page Conversions. By Nate Ryan, VP of Marketing HyreCar
Marketo's Top 4 Demand Generation Secrets. By Michael Madden, Director, Commercial Demand Generation
Chatbots: The Next Big Thing in Lead Generation. By Justin Lee, Head of Growth, Chatbots and Messaging.
See and steal precious information from the entire archive of Instapage Webinars now
If webinars were good enough, collaborative webinars are even better.
Webflow Webinars [Webflow TV]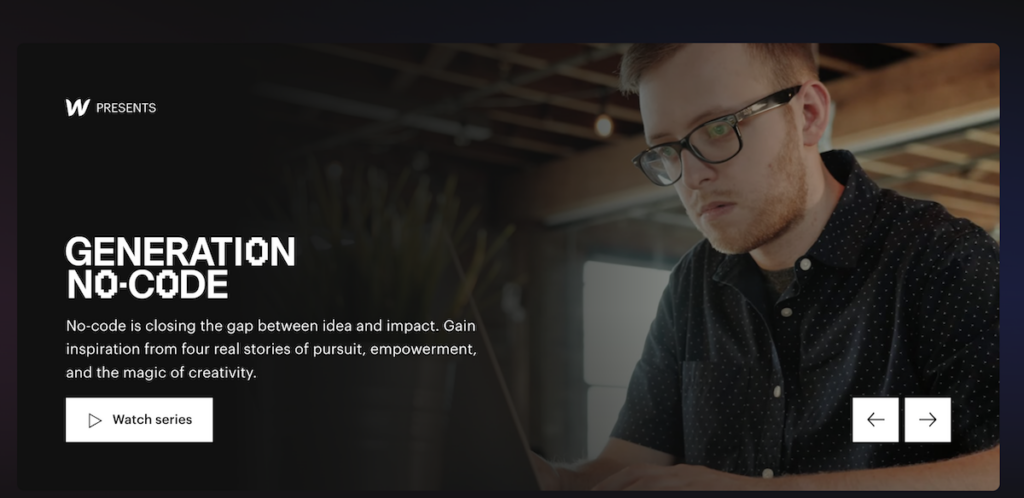 Webflow is a popular nocode website building tool (and I've written extensively about it, including some featured Webflow templates, SaaS templates, and more).
Webflow doesn't actually do webinars like webinars are done. It's more of a "community" thing with very high production value. Webflow boasts of some the best community-building and inspiration-inducing successful webinar examples ever.
Webflow TV — and Webflow also does Webflow events — has everything you need to learn more about nocode design and development, freelancing, growing your business, and building your community.
Webflow also features webinars and shows from featured Webflow community members, Webflow users, and companies that use Webflow for design or marketing.
Featuring shows on branding, career development, Webflow stories, Webflow updates, and more, it's a vibrant and value-packed series of web shows, webinars, live streams, and community-powered events that makes it all worth your time.
Gorgias Webinars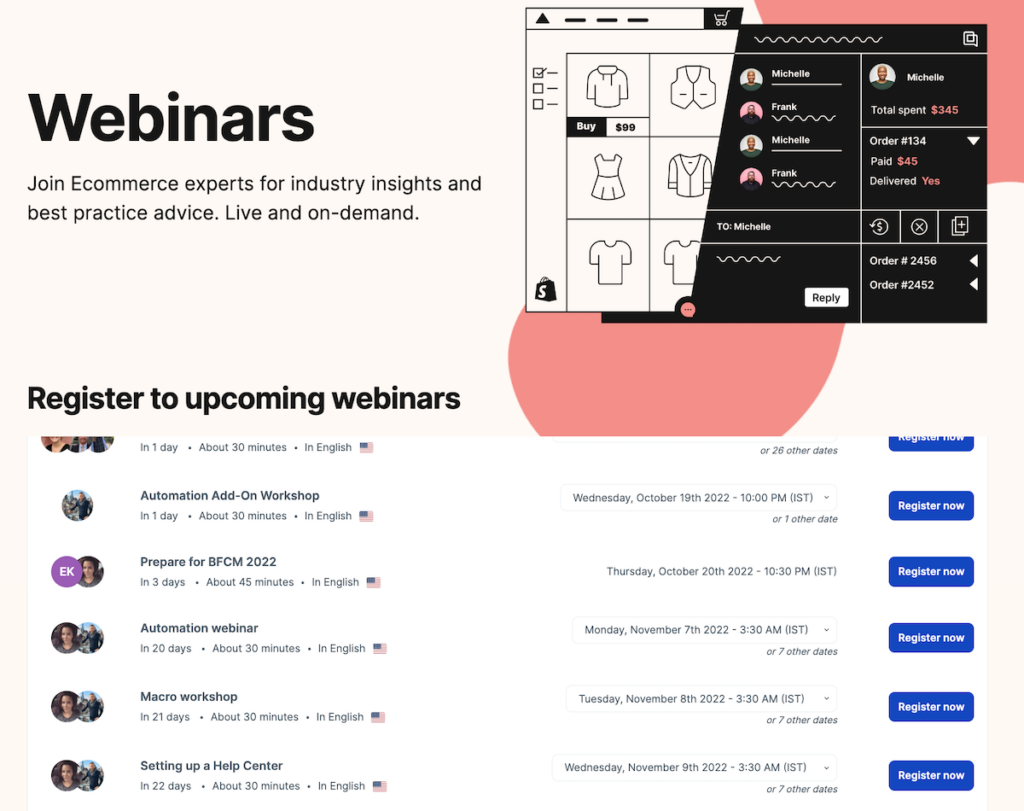 Gorgias is a terrific eCommerce support platform that helps you bring in real and sustainable revenue from your eCommerce customer support (also plays well with Shopify).
Gorgias does a lot of things right when it comes to content marketing — with a huge armory of content assets that will collectively do just one thing: provide you with eCommerce tools, eCommerce insights, and tips on how to make customer support for eCommerce a profitable function of your business.
Of all of the content assets produced by the team, Gorgias Webinars are packed with valuable insights on eCommerce and eCommerce-specific customer support.
Gorgias features various webinars (including several recurring webinar series), one-off webinars, and on-demand webinars that you should take advantage of. For instance, they have some successful webinar examples as follows:
Recurring eCommerce Automation Webinar
Recurring eCommerce Chat Webinar series
Recurring Webinar series
…and so on.
See the Gorgias Webinar Page for many other recurring webinar examples.
Nutshell Webinars
Nutshell is a leading provider of CRM, sales, and marketing solutions for businesses. While the company has been around for 15+ years, it's a small team that strives to experiment, try new things, and step up their efforts more often than not.

Most things work for Nutshell, except "Try everything and see what works".

Nutshell needed a much more calculated effort to bring in new customers, convert leads better, and scale up their marketing.
Using Demio as their webinar platform, Nutshell started doing the following:
"Scale the fun" by making their webinars interesting, keeping their attendees interested, and by using webinar platforms that are just less "techy".
Schedule webinars easily while building customized landing pages (by using Demio itself).
Use timely reminder emails to ensure attendance for webinars and even boost their webinar attendance rates.
Launch automated webinars since it's just too much work (time, and resources) for a small group of marketers to host webinars continuously. Nutshell sometimes uses pre-recorded videos for webinars while monitoring live chat, questions, and engagements in real time.
Nutshell also uses webinars to train and onboard new users — in addition to collecting feedback, engaging with prospects real time, and more.
Nutshell achieved a whopping 5X conversion rate (from 12% earlier to 60% now), especially with Nutshell's weekly lunch-and-learn sessions.
Read the entire Nutshell Case Study now

Read More:
Anatomy of Successful Webinars
How to launch Webinars on a Budget
Drift Webinars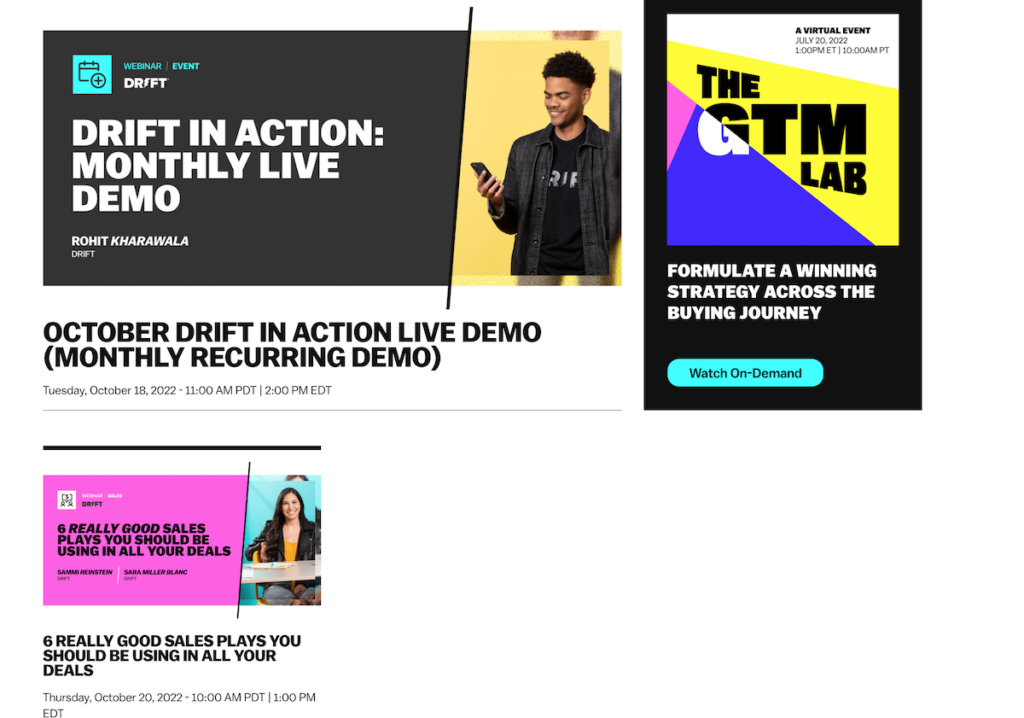 Drift started off as a simple live chat tool and is also featured as not only one of the best video prospecting tools you have access to but is also a very effective way to grow your business.
Drift has podcasts, events, a community, and a healthy blog (just the way I like it, and the way it must be done).
Drift Webinars focus on client case studies, product demos, insights on sales, tips on prospecting, and how to grow your business.
While it's a B2B business, there's not a hint of boredom in all of the content they produce [Read: be interesting, even if you are trying to create content for a boring business]
After checking out these successful webinar examples, I know the question(s) you are asking: How effective are webinars? What happens during webinars?
How many people click through your Webinar CTA (Call to Action)? When is the best time to do a webinar — what time, which day of the week? What lessons can you pick from these successful webinar examples?
I implore you to access this Webinar Benchmark Report to find out
What are your favourite webinars? Tell me all about them by connecting with my page on LinkedIn or connect with me on LinkedIn personal profile or Tweet at me on Twitter