Before you even dig deeper into Tapfiliate Review, it's important that you know why you even reading this in the first place.
Affiliate marketing management is something that most businesses (big and small) don't even think about. Everyone struggles with other marketing channels such as SEO, Social Media, Google Ads, Facebook Ads, Quora Ads, and LinkedIn Ads. They all work (as long as you have proper sales funnels and a strategy to go about it). Meanwhile, did you ever stop to think as to how it'd turn out to be for your business if:
You can recruit highly-motivated, knowledgable, passionate, and self-driven marketers (who also happen to be affiliates or partners).
Get an army of motivated marketers to promote your product or service for you.
Have an opportunity to witness exploding growth while you pay only for results?
Earlier, I wrote about Affiliate Marketing and why it's crucial for your business (it's literally a money-making channel that most businesses simply miss). I've listed out some out Affiliate marketing statistics to convince you as to why you should consider Affiliate marketing.
If you are in the mood to explore, check out these 10 best affiliate marketing software.
Maybe you are at a point where you have hit a wall with growing your business. You have tried all the direct approaches to acquire customers like SEO, video, and paid ads and running into stagnation when acquiring new, long-standing customers.
Is there a remedy for this problem? Yes – it's called expanding your options with indirect channels by launching an affiliate program. When you launch an affiliate program, you work with partners (called affiliates) who promote your product or service to their wider audience in exchange for a commission when they buy your product or service.
But how do you set up one, find affiliates, and track partner activity? Easy, you use Tapfiliate.
What is Tapfiliate? Why This Tapfiliate Review?
Tapfiliate is a SaaS (Software-as-a-service) platform that allows you to launch and manage an affiliate program for your business. What does it do?
Tracks all the referred customers from your affiliate partners
Gives a dashboard to your partners as well as access to promotional materials you provide them to use.
Reporting on the performance of their affiliate links as well as a commission (for both you and your partner).
Tapfililiate pricing is affordable and small business friendly.
And much, much more.
How to get started with Tapfiliate?
First, you sign up for a plan which comes with a free 14-day trial; plenty of time to get your affiliate program integrated into your business. They have three plans – A Starter, Pro, and Enterprise Plan: check them out here: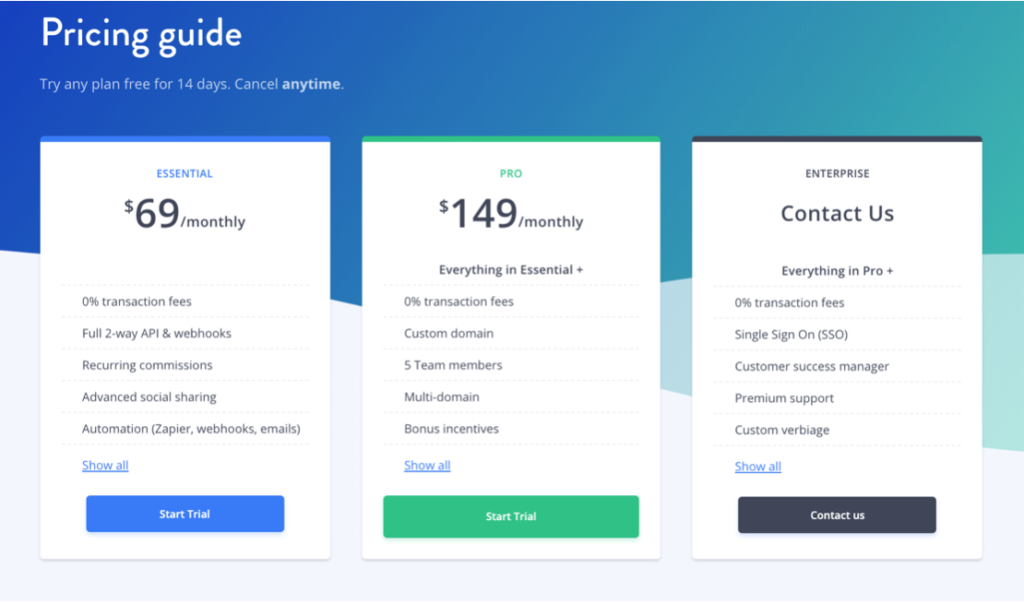 Once you sign up for a plan, you'll want to figure out the best way to integrate your current system for processing customers with Tapfiliate. Don't worry though! They have a lot of integrations; many that you might be using in your business now like Shopify, BigCommerce, Stripe, and Paypal, just to name a few.
They have easy, follow-along instructions on integrating with payment processor/billing system here.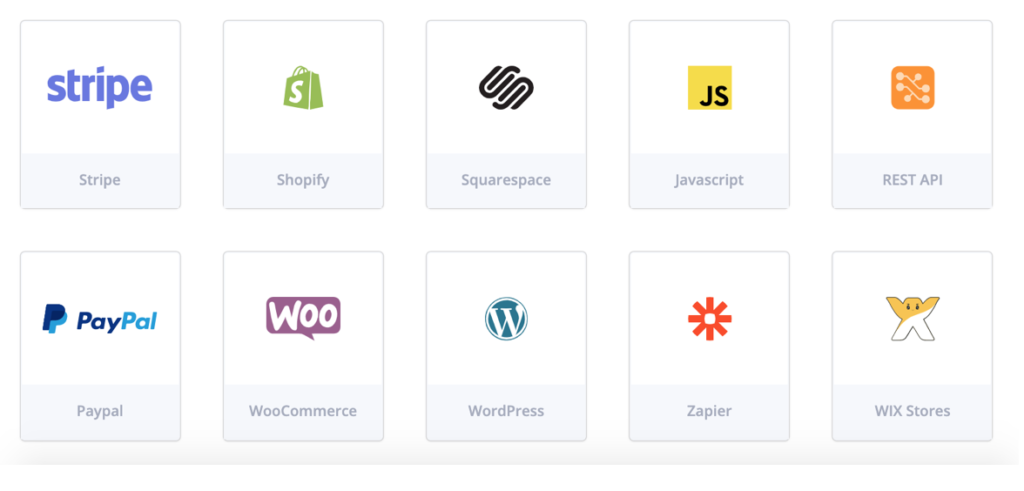 Launch Affiliate Programs with Tapfiliate
Once you have integrated with Tapfiliate, it is now time to get your affiliate program set up before you invite affiliates into "promote". As briefly mentioned earlier – there is a login for you (the merchant) but also one for your affiliates so they can see their activity, upcoming commissions and the like.
For launching your program we will be getting all of this completed through your merchant dashboard.
The first thing you will want to do is, go to your settings and fill out all the information like your branding, URLs, onboarding emails to your affiliates and so on: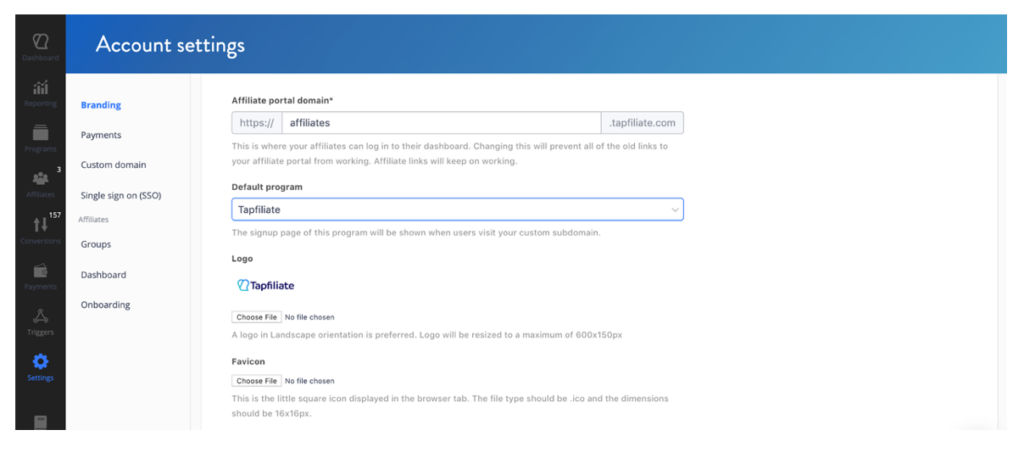 Next, you will want to create your first affiliate program. The great thing about Tapfiliate (unlike other providers) is: you can create as many partner programs under one account at no additional cost! You will click on over the Programs tab and set that up.
Here, is where you will set the commission structure for the program, any rules, select settings for your affiliate signup page and more: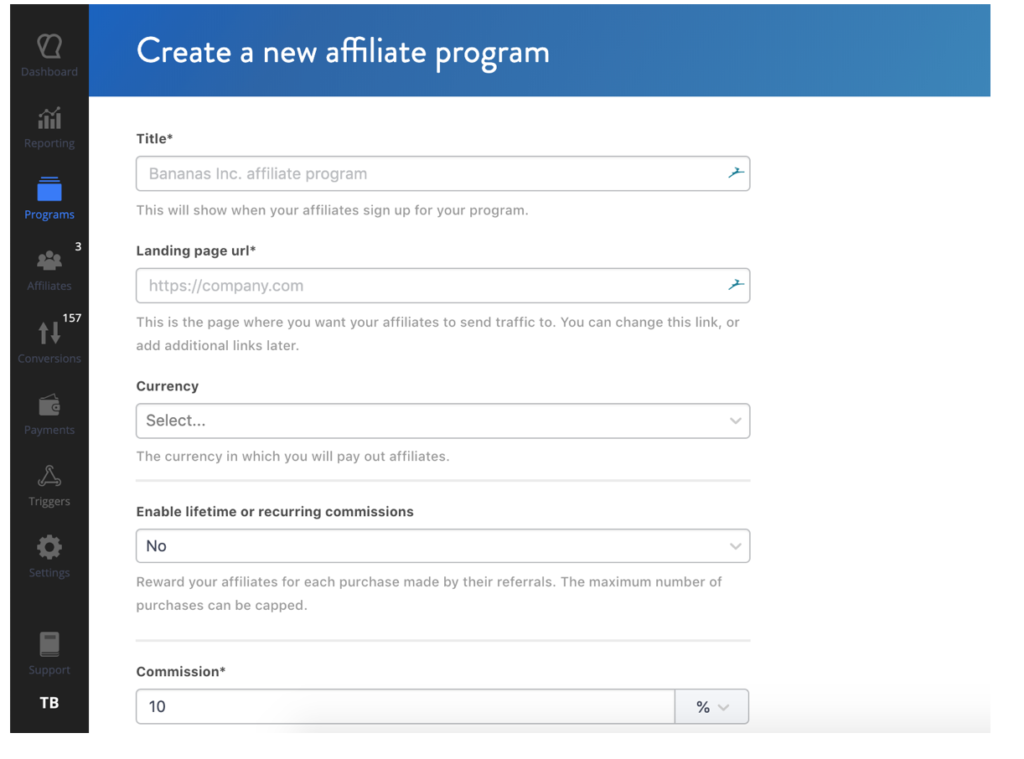 Invite Affiliates To Your Affiliate Program
So if you create an affiliate program, will affiliates magically come? Not without a little notification so they know you now have a program to both a) introduce new customers to your product or service and b) get paid a commission for doing so.
Affiliate management (starting with the task of recruiting affiliates is a full-time job by itself).
Luckily, with Tapfiliate they have a Beta feature called – Affiliate Recruitment which allows you to pull in your biggest fans (Aka your customers) and let them know you have an affiliate program. They currently support this option if you use Stripe, Woocommerce, or MoonClerk: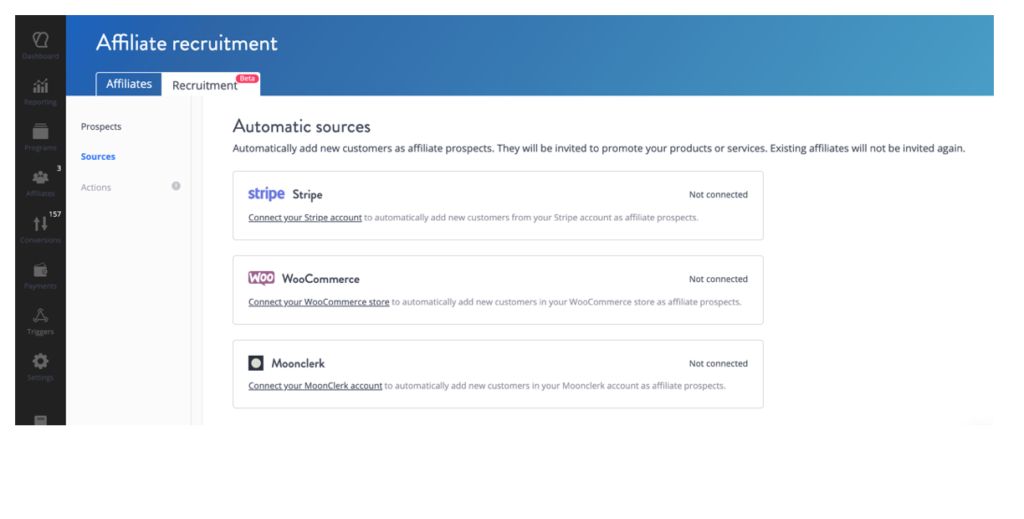 Manage Affiliate Programs & Monitor Success
Once you have launched your affiliate program and start seeing referral activity, you will want to use the reporting function to see where people are clicking your partner's affiliate links and how many customers are being referred through your affiliate partners (note: each of your partners can see only their activity in their partner dashboard).
Tapfiliate provides advanced reporting; you can see affiliate link clicks, ad impressions, conversions, and commissions by partner, by geography and many more factors, over time. Just use their Reporting tab to follow along: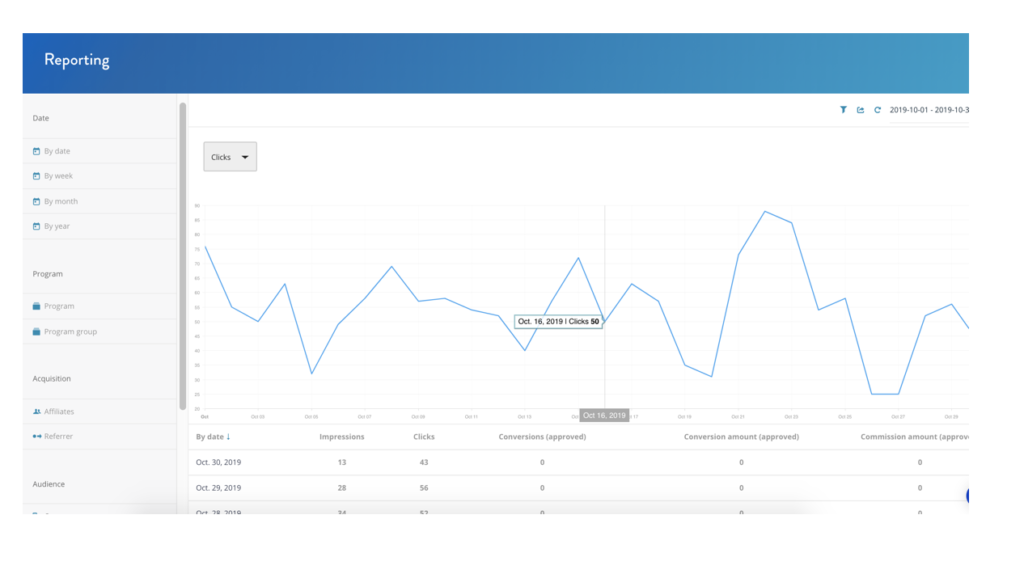 Tapfiliate is an affiliate tracking software. However, it doesn't lower the volume of work that goes into successful affiliate management and this Tapfiliate review is limited by scope to help you with those.
Suffice it to say that you have your work cut out for you.
You'd still have to attract top influencers, create shareable social media posts along with creating banners, media links, downloadable media assets, email swipe copy, create relevant blog posts, and so much more.
While the nitty-gritty of affiliate management is beyond the purview of this Tapfiliate Review, Tapfiliate allows you to:
Create rich media content (social posts, email copy, blog post, web banners), and more. This helps affiliates take off without mucking around with creatives as much.
Help affiliates go viral or do promotions with shareable links, coupons, and more.
Tapfiliate also gives you a white-labeled, or affiliate-branded pages & dashboard for promotions (affiliates can also have their own brand on their links).
Deploy your affiliate program in about 6 different supported languages.
Help affiliates with custom sign-up fields and payout methods.
Create affiliate tiers (performance-based), set performance bonuses, and enable custom commission structures for your partners.
Conclusion of Tapfiliate Review: Your Thoughts?
Tapfiliate is one of the best, low-cost ways for starting an affiliate program or affiliate management software that can help aid your growth from affiliate marketing. If done correctly, it can pay for itself from the number of new customers your partners will bring.
Meanwhile, unlike other affiliate management programs, the Tapfiliate pricing is affordable and doesn't cost you an arm and a leg.
Also – since it is easy to integrate with many of the top commerce platforms – it makes it a no-brainer if your a SaaS company or e-commerce company looking for an easy way to start an affiliate program fast.
Get Started today with a free 14-day trial and launch your affiliate program this month!