If you are looking for the best WordPress themes, it'd be a miserable search. Almost every WordPress theme looks good. How do you decide (from a marketing standpoint? I'll make it easier for you.
The starting point (after validating ideas and thinking all that you think about pricing and strategy) is usually the website.
Most people will choose WordPress, and that's understandable. But even after making that decision, the pain won't end. You'd then have to look for a WordPress theme to represent your business.
I've seen it all. I've burnt my fingers. I purchased some good themes and plenty of bad ones. I was suffocated by my inability to make any changes to existing WordPress themes. Either that or I couldn't run fast enough from the problems that Shared Hosting providers cause.
Here are some of the best sources for WordPress themes. Do me a favor and look no further than this:
The official WordPress Directory
You can't start a list like this without the big brother accounted for, right? The official WordPress directory is the starting point on your hunt for the perfect WordPress theme for your business.
Now, remember that you get what you pay for. When you pay nothing, expect hassles and trouble. Or maybe a theme that's not even fully cooked yet. At a time when even paid themes don't stand a chance, free themes are to be picked with a pinch of salt.
However, if you are just starting out and if you are in no position to spend at all, picking up a free theme from the official WordPress directory is a no-brainer. You know? One of those critical decisions you'd just take quickly and get on with the show.
GeneratePress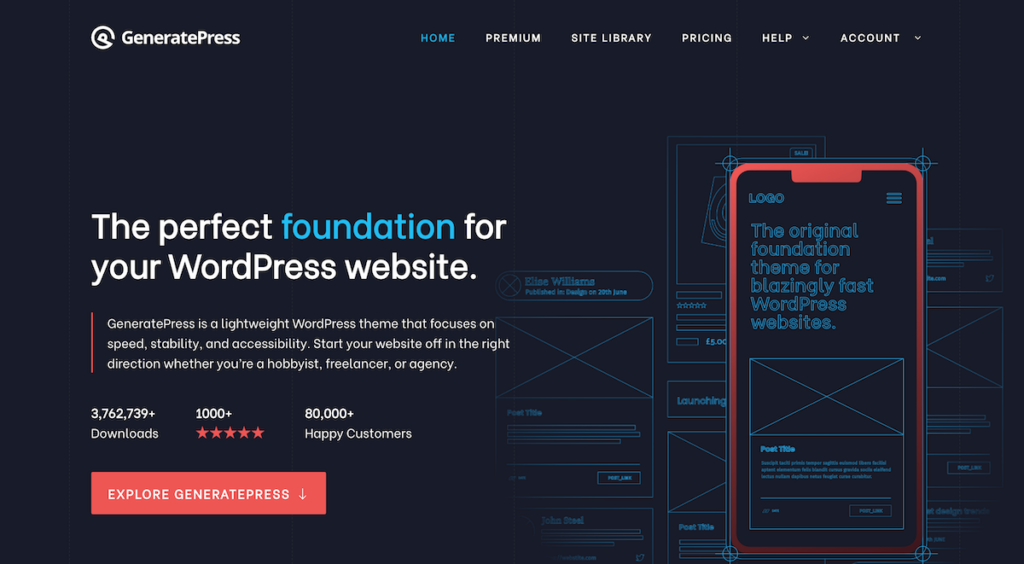 If you just have to pick a single, best WordPress theme without breaking the bank, it'd be this: GeneratePress.
GeneratePress is one of the most well-designed themes right now. It's fast, it's ridiculously amazing value for money (it's free). GeneratePress is lightweight, stable, built for accessibility, and comes without unnecessary WordPress theme Code Bloat.
GeneratePress Pro is optional — gives you more design, configuration, and layout options.
Studiopress Themes
When you want themes with Clean code, classy designs, ongoing support, and backed by some of the best in the Industry, it's the path of the Genesis that you should be taking. The Genesis framework is a marvel by itself. But even if you weren't using Genesis, you could still be using some of those WordPress themes from Studiopress.
Owned By WPEngine now, Studiopress has evolved from a few themes to Genesis to a Mix of Genesis Framework + themes to an all-hosting solution for WordPress today.
If you look at Studiopress today, you don't need to break your head on the wall anymore. Pick a plan and run with it – you get hosting from Wpengine, themes from Studiopress, and their support for a single payment.
Elegant Themes
There was a time when Elegant Themes was known for its themes (it still does, just so I am clear). Today, however, Elegant themes is known more for it's Divi Builder, the default Divi theme, and their other popular theme called Extra.
Now, there's a reason I am pointing out at Elegant Themes today since it does something really nice for the modern-day WordPress user. Instead of forcing you to pick from one of the themes already created for you (and thereby limiting your freedom to design your website the way you want to), the Divi Builder lets you build absolutely anything you want with WordPress.
You can pick their Divi theme as a base and build anything you want out of it. Or you can pick absolutely any theme you like and make any kind of changes to your pages "after" you purchase and install your theme.
The Divi builder is fast, code bloat free, and an absolute delight to use.This website, by the way, has also been designed with the Divi Builder.
Thrive Themes
You see? It's like this. I don't care about how nice a theme looks or about website design at all. What I care about is how well the website converts.
I really love Thrive for the fact that they have a little bit of marketing mojo in them. Unlike many theme development shops, WordPress marketplaces, and others, the folks at Thrive themes focus a lot on the marketing side of WordPress also.
With some innovative products on the anvil, they are really doing what they really should be doing when they sell WordPress themes and related products.
You get conversion-focused products from Thrive. Period. This point alone is enough for me to consider taking Thrive seriously from a marketing standpoint.
If you about my rah rah, it's easy to see why: Thrive has WordPress themes, Thrive leads, Thrive Architect, clever little widgets, headline optimizer, a way for you to build landing pages, a scarcity marketing tool called Thrive Ultimatum, a testimonial tool called Thrive Ovation, and also the Thrive quiz-builder (want to grow leads quickly, anyone?).
Press 75
What do I say? Most WordPress themes you'd end up buying are crap. They are overloaded with features and code. I still don't understand why they don't let go of those sliders (I absolutely loathe them).
When I look at Press 75 themes, I can't help but think of it as SquareSpace style web design for WordPress. Each of the themes available at Press75 have been designed with Minimalism in mind. There's no code overdose. There are no bells and whistles. Every theme is simple, elegant, and functional.
If you are a minimalist or just like plain and simple design, you'll love what Press 75 has on offer.
Pipdig
I am usually aware of most theme marketplaces but this one came out of the woods, and I didn't know it existed. When I checked it out, I was impressed. Pipdig came highly recommended by the folks at Converkit and they have the best WordPress themes purpose-built for bloggers.
If you are a small business looking to make blogging a serious endeavor or if you are a blogger, look no further than Pipdig. Stunning themes, great support, modest pricing, and they also have blogger and blogspot templates to boot (but I wouldn't go there).
Am I missing any of the obvious sources here? The good-looking, or really fast, or really clean WordPress theme sources, anyone??