The reason why you want to spend time building sales funnels is because you need to guide your visitors towards the steps you want them to take.
You won't last a day trying to manage your digital marketing efforts — organic or paid — without the help of the right set of tools to build the all-important sales funnels.
Marketers like to call any bunch of tools used as a marketing stack (and you can call it whatever you want). To succeed with your digital marketing efforts, you essentially need funnels (of all kinds), and you'd need the right set of funnel building tools too.
The funnel is simple and usually looks like this (and there's no need to complicate this one, no matter what reasons you manage to bring up).
You could choose to go the dumb route for each step of that funnel or you can choose to be smart.
Every step of that funnel will need precision, attention to detail, hard work, and continuous optimization — you are never going to land on the perfect funnel and you are never going to get it right the first time around.
To make your life easier, hire professional agencies (not the dumbass ones that just put up ads or write one blog post for you per month).
Either that or you do it yourself with the help of some really smart tools purpose-built to make your sales funnels or lead funnels work.
Even professional agencies use these tools when they set about working with you. I know because I use some of them too.
Here are some of the best tools for building sales funnels and landing pages:
As for email marketing automation, here are some of those awesome digital marketing tools you'd need for building sales funnels:
MailChimp, Campaign Monitor or Drip:
You can ignore email marketing all want but you won't get anywhere. Social media won't beat it. Your paid advertising won't beat it. Email marketing is the real money-maker. Period.
The first — and the most important – part of your funnel is your email service provider that allows you to send broadcasts, RSS-to-email campaigns, regular campaigns, and automation sequences.
Pick your options from the many available, but I only have three suggestions Campaign Monitor, MailChimp, and Drip.
If you have a simple business, an e-commerce store, or a brand that relies on pretty looking email templates (not everyone needs these, like I don't), there's no better way to start building your list and grow your subscriber base than by using MailChimp.
Nothing comes close to MailChimp for the sheer ease of use, the price (free for 2000 subscribers), and the popularity (meaning which almost everything else you might use works with MailChimp).
Running an eCommerce store? Need to work with lots of visuals? Do you need great customer support? Then look no further than Campaign Monitor (also comes with visual workflows and marketing automation).
If you have anything slightly more complicated that won't fit into singular lists, you'll need Drip.
Drip uses tags and advanced workflows to make this marketing automation work, so it's a worthy option.
I make about 6-7 different offers depending on which page of my website you are on or which blog post you read. I have to use a combination of Sumo and Drip to make that work. Also, it's hard for me to use lists (like MailChimp) and it's easier to manage tags (like we do in Drip).
Note:
Another worthy mention should go to Convertkit. They are incredibly good and there's not much difference between Convertkit and Drip (except maybe a slight difference in pricing).
GrowthFunnel
Emails are critical, and I suggest you stop reading and get your email marketing in order. But it'd be nice if you had more smart tools working in different ways to get you the results you seek.
Growthfunnel goes a little beyond what you normally see on websites today. Instead of just relying on pop-ups and letting visitors just take one single action (and get done with it), GrowthFunnel lets you do more.
In essence, this is what GrowthFunnel helps you achieve:
Drift
Livechat tools — most of them at least (with the exception of LiveChat and GoSquared — suck big time.
The chat windows pop-up alright but there's usually no one on the other end to man these windows of opportunity.
Drift tries to change that by being a conversion-driven sales and marketing platform.
One of the ways you can start a conversation is as below:
As your visitors start talking, you are getting close to build relationships and not the rows on your transaction spreadsheets. Hopefully, this leads to better conversions.
Here's how the folks at Drift put it:
"With Drift on your website, any conversation can be a conversion. Instead of traditional marketing and sales platforms that rely on forms and follow-ups, Drift connects your business with the best leads in real-time, like a virtual assistant for your website."
Start using drift if you don't just want to say "Hi" and then "not appear", maybe Drift can help?
Convertflow
Convertflow works a wee bit different compared to others on this list.
Using smart-looking conversational pop-ups, you could have people take action, respond to your questions, and make visitors "flow-through" well-defined sequences.
Here's an example:
The reason why this works beautifully is that there's much less resistance to clicking on one of those blue buttons. If I clicked on "growing my agency", I'd go to a page on Convertflow website that specifically addresses my concerns (as an agency).
Convertflow also helps with "On-site retargeting" by personalizing content and offers based on details of returning visitors, subscribers, or customers.
Proof
You've heard about social proof and you already know that we humans tend to trust, believe, and go with what 100,000 others think, do, or say. Normally, you have limited options such as testimonials and slapping 16 logos on your landing page or website to let the world know just how popular your product or service is.
Proof gives you a smart, non-intrusive, and an easy way to improve your conversions and results with a tiny little pop up that slides up from below your website to let your visitors know how many people are viewing the page you are viewing, little details who just happened to purchase a paid account or signed up for a free trial.
Here's how it looks like: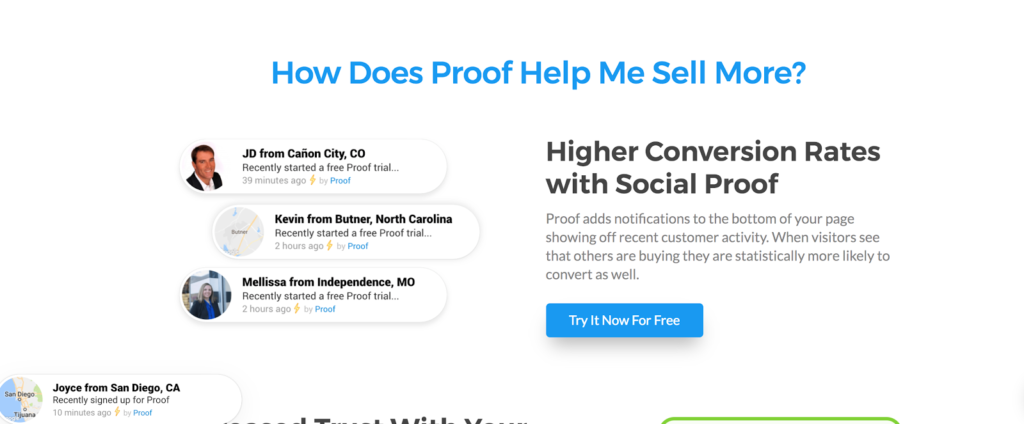 Which of these conversion-centric tools to help build muscle for your funnels do you use and why?