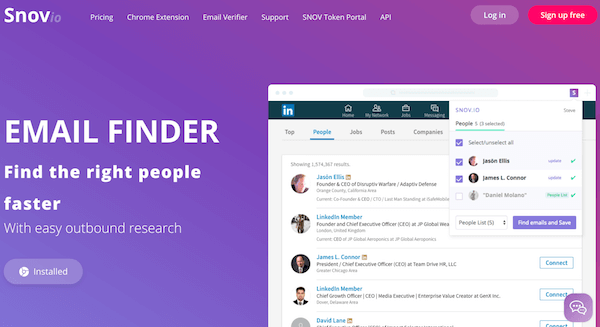 The average person (online dwelling) receives about 95 emails per day, according to The Radicati Group.
If you are a marketer, agency, freelancer, outreach specialist, or any other business, the chances are that you will count on email outreach to start building relationships, to hustle, to pitch, to exchange ideas, to create a strong network of people.
In a time and age when building relationships is hard itself, you don't want to sit there and spend hours and hours just "looking for emails".
For one, there the helpful anatomy of an outreach email, and then there's the actual work involved in cold email outreach.
In the world of social selling for sales reps, Marketers, Startup founders, Recruiters and anyone who needs email outreach or outbound research, there's a need for a simple, effective, and a fast way to search for emails to reach out to the right people, and to build relationships fast.

Ultimate Resource KitNow, let's get into the backbreaking job of actually finding a list of prospects and then sending out emails to them.
I've checked, used, and worked with plenty of tools that help you find anyone's email, email outreach tools, and software that tries to makes cold email outreach easier. I've done that for years — for blogger outreach, to find guest blogging opportunities, and when we try to just build lists of prospects for clients.
Never before has there been a tool that's really easy to use. My benchmark for figuring out if an email finding tool is easy to use or not (with the exception of fancy stuff like API and blockchain tokens) is when my virtual assistants or any of our Interns can get started and work with the tool in one hour flat.
Say a big hi to Snov.io — a brand new tool that helps you:
Find emails of prospects or others you want to reach out to on LinkedIn
Use domain search and access to email addresses along with names and job positions from various domains. Use them to find contacts and get connected.
Explore & dig deep into company information database our program uncovers! With this, you'll contact just the right person in the right department.
Get an instant way to "verify" the emails you collect (what's the point if those emails don't work, right?)
Automate your lead prospecting, scraping emails off of social networks (like LinkedIn and Twitter), use pre-defined replies, setup triggers, and synchronize with your email marketing automation tools, CRM systems, and more.
Get better insights about what technologies or stacks your prospects use (such as if they use WordPress or other CMS, web frameworks, analytics tools, and more — much like builtwith.com)
Send out as many emails as you like as you build your outreach lists.
Heck, you can also build lists using Twitter
Note: Snov.io is so easy to use that my virtual assistant was able to get cracking with and use in 15 minutes (not one hour).
Now, let's dig in and I'll show you just how easy Snov.io is to use. We'll take a particular use case of trying to find CEOs of specific companies that I have a list of and automatically include these prospects in a list that I can use to send out outreach emails to later.
Create Account & Install the Chrome Extension
The first step to better use Snov.io is to install their Chrome extension (trust me, it's one of the most valuable extensions I ever added to my extensions list on Chrome).
Just head out to their Chrome extension page, click through and install the extension to your Chrome browser. Once you install the extension be sure to create an account and login (and stay that way).
Once you install the extension, this is how it'll look like:

Creating, building, & managing your Lists
Be it with your regular email marketing campaigns or for outreach campaigns with cold email.
It's all about "lists", isn't it?
On Snov.io, you'll obviously work with lists. Create a separate list for each project you work on to make it easier for you to sort and arrange your prospects (along with their emails and other information).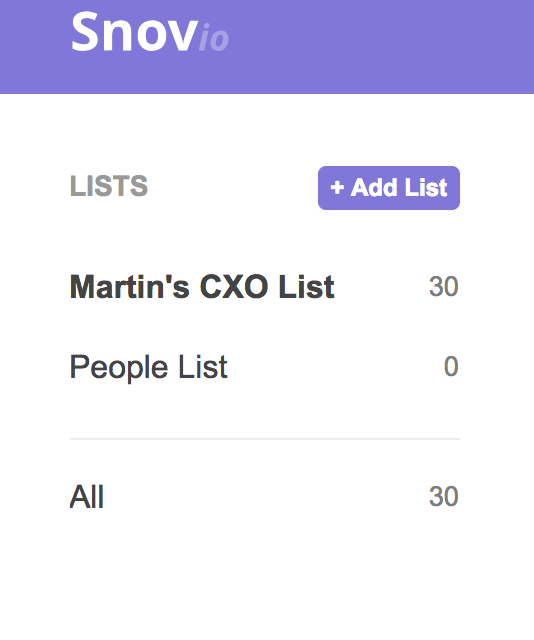 Building prospect email lists with Snov.io
Let's take an example of trying to find prospects and their respective emails off LinkedIn. Snov.io quickly helps grab your prospects' email addresses right off their LinkedIn profile.
The way the workflow for Snov.io is:
Deploy your search criteria on LinkedIn and find a list of prospects on Linkedin or visit a specific person's profile.
Click on Snov.io's Chrome extension
Snov.io will display names of people on the list that's showing on the page you are on. Or, it'll show you the name of that single person's profile page you are on now.
Select the name (checkbox), select a list, and click on "save selected". Then, click on "Go to List". A new tab opens with Snov.io showing you all the information about that person (or the specific people you choose from that list).
Send Campaigns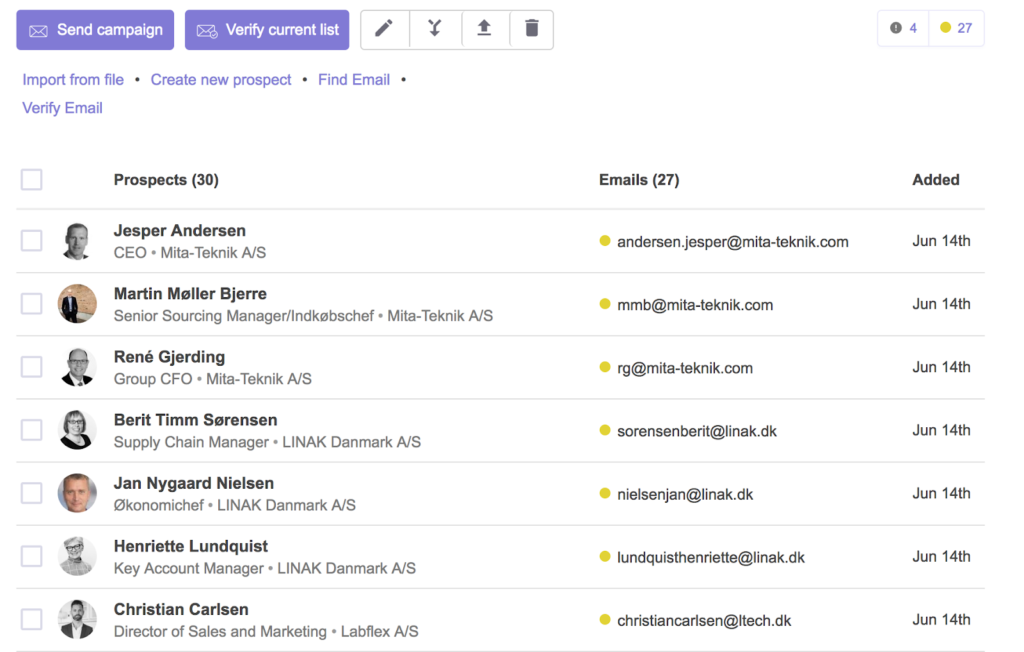 After you build your prospect lists after easily collecting emails by using names of people, company names, LinkedIn, or several other options that Snov.io gives you, what you'll end up with is lists.
Using "campaigns" tab on the top menu, start a campaign and send carefully crafted cold outreach emails that just kick ass.
Snov.io comes as a breather at a time when most email finding tools just die out and vanish or are scrappy and buggy.
Snov.io has a beautiful interface, loads super fast, is intuitive to use and is extremely efficient at what it does.
Give Snov.io a try and let me know what you think?