Did you ever try using Facebook messenger app ads? If you didn't, it's time you took notice.
If Facebook has 2+ billion active users, and Facebook Messenger platform alone has a whopping 1.2 billion users and counting.
Chances are that the next person you talk to, your next customer, your neighbor, my dog, and all of your friends are on Facebook using Facebook Messenger.
The chances that your next customers (and existing customers) are certainly on Facebook and using Facebook Messenger app. With your audience on the Facebook messenger app or on Facebook, there are zero chances of missing your updates, offers, or whatever you do (because it shows up right inside the same messaging platform they use to keep in touch with everyone else they know).
More than 20 million Facebook pages already use Facebook Messenger to engage, to chat, and to even sell, according to Craig Smith of Expandedramblings. If businesses are using Facebook messenger to communicate with "their" customers, you could just as well communicate with these businesses if you are in B2B. Facebook messenger app ads are a superpower to tap into this power of conversational marketing.
While there are some absolutely awesome livechat tools such as LiveChat and GoSquared's LiveChat feature, I insist on using Facebook messenger Chatbot as the primary livechat tool here at fetchprofits.
Even if you have no intent to advertise, The Facebook Messenger platform (and the Facebook messenger app ads you create) is well worth the trouble you should take.
Whether you advertise or not, it makes sense to first add the little chatbot for Facebook Messenger.
Start with an offer
By the time you read this, the Facebook advertising scene is already heating up. There are more advertisers now than there's space in the newsfeed or within the Facebook messaging app.
So, you need to work a little harder. You'll need an offer you can make with your Facebook messenger app ad.
Before you even think of doing Facebook messenger Advertising, you'll need to start with an offer.
Read this:
How to Warm Up Your Audience To Sell Better
7 Stunning Examples of Sales Funnels That Work
Also, you'd also need to think of this as a funnel — maybe a more personal one and not the usual automated sales funnels or lead funnels that we normally think about).
Read this:
Now, let's learn how to create your first Facebook messenger ads, when it's appropriate to use Facebook Messenger ads, and How to use use Facebook messenger advertising to get more leads (and hence sales):
Prepare to Chat
Here's something fundamentally different with Facebook messenger ads compared to regular Facebook ads: You'd need a way to "engage" at "scale".
If you are a one person business trying to do this, you'd have to earmark an hour or so per day just to reply to all those people who'll stark clicking through your ads. Yes, you'll have an automated message that goes out to them, but you'll still need to talk at some point.
That's why it makes more sense to connect these leads to your email marketing provider or at least use a tool like Chatfuel so that you have a way to nurture your new leads.
Gather your Assets
Depending on what kind of a Facebook messenger ad you'd be creating, you'll need to create images, use photos, or create videos to use with your Facebook messenger ad.
You'd need all your assets in one place, and you'd need them all ready to use with the Ads manager when you are about to create your campaign.
Choose your audience
With Facebook Messenger ads, you have two options:

The Click to messenger option is the option that lets you target absolutely anyone (as you'd define in your audiences while setting up the campaign) on Facebook, Instagram, and Facebook's audience network.
With the Click to Messenger option, you'll create both the ad and the ensuing message (a welcome message that shows up on your potential customers' messenger after they click on the ad).
The "Sponsored message" option here is more like a "paid broadcast" that you can send out to people who've already had conversations with your business (on Facebook Messenger).
Choosing Your Audiences & Other Settings
At this point, choosing and setting up your Facebook audiences are all the same as you'd choose for any other ad.
Choose if you want to target a specific audience (with location, demographics, interests, etc.)
Choose if you want to target Facebook Custom Audiences (you should have created custom audiences to be able to use this option)
You can exclude or include audiences
As with most other Facebook Ad types, you can pick your placements (automatic placements are recommended if you are just starting out), budget, and other settings.
Please note that the Facebook messenger ads are automatically optimized for "replies" — and not conversions, link clicks, or impressions.
Also read:
Starting With Facebook Advertising: A Sequential Checklist
Facebook Ad Campaign Setup: How to Do it Right
10 Facebook Ad Examples That Hit the Ball Out of the Park
Creating Your Facebook Messenger ad
You'll be presented with the usual options of picking your Facebook business page and an associated Instagram account (optional, but recommended if you have an Instagram account).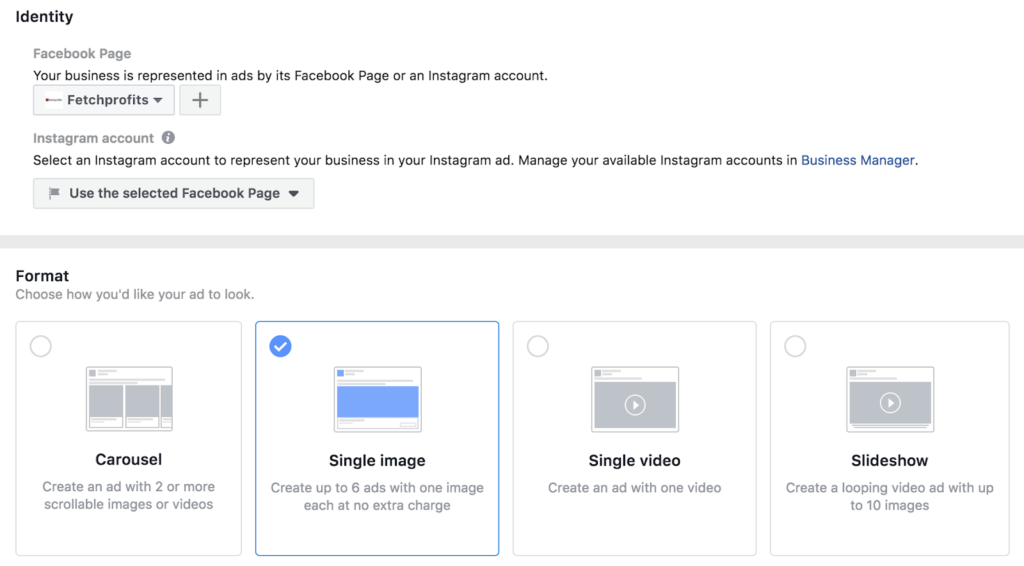 As you can notice, you still have options to use various ad formats for your Facebook Messenger ads such as Carousel, a single image, a single video, or a slideshow (you could just use multiple images to create a slideshow inside Facebook's ad manager itself).
For the purposes of this guide, I am just going to use a single image. Then, add your title, copy or text, and you are done.
When it's completed, this is how your ad might look like: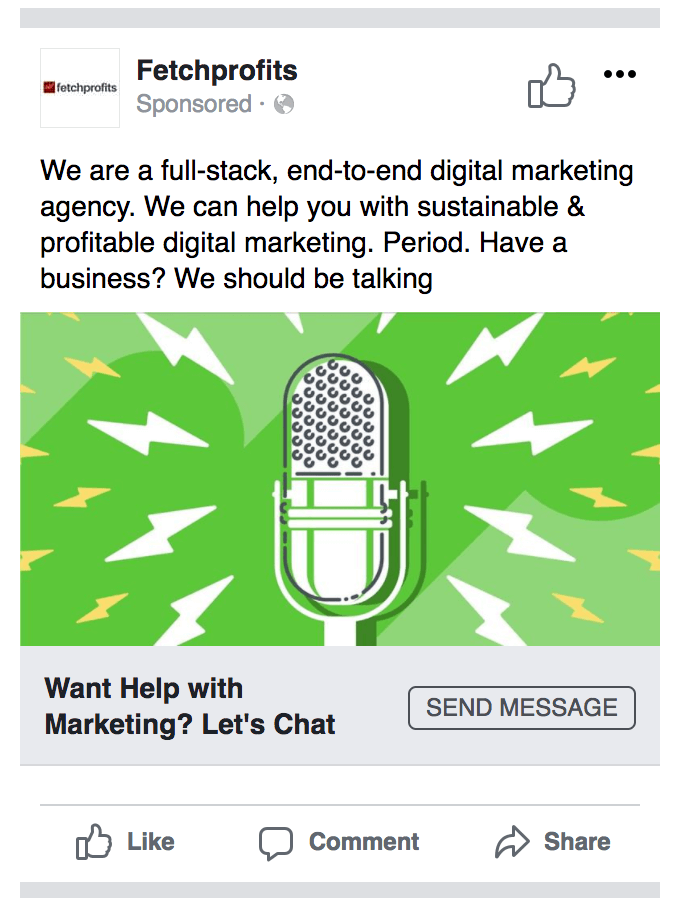 Connect Facebook Messenger Ads To Lead Nurturing funnels
Just because a few people off your targeted audience click through to "talk" or "chat", it doesn't mean a thing.
Chatting with potential customers is good, but it's no way to build a business just by chatting with 1345 people per day.
Also, you don't want Facebook to stay in complete control of all these leads you paid to get (Facebook is not yours. The Facebook messenger is not yours either).
You need a way to connect with Facebook Messenger ads to a CRM or an email service provider (Like Mailchimp or Drip) so that all your leads from your campaign stay in one central place for you to plan your lead nurturing, to trigger email autoresponders, etc.
All your leads will then be in your control (download a CSV file, if you must).
If you use Facebook's ads manager through Facebook's business manager, I don't see how all the potential customers you'll now start talking to can be integrated with a CRM of your choice.
Here are your options:
Using Buttons Within Facebook Messenger Ad Campaign Setup
When people click on Facebook messenger app ads, the ad opens up in their Facebook Messenger. The first thing they see then is your automatic response that you'll set in your campaign.
That's not enough. You need their email address (and Facebook won't give it to you).
The easiest way to "also" get their details is to have them click through and signup so that they get into your email marketing software and/or CRM. Just make sure you choose the "use buttons" option for your automatic message (instead of using "suggested replies"), as shown below: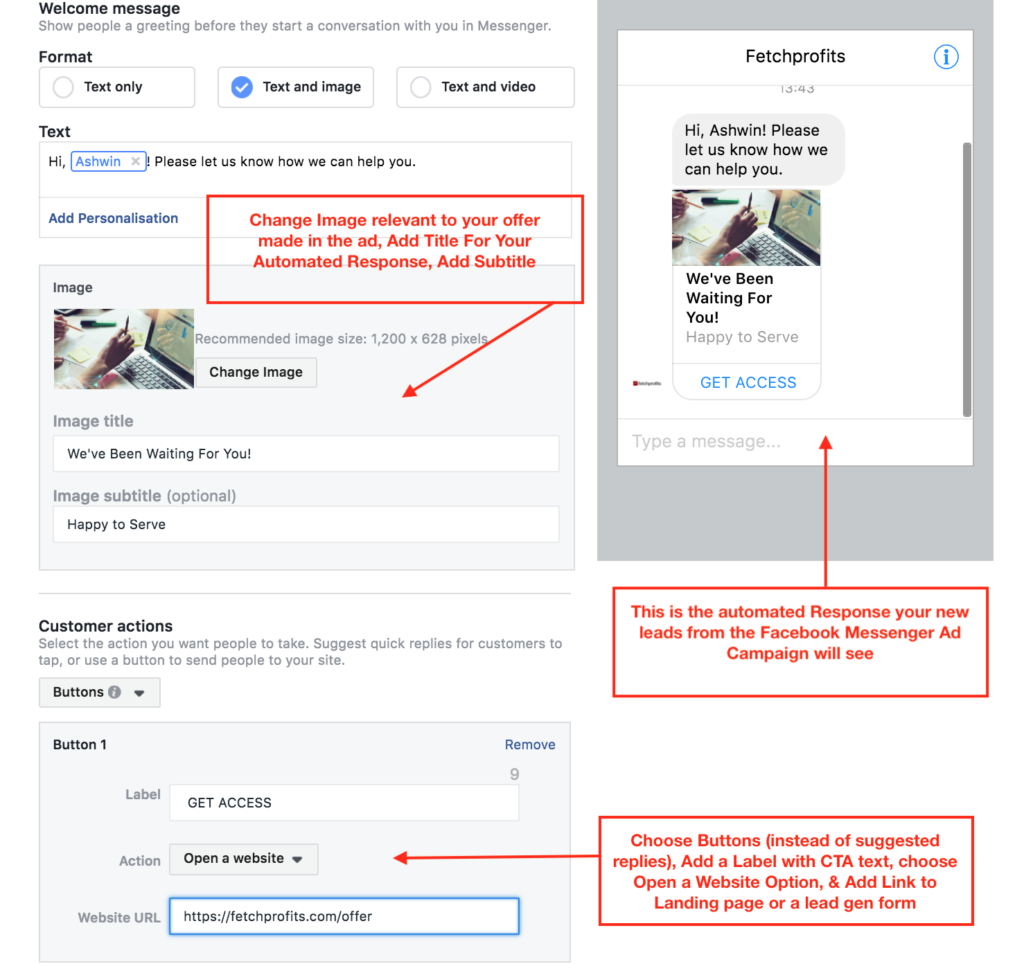 As you can imagine, this creates "more work" for your potential customers. They have to click through the button your automatic response message, head over to your landing page and signup "again".
In a way, it's good too. If they take the trouble, they are truly interested in what you are offering, eh?
Use Links to Special Forms
Use one of the forms or links to landing pages that you can create directly through your email marketing tool.
For instance, Drip allows you access to hosted forms, for instance.
If you use Mailchimp, you can also create landing pages (linked to your lists) and use them here.
If you use Drip, create a separate form for Your Facebook messenger campaign leads, choose the "hosted form" option (so you'll get a link), shorten that link and set it up to show within your automated message by using your "buttons" or "suggested replies" options (within the campaign setup options).
Use LeadsBridge For Connecting to any CRM or email provider
LeadsBridge is an awesome tool that can help you connect your CRM with your Facebook Lead Ads but at the moment, but there are no direct ways to connect all those leads (from your Facebook Messenger Ads Campaigns) you'll now start getting once your campaign goes live.
If you want to use LeadsBridge for this, however, there's a workaround with Chatfuel.
Use Chatfuel to build your Facebook Chatbot.
Chatfuel is equipped to run completely automated lead nurturing sequences using Facebook messenger as the medium (and not email).
But like I mentioned before, I don't like to depend on Facebook at all. If these are my leads, I want complete control over them.
For that reason, Integrate Chatfuel with Leadsbridge.
You can then use the entire subscriber list you create on Chatfuel (thanks to your campaign) and take it from there.
Additionally, you can connect with Leadsbridge, and then also parse data into a CRM of your choice (since LeadsBridge literally connects with almost everything) or connect with a full range of choices leadsbridge provides to connect with Drip, Mailchimp, ActiveSync, and many others.
When you create your first Facebook Messenger app ads, please do feel free to share them here?