Facebook is growing bigger. As you read see these Facebook Ad examples, Facebook just touched the 2 billion mark and is continuing to grow. Before you know it, the social platform will be a juggernaut that'll be ard for businesses to resist.
Facebook (apart from the dreaded name change) is also consolidating its assets, introducing a ton of new features such as Value-added Audiences (in addition to the already existing Lookalike audiences, custom audiences, and retargeting audiences that you could build) aimed to make advertising easier.
Chances are that you are looking to boost your presence on Facebook or even launch Facebook ad campaigns. These Facebook ad examples can provide you with some inspiration
Unless your objective is business branding, reach, engagement, and video views, the best kind of ads that perform are direct lead generation focused ads such as "lead ads" and ads that try to generate leads with free giveaways, invites, eBooks, tip sheets, cheat sheets, and free webinars.
If you are looking to launch your Facebook ad campaigns, check out these fantastic Facebook ad exmaples built for generating leads that hit the ball out of the park and bring in the cash:
Leadpages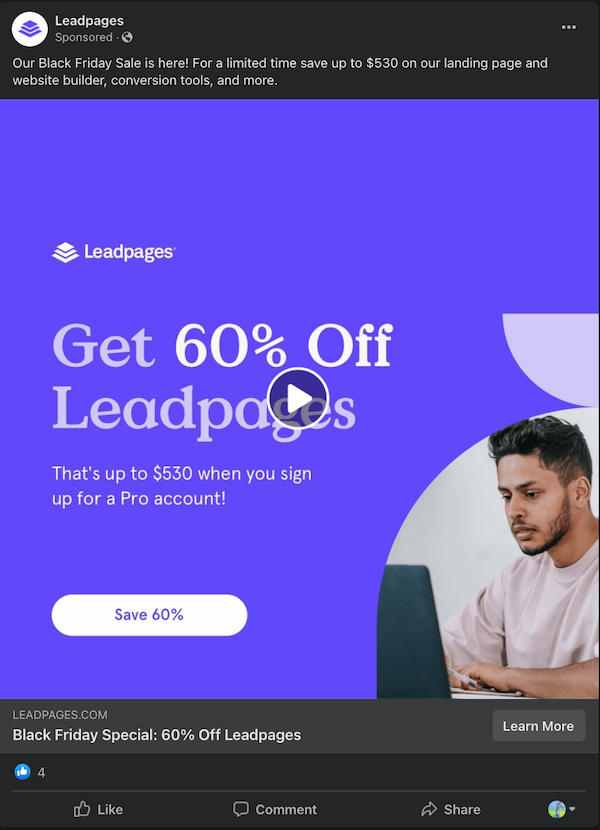 LeadPages is a super landing page builder equipped to not only help building landing pages easy and fast but also be able to generate leads off of your website, build complete websites, and so much more.
This particular ad is a retargeting ad on Facebook — launched during Black Friday, 2021. Plus, they spend thousands of dollars just trying to experiment and see what works and what doesn't. If you are remotely interested in landing pages, you should consider using Leadpages, reading their blog, or signing up for any of their resources.
The ad in question here is in line with their fantastic sales funnel which works on giving a huge discount only to those who visited their website recently, to bring in customers
Did you notice how specific they get with their ads?
Webflow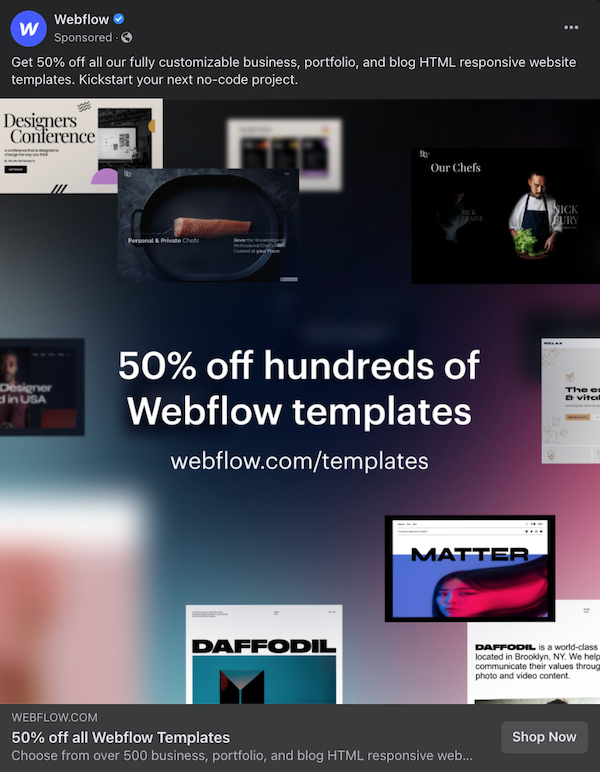 Webflow is a perfect alternative to WordPress, a new-age, no-code platform for building websites, eCommerce sites, landing pages, and more. Webflow templates are a visual delight to begin with, a fast CMS for you to use, native logic support, memberships (coming soon), and so much more.
The ad in question is a Facebook retargeting ad — fairly targeted for visitors who just checked out the website and the Webflow templates page. Notice the compelling ad headline (50% Off Webflow templates), the use of color in the ad, the ad creative itself, and more. This makes for a great example for retargeting, including relevance, targeted campaigns, and specificity.
Elementor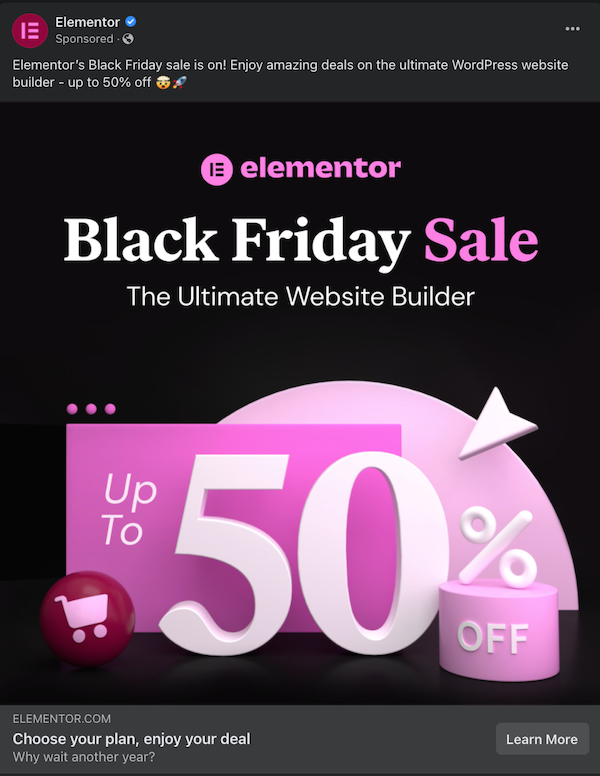 Elementor is a terrific WordPress page builder (the genesis was a plugin) that's fully capable of helping you launch, design, manage, and promote your WordPress website. Loaded with features such as an easy-to-use WordPress website design and page builder, Elementor Pop-ups, Elementor landing pages, Elementor WooCommerce design, and more.
If you run an ecommerce business, you'll learn a ton from just seeing what Elementor is doing to promote their annual BlackFriday deals. There's no usual fretting and fussing on images – simple, specific, and highly-relevant images do the trick.
No fancy verbiage either. I mean, you don't need to hire an expensive copywriter to write "Get 50% off on their plans"
Right?
Of course, the rising popularity of Elementor brand helps.
WPEngine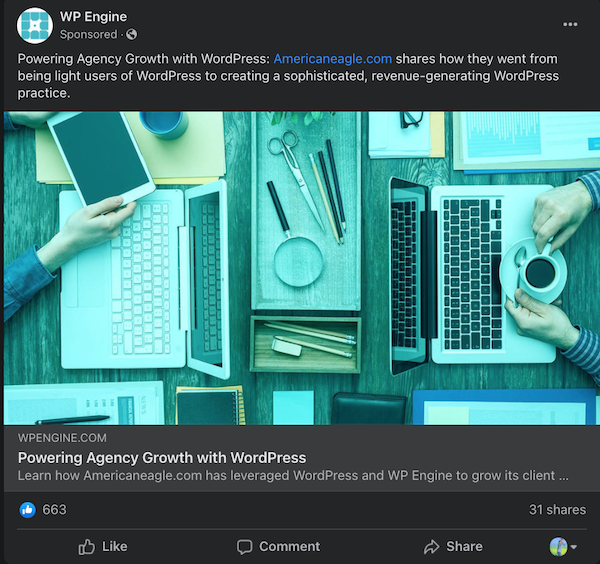 You don't always need to lead with "ads" that look like "ads". You could drive traffic and conversions by using long-form content, special landing pages with content on them, or specific case studies of how your products help solve problems (with case studies).
In this case WPEngine — a leading hosting provider — runs the ad with a case study as an example. Again, this is a retargeting ad showing to specific people who visited their website. Showcasing how AmericanEagle went from a regular website to a revenue-generating website powerhouse, thanks to the wide set of services available with WPEngine. On the WPEngine website itself, they usually have enticing WordPress hosting offers often, leading potential customers further down the funnel.
LinkedIn For Business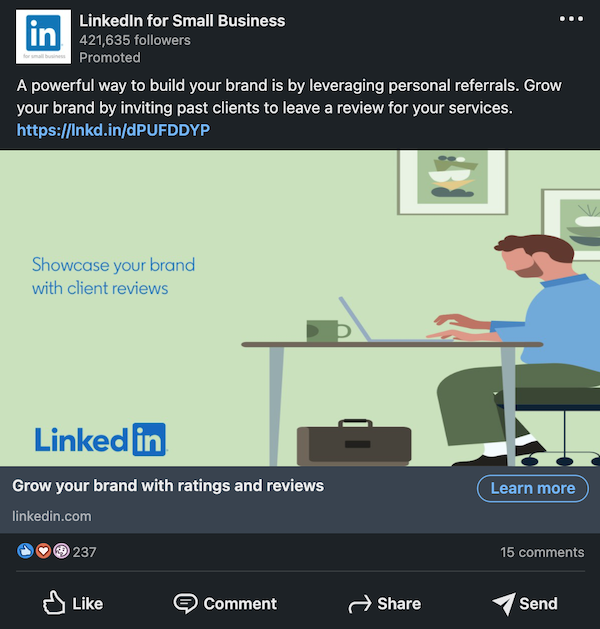 Wondering what a LinkedIn for Business Facebook ad is doing on a list of Ad examples for Facebook? Thanks to the power of absolute reach, LinkedIn runs ads on Facebook as an extended opportunity to further the growth of its own network.
Notice the simplicity of the ad, the standard LinkedIn design language all over the ad, the built in social proof, and the ultra-simple headline which only says the one thing all business owners want: Grow Your Brand with Ratings and Reviews.
WPMUDEV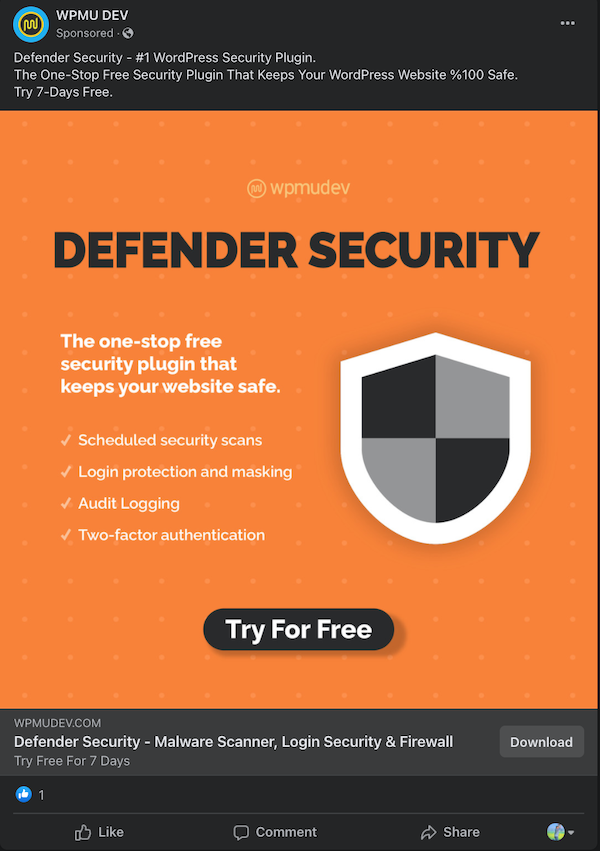 The folks at WPMUDEV have always been good at marketing — their language, style, and flair for being ultra personal is never lost out on anyone who's ever acquainted themselves with the brand itself.
Hitting right where it worries you the most, the ad focuses on keeping your WordPress site secure, layered with a tempting 7-day trial.
Their Facebook Ad is an example of how using a striking (and bold) color can help the ad stand out. This is on top of simple image (showcasing Defender Security — one of their popular plugins for WordPress Security).
SlideQuest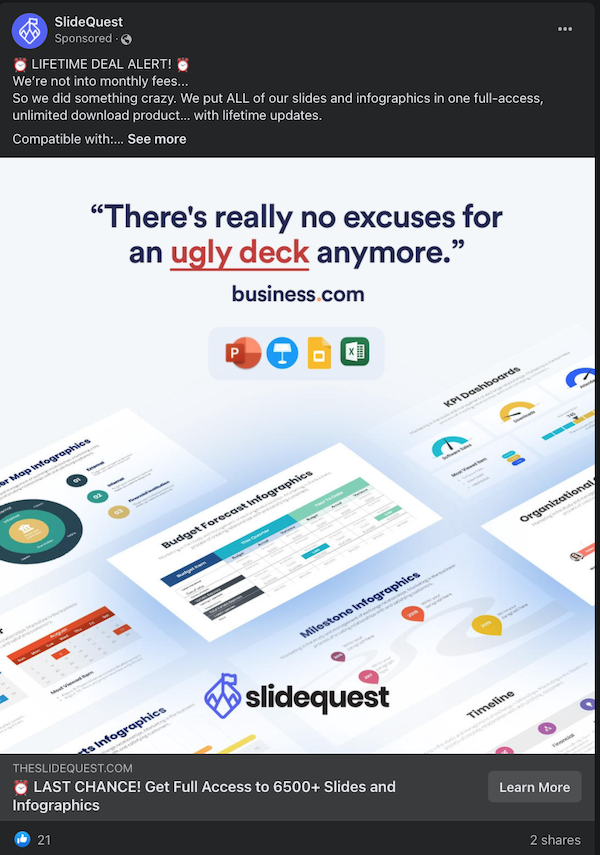 Great products with equally awesome images always do well with Facebook Ads.
SlideQuest just happened to do it right. The company is all about helping you create presentations that pop. Designing presentations without spending too many hours, several striking designs, and more. The "last chance" screams that the "products are getting sold faster than you can click on the ad", and the 6500+ slides is way too appealing to at least not be curious enough to see what this is all about.
Tell me if you can resist that.
RemoTasks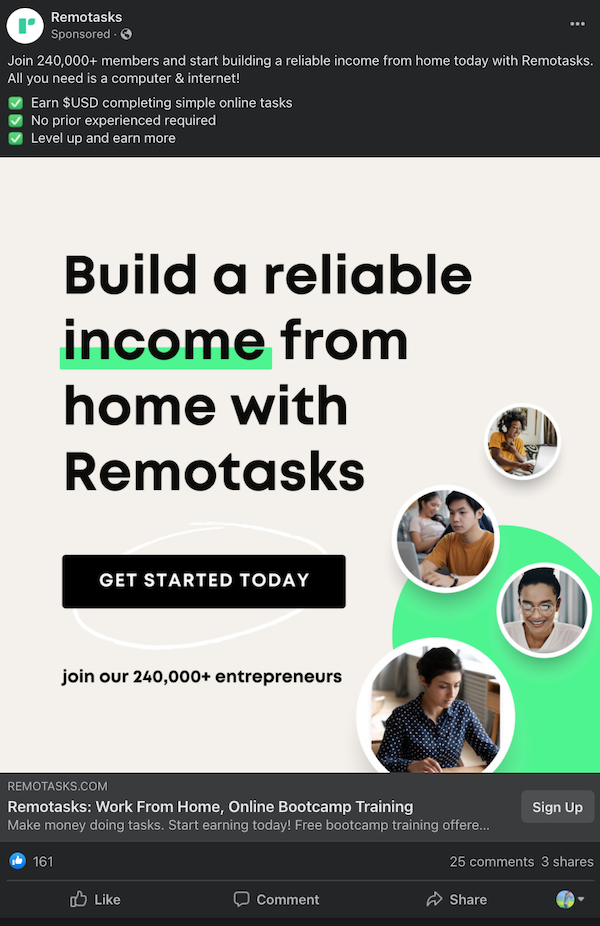 Bring in powerful motivators into a single ad? It's possible. Look at RemoTasks: an online marketplace of sorts — or a source of small jobs — for you to do from anywhere, anytime. Reminds me of Amazon's Mechanical Turks?
Of more interest to you (and me) is the ad itself which has a lot going for it. The colors, pictures of people on the ad, the word "income" — appeals to almost everyone — and lots of social proof going on here.
NatureBox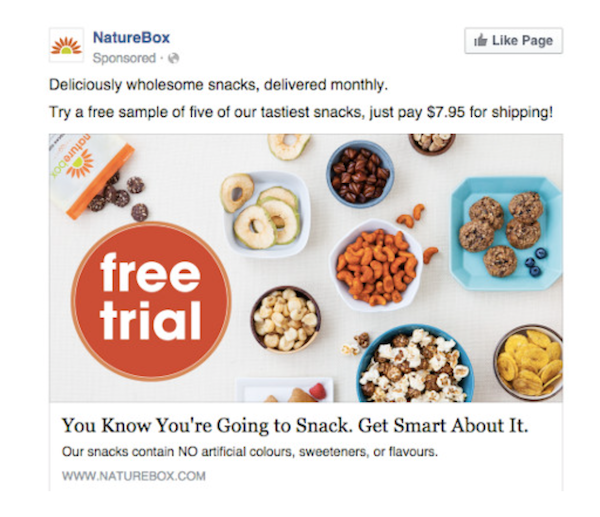 Thanks to Sophia from HubsSpot for this heads up, NatureBox's Facebook ad packs everything it needs to bring in its customers with a singular ad – showing exactly what comes with NatureBox. The ad tells you that you get a "free trial" and that you'd still pay $7.95 for shipping.
It's relevant, fun, and has a clear call-to-action. No wonder the folks at HubSpot found it.
Slack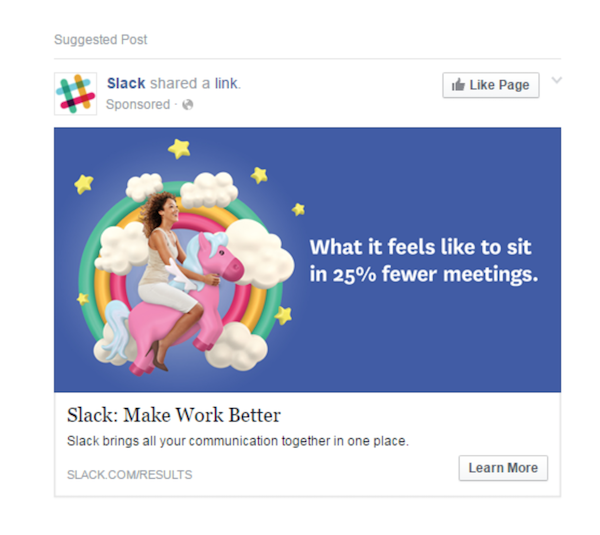 Talk elegance, utility, and again the wretched power of "free" in advertising, and you'll appreciate what Slack does with its Facebook Advertising. Thanks to Dan Shewan of WordStream for pointing this one out.
Dan Kennedy calls it the PAS formula:
Problem – Present the problem your prospect feels (Meetings Suck)
Agitation – Poke at that problem until it's visceral problem (How it feels like when you sit in those meetings?)
Solution – Present your solution to the agitated (Use slack to cut down on meetings and sit only in 25% of them)
Slack ticks off some of those boxes:
Great going there. By the way, using dark colors in Facebook ads does make ads stand out. Eh?
Which of these Facebook ad examples do you like? Tell me about it.