With rising costs for running your eCommerce business, free Google SEO features for eCommerce are a blessing.
You can pay for fancy tools later, but you don't need to pay for paid SEO tools right away.
There are several Google SEO features for eCommerce that you can take advantage of. Right away. From the search results page itself.
Further, there's no pointing in spending on marketing stack (SEO tools included) without execution of any kind ( 7-page static content or copy on your website is not SEO strategy).
If you didn't get started with the free Google SEO features (and do something about it), what makes you think you'll use a stack involving SEMrush or Ahrefs anyway?
Getting into anything fancy with SEO (skyscraper techniques, remember?) — when you don't have the basics sorted — is an overkill. Exactly the kind of thing that makes you think SEO is overrated.
When you develop and execute on consistent content strategy (of which SEO is a part of), you need the following:
Comprehensive Keyword Research (including Keyword opportunities, Keyword Gaps, Competitor analysis, and the keywords you shouldn't use
A basic toolkit with must-use SEO tools and Free Google SEO features (& Free SEO tools are more than enough if you are getting started or even if you are midway there).
Excellent content that's not ranked on the basis of what you, your editor, and your cousin think. It's based on a measure of the "value" your visitors and readers are getting out of the content you produce.
Consistent, never-ending, value-packed, and continuous content production and distribution. Publishing Velocity is everything
Fast-loading, niggle-free, bloat-free, and easy-to-navigate eCommerce stores (If you can manage it, go for WordPress eCommerce solutions such as WPEngine, Kinsta, Pressidium, or Divi. If you can't, go for Shopify).
Here are some of the best Free SEO Tools for eCommerce and other SEO features that you can take advantage of right now:
Note: For the purposes of this post (and the following examples, I am going to use simple keyword phrases for products such as running shoes, jogging shoes, walking shoes, running shoes for men, walking shoes for women, and so on.
Google Shopping Ad Clusters
One of the most prominent blocks on search (now-a-days at least) are those fed by Google Ads shopping modules. For practically every search (product specific) such as Top WiFi routers, Best Cars In 2023, and Best Walking Shoes, you'll almost certainly find product ads, presented in blocks.
Here's an example, for "best walking shoes":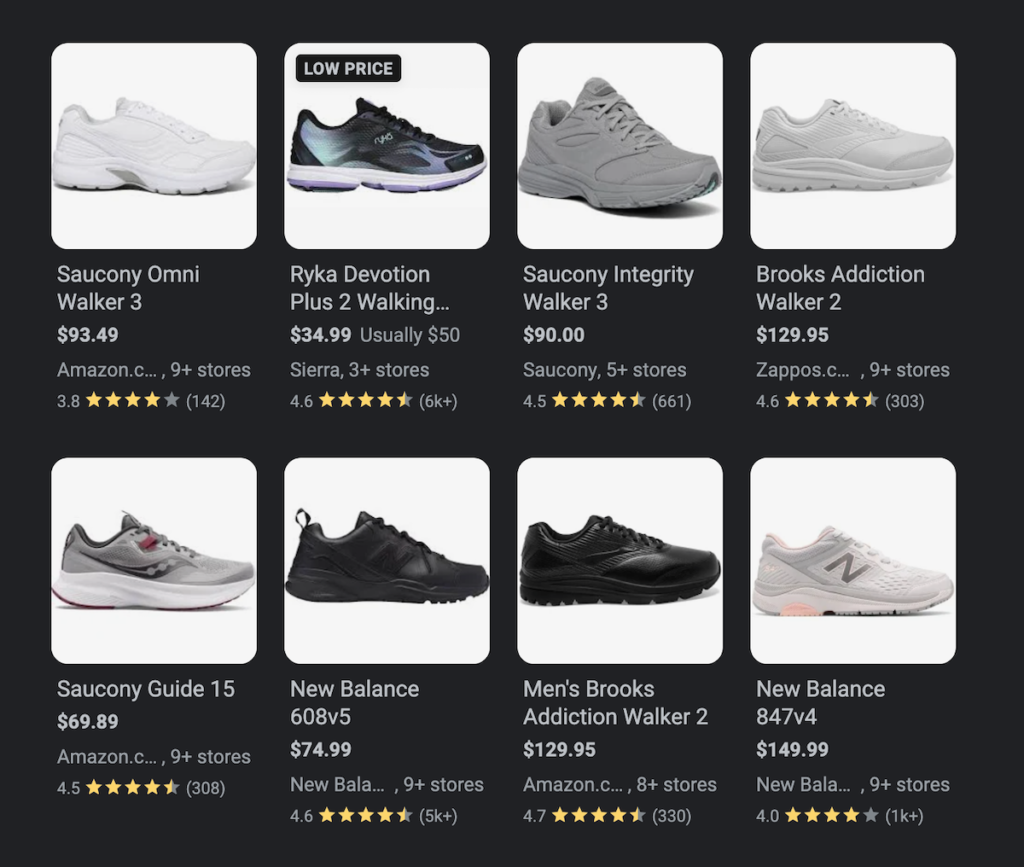 These shopping ads modules present themselves multiple times while you scroll.
Each block contains products, product names, merchant names, prices, and reviews (left by users on Amazon and elsewhere).
Product visuals + social proof = boom.
Note: If you haven't used Google Ads as an eCommerce business, you should. You now clearly know why.
Visual Product Image Clusters
For specific keywords you search for, Google now displays complete visual clusters (not like Shopping ads — with prices and merchant names).
These visual clusters tend to focus squarely on publishing sites that seem to have articles, blog posts, reviews, and other content published on their pages.
If your products have been featured anywhere, or if affiliates or influencers you collaborate with published reviews or articles about your products, there's a high probability that these articles can show up (based on searches).
Note: This also explains why you should use affiliate marketing and influencer marketing to grow your business. Affiliates (usually partner publishers) have influence, readership, and audience(s) that you can use to expand your reach (and hence results). For Shopify merchants, there's Shopify Collabs that can help you take advantage of this aspect of business.
Google Search Auto Suggestions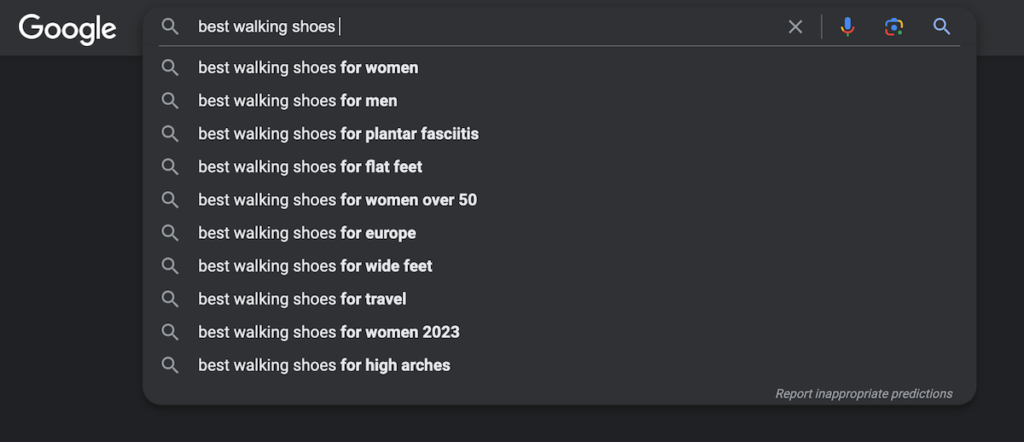 It's a little thing, but it's a big thing.
Google's auto suggestions are derived from Google's massive database, AI-driven suggestion capabilities, historical data on searches globally (or location-specific, depending).
As soon as you start typing in keywords, Google autocompletes your search. Or throws a list of suggested keywords right below the search bar (adjusting, changing, and tweaking what they suggest based on what you type).
Instantly, in a matter of seconds, you get to see some popular searches based on the initial keyword you use. How cool is that?
I know that you heard about it. I also know that you use it yourself. But did you build out an entire keyword strategy leading to content marketing execution (with SEO) based on this?
Google Buying Guides
Google has gone as far as presenting buying guides (if the search terms demand such a thing).
Here's an example (for "best walking shoes"):

The buying guide presents itself as a module (on search results), with a drop down.
Click on the dropdown and you'll usually find a handpicked article, review, comparison, a video, or some sort of a content that "Google things" does justice for the particular aspect in consideration.
YouTube Videos [Product Relevant Display]
Videos are big, and you already know that. Product information videos, product reviews, demo videos for products (created by merchants), and even promo videos uploaded to YouTube tend to show up for related searches.
According to Wyzowl, more than 33% of people prefer to learn about products by watching a video. Further, videos are the closest eCommerce stores can get as far as demonstrating products and services.
For the keywords (and key phrases) such as "running shoes" and "walking shoes", this is how Google displays YouTube videos as a part of search results.
Note: If you use Shopify, you can directly make your eCommerce videos show up on YouTube (integrated with your Shopify Store).
Google Keyword Planner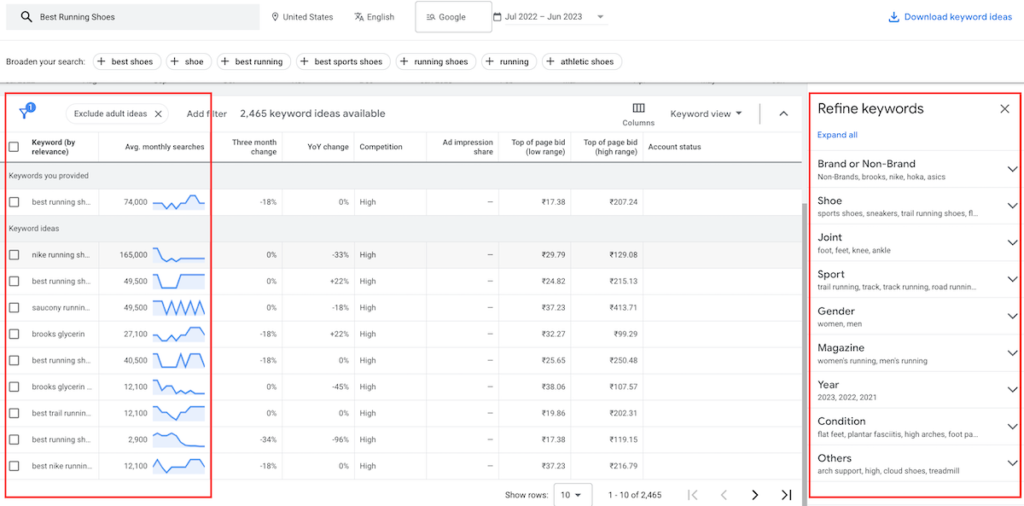 For some deep work on Keyword research and strategy, you can always resort to the reliable Google Keyword Planner — it's only become more reliable and dependable over the years.
Complete with keyword search volume (nice chunky numbers), geo-specific search volumes, average price of the keyword in question, and an endless array of features for you to use, it's the best free SEO tool ever.
Feel free to plumb deeper with the "refine keywords" option that throws up a lot more keywords for you, along with ways for you to refine your keywords according to brands, types of shoes, shorts, condition (new or old?), and more.
Note: If you also use Google Paid ads and Google Shopping ads for your eCommerce store, be sure to look out for (and make a list of) "negative keywords" as well.
People Also Ask…

Google tends to show the "People Also Ask" feature occasionally (showing often, but not always).
Without using any other tool (at all), and right there on the Search results page, you get a full list of questions, keywords, or key phrases often used (or searched for).
The People Also Ask is a Free Google SEO feature that presents keywords or key phrases that are usually in the form of questions.
Note that these keywords usually point to types of content that actually answer these questions well. For many eCommerce stores and brands, this means either Top of the Funnel Content or Middle of the Funnel Content — aimed at discovery and information.
People Also Search For…
Slightly different from the "People Also Ask" feature, there's the "People Also Search For.." giving you yet another list of related keywords or key phrases that users type in when looking for information.
Closely related to the primary keyword you are using, these key phrases can be a bit more generic (and not necessarily questions that People Also Ask can be).
Keyword Cluster Block & Related Searches [Bottom of SERP]
Right at the bottom of search pages, you get a complete bunch of keywords or key phrases users tend to use while searching specifically for products that the initial search was based on.
Often, while you scroll (and if you keep scrolling), you also find "Related Searches" blog on Google Search Results Pages.
Here are some examples:

Meanwhile, there's the keyword cluster block (similar to related searches) often found at the very bottom of the scroll.

The key phrase cluster is also location specific.
The brand "Decathalon" is specific to India. In your case, it could be Costco, Walmart, or anything else relevant to you.
Related Searches [Merchant Logo Display]
Google's search pages, based on the search itself, also tend to show some merchant logos (directly leading to eCommerce stores of these respective brands), for specific searches.
In the search for "running shoes", I found the following list of brands like Hoka, Nike, Brooks, Adidas, Saucony, and New Balance.
Interesting for not just search-attributed traffic for eCommerce brands but also for a nice little brand push and reach.
I haven't found this before (now, I do)
Which of these free Google SEO features for eCommerce do you use?
Tell me all about it on Twitter, LinkedIn, or my LinkedIn Brand page.