Klarna and Shopify, together, helps you navigate a new world of buying behavior. You give customers the freedom to pay the way they want and you get to sell more.
Simple, eh?
Note: Klarna isn't just for Shopify. It also works with other platforms such as Magento, BigCommerce, and others. There are detailed developer docs for this (not getting into those right now).
Customers now have choices. More people, from around the world, are shopping like never before.
Plus, there are multiple eCommerce platforms, multiple ways for customers to pay, more products out there than ever, and the best practices for eCommerce have never been more pertinent today (than ever).
Buy Now Pay Later (BNPL) & Rise of Ecommerce Payment Trends
These are interesting times we live in (Black Swan Events Notwithstanding). Online and offline payment methods are seeing a convergence (to the point of a distinct blur).
Frictionless payment methods, a choice of payment methods, rise of wallets, in-app payment options, content creators getting paid in numerous ways, messaging apps turning into payment apps….
The list goes on.
Take your phone, for instance. Payment by phones — by itself — is a super trend. More than 4 billion global consumers will shop using digital wallets (directly connected to their phones) by 2023.
The total number of digital wallet consumers will exceed 1.6 billion at POS (Point of Sale) alone which accounts for 30% of all POS payments.
Another one of these new-age trends is BNPL (Buy Now Pay Later). What started as an easy way to "help with shopping" during the financial uncertainty of the pandemic is now a phenomenon.
Brands convert more customers by allowing them to pay with lower initial payments and pay in installments or make total payments later in time.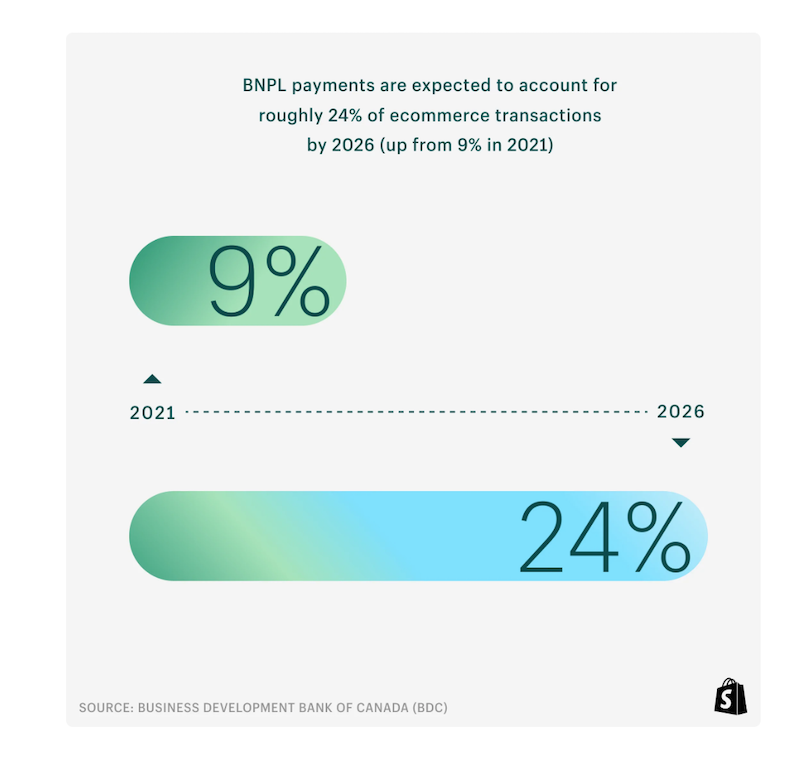 BPNL payments are expected to account for roughly 25% of eCommerce transactions by 2026 (up from a mere 9% in 2021), according to Shopify.
More than 65% of Shopify merchants added BNPL as a payment method to their stores in 2022. There's also been a wave of new companies in the past few years such as Affirm, Afterpay, and Klarna.
Which gets us to the point…
What Is Klarna? What Does Klarna Do?
Klarna provides several solutions — payment methods, financing, sales channels, marketing solutions, and a marketing portal for new age brands.
Of particular interest to one-person businesses, small brands, and mid-sized (or even large) eCommerce brands is their ever-expanding suite of BPNL (Buy Now Pay Later) options that neatly work with eCommerce businesses.
Use Klarna with Shopify Checkout and/or Shop Pay and you can expect around a 30% increase in conversions and sales.
3 Ways To Use Klarna With Shopify
Modern-day shoppers know what they want. They know how to find what they want.
They want flexibility, freedom, and they want to continue being spoilt for choice which also led to several different ways to pay.
Modern checkout processes on platforms such as Shopify, and a consistent increase in pure eCommerce subscription businesses or subscription as a layer on top of traditional eCommerce aided by several apps built for subscriptions.
All that's good for eCommerce.
That's where Klarna fits in. You'll need a Klarna Merchant account and a Shopify account.
Boasting of an impressive client list — the likes of H&M, Rue21, The North Face, ASOS, and Sephora, Klarna (among other things) helps you provide flexible payment options and even semi-financing options as an eCommerce brand.
Buy in up to 4 Installments
No one wants to see $1600 go out of their accounts or billed to their card(s) right away. As with most things in life, customers prefer an easier and simpler way to make payments.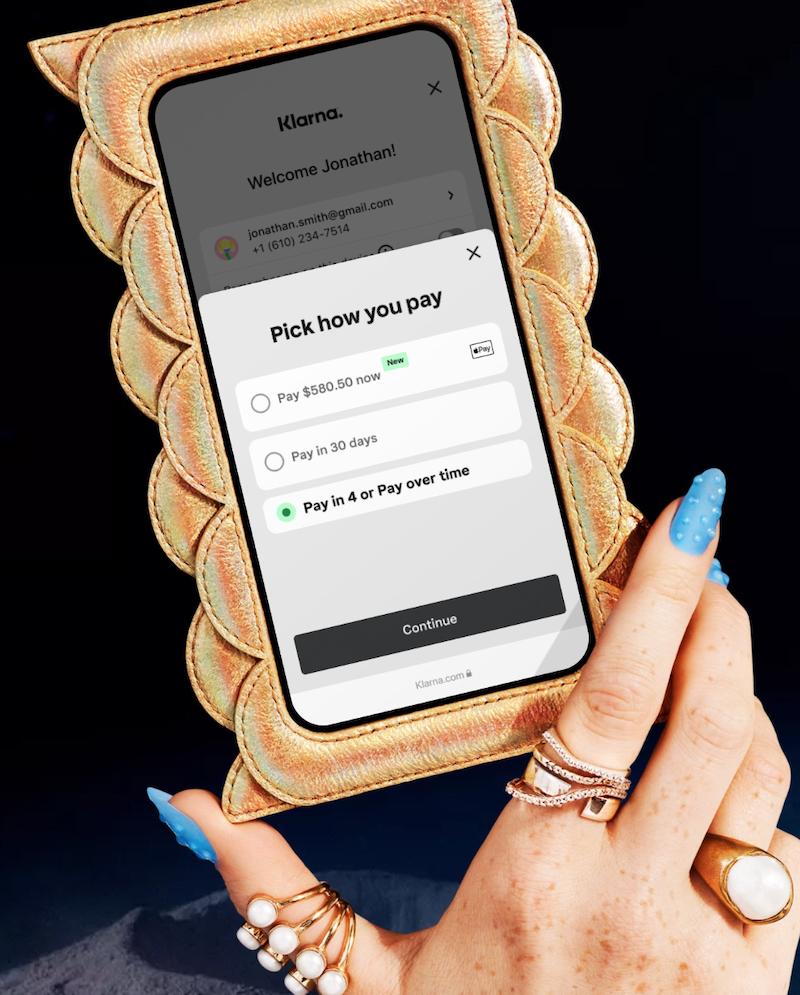 Klarna's Pay in up to 4 installments makes it easy for you — as a Shopify merchant — to add in that option and help increase sales.
The "Pay in Installment" feature alone helps with an average 45% increase in AOV (Average Order Value). If you didn't have this on, more than 44% would have abandoned their shopping cart — this is even before you figure out ways to stop the bleeding due to shopping cart abandonment or before you bring in apps to help you with Shopping Cart Abandonment.
Customers can pay right away, pay in thirty-days, or Pay in around 4 installments (over time). Customers also get a post-purchase overview to help them manage payments or payment cycles.
Extra 30 Days To Pay
No interest. No extra charges. No upfront fees. You can give your customers freedom to pay after a full 30 days (much better than a 30-day money back guarantee).
By using this option on checkout, you give your customers a full 30 days to try out your products. They'll try. They'll love. They'll come back to buy.
eCommerce merchants see an average 23% lift in conversions thanks to this offer and a whopping 47% increase in order frequency compared to shoppers paying by cards with the usual checkout.
Up to 24 Months to Pay
How about rolling out "financing options" instead of just waiting for credit cards to be swiped (or used)? With Klarna's 24-month pay options, you can offer your customers flexible financing. You get paid in full while your customers get to pay in installments of their choice (over a period of time).
Using this option saw eCommerce brands scoring an average of 20% increase in checkout conversions and a 60% increase in the average order value (AOV).
During checkout, customers will see the total price (of their purchase) and the financing options (minimum monthly cost to avail financing). Payment periods can extend upto 3+ months with an average consumer APR of 0% to 28.99%. This comes with Klarna seller protection, Shopify's robust checkout, and zero-fraud liability.
Do you use Klarna and Shopify together? If yes, let me know what your experience and results were like.
Tell me all about it on Twitter, LinkedIn, or my LinkedIn Brand page.