Content creator economy is hotter than you can handle. This payhip review is a humble step in that direction, with a single motive: to help you get a platform that doesn't burn your bank account while pushing you to get started (if you'd like to).
Katie Johnson of Applovin — who recently wrote for Forbes — estimates that there are over 50 million+ content creators driving the #creatoreconomy trend. As Robin Ward of The Drum writes, the content creator economy shows no signs of slowing down.
If the content creator economy statistics are anything to go by(not to mention the pure passion play), it's only the beginning.

The new micro-entrepreneurship model is much cheaper to start with, does away with the usual overheads businesses have, and is increasingly dependent on packaging digital products in various formats or product types.
Popular digital products include eBooks, software, online courses, membership sites, digital files (icons, illustrations, fonts, template packages, digital art, and more).
The content creator economy is already estimated to be worth 100+ billion as of 2022.
To sell digital products, you could choose any platform you want; most of them cost you way too much money than you should be paying, especially when you are just starting out.
The reason why I write this Payhip review is because I want you to know that options exist that are cheaper and better.
Watch this video on Payhip
Cheaper even than some of the more popular options that you might have thought of (such as Gumroad). I also hope to God that you don't take the Udemy route.
It's already hard to sell digital products and there are already enough challenges creators face (and you don't want to pile up on top of these unavoidable ones).
Let's dig into the detailed Payhip review now 👇
What is Payhip? What Does Payhip Do?
Payhip Pricing [+ Comparison with Gumroad Pricing]
What is Payhip? What Does Payhip Do?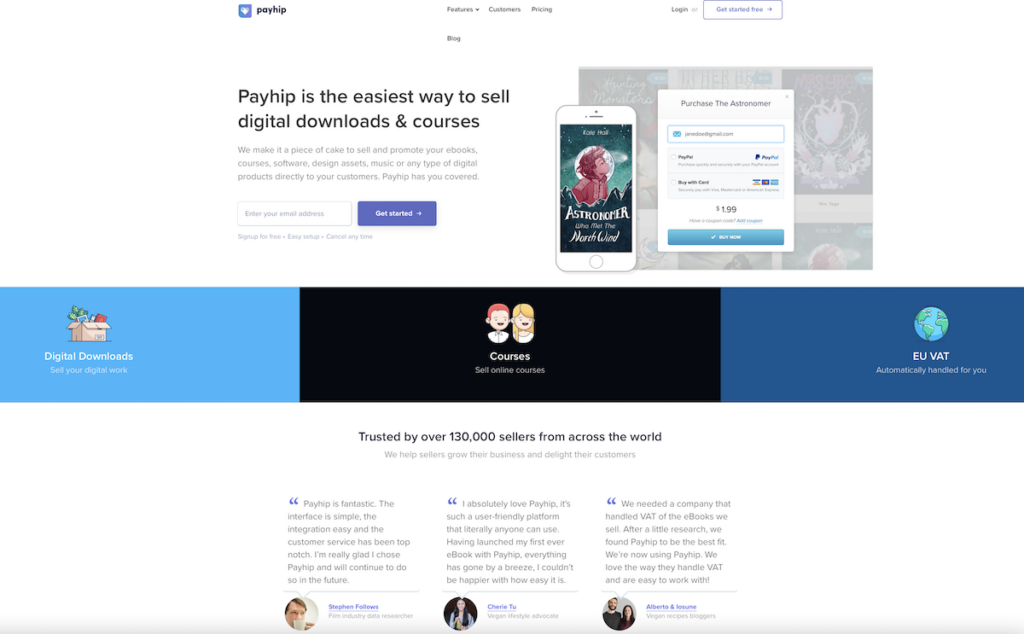 Payhip is an e-commerce platform that helps to launch and sell digital products which can include ebooks, digital art, memberships, coaching, online courses, services, and even physical products if you would like to.
Payhip makes it really easy to sell and promote your eBooks software, courses, design assets, music or any type of digital products directly to your customers.
It's a user-friendly platform that literally absolutely anybody can use while it directly integrates with PayPal and/or Stripe to handle payments for you.
If you have a need to handle VAT payments, it can do that too,
The key difference with Payhip and seven other eCommerce platforms is that even if you're starting out with the free Payhip plan you would still get complete access to all the features that are available to any plan whatsoever.
Watch a video Introduction of Payhip:
The only difference is what you pay to pay him depending on the plan you are on (details in Payhip Pricing below).
Payhip Pricing [+ Payhip Vs Gumroad Pricing]
The free Payhip plan allows you to use the entire platform for free. You only pay 5% of the total sales you make.
If you opt for the paid Payhip plans, you don't pay any more of that percentage off of sales. Simple.

Compare that pricing with a popular alternative like Gumroad, and you'll see just how inexpensive it gets.

See the complete difference in Payhip and Gumroad Pricing.
Payhip Feature Set
As mentioned before, Payhip lets you set up and create your digital storefront for absolutely no fee while giving you everything that you need to sell your products.
Including (but not limited to) digital downloads, digital products, online courses, software, or anything else that you might want to sell digitally without you having to pay extra for any of these features.
Some of these features are as follows:
Responsive, and High-conversion checkout
Where are you customers are on mobile, tablet or desktop they will see a beautiful and responsive checkout.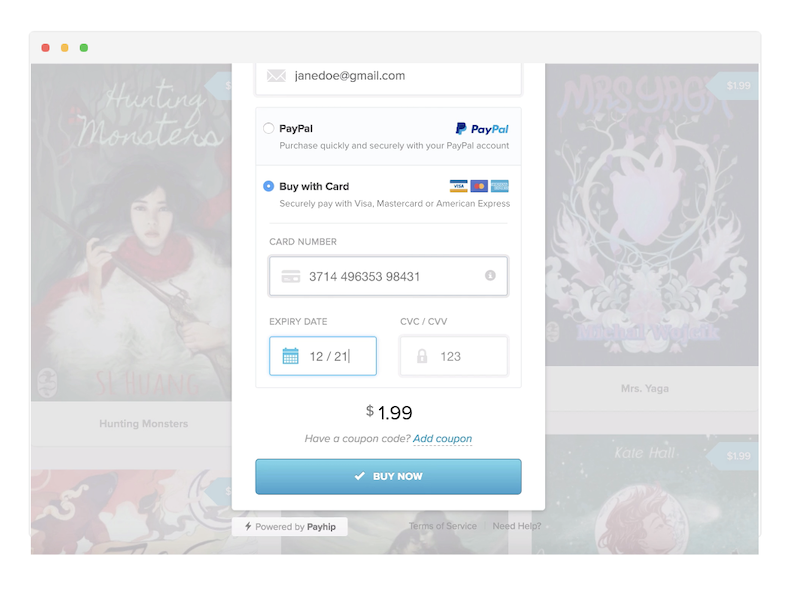 Your potential customers will have absolutely no issues while trying to sign out to purchase any of your products on your digital storefront.
Of course, you can sell directly to your customers from your website, social media, blog or anywhere at all where you can embed pay products directly.
Further, the checkout is a high conversion checkout meaning that is highly tuned and tested to increase conversion rates where your customers can finish the purchase in seconds.
Payhip Product Management
Payhip automatically deals with all the nitty-gritty so that you can focus on selling Upload any type of file, e-books, software, video, etc.
You can also customize your checkout (so it matches your brand) and allow your customers to securely complete their purchase in seconds.
Then automatically (after purchase or free downloads), your customers are automatically sent to the download page where they can download your digital products.
You get paid instantly to your Paypal or Stripe account after the purchase.
You can upload and Manage products just as easily as you'd upload email attachments.
You also have complete design freedom on how you want your store to look like (we will cover that below).
Additionally, if you have specific needs with regards to your digital products such as the ability to limit downloads, PDF stamping, and issuing software licenses, Payhip allows you to do that as well.
Payhip Affiliate System
Earlier, I wrote about how affiliate marketing can be a substantial and powerful channel for your business to grow.
The built-in Payhip affiliate system can help you harness the power of affiliates, recruit affiliates, manage affiliates, and more.
Tap into their own networks or marketing efforts to help drive sales for your own digital products.
Payhip Videos
Let's say I want to sell a single video, or a group of videos as a mini online course, or even create a complete online course.
I'd need a way to upload and sell videos as products themselves.
You have two options, if you use Payhip:
Embed video links (or code) from YouTube, Vimeo, or Wistia. There's no one to stop you from doing that.
Use Payhip videos (at $9 per month) for a much cleaner and branded experience for your customers.
Both are possible, and you are free to choose.
However, please do note: Youtube videos redirect viewers anywhere else on Youtube after the video ends. For Vimeo and Wistia, you'll need paid subscriptions to create a simpler and cleaner experience for your customers.
I use Payhip videos because I want a clean experience for my customers.
Payhip Store, Designed & Primed for Marketing
Payhip's internal UX/UI is built for easy management.
But it's not just that: the world facing landing pages, product sales pages, and the blogs feature (if you intend to use it) have all been built to ensure that you don't have to deal with website code bloat, & design misadventures.
Just focus on marketing, promoting, and selling your products.
Together, with a sub domain feature, you can completely rebrand your store — so that it looks like https://learn.fetchprofits.com instead of payhip.com/yourname
All parts of the store are customizable with Payhip — the main digital storefront, the pages, each landing page for products, and distinct elements on each page (sections on pages, the content within the sections, buttons, overall fonts for typography), and more.
Payhip for Online Courses
While you can sell all sorts of products with Payhip, you can also sell online courses on Payhip.
Creating your online courses is an intuitive, easy, and hassle-free process.
Watch this video on How to Sell Courses Online using Payhip:
Meanwhile, for your customers, it's an online course delivery format that they are used to — exactly the way premium platforms like Podia and Thinkific allow you to deliver courses.
Except that you start and manage online courses for free (just pay 5% off of your sales).
Seamless and beautiful online course player is accessible to your customers — each with their own login accounts and customized login area.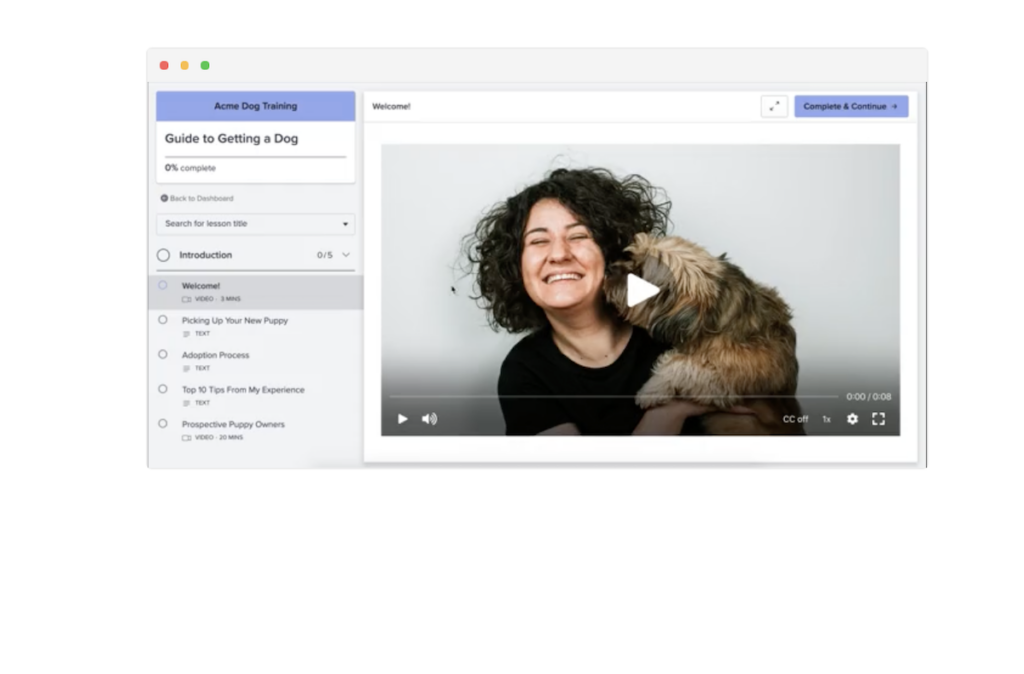 You can add several different lesson types for your courses such as videos (with or without Payhip videos — but I recommend using Payhip videos), text, video embeds, quizzes, downloads, assignments, and more.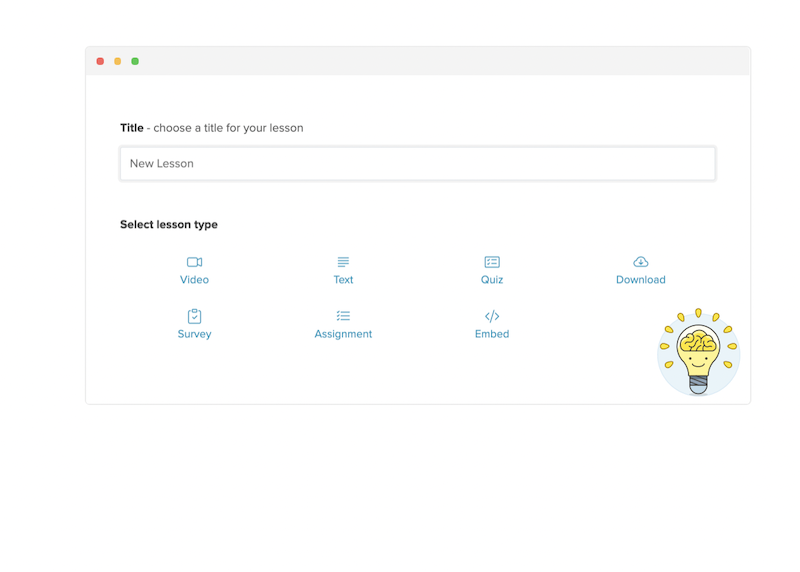 The Payhip store builder helps you design individual product pages, sales pages, or landing pages.
You can price your online courses with one-time payments, payment plans, or subscriptions. You also have the option of creating online course bundles (if you'd like to).
To help promote your courses, take advantage of the coupons feature, the affiliate marketing feature, and customize your online course player branding to match your brand — logos, colors, and fonts.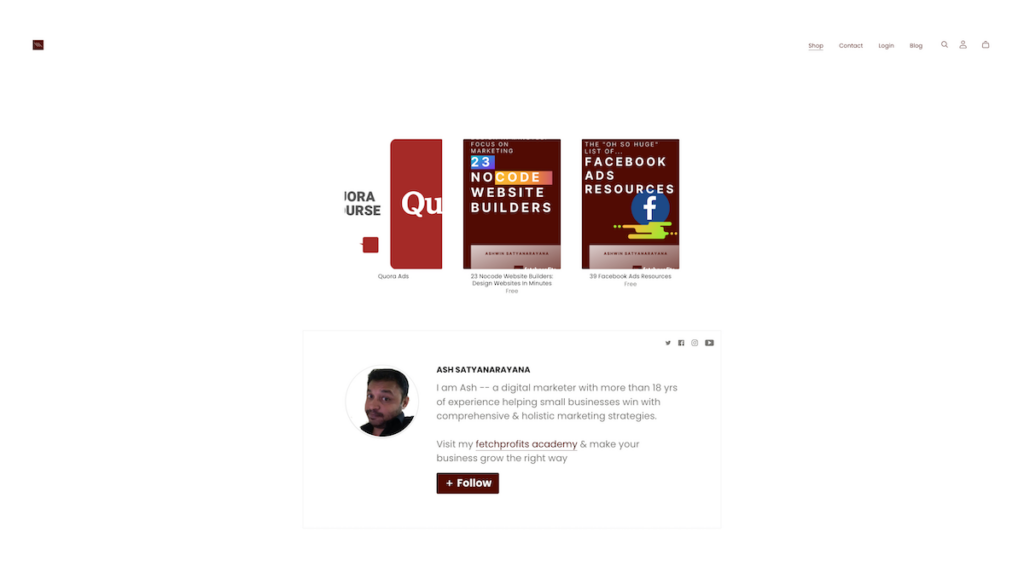 You'd do well to mark some of the course lessons as "free previews", enable pre-orders, or utilize the "drip system" to deliver scheduled courses — which will all look good on mobile, desktop, or tablets.
Payhip Analytics
Loaded with a full-featured and intuitive analytics dashboard, Payhip analytics gives you a complete view of just how well your marketing is working for you.
Apart from the snapshot numbers you'd get right on the dashboard as you log in, you'd be able to dig deeper into Payhip analytics to get a good understanding of your numbers, key KPIs, and metrics important for your business.
Here's how the analytics dashboard looks like, with an overall view.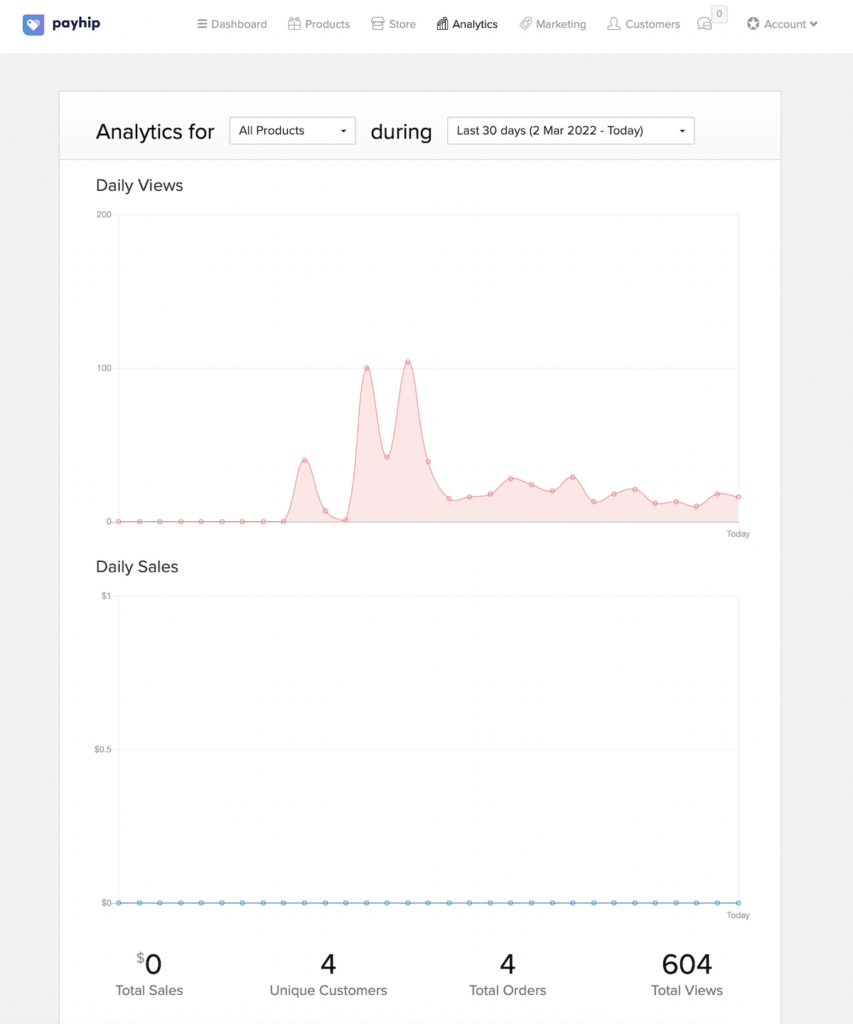 You can use the dropdown provided to see analytics for each of your product landing pages or sales pages.
Further down, you'll also be able to quickly identify top traffic sources, conversion rate per traffic sources, a map showing you a global snapshot of where your audience and/or customers are coming from.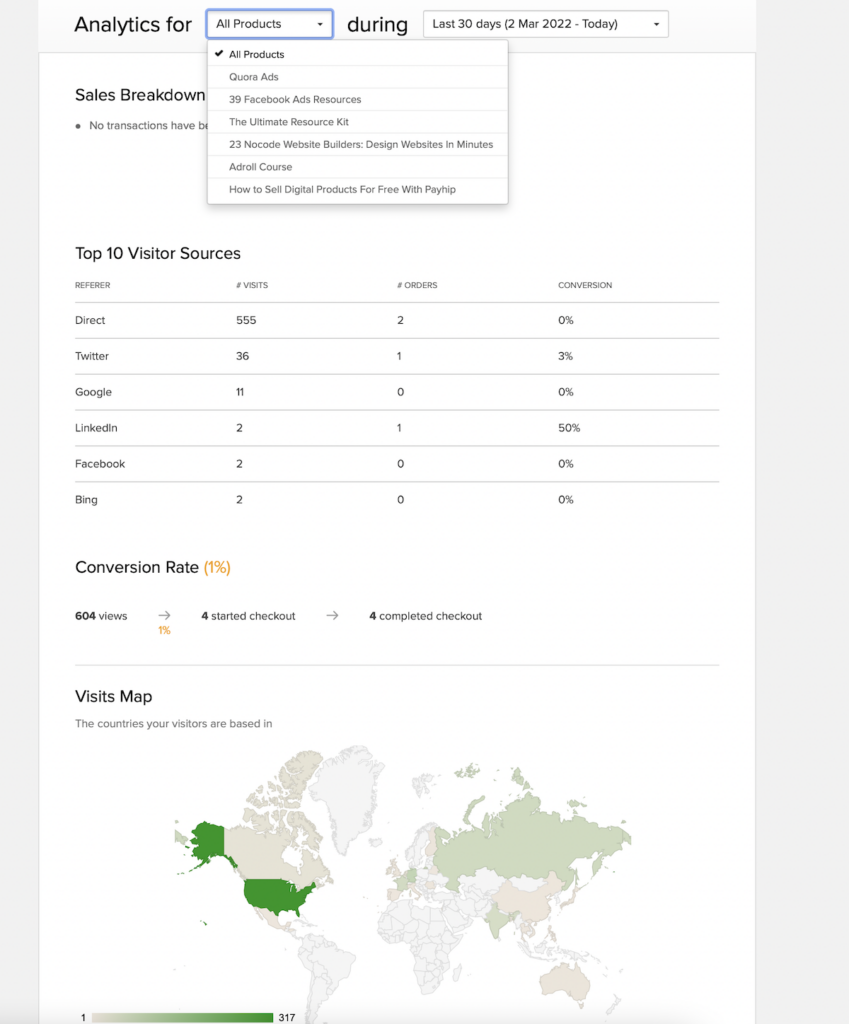 This is for each of the product pages, landing pages, or sales pages that you create on Payhip.
In the advanced settings, within Payhip, you can also connect your store with Google Analytics, or use custom tracking with Anytrack, or use Databox, or connect with SuperMetrics as well.
Further, there's Zapier to help you connect your store with possibly any other app you can imagine.
Learn More:
Comparing Payhip features with Gumroad features [with examples]
Payhip Review: Free Start is Still a Good Start
Given what Payhip provides by not taking a dime upfront, I think it's a fantastic, zero-risk way to set up a digital storefront for your business.
That's also precisely which wrote this Payhip review: the world should know.
You can sell physical products, sell services, or sell digital products (such as fonts, illustrations, notion templates, Visme templates, Canva templates, and so on).
Further, you can also sell online courses, run membership sites, offer coaching programs, sell individual videos or a collection of videos.
Maximum control on design, ability to use subdomains to rebrand the URL, the blog feature, a way to embed products or pages on any other website, and more make Payhip a very compelling consideration.

For marketing nerds like me, you have a way to create free products and free online courses as a way to build your audience by giving them away.
Here are a list of free products available for you to download:
Free eBook: 39 Resources for Facebook Ads
Free eBook: 23+ Nocode Website Builders [Focus on marketing; Not Design]
Did you know that I have a completely revamped Quora Ads course available?
Start with Payhip for free now.
Tell me what you think about Payhip? Did this Payhip review help you take a sneak peak into the platform? Did you use it? Let me know.
Connect with the fetchprofits page on LinkedIn. Follow me on LinkedIn or Twitter.