Have you been wondering about platforms to sell digital products online without subscription fees or any upfront costs, management nightmares, and more?
Thanks to some eCommerce platforms to sell digital products, you can sell digital products with maximum profitability and much less hassle.
No need to worry about hosting, UX/UI, constant design tweaks, and more.
But before we get there…
Content Creator Economy Statistics: Here's Why You Should Take Note
The content creator economy is huge. The trouble is that it doesn't look like it takes up space (anywhere?) and so it remains a little invisible (unless you look for it).

Here are some content creator economy stats to allow you to roll your eyes:
According to Kate Jansen — CMO of Applovin — who wrote for Forbes, there are more than 50 million independent content creators, curators, and community builders in the content creator economy.
Spawning a generation of "micro-entrepreneurs" , the content creator economy itself is valued at $20+ billion+ with estimations that it could grow to a $104.2 billion market in 2022 (by the end of this year).
More than $800 million in venture capital money has already rolled in for various startups, businesses, platforms, and eCommerce platforms already.
There's really no end to the type of digital products you can sell (and with plenty of help along the way).
Some ideas are promising, others? Not so much. It's for you to decide what fits well for you, circumstances, skills, commitment, and more.

Here are some ideas for digital products:
Sell online courses
Sell memberships
Sell eBooks
Create templates (of all kinds) and sell. Some examples could be social media graphic template bundles, media kit templates, templates for live streaming covers, and more.
Sell fonts, illustrations, vector graphics, and icons.
Sell coaching programs
Sell 1:1 mentorship programs
Sell charted training programs (step-by-step, hand-holding style programs to help your audience get from point A to point B).
…and more.
Curious to learn more?
Here's a fantastic playbook for content Creators you could eat to your stomach's content
For each of these platforms to help sell digital products mentioned below, they are nuts and bolts that you'll need to know about (they aren't all built the same).
Of course, You can sell digital downloads, coaching, membership, online courses, illustrations, software, music, and any other digital downloads or even physical goods in some cases.
Note: For the purposes of this blog post, I'm not including marketplaces such as HC, Amazon, and any other marketplace where you could possibly sell your digital products.
Some exceptionally good eCommerce platforms to sell digital products help you start a business selling digital downloads, selling online courses, memberships, and so on such as Podia and Thinkific.
However, they have recurring fees (some of them have free trials).
I covered those in the post Choosing Online Course Platforms: Podia Vs Webflow Vs WordPress Vs Thinkific (please do read).
You may decide if you want to pick those above, but that's not the focus of this post.
Instead, it's all about how to sell digital downloads online without subscription fees.
Here are three online platforms to sell digital downloads and more without recurring fees, upfront costs, or any sort of massive "bench press marathons" as far as setup costs go (except the last one which will have fees piling up, sooner or later):
#1 Payhip [Recommended]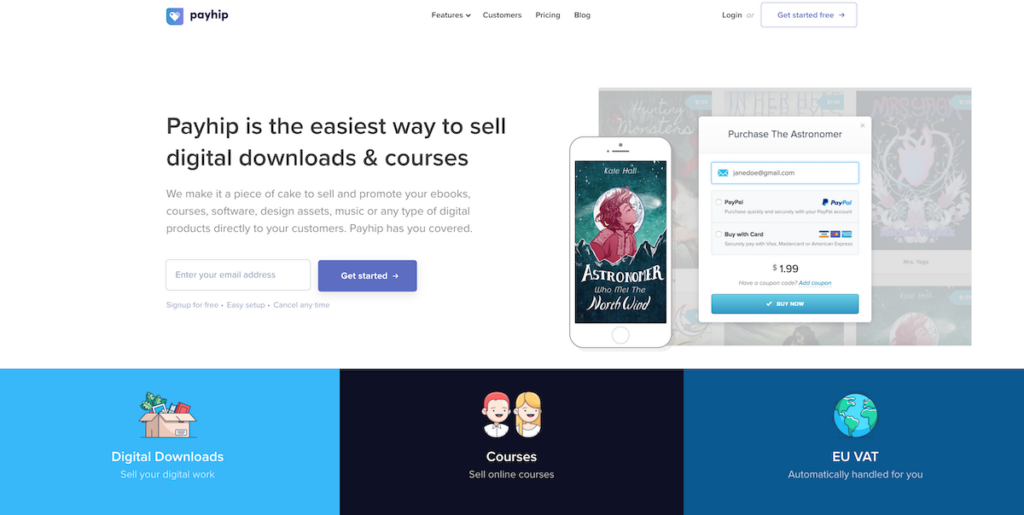 Payhip is an absolutely simple to use eCommerce platform that more than 130,000+ content creators love.
Payhip makes it easy for you to sell ebooks, online courses, coaching programs, memberships, and more.
Sell several other things such as digital download courses, membership, coaching programmes, illustrations, music, software, and anything else that can be delivered digitally.
Armed with a simple and fast interface, Payhip offers a generous and full-featured free tie of access along with the ability to sell multiple types of products in multiple currencies.
Your Payhip store is completely free to start with, comes with complete customization (unlike Gumroad: read below), and is really as simple to use as email is.

Get started with Payhip for free now
#2 Gumroad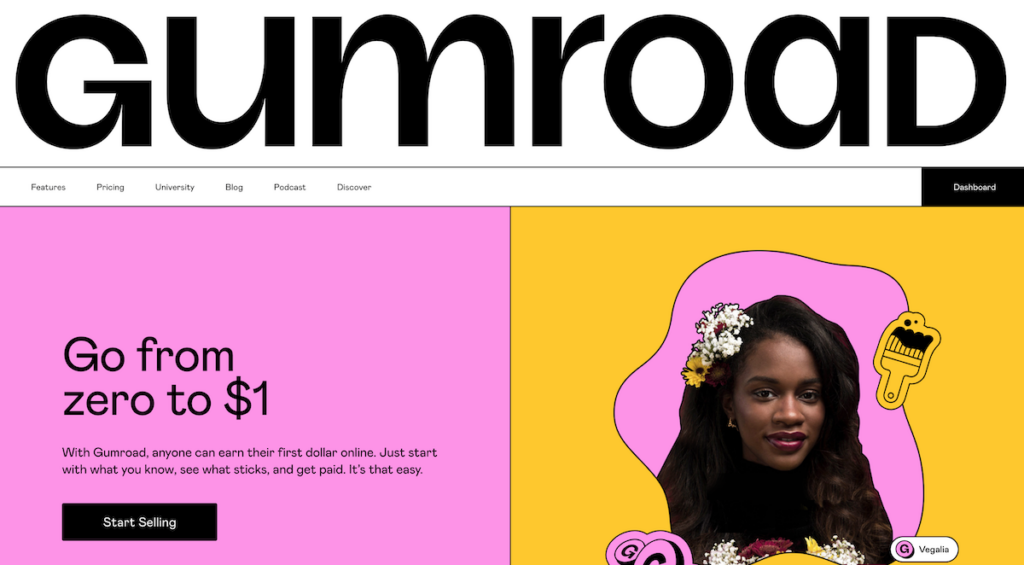 Gumroad has been around for a while and it's a popular platform for you to sell digital downloads, online courses, eBooks, fonts, illustrations, and more.
You can sell several digital products with some restrictions.
Gumroad is easy to use as well and I won't deny that.
Gumroad has some "discovery" built in with its "marketplace". The actual user interface is standard (Gumroad style). Just like Payhip, it's incredibly easy and intuitive to use along with several features such as "custom product delivery" and more.
Your Gumroad store front — when facing the world (what your customers see) is only customizable to a certain extent (not completely).
Creating lead magnets (say free online courses) is impossible with Gumroad (unless you have teeny-weeny sized lead magnets to give away. Gumroad won't let you give away your "free digital products" if they are above a certain file size.

If you sell online courses, your students don't get to see the usual "online course format". They get files delivered that they have to download and "stream".
Awkward, if you ask me.
#3 WordPress (WooCommerce)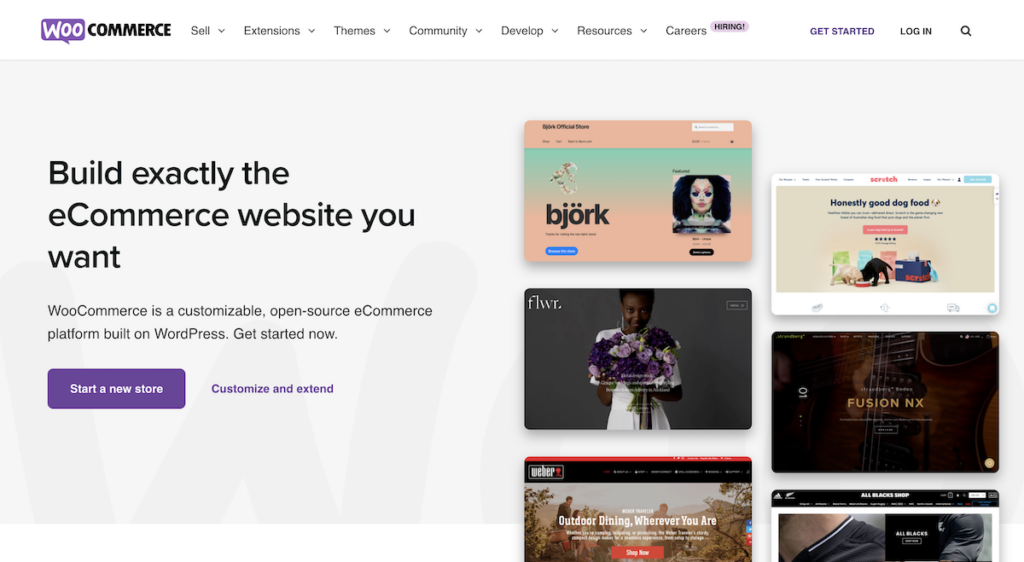 WooCommerce is the grand daddy of eCommerce. With WordPress being super popular and really simple to use, the appeal is not surprising.

But WooCommerce can be as simple or as slithery as a snake. If and when you think about it, your costs of managing your eCommerce store on WordPress can creep up (pretty fast).
That's why focused platforms such as Podia and Thinkific (apart from Payhip and Gumroad) have been growing in popularity.
However, the WooCommerce route to selling digital products is no simple task since you'd have to worry about the right kind of eCommerce-ready hosting, the right theme, and several aspects (that no one tells you) such as additional costs that'll add up.

For instance, you'll need a plugin like Easy Digital Downloads for "delivery" of eBooks or other digital products.
If you were trying to sell online courses with WooCommerce, it's another world for you to wade through such as to deal with WordPress LMS solutions, even more plugins to manage this or that and so on.
This is not to say that the WordPress route is good or bad — it is what it is. Unless your name is Chris Lema or unless you are a WordPress pro user,
I don't recommend the WooCommerce route for selling digital downloads, selling online courses, or selling memberships.
A big note: Regardless of your choices when it comes to platforms to sell digital products (including online courses, memberships, coaching, software, or anything else), your success lies with just how well you do digital marketing, how well you grow your audiences, and more.
Those, we'll reserve, for another day.
Which of these are your preferred platforms for selling digital products? How do you sell digital products (if you do)? Follow me on LinkedIn and let me know.
Connect with me on my LinkedIn Community or follow me on Twitter