TL;DR: This Podia review will prove that Podia is a slick, inexpensive, and all-inclusive choice when it comes to a comprehensive platform for launching your online courses, digital downloads, or membership sites.
There's nothing else like it in the market. I already did the research for several years before I wrote this Podia Review.
I tried everything (almost).
Pick your options from among third-party sites such as Udemy (not recommended although I do have my courses there as well).
I explored self-hosted options such as WordPress + LMS or creative options such as Shopify+ EDD (easy digital downloads) or Webflow — Podia beats them all both in terms of features available and in terms of cost as far as online courses, membership sites, and selling digital downloads is concerned.
Read:
Choosing Online Course Platforms: Podia Vs WordPress Vs Shopify Vs Webflow
Podia: The Platform
Podia was built from scratch for online creators. Looking for hosting your online courses? Want to start a membership site? Want to sell digital downloads? Podia is your answer.
Podia comes with LMS. The LMS itself is Podia.
There's no need for subscribing to some other LMS and then dig your head deep in the sand trying to make it work. Just work on creating courses, upload your content, and you are ready to sell online courses.
There's no need for you to worry about hosting (Podia comes with hosting included for your main Podia storefront, for each of your product landing pages, and also for the pre-launch landing pages).
Of course, you can add any kind of page you want, including a storefront, sales pages, contact page, about page, product pages, and any other custom pages — there's no limit! You'd never have to worry about hosting, space limitations, bandwidth, or anything of that sort.
The Podia platform also optimizes your sales funnel by connecting your website, products, email marketing, customer lists, and sales in one place.

Note: At the time of reading this, you might be looking for a new home for your existing online courses, memberships, and digital downloads. Or you could be looking to migrate from Kajabi, Thinkific, Teachable, or any other platform. Podia makes migrations easy (you can do it yourself or you can ask for the ever-so-helpful folks at Podia support to do it for you.
Podia Storefront: A home For your online courses, Digital Downloads, & Memberships
Podia provides you with a proper store-front for your online courses, memberships, and digital downloads. You have the ability to edit your storefront and to design it based on your brand and how you'd like it to be.
There's no need to design anything new (except for editing your Podia storefront to match your brand or to create a layout — at the click of a few buttons — as you deem fit).

As you keep creating courses, memberships, and digital downloads, your storefront is automatically populated in grid-style (one course next to the other) or in a list format (as above). Of course, you can edit your storefront to make it look like it's your own.
By using several pre-built blocks, you can add intermittent layers of blocks within your storefront too (such as testimonials, images, and more).
You can keep your Podia storefront as a standalone website (connect your domain with Podia) or you can have your existing site (on WordPress, for instance) and just connect a subdomain to your actual website as shown below:
By doing it this way, you get to keep your Podia storefront for all the good stuff such as:
Hosting & showcasing your digital products on a storefront (which can be created on-brand and is completely editable).
Deploy landing pages for each digital product.
Create pre-launch landing pages for digital products that you are still working on.
Have a branded domain (like Fetchprofits Academy) for better marketing.
Meanwhile, you can keep the rest of your website on WordPress that has advantages as follows:
Your WordPress website remains as your central, marketing hub. Use the right hosting partners such as WPEngine, FlyWheel, Pressidium, 10Web, or Kinsta and your WordPress website can remain bullet-proof while loading fast. 
Use tools like OptinMonster, ConvertPro, or several others to generate leads on your site or to start growing your email list. 
Take advantage of the familiar and powerful tools such as SEMrush to make your WordPress website rank well on search. 
Generate Leads For Courses
Recently (2022), Podia updated the "newsletter" section to make some changes in how you capture emails.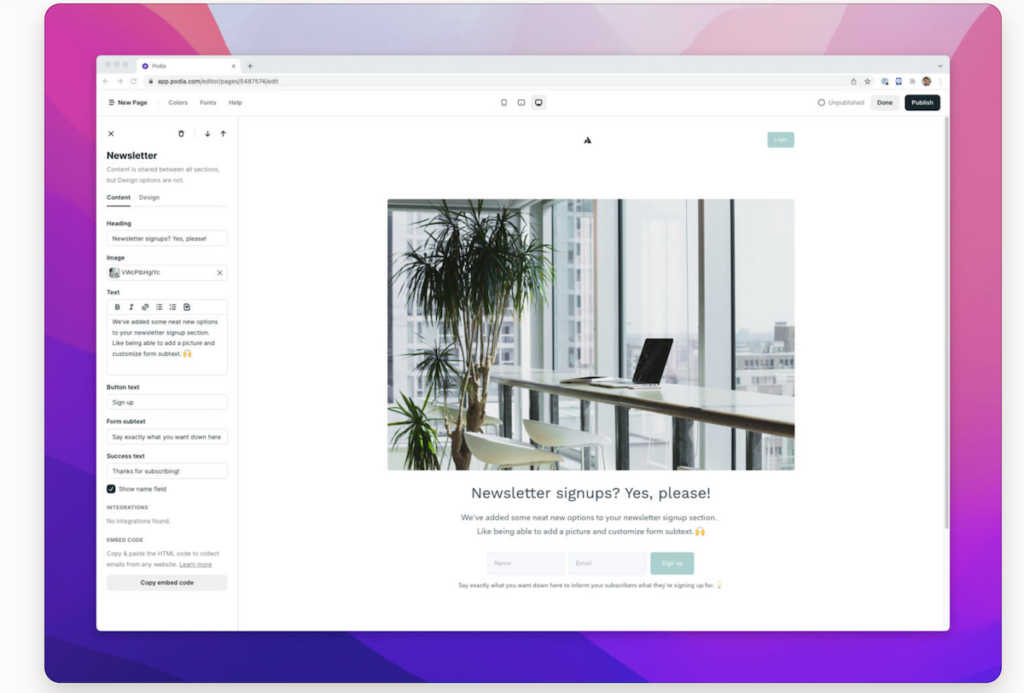 Add an image to add visual appeal to your "opt-ins" and lead capture elements (I recommend you don't just default to "newsletter").
Use the "Name" field (now available) to enable personalization for actual email messages when you send them out.
You can add custom text, enable custom success messages (for those that sign up), and also style the entire section the way you want to.
That's really how you should generate leads for online courses.
Read More:
Capture Email Addresses On Your Site, By Podia
Use Podia embeds as Calls to action within every post
If you've been reading my posts for a while, you'll recollect seeing Podia embeds in the middle and at the end of my posts. For each product (or even pre-launch pages) you create, you can easily create product embeds which look like this:
Podia allows you to embed a tiny custom HTML code that will automatically pull in some information (such as the image, the title of your product, and a call to action button). This works as a cool call to action button that you can place in the middle or at the end of your blog posts as you set out to do some regular blogging as a part of your SEO or content marketing strategy.

At the time of writing this, Podia is the only platform that has this cool feature — something that can help you tie in all your content marketing efforts with actual results that you can measure.
Use Dedicated Landing Pages (For each of your digital products)
If you were to use WordPress for creating and launching your online courses, you'd have to resort to plugins or ninja-level WordPress skills to create landing pages on WordPress.
Or, you'll need access to robust WordPress page builders such as Divi or Elementor. Another option is to use landing page builders such as Unbounce or Leadpages. 
Podia, however, allows you to create dedicated & individual landing pages for each product (online courses, memberships, or digital downloads).
Plus, each of these landing pages can be edited for design, layout, colors, etc., as well.
Pre-sell Courses With Pre-launch Landing Pages
When you run a business of any kind, waiting for the results to kick is an agonizing wait.
If you don't like waiting, you should start earlier than others. Normally, you'd want to launch landing pages, build sales funnels for your online courses, dedicated Facebook ads campaigns and then wait to see results.
That's boring.
Instead, you could utilize the power of pre-launch campaigns which will make use of pre-launch landing pages, sales funnels, and the power of email marketing.

All that, plus FOMO.
56% of surveyed adults admit that FOMO impacts their media usage habits, for example, compelling them to look at social media again and again.
Marketers can harness FOMO by creating an impression of exclusivity through the use of waitlists, limited supply, and time limits.
FOMO is the principle that makes giving early access to users so important on pre-launch campaigns.
Even before you launch your online courses, you can create pre-launch landing pages to start building up traction (without having to wait for your launch day).
Talking about FOMO, check out this social proof app (aff link: get 50% off your first month) that you can use to use the power of influence and social proof to grow your business.
As you create your course on Podia, you'll have an option to create a pre-launch landing page which will allow people to enroll in your course (even before you actually create anything at all).
Email Marketing: Baked right into the platform
By the year 2022, the number of email users is pegged at 4.3 billion users (about half of the world's population) and more than 333 billion emails will be sent daily by 2022. The average ROI of email marketing is at $32 for every $1 spent, according to Maryam Mohsin of Oberlo
The single best way to make sales happen with your Podia storefront (and for your digital courses, memberships, and digital downloads) is to use the power of email marketing.
Use email marketing to send out well-timed broadcast messages to keep your potential students engaged, send out drip emails, or send out automated sequences to bring in the money.
The Podia advantage is that you can send out Drip messages (in a sequence) or broadcast messages (to everyone or to pre-segmented lists).
When you use Podia's email marketing function, you don't need to pay extra for third-party email marketing tools such as Drip, Convertkit, Mailchimp (and that saves you several hundreds of dollars).
However, if you do want to use a robust email marketing tool such as Drip or Converkit, you certainly can. Podia integrates well with Drip and Converkit.
If Podia doesn't integrate with something just yet, you can use Zapier, of course.
Sell More With Built-in LiveChat
Did you know that over 97% of global consumers say customer service is important in their choice of a brand? More than 95% of customers rate high-quality support over speed. At least 47.5% of US internet users feel the greatest challenge with chatbots is they provide too many unhelpful responses.
According to Forrester, channel preferences are changing rapidly. More customers (about 24% of them) prefer live chat usage.
Make the power of high-impact selling work for your business. A LiveChat widget comes with your podia account so that you can engage with visitors and make sales.
Do some things that don't scale
Read:
How To Use LiveChat For eCommerce [& Why You Should]
Build Communities With Podia
Recently, Podia launched communities — an awesome way for you to build your community around courses, memberships, digital products, or whatever you sell.
As humans, we automatically learn from each other. We are built that way. Learning in a community is imminent.
Have your customers follow, lead, share, educate, and inspire each other. Or, have them a way to communicate and get inspired.
Enable Affiliate Marketing For Online Courses, Memberships, and Digital Products
Affiliate marketing is an underrated marketing channel — at least in terms of just how many businesses don't use the power of affiliate marketing to their advantage.
Normally, to start a partner program or an affiliate program for your products, you'd have to sign up with ShareASale, PartnerStack, or Tapfiliate. 
They don't come for free and they have an ongoing cost associated with each of them. They are a great fit for you if you were a physical product-based business, a productized-service business, a SaaS business, etc.
You are an online creator without precious money or resources and you are just starting out. For creators, online trainers, and new entrepreneurs, starting an affiliate program could be an expensive proposition.
Not with Podia though.
An affiliate marketing program set up is possible right inside Podia, thanks to the Podia Affiliate marketing feature.
Once you start getting your own raving fans as customers, use the built-in affiliate Marketing tool to launch your own affiliate program to multiply your profits, scale-up revenue, and grow your business.
Fabulous Podia Support
This Podia review won't be complete if I don't mention the extraordinary support you get at Podia. At the time of writing this, there are several others who are now responsible to make Podia customer-friendly with a whopping 2-minutes TAT for support.
I still remember the friendly chats I've had with Spencer Fry who is the founder of Podia. Spencer would actually talk to you, help you out with your questions, and even give you ideas for product launches.
That was several years ago (when Podia was called Coach). Even today, Spencer actually talks to his customers. So do several others on their team. When a founder (or co-founder) takes the trouble to actually talk to potential customers (and really care), you can imagine how well they serve paying customers.
Looking for some inspiration?
Here are some real creators who built their storefronts on Podia with some existing Podia examples
Online Course Creator Trends 2022
Apart from the basics of online course creation, there are challenges that course creators face, and that doesn't even include the eCommerce platforms to choose or even making a choice between some of the popular online course platforms.
There's also the question of picking up an online platform with some non-negotiable features.
If you get past all of the above, what separates the most successful creators in the knowledge economy from the rest? How has the pandemic changed online learning?
And is it too late to put out a course on how to make your own sourdough starter?
The answers are here: Check out the 2022 Online Learning Trends
The team at Thinkific analyzed metadata from the top 20% of creators to discover what exactly it is they're doing differently to make them so successful.
Now, you can see which trends set the trailblazers apart — and how you can use their tactics to bring in more business and better engage students in 2022.
Take a look to see for yourself…
How do the top creators keep students engaged for longer?
What is their secret to growing their business?
Where do top creators focus their time?
What takeaways can someone just starting out learn from them?
The report is chock-full of insights you can put into action today. Because if you're still creating courses the same way you were two years ago — you might be missing out on some huge opportunities.

See the 2022 Online Learning Trends
Look no further.
Don't waste your time (and money) with other online course platforms or bother stitching together several tools to make it work.
Sign up for a free Podia trial and see how quickly you can launch your online courses, memberships, or sell digital downloads.