If you'd like to sell digital downloads with Shopify, you certainly can (with a few apps, with some weird integration magic).
Digital downloads can be absolutely anything that your customers can download. They could be:
Concise video files
eBooks
Notion templates, Canva Templates, Webflow Templates, WordPress Templates, and more.
Visual Art (art, digital paintings, NFTs, and more)
Digital Art — including icons, vector files, illustrations, and others
Comprehensive reports (research findings, curated information, and so on).
According to uScreen TV, the creator economy is worth at least 100+ billion (at the time of writing this). It's the creator economy that'll find maximum value (impact-wise or monetization-wise) from this booming creator economy.
Out of the 50+ million creators or so, only 4 million creators are professionals. At least 46+ million content creators are amateurs.
Note: You don't have to be perfect to sell digital downloads. You just have to ensure that you pack enough value and learn to promote your digital downloads (just as if they were physical products and that you were to manage an entire eCommerce brand).
Should You Sell Digital Downloads Using Shopify?
For physical products, Shopify is the best (the best ever); another option (and a free one to start with) is Payhip. For selling digital downloads, the best options are Podia, Payhip (again, because you can), and Thinkific.
If, however, you'd like to sell digital downloads with Shopify, you can. Backed by the Shopify brand, Shopify hosting, security, and the unending list of features that Shopify provides, I don't see why you can't use it.
Read:
Shopify Review: The eCommerce Platform That Keeps On Giving
You'll need certain apps to do so. Plus, you might have to pay separately for these apps on top of your Shopify subscription plan.
Selling Digital Downloads on Shopify: Top Apps To Help
Several apps help you sell and deliver digital products or digital downloads. The way it works is this:
Upload products (as downloads, and hence no shipping) > Mark products as digital downloads > Use the app (and host of respective features) to deliver
Here are the most popular apps to sell digital downloads on Shopify:
#1: Digital Downloads By Shopify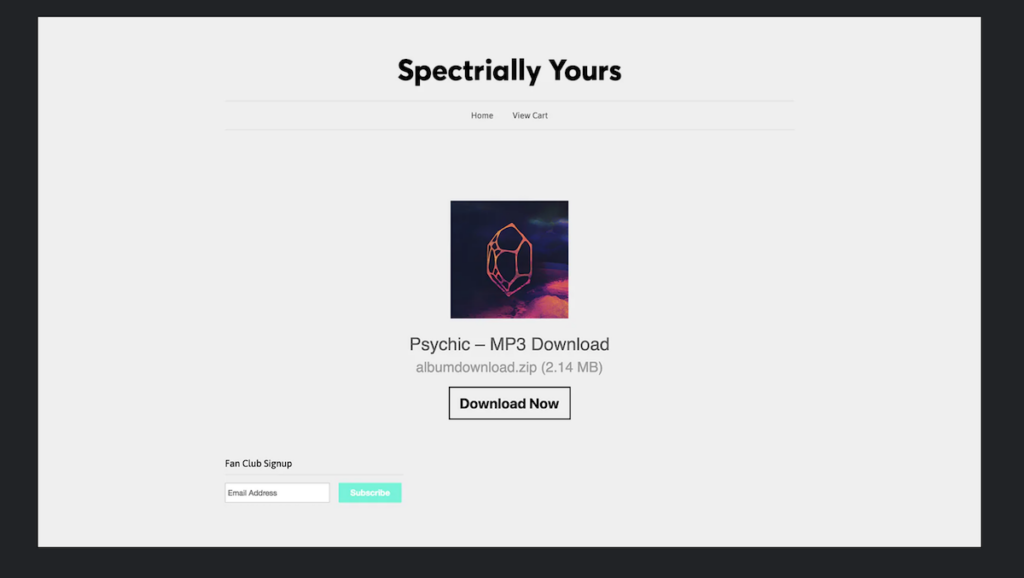 Digital downloads by Shopify is one of those apps built by Shopify and it's completely free to use.
Digital attachments (along with variants, if any) are uploaded and configured as products. You can then let your customers get the direct download after checkout (along with an automatically sent email with a link).
The cool part of Digital downloads App is that if you ever update the attached file, your customers will get an updated download link.
You can also mix and match your digital downloads with physical products (if any) and set download limits as needed.
#2: SendOwl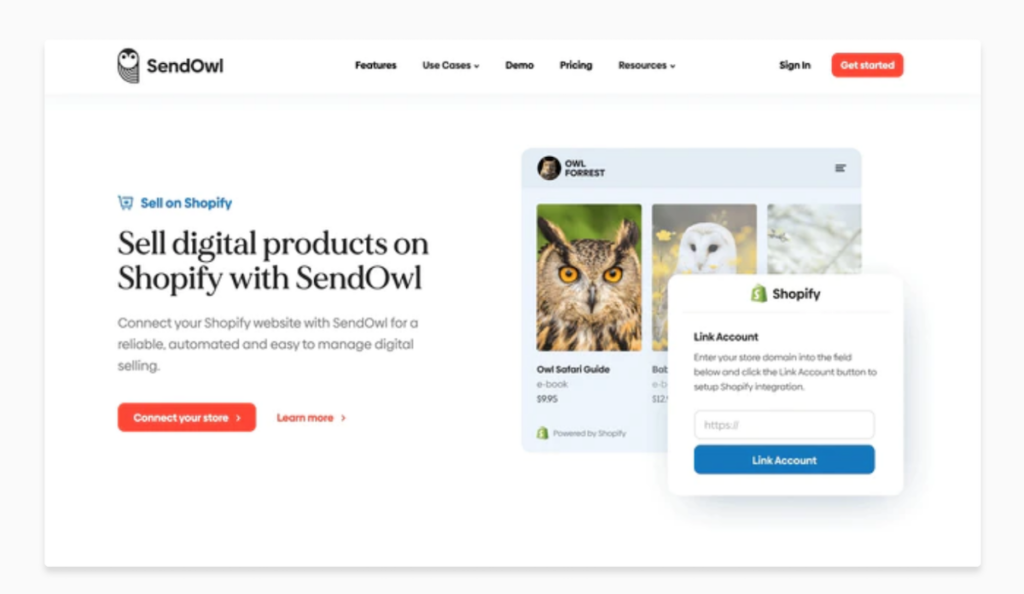 The SendOwl app has been around for a while, and is a reliable way to sell downloads or to sell digital downloads using Shopify as the platform.
The App is managed by a company you can trust and is scalable ti match the number of downloads your customers demand (1 or 100,000, it won't matter).
Downloads are sent via a secure download link (keeps your files safe)
SendOwl also plays well with anti-fraud apps, Google Analytics, LinkPop (Shopify's own Link-in-Bio tool for eCommerce), Stripe, and Zapier (with which you can integrate several other apps and tools).
Reliable, super-fast delivery, and intelligent fulfillment of Shopify orders are all part of the SendOwl promise.
I also know from experience (with a client who sold videos and streaming events) that you can stream videos (instead of allowing for direct download).
Stamp PDF files, sell software (along with licensing), delivery multiple files per order, and also works with Shopify POS.
#3: FetchApp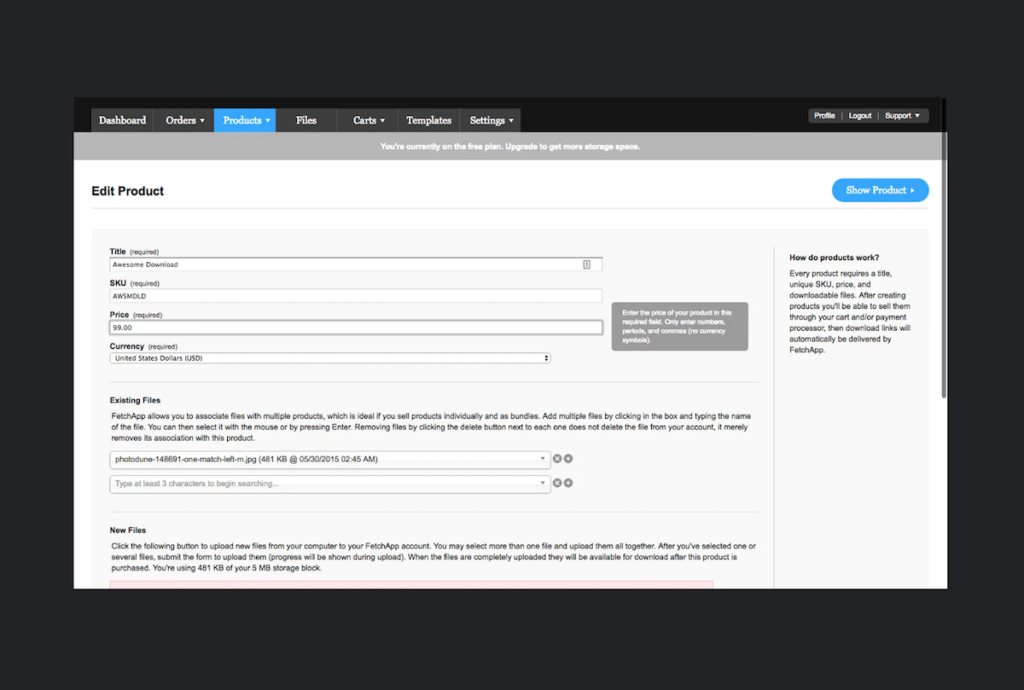 FetchApp is another one of those popular apps (been around for a while) and is one of the better options to help sell digital products or digital downloads using Shopify on this list.
FetchApp works on a no-commission basis (and you get to keep 100% of the proceeds of your sales).
While I don't like the user interface much, FetchApp indeed has a lot going for it (along with blazing-fast speeds and reliability).
Upload multiple variations of files per product, upload multiple products, restrict downloads (limit by time or quantity or both).
You have the flexibility of using multiple carts and payment gateways, while orders are monitored within the app.
#4: Sky Pilot By Corknine Development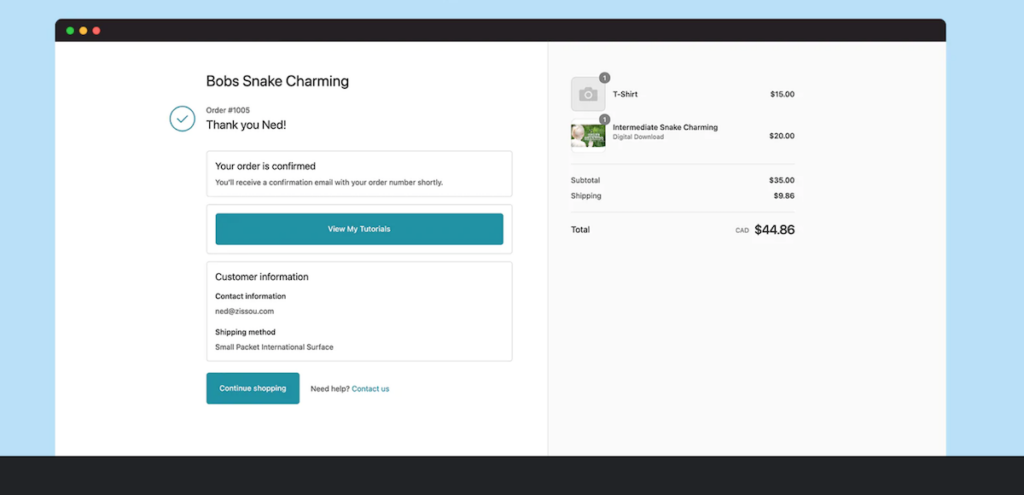 Sky Pilot app, by Corknine Dev, is a freemium app on the Shopify App Store that helps you sell digital files and videos (on top of the usual types of digital downloads you can sell).
With the Sky Pilot App, you can sell:
Music
Podcasts
eBooks
EMPs, JPGs, PNGs, and PDFs.
Video files, and more.
Customers get immediate access to these files when they purchase. The delivery of the product itself is fully-customizable (stay on brand, set the floor on fire).
You can monitor the download activity, sales reports, revenue, traffic, and more — both within the app and by using Shopify Analytics as well.
#5: Easy Digital Products by Alex Hardy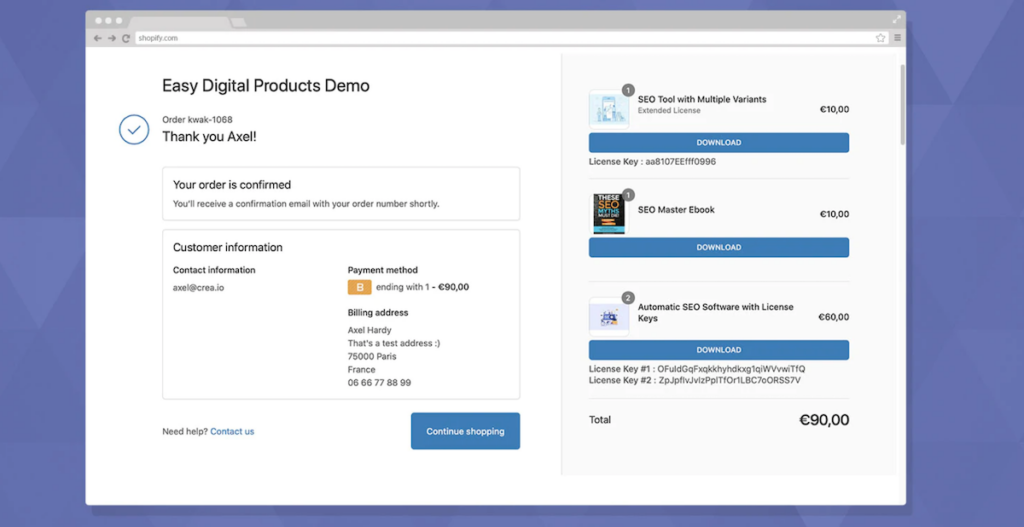 Easy Digital Products by Alex Hardy helps you sell digital downloads and to sell digital products with several more advanced features under the hood.
Just as you'd with any of these apps on the list, you can upload and sell digital products.
With the Easy Digital products app, you also get advanced analytics, digital orders tracking, pre-built templates to get started sooner, and the ability to customize product listings along with delivery workflows.
Upload upto 10 files per product, supports multiple variants per product, customizable email templates, and set download limits.
Customize buttons, protect digital products with branded stamping, deploy license keys, use your own SMTP server, their own API, and more — If you want more control.
#6: Digital Downloads By Filemonk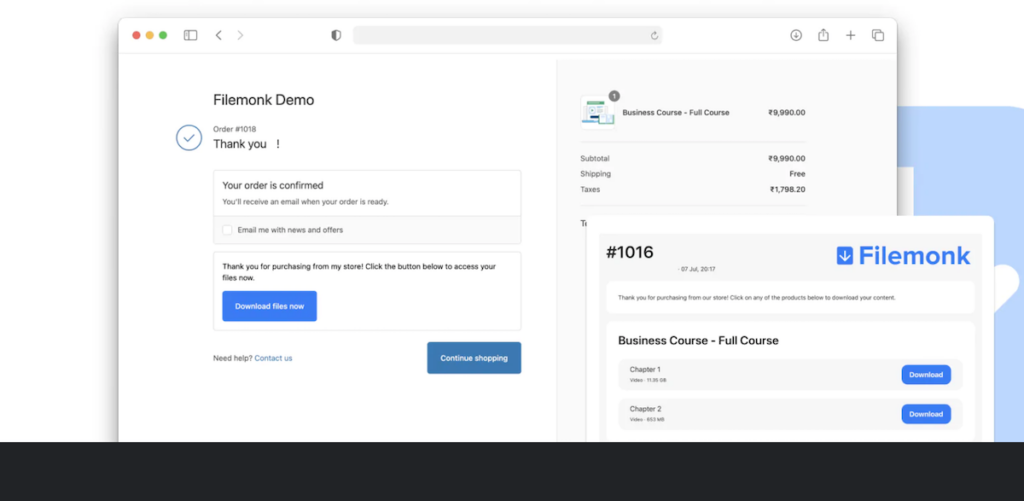 For the filemonk app to work, you'd just have to upload your files to the app on Shopify and let filemonk do all the hard work of delivering files to your customers.
After checkout, they get the files immediately along with an email with the link.
You can customize the whole delivery process with the filemonk app — with your logo, customizable email templates, and also the thank you page (or order confirmation page).
The thank you pages themselves are mobile-friendly. If you want to sell videos, streaming videos, audio, and more, you can.
Read:
Thank you Page Design: 5 Examples [& Why use Them]
Which of these apps are your favourites? What would be your top picks for selling digital downloads with Shopify?
Tell me all about it on Twitter, LinkedIn, or my LinkedIn Brand page.