This Teachable Vs Podia post is only the start of the big sets of comparison I made for the last few years. There are several more comparisons with Podia that I'll be publishing on an ongoing basis. Or, standalone reviews such as this Thinkific Review
For a long time now, I've always wanted to get back into training, online courses, consulting and coaching. I first tried to do it the regular way, by calling up local companies and checking out local job listings if there were any opportunities to do freelancing or if I could do training and coaching on-demand.
It so happens that the entire process is cumbersome, inefficient, and time-sucking. Calling up people, going through the gate-keepers, getting to decision-makers, trying to convince them that I am the right person for the job.
For a while, I almost forgot that I am in the age of LinkedIn, Twitter, and Quora. I am in an age when a sweet female voice powered by AI answers your queries when you contact your bank. I needed a jolt to wake me and make sense of the apps on my own phone and what they can do.
That jolt came when I was thinking just how hard the traditional sales process has become. So, I started looking for options for doing training, providing online courses, and maybe even train offline occasionally, if I could.
So, I started looking out. Since this website was already hosted on Flywheel and because everything else was stitched together and seems to be working with the existing setup, my first port of call was to look for a WordPress-based LMS system that works with WooCommerce and see if I can play it that way.
WordPress LMS, your options:
LearnDash
LifterLMS
WPCourseware
ZippyCourses (but it needs a full and standalone setup for WordPress, and won't work with your existing site)
Fully-hosted, third party-standalone options
Teachable
Teachery
Other Options
The Rainmaker Platform will launch as RainMaker Andromeda soon.
Update: Not sure if The RainMaker Platform is available anymore. Looks like they moved to services. It seems that this platform might come back again. But then, I have a feeling that you might not need it anyway.
How did I sort my options?
Rainmaker was an awesome solution to solve all your problems that start with stitching multiple tools together to make your business work.
It's just that it was outside of my budget at the moment.
Most of the WordPress-based LMS solutions looked crappy and don't work as well. I tried out WPCourseware and it sucked completely. LifterLMS was slightly better but I can't speak for the others.
Chris Lema, however, is who you should be reading up on to get to know everything there is to know about WordPress-based LMS tools.
Why I Choose Podia?
Nothing in the world of making and selling online courses is easy. Absolutely not.
Apart from the basics of online course creation, there are challenges that course creators face, and that doesn't even include the eCommerce platforms to choose or even making a choice between some of the popular online course platforms.
There's also the question of picking up an online platform with some non-negotiable features.
If you get past all of the above, what separates the most successful creators in the knowledge economy from the rest? How has the pandemic changed online learning?
And is it too late to put out a course on how to make your own sourdough starter?
The answers are here: Check out the 2022 Online Learning Trends
The team at Thinkific analyzed metadata from the top 20% of creators to discover what exactly it is they're doing differently to make them so successful.
Now, you can see which trends set the trailblazers apart — and how you can use their tactics to bring in more business and better engage students in 2022.
Take a look to see for yourself…
How do the top creators keep students engaged for longer?
What is their secret to growing their business?
Where do top creators focus their time?
What takeaways can someone just starting out learn from them?
The report is chock-full of insights you can put into action today. Because if you're still creating courses the same way you were two years ago — you might be missing out on some huge opportunities.

See the 2022 Online Learning Trends
Given all that, WordPress LMS had to wait. So, I only had options between Thinkific, Teachery, Teachable, and Podia
Before ending up with Podia, I already signed up for Teachable when I wanted to launch my Freelancing Course (which I now launched as an extra course on Udemy) and I got to use it and had experience with it. There were many complaints about Teachable being buggy and with an ugly UX/UI on their own Facebook group.
Thinkific was certainly more value for money. Plus, they don't freeze your earnings for 30 days like Teachable does. In many ways, and for many reasons, Thinkific scored.
Then, along came Podia with Spencer Fry leading the cavalry.
Podia, for one, had a beautiful interface and an excellent UI. No bugs, no screen outs, and no downtime ever. It was also very intuitive and easy to upload courses (including videos and files).
Of the many Podia offerings, there's the fact that they are constantly trying to make the platform better. You only have things you really need in there. For instance, you can sell digital downloads. You can sell online courses. You can create membership sites.
You can also launch webinars (with YouTube and Zoom). Maybe even offer past recordings of these webinars as lead magnets (or sell webinars or video content as digital downloads).
Finally, with Podia, you also have access to in-built email marketing automation and a live chat tool (so you can connect with your visitors and do some high-impact sales).
Podia Is Value for Money, Outright
Want to see how to create online courses with Podia? Check out this video:
Teachable allows you to start for free but only lets you price your course and sell it a somewhat customizable landing page.
Podia also gives you landing pages for all accounts. For sending drip email campaigns (or free email courses), however, you'd have to upgrade for both Podia and Teachable.
With Podia, you get an email marketing feature which allows you to send both newsletters and drip email marketing content (and you could just use that when you are just starting out).
Now, here's a little about Podia's pricing: Podia only has 4 plans (Free, Mover, Shaker, and EarthQuaker) — along with an Enterprise Plan. Podia starts at $39 per month for the Mover plan (which is more than enough to start with) and goes up to $89 per month (with several other features such as memberships, complete analytics, tracking, affiliate system, and more). The EarthQuaker plan starts at $199 per month.  
If you need to start a membership site, need ways to track pages on Podia with the Facebook Pixel, Google Tag Manager, and other advanced features such as the ability to use Affiliate marketing for Online courses, you'd need to pick the Shaker plan.
Now, here's the clincher.
Teachable takes 5% off transaction fees and only does monthly payouts at the basic plan level. It also has affiliate marketing and integrated email marketing (which isn't that great).
Podia doesn't take any percentage off your transaction fees (unless you are on the free Podia plan) and comes with everything you need (and I don't think you need anything fancy like affiliate marketing integrated).
What Does Podia Offer?
Update: As of 2022, Podia also gives you:
Working with Podia is as simple as uploading your files (text, videos, and others). That's it. No configurations needed. No need to waste days and hours. 
Professional, minimalistic, and high-converting storefront. You can list your products and customize your storefront and design it like a landing page.
Fully-editable landing pages for each of your courses, along with your storefront (which has also been made editable subsequently, thanks to the site editor). 
You can create coupons on Podia for each product (courses, digital downloads, and memberships)
Features to help you Upsell (you'd have to have a paid course — not free — to tag other products to upsell other courses or memberships.
Digital Downloads (Individual digital files or videos you could sell)
Podia allows you to create beautiful Membership sites. No coding or hustling forever to find the right WordPress membership plugin needed. 
Built-in Affiliate system (Note: If you need to implement affiliate marketing, you can always use Shareasale for not only affiliate management but also making yourself available for thousands of affiliates worldwide)
Unlimited products, courses, and membership areas
The possibility of building a community.
You now have the ability to embed cards, buttons, or links anywhere and on any website to allow your potential customers to click and buy right away. Here's how it looks like when you embed a card.
Podia Vs Teachable: Podia's amazing Checkout Design
One of the sore aspects of using WooCommerce + WordPress setup is the e-commerce checkout part. In one line: it's clunky, with too many checkout fields, and you'd have to use additional plugins (also by WooCommerce) to reduce the number of fields or to customize the checkout aspect when you get to use it.
Teachable's checkout is relatively better than the native WooCommerce+ WordPress setup (and it is mobile responsive).
But Podia takes this one step further with the best, one-click checkout – seamless, mobile responsive, efficient, and easy.
This has huge implications for your conversions.
Here's how Podia's Checkout looks like compared to Teachable.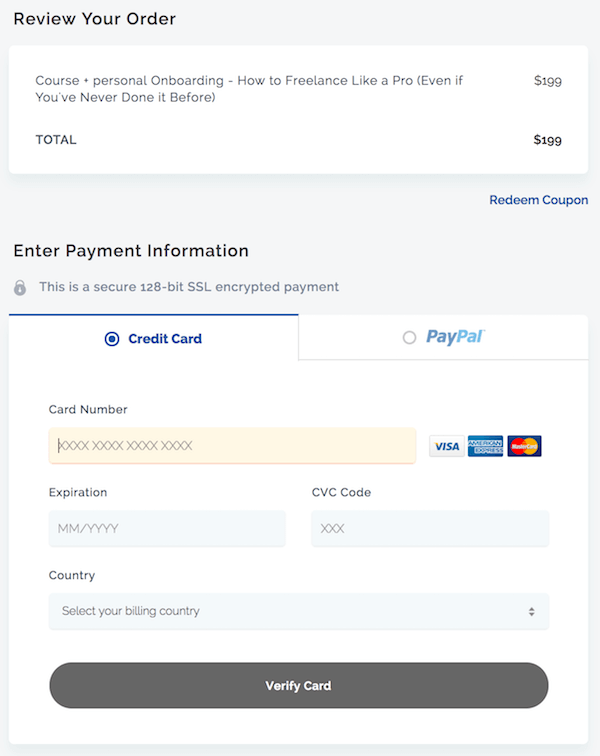 Podia Has Amazing Support
I never had anything to talk to the teachable folks so I don't know how their support is like. Going by the pulse at their Facebook group, however, I don't usually see anyone from Teachable responding to user queries. It's usually users themselves that support each other.
See this: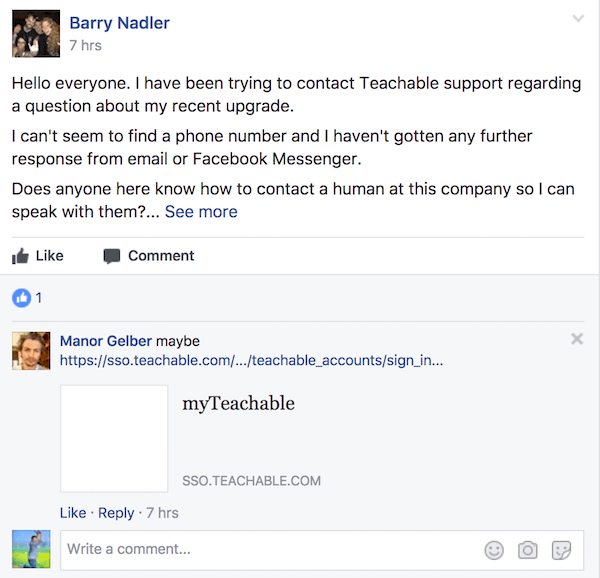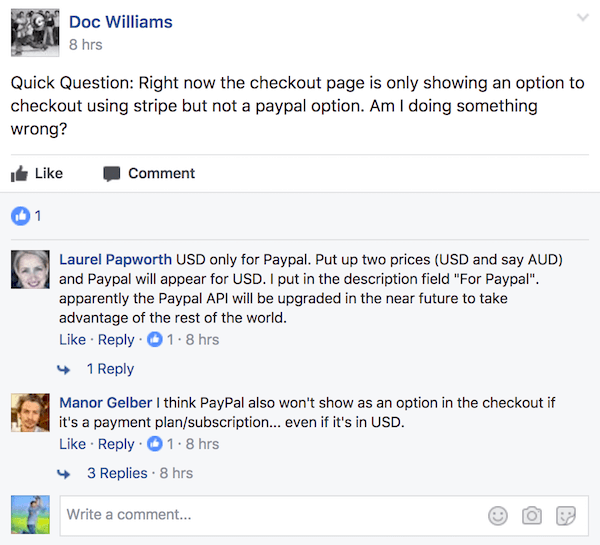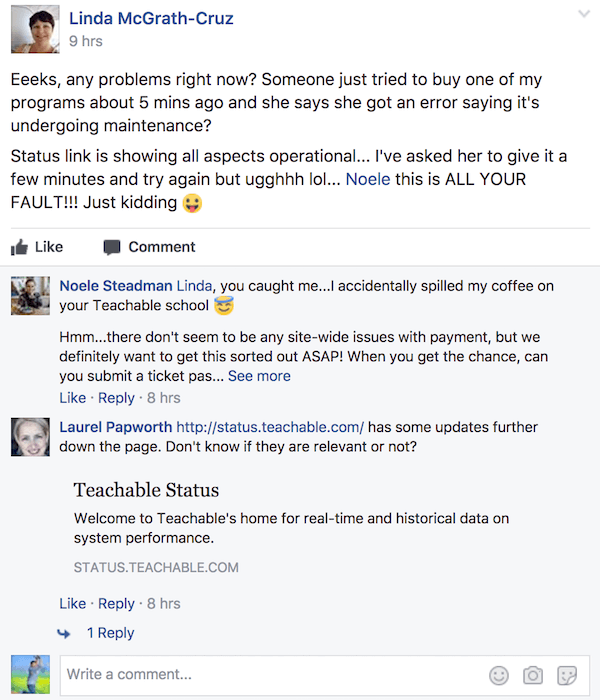 But then, Teachable has been around for a while (also the reason why this Teachable Vs Podia comparison exists)
They have full integration with email service providers such as Drip and ConvertKit, Zapier, landing page builders like Unbounce, Leadpages, Instapage, and more.
With Teachable, you can also sell courses in Bulk (for corporates or educational institutions with a few workarounds).
I don't think you could do all that You could do all of the above with Podia, as well. 
Have you used Podia or Teachable? Between Teachable Vs Podia — What's your pick? If you'd like to signup, go ahead and start for free with Podia