You have a business to run, but you don't have the time, knowledge, experience, and the resources to really turn their websites into marketing machines or sales magnets.

But that's what you need to succeed.
Guess what? You intuitively know this.
It's just that you couldn't bring yourself get your hands dirty yet. You didn't know who to ask. You had no way to know what platform you should build your website on. Even after you build a website (or get it designed by someone else), there's no way to know if your website can manage to rack up a decent conversion score
You need conversion-focused websites that load fast. You'd need your website to generate leads for you. You'd need landing pages (in addition to any pages on your website) so that you could point visitors to specific, dedicated landing pages that make a very specific offer (so you can generate even more leads).
The focus
In short, WordPress is perfect for marketing your business. It only helps further that it's popular, used by about 27% of all the website owners in the world, a developer favourite, resource friendly, and extremely customizable.
Here are reasons why WordPress is perfect for Marketing Your Business
WordPress Specialist Hosting (Speed & Stability)
A StrangeLoop Case Study (Involving Amazon, Google, and a few other larger sites) reveals that a 1-second delay in page load time leads to a 7% loss in conversions, 11% fewer page views, and 16% decrease in customer satisfaction.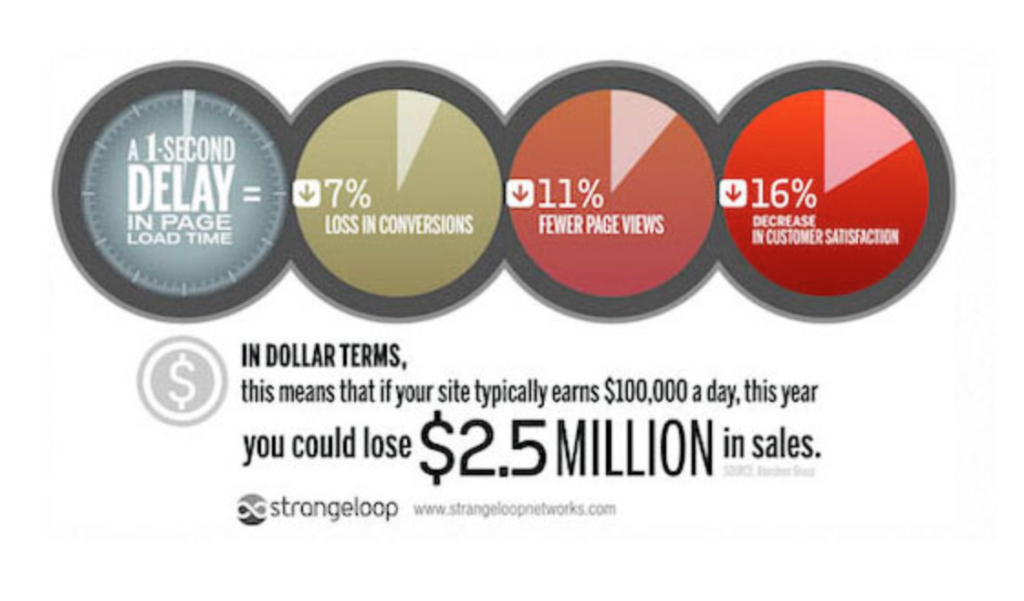 The case is indeed very strong to stop bleeding your business
Read More:
Test the speed of your WordPress site, including both desktop and mobile versions, and receive actionable recommendations to make it faster.
How Site Speed Affects Your Business
WordPress has more hosting options than you'd care to admit. In fact, there are so many that it really becomes hard to pick the right choice. Your WordPress hosting choice comes down to a few things.
What do you really need in a hosting? Does your hosting provider have server clusters in the geographic area of your choice? Is the WordPress specialist host dependable enough? Does your WordPress specialist hosting provider give you everything you need, and then some more? How is hosting support like?
Instead of spending time to do any research, I've already identified a few WordPress specialist hosting companies that you could serious consider (finally boiling down to a few choices like budget, costs, and others).

Here are your WordPress hosting choices:
NameCheap (a dependable budget Option)
Pick any of the above options and you won't ever go wrong with your WordPress hosting choice. Period.
Read More:
Cheap WordPress Hosting Costs 30x More Than You Think (See the Math)
How to Speed Up Your WordPress Site
How Much is Your Website Worth? [ + 3 Mistakes to Avoid When Selling]
Design WordPress Sites In an Hour? A Day?
Since WordPress is so popular, starting with WordPress is almost stupid-easy. There's no need to go looking for WordPress specialists and designers (unless you really need to).
Here are some of your options to fast track your WordPress website design (along with your WordPress hosting):
StudioPress themes
Start with StudioPress themes (available along with Genesis Framework as a standalone package free with both WPEngine & Flywheel). StudioPress themes — and the Genesis Framework — are no ordinary themes. Each of the themes has been built for speed, security, and for being mobile-responsive. The Studiopress themes are free from the usual WordPress theme code-bloat.
Each of the themes from StudioPress is audited and tested before release (and they have a reputation to worry about).
With StudioPress, you don't really spend time fiddling with your website. You'd rather be better off getting into the marketing side of things as soon as your StudioPress site is ready.
Elementor
Elementor has everything you'd ever need not only to design your WordPress website (without code) but also to help you with other things (which other builders usually neglect).
You could edit your entire site with Elementor (without having to do it multiple times), work with Dynamic colors, and to implement Global CSS. Some of many other features (and new features are constantly added) include a drag-and-drop editor, 300+ designer-made templates, pop-up builder, responsive editing, theme builder, full-site editor, Elementor landing pages, and so much more.
See the full feature list for Elementor here
Remember that with Elementor, you don't just design a website. You'll also have all the tools such as the landing page builder and the pop-up builder to start doing things that matter for your business.
Divi by Elegant Themes
Divi — by Elegant themes — comes with a theme and/or a plugin (If you use the theme, you don't need the plugin). If you use any other theme and want to use Divi's functionalities, you'll need the Divi plugin.
Divi Visual builder for WordPress allows you to do design your WordPress website, design WordPress themes, and do a lot more by using the drag-and-drop builder. You'll also have access to other products from the Elegant Themes stable such as Monarch plugin, Bloom plugin for Lead Generation, and more. Within Divi, you have Divi Leads (to help you do A/B testing for each page you create — especially landing pages).
The best part about Divi is that it has a reasonable option of a lifetime purchase for their all-inclusive plan (unlike others who only have monthly or annual plans_.
Astra Theme
It becomes a tough choice to look for bloat-free, lightweight, and capable WordPress themes (there are literally thousands of them out there, and counting). That's when you should go looking for options such as The Astra theme.
You can use the Astra Theme, as it were, or pick any of their starter templates (made for several WordPress builders such as Divi, Elementor, Brizy, and Beaver Builder).
The Astra theme is a super-fast theme (loads in less than a second), doesn't use JQuery, and it needs less than 50KB of resources.
You could be up and running with your new website (depending on your business) with The Astra Theme in seconds if you use the Astra Starter Templates
If you happen to use Elementor but if you want to squeeze even more out of your Elementor package, consider using Crocoblock which comes with several WordPress templates you can use for Elementor. Plus, you also get access to Crocoblock's Kava theme (along with Kava Pro). By itself, Kava theme has several more layouts inside that you could mix and match.
You can possibly do anything with WordPress. No matter what of a website you need, you'll have a way to build it with WordPress.
If there's a functionality you need or if there's a feature you are looking for, there's a plugin that can do it for you. You just have to know what you need and you need to have enough patience to look for the right plugin for the job.
Take the Crocoblock plugins, for instance. With plugins like JetAppointments, you can manage your appointments (with a lot more features built-in than anything else you'd ever use).
With JetBooking, you can practically build a travel website like orbitz.com or booking.com. Since we are talking about marketing, using a plugin like JetPopup is enough to launch stellar looking pop-ups for lead generation.
Talking about Lead generation, there are several other plugins for WordPress that can help you with marketing. OptinMonster, for instance, provides you with several ways to generate leads (exit intent, slide-up, between or under blog posts, spinning wheels, and so much more). There are several other marketing plugins for WordPress that just work.
While we are talking about plugins, don't forget to use Yoast SEO Plugin — it's just one WordPress plugin you can't afford to miss.
Everything Just Connects With WordPress
WordPress connects with most business apps, business tools, CRM tools, and SaaS applications. In most cases, there are dedicated plugins deployed by the SaaS companies or other vendors themselves. You'll never find it hard to integrate your favorite marketing tool, CRM, email marketing service provider, or any other app that you'd use when it comes to WordPress.
Thanks to this dedicated product build connected to WordPress, most of what you need to do marketing with WordPress just happens to connect with WordPress.
For instance, if you use WordPress, you could:

In rare cases when you don't see direct integrations with WordPress, there are tools like Zapier which can still help you bridge your WordPress website to several other tools, plugins, or business apps that you might need.
In most cases, there's never a need to get external help paying thousands of dollars (like you'd have to if you were to use a website built with PHP by some designer or developer) just to connect WordPress websites with other tools such as CRM systems, Landing Page builders, Email Marketing tools, and more.

How does your WordPress website help you with marketing? Tell us about it.