Before you ask what is the best landing page software in 2021, you should know why use landing pages at all?
It's for purpose, focus, and for getting results.
While there's no definitive evidence that attention span is shrinking, as Luke Harsel of SEMrush writes, we can all do with some focused, purpose-built landing pages. 
Your regular web page has way too much clutter (such as several tabs on the navigation menu, the ubiquitous call-outs to do this and that, and more).
Landing pages have a much more focused approach.
The average conversion rate of landing pages is at 9.7%, according to Unbounce.
Increase the number of landing pages from 10 to 15 and you'll see a 55% increase in leads generated, as a HubSpot study found.
Taboola has several landing page statistics that should convince you as to why landing pages should be used at all:
Now, let's get to the point.
The Best Landing Page Software (2023 Edition)
Admittedly, it's a little tricky to point out the best landing page software. First, there are way too many tools available at different pricing points.
Second, most of the landing page software tools I'll mention will have a huge feature overlap.
Third, it all boils down to product-business fit. You'd have to dig a little deeper to finally arrive at the best landing page software for your business.

Here are the top picks:
Unbounce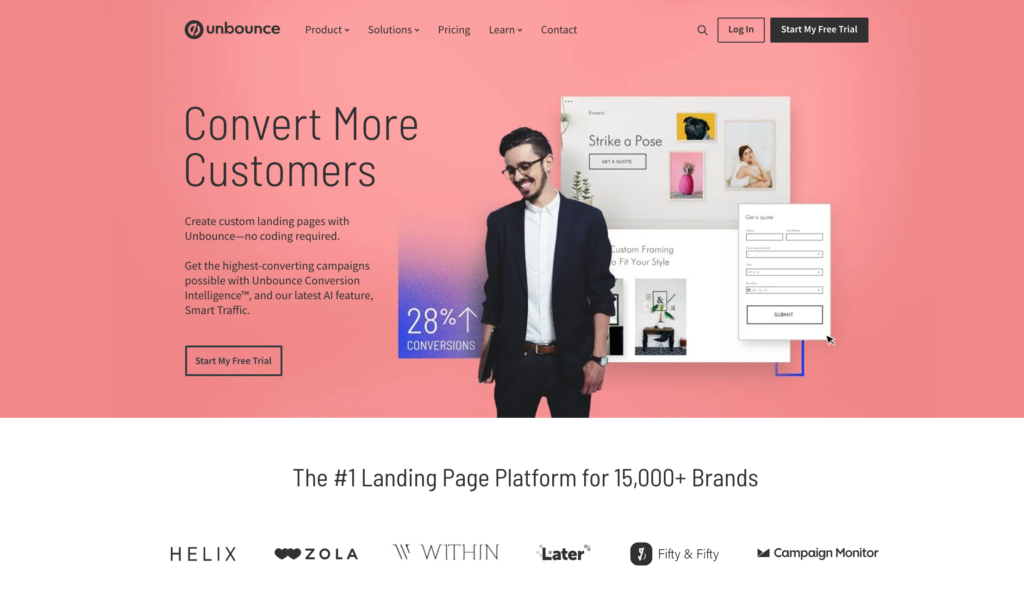 Unbounce is the most capable landing page software out there with a true drag and drop builder, several templates (native and others sold elsewhere), several integrations, and more.

Unbounce also comes with some smart features such as:
Boost lead generation with Unbounce Pop-ups and Sticky bars.
Leads generated have a dedicated lead library (including details such as which landing page variant the lead has come from)
Regular A/B testing and multi-variant testing.
Smart Traffic™ A/B testing feature
Conversion intelligence
Instant lead notifications (can also be branded),
Super-fast landing page loading speed
Proper image optimization
Unbounce Pricing
Unbounce Pricing starts from $80 per month for the "launch" plan (paid monthly) all the way to $300 per month for the "scale plan". I negotiated an exclusive deal to help you Get 20% off your annual pay or for 3 months (if you pay monthly).
Unbounce pros
A capable drag-and-drop landing page builder that anyone (small businesses to enterprises) can use.
Several templates are available to help you kickstart your campaigns.
Easy compatibility with any website infrastructure (regular websites, WordPress, Wix, Shopify, and ever custom-built websites built with other frameworks.
Smart features such as smart traffic, A/B testing, deep integrations, and more.
A strong brand lineage, along with an inclusive community
Special accounts for agencies and enterprise users.
Unbounce Cons
As you scale up and grow your business, you'll need to upgrade to higher Unbounce pricing plans.
Mobile landing pages take a few more minutes of work (after you complete your desktop version).
Watch a complete Unbounce Review Video below:
Would you like to read instead? Here's an Unbounce review post I wrote previously.
LeadPages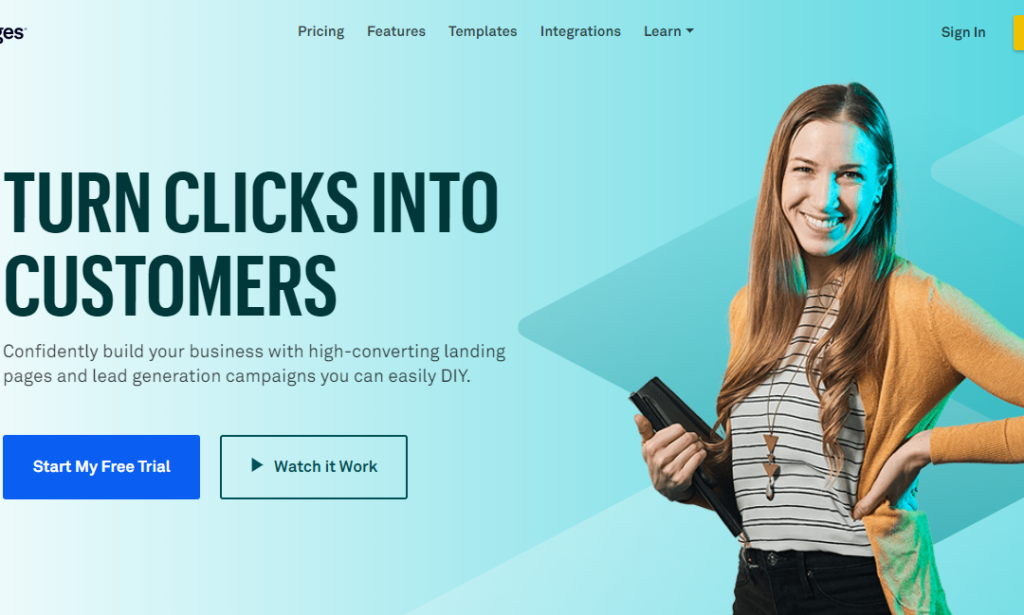 LeadPages has worked its way up from being just another landing page software to a behemoth worth competing with. LeadPages is a simple drag-and-drop builder indeed, but don't let its simplicity fool you.
It's a tight and light landing page software with emphasis on ease-of-use, fast deployment of landing pages, reusable landing page template blocks, countdown timers, and more.
With LeadPages, you get:
Build complete websites (not just landing pages) with its new website builder. This way, your complete web presence works like a lead generation machine. 
No limits on page visits, conversions, and leads. 
With LeadPages, the emphasis is not on "creating landing pages from scratch". Losing time to designing landing pages is an opportunity cost. Instead, start with landing page templates and deploy landing pages faster. 
Your landing pages load fast.  
Focused opt-in forms, LeadBoxes, and more. 
Sub-accounts for agencies
LeadPages Pricing
LeadPages pricing starts at $37 per month for the standard plan (when you pay monthly). Goes all the way upto $321 month for the advanced plan.
LeadPages Pros
One of the fastest-growing landing page apps on Zapier. 
Includes lead magnet hosting & delivery
LeadPages comes with a website builder, fast-loading landing pages, LeadBoxes, Opt-in forms, and alert bars.
LeadPages integrates with Stripe and allows you to accept payments immediately. 
Plenty of LeadPages templates to get started with (also for the LeadPages website builder).
LeadPages Cons
The range of landing page templates are limited to what LeadPages produces (plus a few third-party providers).
Read more:
Instapage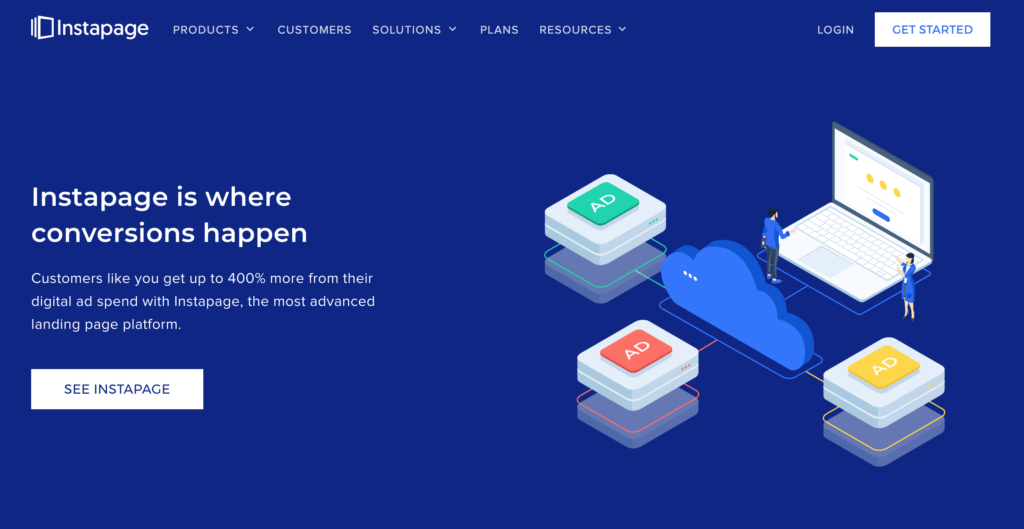 Instapage is a focused landing page builder, just like Unbounce and Leadpages with a lot of emphasis on not just generating leads (or other results) from landing pages but also on the post-click experience (everything that happens, after the click).
Further, Instapage is one of those few landing page software tools with focus on:
Collaboration (several team members can work together to make high-converting landing pages and sales funnels).
Security
Personalized landing pages
With features such as AdMap™ and Post-click, Instapage also works with readily available templates.
Use customizable and reusable blocks to build your landing pages, enhance the post-click experience of your marketing flows or sales funnels, and generate leads with panache.
Instapage pricing
Instapage pricing starts at $199 per month (when you pay monthly) and there's another custom plan (can be anything, depending on your needs).
Instapage Pros
Focused, easy-to-use, template-driven landing page builder which also offers several customizable templates to help start your campaigns in a hurry.
Unique focus on post-click experience (and not just to generate leads with landing pages)
Instapage Cons
Doesn't come with any additional (nice to have) products such as Opt-in forms, sticky bars, etc.
Webflow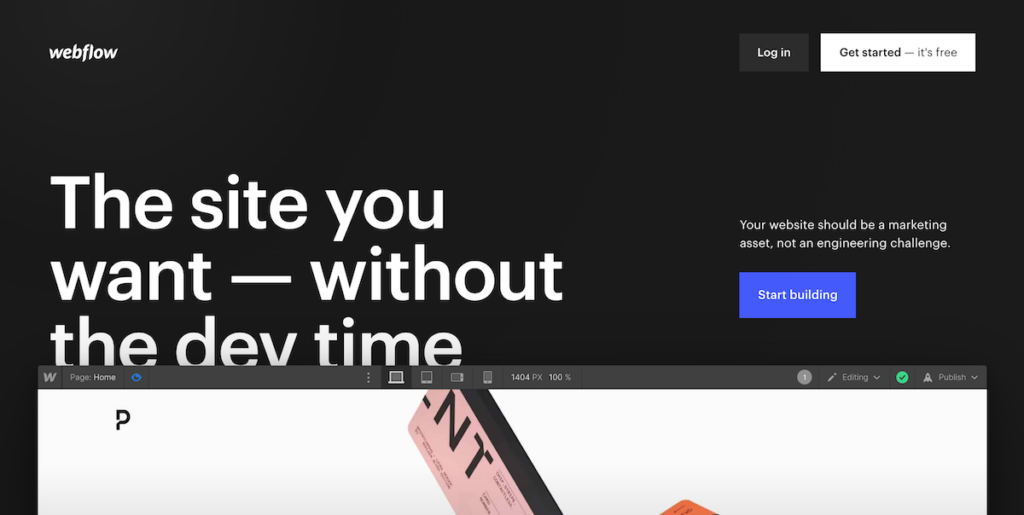 If there's anything that can disrupt WordPress, it's Webflow. What Canva is for designers, Webflow is for developers.
Instead of spending years coding, you can now deploy websites (includes eCommerce sites, landing pages, Opt-in forms, membership sites, Online Course sites, and more) with Webflow.

Of course, you can also build high-converting, super-fast landing pages. The best part of using Webflow for landing pages is that you can retain complete control on the design and behavior of your landing page elements with pixel-perfect control.
With Webflow, you get:
A way to build landing pages (on a system designed to build anything, really)
Landing pages that live on fast-loading, highly-scalable hosting
Build Opt-in forms, Calls to action, and floating bars (or alert bars) or modals
Build complete websites, eCommerce sites, membership sites, and more with Webflow (so you don't just get access to landing page software but a lot more).
Webflow Pricing

Webflow pricing starts at a free plan (limited use, forever). Then, it has "site plans, including eCommerce plans" and "account plans".
Site plans start $12 per month for the basic plan and go up to $36 per month for the business plan. There's also an enterprise plan (custom made for your business).
eCommerce plans start at $29 per month and go up to $212 per month.

There are "account plans" for teams and large businesses. Starting from $16 per person to $35 per seat and beyond.
Webflow Pros
Webflow is a world-class product. After using it, the only thing you'll keep saying is this "Why didn't I find it sooner?".
Webflow was built for creating websites, CMS-driven websites (much like WordPress), eCommerce sites, membership sites, and more. Creating landing pages is just another way to use Webflow.
Webflow Cons
No matter how easy it might seem like, Webflow has a slight learning curve to help you get started. The Webflow university (and tons of resources) can help.
For something like landing pages alone, depending on the plan you take, Webflow might just get expensive as well.
Simvoly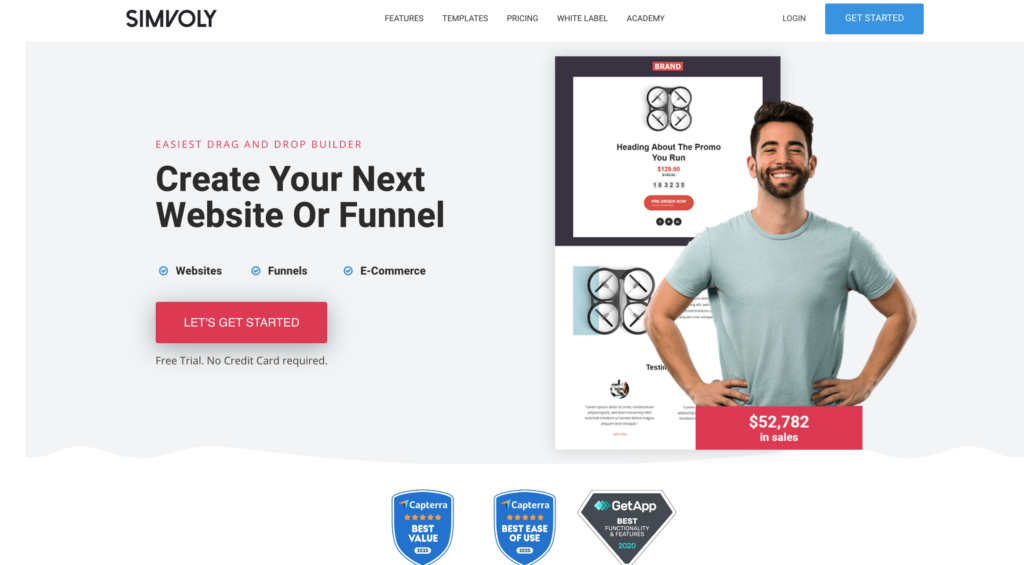 Simvoly isn't just a landing page software; it's also a product that helps you create complete websites, marketing funnels, and sales funnels.
Unlike the other landing page software mentioned here, however, Simvoly runs on its own ecosystem of websites, landing pages, eCommerce and opt-in forms.
Again, in a true drag-and-drop fashion, you can build anything from a simple website, an eCommerce website, or specific landing pages and sales funnels.
Simvoly Pricing

Simvoly pricing plans start from $12 per month for the personal plan and go up to $199 for the pro plan. There are separate white label plans available.
Simvoly Pros
Fast loading websites, landing pages, and sales funnels.
On top of landing pages and opt-in forms, you can also build complete websites or eCommerce sites.
Simvoly Cons
It's much like Wix or SquareSpace, with a semi-closed ecosystem.
While Simvoly does declare integration with Zapier and several tools, it's not clear whether these integrations exist at the moment
Divi Landing Page & Pop-up Builder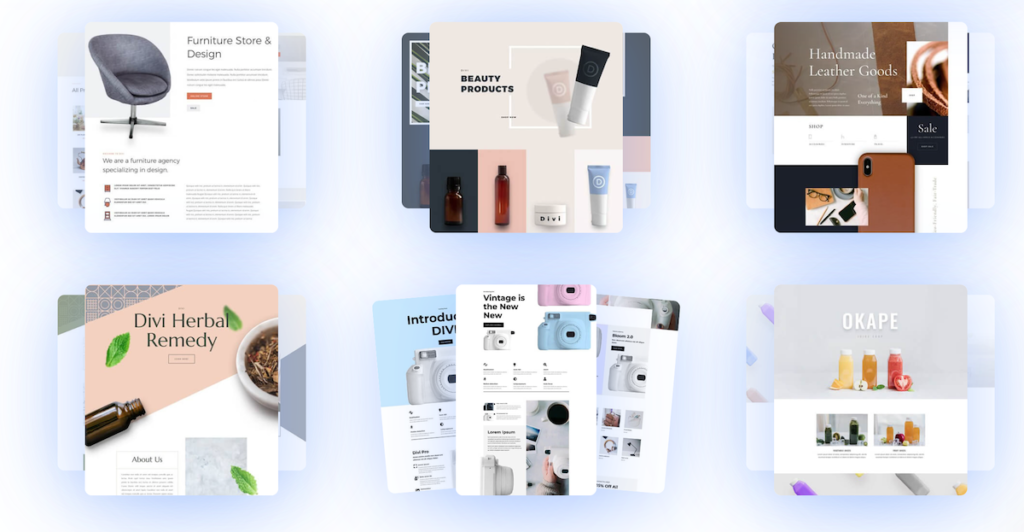 Everyone knows Divi (that's just how popular it is). When you think of Divi, you think of it as a WordPress page builder.
But did you know that you could use Divi like a proper landing page software? 
You can also build as many landing pages as you want, add amazing looking pop-ups to the fray, and still retain control on everything you build.
Divi gets you: 
The ability to build landing pages and Pop-ups (on top of everything else that Divi can do such as to build complete WordPress websites, WordPress themes, and more). 
Use the vast goodness of third-party products that Divi comes married to.
Divi also integrates with several of the other tools that are a part of your marketing stack (such as ConvertKit, Drip, MailerLite, Moosend, ActiveCampaign, and also Zapier). 
Divi Pricing
Divi pricing plans start at $89 per year and a lifetime plan for $249 (one-time).
Divi Pros
Divi is a complete solution for building striking websites with WordPress. Divi also comes with a Landing page builder, pop-ups, Divi layouts, Divi Marketplace, Divi flagship theme along with a few other themes, Divi plugins (such as Bloom and Monarch) — as a part of the package along with Elementor Pop-up Builder.
Divi has countless other add-ons, tools, compatible WordPress themes, and more.
Divi Cons
The feature set could be overwhelming for new users who might only want the landing page functionality. While you can certainly switch from Divi, you'll be locked with Divi's plugins, themes, and add-ons.
HubSpot landing Pages
HubSpot is an all-in-one sales and marketing suite. As a part of the vast offerings HubSpot provides, you also have landing pages as a part of the marketing suite.
Using HubSpot landing pages will require some heavy lifting. It's not exactly drag-and-drop like many of the other landing page software tools mentioned above.

Further, unlike many of the landing page builders above, HubSpot is more or less a closed ecosystem.
So, if you wanted to use HubSpot landing pages to generate leads and then trigger an email sequence, you are largely limited to HubSpot's built-in email marketing system and not a third-party email marketing tool like ConvertKit , MailerLite, Moosend, or Drip. 

HubSpot Pricing:
HubSpot pricing starts from $50 per month (paid monthly) and goes up to $3200 per month for the enterprise plan.
HubSpot Pros:
HubSpot is a comprehensive, all-in-one marketing system. Depending on the plan and the add-ons you pick, you'll have access to a complete marketing solution, sales solution, a CRM system, and evena customer support solution.
HubSpot is the grand-daddy of Inbound marketing; they know what they are doing.

HubSpot Cons:
HubSpot is expensive for very small businesses, self-employed entrepreneurs, bloggers, lifestyle businesses, and several others.
It takes a learning curve to use HubSpot well.
There's an onboarding fee.
While on the topic of HubSpot, here are a few HubSpot alternatives that you might want to consider.