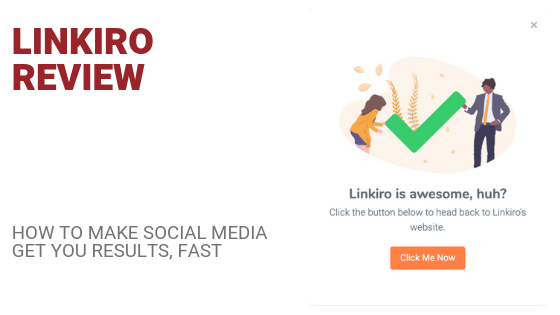 TL;DR: Linkiro helps you make every social media update count. Use Linkiro to make your calls to action (point to a landing page or your website) and generate leads or make sales.

According to Joshua Sophy of SmallBizTrends, the average marketer or small business owner spends around 20 hours per week on social media. More than 80% of those folks use several social media channels (as it makes sense for their respective businesses).

If you think about it, that's a lot of time being spent on social media without much to write home about the returns on investment for each of those marketers or small business owners.

As if that didn't bite you hard enough, the average life of a social media post isn't much to be happy about either. Anna Sonnenberg of Copypress writes that most of the updates you'd put up on your social media channels won't last more than a day.
Pamela Vaughan of HubSpot has actual data to suggest that the average shelf life of social media links is around 3 hours, at the most (depending on the social platform). 
Ultimate Resource Kit
What does this mean for a business or a marketer who wants to get results from social media?

You need a strategic approach to social media, in a way that all the time and effort you put into your social media updates has to work in your favor (like, get you leads or help you make sales). This is in addition to other collateral benefits you get from social media such as impression, traffic, and building your network.
Distributing your content on social media is not a one-time job. You'd have to post social media updates everyday, all the time, forever and ever.
Each of your social updates will only have up to 3 hours (per update) to do what it's meant to do.
But, how do you make sure that you get something back with each update you post on social media?
You might already know about Snip.ly — it's a tool using which you can create some call to action buttons and smart bars to drive traffic or to get results. Now, you have a new kid in town called Linkiro.

How Linkiro Works?
After you sign up with Linkiro, create your CTA. Something as shown below:

Then, you'd have to get the links to any website you want to share with your audience. It can be a blog post, a landing page, a news article or anything from any website and you don't need to be associated with that website at all.

So, say you want to share a blog post or a news article from TechCrunch or Huffington Post, you can collect the link (copy) and add it to your Linkiro dashboard to create a special link which you'll now share with social media.

When people click on your link to read the content you just shared, they'll visit the website or piece of content you shared while Linkiro shows up the CTA (Call to Action) you created earlier.

How to use Linkiro to Get Results
By results, you might mean to generate leads for your business. Or maybe you want to drive traffic organically to your purpose-built landing pages (designed for a specific purpose — mostly to generate leads),

Now, with each link you share on social media, you have the ability to direct traffic to any page of your choice by using the CTA (calls to action) you'll create.

Use your Calls to Action buttons to:

Allow your visitors to sign up as leads (on landing pages or on other pages of your website).
None of this is going to work if you don't have an active presence on social media or without a solid social media strategy.

Without an audience on any of your social media networks, you won't be able to make the most of all the sharing you'd do on social media.

If you do have an active social presence and if you have access to Linkiro, however, you can generate leads, make sales happen, or drive any other results you seek just by using the organic traffic you get to your website.

With Linkiro then, there's no need to:

Share updates on social media channels for nothing. Instead, you can hope to make each of your social updates work for you with Linkiro.
Spend bucket loads on paid advertising (such as Google ads or Facebook ads) to get the same results you'd get just from your organic traffic.
Be lost and wonder how your social and SEO strategy can work together for your business. Finally, be able to connect your long-term SEO strategy (which gets traffic to your website) and social media strategy (gets you impressions, branding, traffic) and generate more leads or sales.
Start with Linkiro for free. Tell me how it goes for you.
Ultimate Resource Kit