The ConvertKit Review is a comprehensive overview of ConvertKit's features, benefits and pricing. ConvertKit is one of the most popular email marketing service providers for bloggers because it offers an easy-to-use interface and many options to grow your business.👇
It also has some great training resources like webinars, tutorials, blog posts and video courses which can help you learn how to use Convertkit effectively.
But we aren't going to talk about the massive creator economy, the creator community on ConvertKit, and more. Let's just keep the focus of the ConvertKit review on ConvertKit itself, why it's a good fit for your business, how to achieve your business goals with it, how much ConvertKit costs, and other nitty-gritty like that.
Let's dig in:
What Is ConvertKit?
ConvertKit is a popular email marketing tool designed for bloggers and other content creators. Most people, however, miss the point completely: ConvertKit can be used for any business really (not just freelancers, course creators, bloggers, and others).
ConvertKit allows you to create broadcasts, custom emails, and autoresponders that make it easy to set up sequences of emails, automation rules, plus integrations with several other marketing tools.
Why is ConvertKit better than other email service providers?
ConvertKit is an email service provider that allows you to create and send professional-looking emails. Convertkit offers a number of features, like automated broadcasts or boosted e-mails which are great for connecting with your audience on a more personal level.
Convertkit also lets you segment lists by interests so users get the content they want. You can tweak and streamline your email marketing messages in a way that your email marketing messages are always relevant and timely.
Convertkit also lets you segment lists by interests so users get the content they want. You can tweak and streamline your email marketing messages in a way that your email marketing messages are always relevant and timely.
ConvertKit Features: How It Helps you Grow your business
Fully-loaded with exactly the features you'll need to grow your email list (and your business), using ConvertKit is as easy as using email itself.
Power up your marketing efforts with complete email marketing by using ConvertKit email signup forms, ConvertKit Popups, ConvertKit sticky bars, ConvertKit Automations, and Sell your digital products (including music, art, and software) with ConvertKit Commerce.
ConvertKit email signup forms, Sticky bar & Popups
This is where your lead generation starts. Generate leads and grow your email list by using email signup forms and popups on your website.
Yes, you don't need "another tool" for that.
You can use Convertkit popups and email signup forms as follows:
Show a permanent sticky bar at the top of at the bottom of your website featuring your latest offers, announcements for the latest product features, and more.
Add email signup forms in the middle and at the end of each blog post (as a targeted call to action)
As slide-ins after your visitors spend a certain amount of time on your website (say 5-6 seconds) or when they reach a %scroll (such as 70% page scroll)
Use Exit intent pop-ups to recover visitors who are trying to leaving without taking any action on your site (such as signing up for your free lead magnet)
Use Convertkit email signup forms on your home page, other utility pages, or on any other page (as a static element).
You can also convert existing forms into a popup by adding event tracking or exit intent detection to your ConvertKit forms. Track when visitors converted and segment who converted for which offer.
Each of the ConvertKit popups, sticky bars, and email signup forms can be customized with your brand colors. Add images, add videos, and make them your own.
With ConvertKit, you get unlimited email sign up forms, popups, and sticky bars (although you'd want to use one bar at a time).
The forms are completely mobile-friendly, GDPR compliant, feature lead magnet delivery instantly, and you can also create custom forms (depending on what you need for your business).
Here's how to create forms on ConvertKit
Convertkit Broadcast Emails
Convertkit broadcasts allow you to reach all your contacts at once, so if there are emails that you have to send on a regular basis, this feature is what you'd use.
You can use ConvertKit Broadcast emails for:
Sending weekly emails to your subscribers (keep them nurtured, engaged, and active)
Send out one-time promos and offers.
Share exclusive content with your email subscribers.
Looking for a quick tutorial on how to create broadcasts on ConvertKit? Watch the video below:
ConvertKit Automation
You're a busy entrepreneur and you need to automate your email marketing.
ConvertKit is the best way to send emails, manage subscribers, and create automated workflows without any technical skills. ConvertKit has everything you need in one place so that you can focus on what matters most building your business.
Stop wasting time with complicated software or clunky spreadsheets. With ConvertKit's automation features, it takes just seconds to set up an automation workflow for each of your contacts.
ConvertKit automation allows you to create a sequence of emails that are automatically sent out on a scheduled basis. You can set up the time interval for each email and then ConvertKit takes care of taking care of it.
ConvertKit automation allows you to create a sequence of emails that are automatically sent out on a scheduled basis. You can set up the time interval for each email and then ConvertKit takes care of taking care of it.
ConvertKit Landing Pages
Without landing pages, you shouldn't even try to do anything related to digital marketing. Landing pages are everything.
Landing pages get you results. Like, real results.
ConvertKit provides you with landing pages, like proper, full-fledged, completely customizable landing pages to let you:
Generate leads for various products, programs, memberships, services, digital products, and whatever it is that you need to generate leads for.
Landing page URLs are also customizable (unlike in MailChimp where you'd need pay more for that exact functionality).
Your landing pages on Convertkit are directly linked to your email marketing lists.
Segment, sort, and tag your subscribers depending on the campaigns you run, the products you sell, or the free lead magnets or content upgrades that you give away.
Here's the deal. You can use Convertkit in conjunction with other landing page software such as Unbounce, LeadPages, and Instapage.
Or you can use ConverKit landing pages completely by themselves (without the need for the landing page tools mentioned above).
It really depends on your business, how you use landing pages, the kind of control and flexibility you need for landing pages and campaigns, whether you'd need A/B testing, etc.
Here's a quick intro on sales funnels:
ConvertKit Commerce
Note: Only digital products, subscriptions, and memberships are supported at the moment. ConvertKit commerce is still not available for Physical products (If you want to sell physical products, you should check out Webflow or Shopify. Of course, WordPress eCommerce is a popular option as well).
Further, product bundles are also not supported at the moment. If you need complete functionality (and still be able to use Converkit), see how Podia could be a great fit for your needs.
For selling digital products, there are tons of options when it comes to online selling — from making your own website and hosting all the files yourself, using Podia, Payhip, or by using marketplaces like Amazon, and more.
Convertkit commerce is a brand new offering from Convertkit — built for creators, for helping creators (of all kinds) make money from what they do best.
ConvertKit commerce allows you to create and sell digital products and services (right from inside your ConvertKit account). ConvertKit Commerce is going to be a huge help for Convertkit users who want to make money with Convertkit, but don't have the time or skillset to figure out how to sell online.
You also have ConvertKit Upsells now to help boost the average order value and sales (for no extra work)
So, what can you sell with Convertkit commerce, you ask?
Think:
E-books
Sponsorships
Subscriptions
Music
Presets
Exclusive paid newsletters
What will you sell next?
ConvertKit Integrations
No email marketing software provider can work in isolation, without a way for you to connect with several other apps that are already a part of your marketing stack.
ConvertKit integrates with a lot of other marketing tools out there and that's really good news for you.
Here are a few noteworthy integrations that you should know about:
There are an insane number of tools, platforms, and apps that integrate with ConvertKit.
Look out for more integrations coming through (and that's on top of what you can do with the insane power of tools like Zapier and Automate)
ConvertKit pricing plans
Want to test waters when it comes to email marketing? Do you want to see how email marketing changes everything for your business? Convertkit has a forever free plan and you can start and use ConvertKit (including ConvertKit commerce, Convertkit broadcasts, Convertkit pop-ups, and Convertkit landing pages) right away.
ConverKit Pricing has three tiers (and the actual prices per month will change depending on how many email subscribers you have).
Convertkit Prices start with the free account, the Creator Plan, and the Creator Pro plan at $0 per month, $29 per month, and $59 per month.
For instance, if you wanted to use automation and funnels inside Convertkit, you'd have to upgrade to the creator plan at least (even if you have up to 1000 email subscribers).
The Creator Pro plan includes everything above and the following:
Facebook custom audiences
Newsletter referral system
Subscriber scoring
Advanced reporting
After this, if the number of subscribers go beyond 1000 subscribers, you switch to a tiered pricing model depending on the number of email subscribers you have.
Pay only when you see value, and I really like that.
As such, Convertkit pricing is competitive and is on par with other popular email marketing service providers such as MailChimp, Drip, Constant Contact, Campaign Monitor, and others.
See Convertkit pricing details.
How to Migrate to ConvertKit
It's simple to migrate to ConvertKit. Download your entire subscriber list as a .csv file and load it to your ConvertKit account.
If you have more than 1000+ subscribers, you can also choose to get free migration services by ConvertKit itself. The team at ConvertKit can help customize your migration needs and complete your migration (carefully, but without you having to do anything) to ConvertKit.
Depending on the complexity and email list size, migration to ConvertKit can take anywhere from 2 days to 10+ days.
Learn more about ConvertKit migration
Bonus mention: DesignModo
Want to break out of the same-old, same-old email marketing thingy? Then it's time you consider designing your email marketing messages that'll look exceptional, are mobile-responsive, and design emails without hiring expensive email designers.
Use PostCards: The Email Designer by DesignModo and completely change the way your emails look.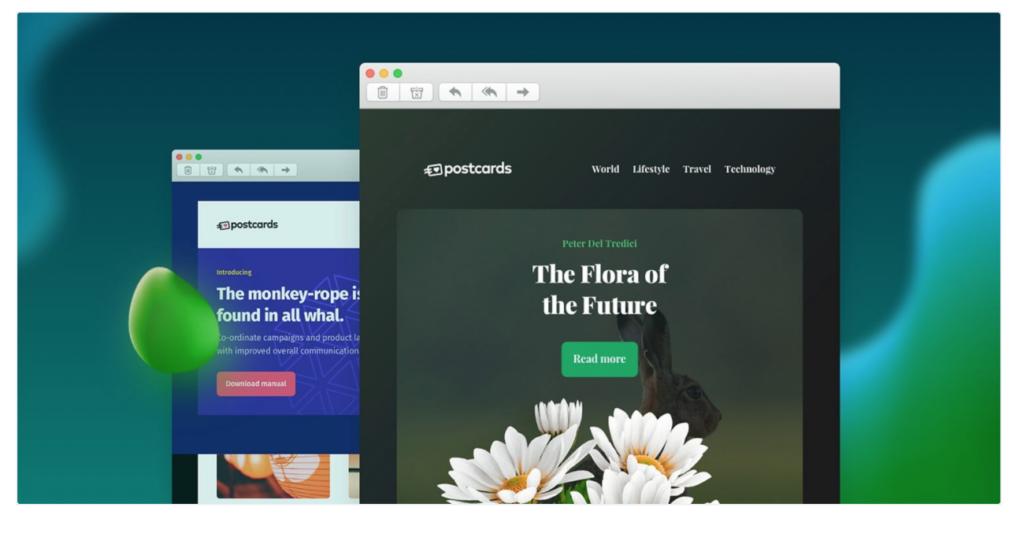 The email newsletters (or other types of emails) created with DesignModo just scream "Shut up and take my money". Trust me.
Design with DesignModo and upload your email designs to ConvertKit for maximum impact.
Sign up and get started for free with ConvertKit now. Thank me later.