Use Convertkit Upsells if you are looking for ways to grow your email list and grow your business.
An upsell is a sales technique where a company tries to sell a customer a more expensive or upgraded version of a product they are already interested in.
For example, if you are considering purchasing a product, eCommerce brands (or anyone who has anything to sell really) can push a quick offer to purchase a highly-relevant product along with the original one.
Or, a SaaS business can prompt you to a more expensive plan that includes additional features such as automation or integrations.
Maybe you can add a layer of service to a product that a customer is looking to purchase. Something similar to what Apple does with its Apple Care packages for each product you consider (such as iPhone, Macbook, and others).
eCommerce subscriptions are great ways to boost sales, conversions, and also the Average Order Value (AOV).
Read:
eCommerce Subscriptions Examples: 13+ Brands (across 5 Categories]
9 Shopify eCommerce Subscription Apps [Recommended]
But why should the big brands have all the fun? You can do upsells even if you are a content creator, blogger, live streamer, and influencer.
For example, if you are a blogger and you offer a basic email course, you could upsell your students to a more comprehensive course or coaching program. This allows you to provide even more value to your audience and generate more income for your business.
Why Upsells?
According to Shopify, The average eCommerce conversion rate is just around 2% (one click and your potential shoppers can find new destinations to shop at).
Further, the average order value is only $45 industry-wide, globally.
Do you see just how much of all that eCommerce marketing, conversion optimizing, email marketing, spending on ads, and doing what you do for marketing your business could get wasted?
Upsells can be a great way to increase your revenue and provide more value to your customers. If you use ConvertKit or if you are planning to use ConvertKit, be sure to take advantage of ConvertKit's new Upsells feature.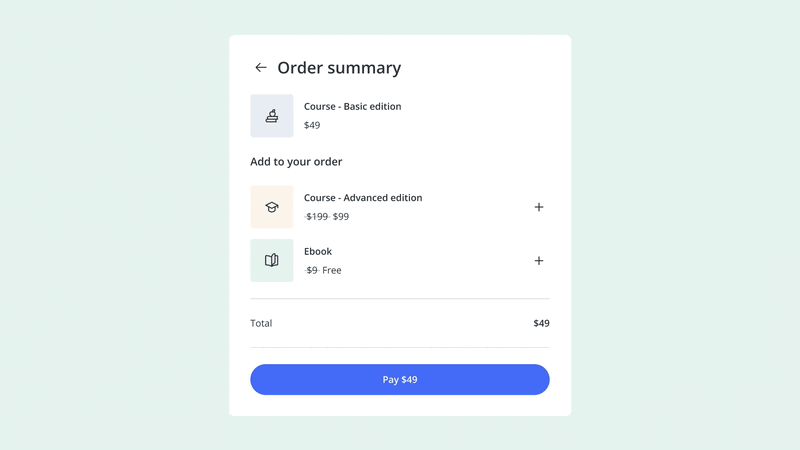 How to Make Upsells Work With ConvertKit
ConvertKit upsells feature fits snug into your regular ConvertKit Commerce feature set giving you more ammunition for higher conversions, more sales, and a longer customer lifetime value.
All this, without you having to do anything remotely resembling a benchpress equivalent with eCommerce conversion strategies or elaborate customer retention strategies.
Here are a few tips to make ConvertKit Upsells Work for you:
Be sure to have a few paid products before you get around to using ConvertKit Upsells. You can't make any offers for upsells when there's nothing to sell (Intuitive, but it had to be said).
Use Upsells with products that are to be consumed together, used together or those products that build on each other (or those that are complimentary).
When you Upsell, sweeten the deal a bit. Be sure to provide one-time only discounts or exclusive offers (something like "this will flash only once, take it or leave it")
Offer a checkout-only discount as an incentive for your customers.
Read:
How to Increase Average Order Value
How to Upsell and Cross-Sell Like a Pro
Do you use Upsells for eCommerce? Have you tried ConvertKit Upsells?
Tell me all about it on Twitter, LinkedIn, or my LinkedIn Brand page.