Why Social Commerce examples? Why Bother? What's that got to do with making the money and teetering your way to the bank (laughing?)
Everything, if you ask me.
Social commerce sales roll into an avalanche of profits when you start thinking about how human-centric your business is.
Most businesses aren't. For several brands and businesses, existing and potential customers are just transaction numbers.
What is Social Commerce?
Trying to bring in the human element back into eCommerce should be on every brand's agenda (including yours).
Plus, Social commerce is all about "taking the store to where the customer is" while still keeping up with the rigours of eCommerce — including ease of shopping, security, safety, shipping, and more.
Social commerce is profitable: According to Accenture, social commerce sales reached $US 492 billion worldwide in 2021.
Shopify trends reveal that more than 49% of brands certainly plan to increase their investments to develop and execute social commerce strategies. (thanks to Tamara Franklin of Shopify for these inputs).
As the folks at BigCommerce write, it's not about "another channel for eCommerce": it also has a lot to do with additional revenue streams, tapping into the power of social platforms (along with the reach that each of these platforms give eCommerce brands, and more).
Plus, there's the question of the curious case of low eCommerce conversion rates. According to BigCommerce:
Not to mention 92% of active users access the internet through mobile devices, and mobile users have a cart abandonment rate of nearly 86% — but unfortunately, not all ecommerce sites are mobile-friendly.

Here's where social commerce steps in.
Social Commerce and eCommerce: What's The Difference?
eCommerce is the traditional way eCommerce transactions happen: your store lives on Shopify, BigCommerce, WooCommerce, Podia, Payhip, Thinkific, or elsehere (including the likes of Amazon, Etsy, eBay, and others). Customers browse. See what they like. They purchase. You Ship.
Social commerce, on the other hand, is all about taking the store to the customer (where they are likely to hangout): Instagram Shoppable posts (and ads), Facebook Shop, and Shopify Products showing on YouTube Videos.
As BigCommerce explains, it's much like pushing the cart to where customers are. Customers shop directly on Instagram, Facebook, YouTube, and so on. Or they'd buy through one of your live streams, on your videos, from within their emails, and more.
Note: eCommerce (the way I see it) is not exclusive to brands selling socks, curtains, blinds, sneakers, winter wear, pet food, and the likes. eCommerce also encompasses all of the service providers, developers launching side hustles, coaches, and online course creators.
When your dollar goes into someone else's wallet, eCommerce just happened. If it happens on Meta (Facebook), Instagram, Twitter, or on some social platform, it's social eCommerce (not so simple, but you get the idea).
6 Social Commerce Examples To Inspire You
This is only an initial list of social commerce examples (I am on a hunt mode). Some of these eCommerce brands using social commerce to their advantage is sweet news and I hope I keep adding to these social commerce examples.
For now, binge read:
Knix
Knix sells inner wear for women — bras, apparel, underwear, and more. The eCommerce store has everything going for the brand — live chat widget, well-presented products, offers, and using the full power of Shopify to help grow their eCommerce business.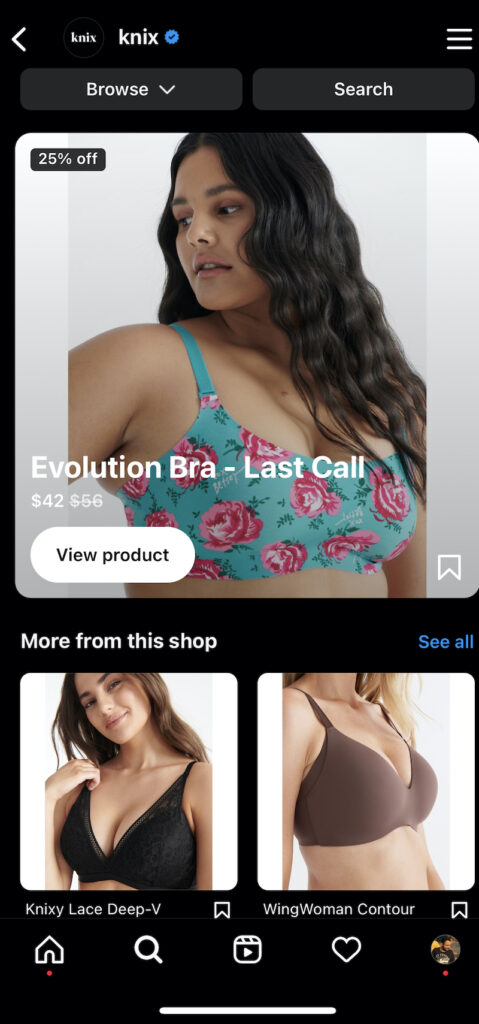 Of particular interest (for this blog post) is their Instagram account which also features Instagram Shop — with its own product display carousels (including prices). Knix's Instagram followers can directly purchase products, right on Instagram.
Note: Use Gorgias for a full suite of comprehensive tools like live chat widgets, shared inboxes, unified communication, and more)
Holo Taco
Holo Taco specializes in nail polish, nail care, accessories, and more. If you take a look at their YouTube Channel, you'll get the videos of course.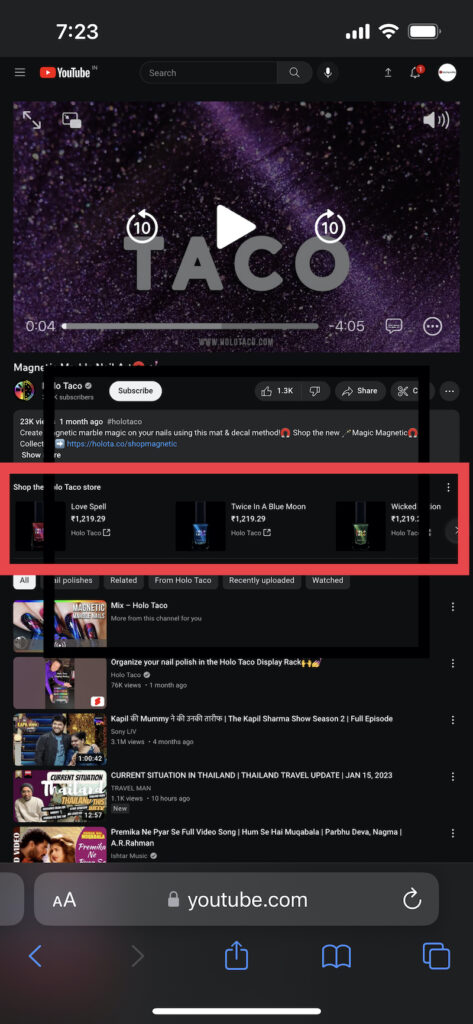 Additionally, you'll also see their merchandize, nail care products, nail care bundles, and more right underneath some of their videos.
Note: If you sell on Shopify, you can sell products directly on YouTube. Learn how to integrate Shopify and YouTube.
PinkTag
eCommerce live streaming is all the rage now (also why Amazon Live is big as well). PinkTag boutique store is all about selling purses, bags, accessories, clothing, shoes, apparel, fashion for kids, and more.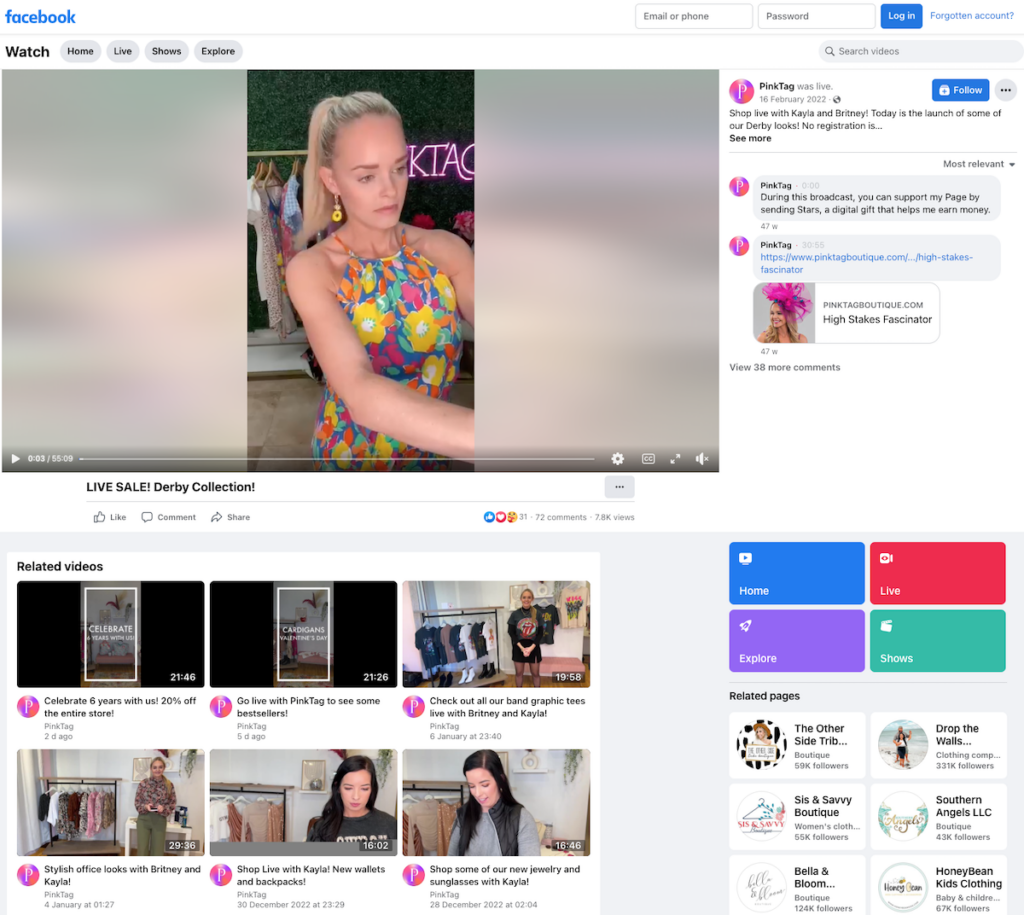 PinkTag regularly does live streaming on Facebook Live featuring a variety of products such as new wallets, backpacks, jewelry, graphic tees, clothes, and shoes.
Chamberlain Coffee
Chamberlain Coffee retails coffee products, coffee bags, Coffee subscriptions, and more. Specializing in Matcha and Cocoa coffee (with flavors to boot), it's a great example of niche coffee products retail in eCommerce.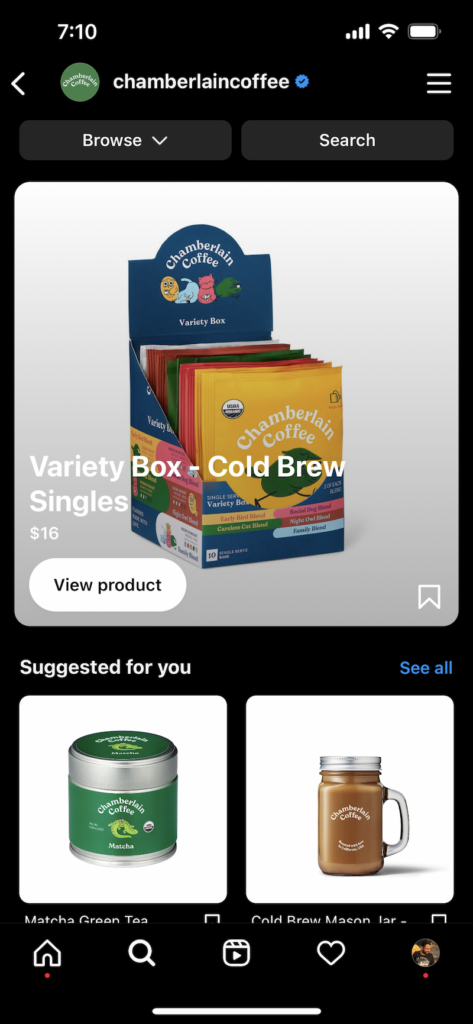 Emma of Chamberlain Coffee also has a YouTube Channel with 11.9 million subscribers where she discusses the products and recommends some best sellers. Feels more like Coffee with Emma than directly pushing Chamberlain Coffee products on YouTube.
The way it should be done.
Apart from the eCommerce store itself (built with Shopify), Chamberlain Coffee also has an Instagram Shop (view Products, Buy on Instagram directly).
Miniac
Miniac is an interesting Shopify success story (be we ain't going there).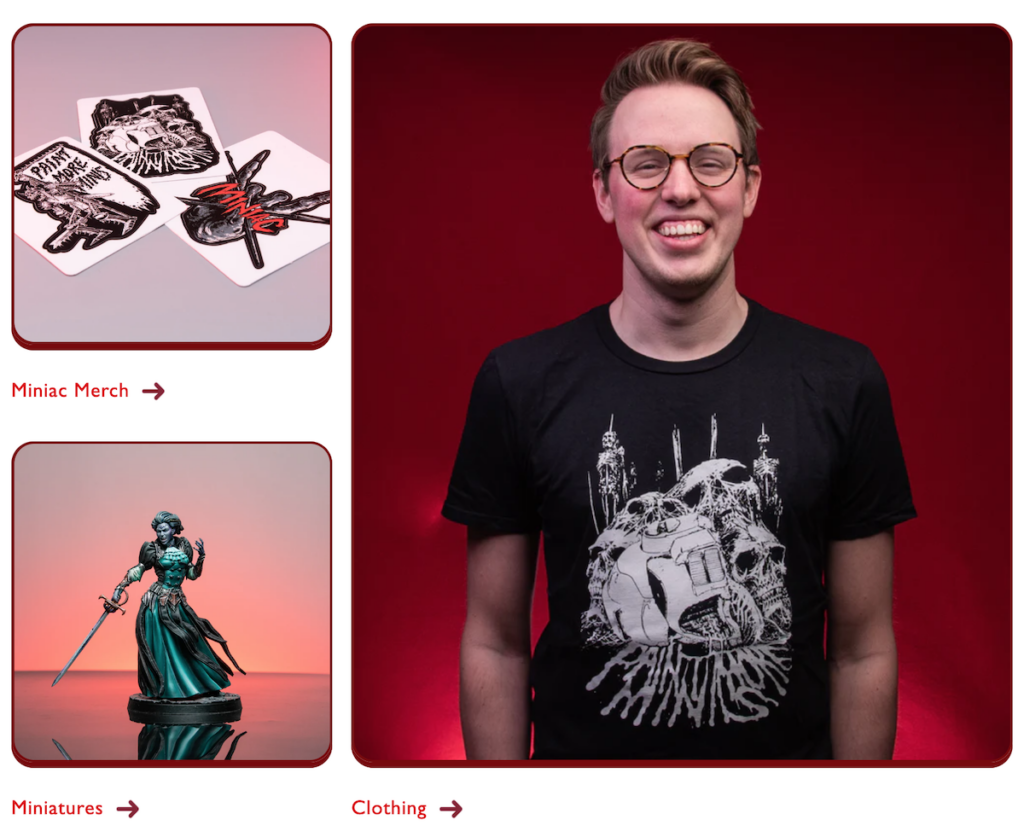 Scott Walter, a creator and entrepreneur behind Miniac started with monetizing his miniature figurine hobby. He then gave it a visual exposure with his YouTube Channel (303,000+ subscribers) where he posts about his table-top gaming or discussing creating or painting miniatures.
Miniac now sells branded T-shirts, hats, miniature figurines, and more — all based on his love for metal music.
Scott also sells MasterClass Online courses for those who want to learn the art of creating miniatures. Sell your own courses with Podia, Thinkific, and Payhip [Pick one]
Read more:
How Youtubers Can Make Money Selling Merch
Mythical
Mythical is a Shopify eCommerce Merchant selling an assortment of goods — from hoodies to T-shirts; from apparel to drinkware; from kitchen products to accessories.
While you'll see that their Shopify store is exactly how you'd expect it to be, it's with social commerce (added to everything they do) that do magic.
Apart from building a loyal and powerful community of more than 18+ million YouTube Subscribers, Mythical team runs "taste tests", features guests on their videos, and more. They have a couple of other channels (each with a related list of YouTube subscribers).
What some of the best social commerce examples you've seen? Share them with me and I'll be sure to give you credit. If you are an eCommerce brand using social selling to your advantage, please do let me know as well (will be super thrilled to feature you here).
Reach out to me.
Tell me all about it on Twitter, LinkedIn, or my LinkedIn Brand page.