Landing pages are essential tools to generate leads and convert them into customers.
If you are a business or a marketer, it's time to leverage AI. It's time to use the gifts you get now. Never before in the history of mankind was any of this available.
Join the webinar on how marketers and businesses should leverage AI
For the success of landing pages, everything factors in:
Whether or not you use landing pages
How you design landing pages (and the speed at which you design and deploy them)
The passion with which you choose to make landing pages work
What you emphasize on landing pages while you create them
The landing page tools you use
How you approach A/B testing (or split testing), use conversion Intelligence, or aspects such as Smart Routing or whether you do it at all…
I could write books on each of those above, but we ain't doing it now. This blog is all about using the power of artificial intelligence to speed up, optimize, and essentially make the whole process faster (and better).
Creating an effective landing page requires careful consideration of various factors, such as design, content, and user experience.
However, creating a landing page that delivers the desired results can be a daunting task, especially for small businesses with limited resources.
All this is assuming that you aren't rolling your eyes yet, or someone convinced you that you don't need landing pages at all.
Assuming you are still here (and on the right track), here are a few landing page features and updates to help simplify the process.
AI-Content Generator from Instapage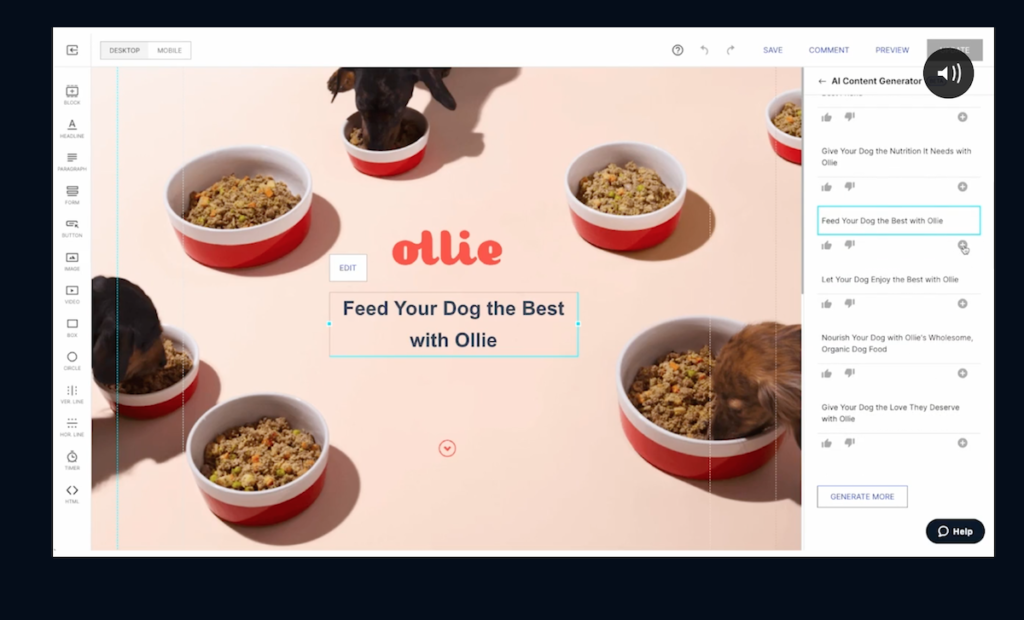 Instapage is a popular landing page builder that has recently integrated AI technology into its platform.
It's already one of the leading landing page tools and makes it dead simple to create and manage landing pages for campaigns along with their leading collaboration tools, landing page blocks, landing page templates, and more.
Instapage recently rolled out their Artificial Intelligence Content Creator which uses machine learning to analyze user behavior and optimize landing pages for higher conversions. Instapage also provides real-time analytics and A/B testing capabilities to help businesses fine-tune their landing pages for maximum effectiveness.
Instapage's AI Content Generator is a new feature that uses AI models to draft page content (available for all Instapage customers).
The AI Content Generator is based on OpenAI (an API that also forms the basis for ChatGPT, DALL-E 2, and other popular AI generators), OpenAI-based content generators can create written content nearly indistinguishable from a human copywriter.
Read:
How to Use AI To Create Outstanding Landing Pages
Instapage AI Content Creator: The Future of Landing Page Creation
Webinar: How to Leverage AI (for marketers and business owners)
Unbounce
Unbounce is a popular landing page builder that's been around for a while. It's one of my "go-to" landing page builders for a long time now.
It's one of those few "truly drag-and-drop landing page builders" — unlike playing with lego blocks or dropping one element under another one using grids, Unbounce has come a long way now.
Apart from the classic landing page builder offerings (which Unbounce now calls as the classic builder), Unbounce also has AI copywriting and AI optimization rolled into the product.
Unbounce uses AI technology to personalize landing pages for each visitor. The tool analyzes user behavior and creates unique landing pages that are tailored to the individual's interests and preferences.
Unbounce also provides A/B testing and real-time analytics to help businesses optimize their landing pages for better results — both for their classic and Artificial Intelligence driven offerings.
The focus, as with most modern-day landing page builders — is to remove IT, design, and development bottlenecks; it's to help you generate landing pages faster, easier, and with much less effort. Unbounce allows you to create, deploy, and manage multiple landing pages (with one or many landing pages built per campaign).
This is in addition to other products such as Unbounce Pop-ups and Unbounce Sticky bars.
Read:
Should I Use Pop-ups For Marketing and Lead Generation?
Unbounce Review: The Only Landing Page Builder You'll Ever Need
Leadpages AI Engine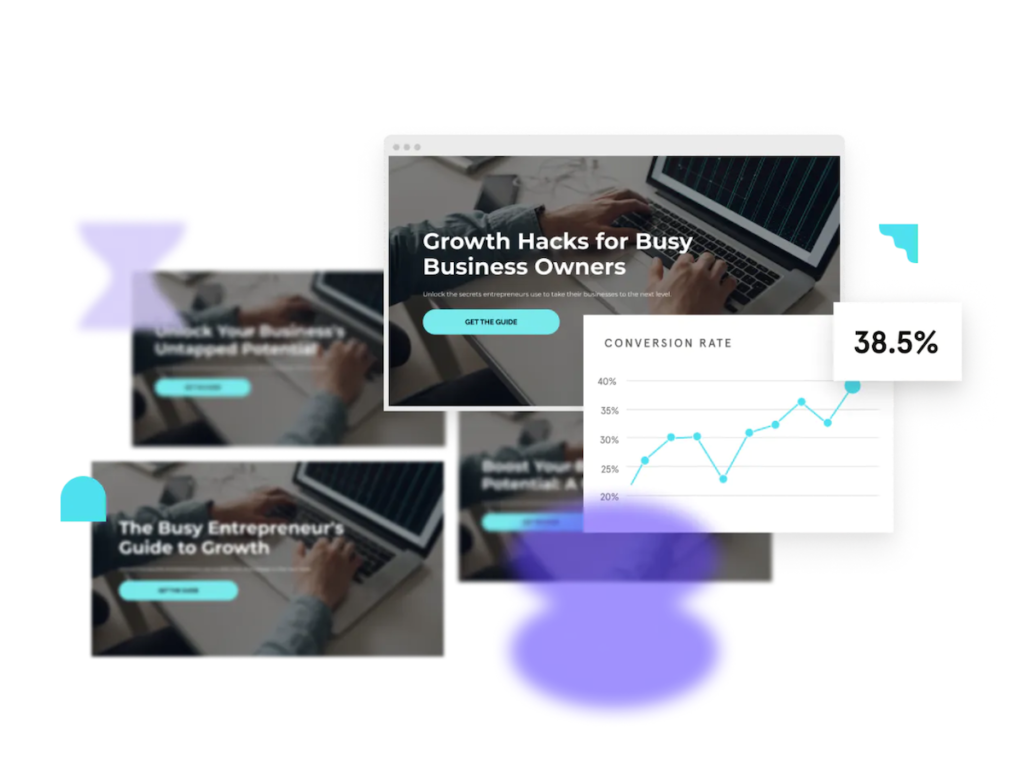 If you know me, you'd know that I might have probably spent a lifetime inside of Leadpages while designing landing pages for my clients.
Leadpages has always been instrumental in helping me and clients generate fantastic results (conversions) while running marketing campaigns.
The new Leadpages AI Engine is a artificial intelligence powered landing page builder and optimizer. With the Leadpages AI Engine, for instance, helps generate copy with a single click and publish pages faster and better.
Specifically, for instance, you never have to stare at a blank screen again when it comes to headline ideas. The Leadpages AI Engine will run an entire list of ideas for you to choose from. Or, generate new versions of your headline in seconds with AI Engine.
Once you pick a headline or subheading, you can A/B test your headline variations to discover which one resonates with your audience and then go with the winning headline to boost conversions and collect more leads.
You can unlock the power of artificial intelligence and discover a new way to promote your products, services, and brand.
Just like that.
Read:
Leadpages Review: It's time for digital domination
Creating effective landing pages is no longer a daunting task. But it can be easier and manageable, thanks to power of AI to simplify the process of creating and optimizing landing pages for maximum conversions.
Whether you're a small business owner or a digital marketing professional, these tools can help you achieve your goals and drive more revenue for your business.
What landing page tools do you use? What are your favs?
Tell me all about it on Twitter, LinkedIn, or my LinkedIn Brand page.