Salesforce? Salesforce App Exchange
Amazon Web Services? AWS Market Place
Thinkific? Thinkific App Store.
WordPress? Plugins.
See the pattern? All of the app stores (from Google Play and Apple App Store to Shopify App Store, Thinkific App Store, and Unbounce apps (of course) are built to help you use apps that speed up, make it easier, or accomplish more.
Unbounce Apps help you power your workflows and connect with other services, apps, and software that you are likely to use for marketing.
Your marketing tech stack, working together for you.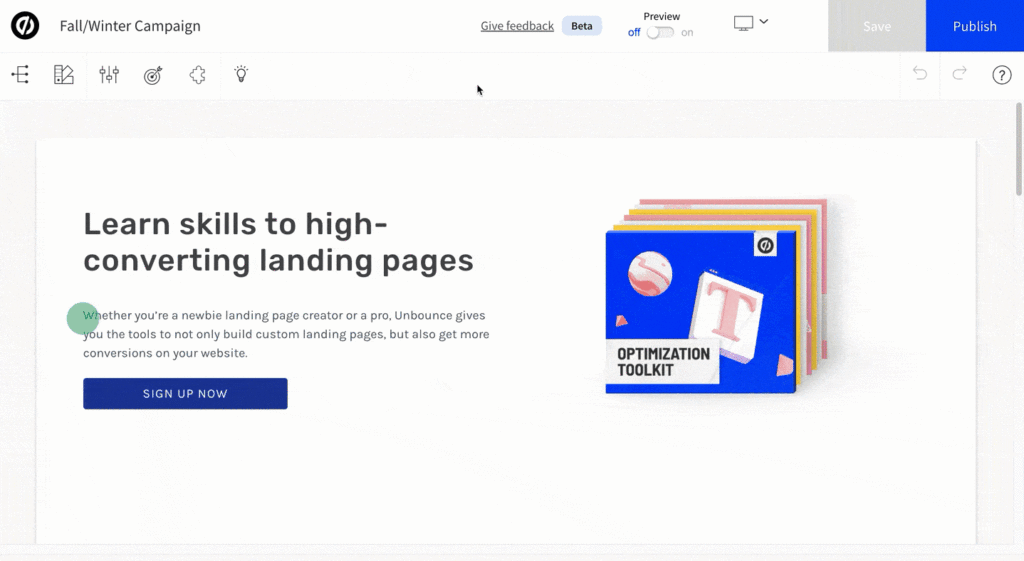 Unbounce Apps: What Apps Are Available?
Depending on the type of apps you look for (or need), Unbounce apps are available across the board. All of them are sorted and categorized into various categories, as follows.
Design Element Apps: Add popups, Sticky bars, animated headings, and countdown timers. Unbounce apps for design also help you add filters, add opacity to images, load Font Awesome icons, and add enhanced button styles.
Media Apps: Making use of Unbounce's tight Unsplash Integration, installing Giphy (for gifs), embedding vimeo, adding promo video maker, adding Meta (Facebook) share buttons, and so on.
Social Media Apps: This is intuitive enough, no? Add Pinterest boards to landing pages. Or embed Instagram post/reels/videos on landing pages. Embed TikTok videos on landing pages. See?
Purchase & eCommerce Apps: Integrating PayPal or Stripe. Selling WooCommerce products with the Unbounce Smart Builder. Use Shopify Buy Button? Add Stripe Products directly on landing pages? You can do it all.
Tracking apps: Unbounce gives you terrific ways to track landing pages. Use it for the Facebook (Meta) Pixel, Google Analytics, Adroll, and AnyTrack. Further, track events, form submissions, purchases, sign ups, shopping cart abandonment, and more. Landing pages, traditionally, also require general audience tracking (like your website or eCommerce store does) to help build audiences.
Utility Apps: Using landing pages to sign up bookings for demos with Calendly? Would you like to use an instant quote calculator? How about adding an instant messenger — like Meta (Facebook) Instant Messenger? Do it all with Utility apps available with Unbounce.
Unbounce Smart Builder + Apps = Profitable Marketing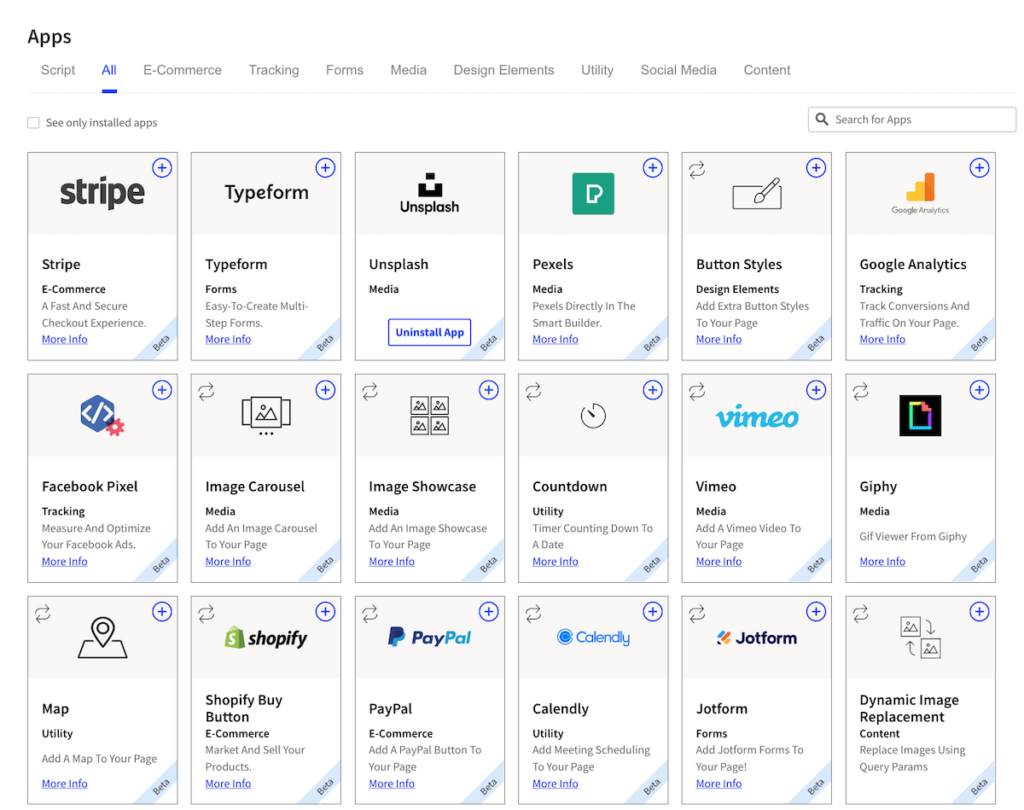 Unbounce already comes with a few pre-installed apps (only you might not have thought about it that way, especially if you are an old-timer (like me). Unsplash, Unbounce Popups, Unbounce Sticky Bars, and Google Analytics, for instance.
Further, Unbounce — by default — also helps you integrate (natively, without apps) with several marketing tools. For instance, Unbounce connects with MailChimp, ConvertKit, CRM systems, and more. For those that don't have native Unbounce Integrations, you still have webhooks and Zapier.
Unbounce also has built-in A/B testing (Including Smart Traffic ™), the ability to edit landing pages on the fly, create multiple versions of landing pages, and simple ways to Interpret A/B Testing data.
Connect apps together with the power of Unbounce Smart Builder (which also uses Artificial intelligence to write copy for you, among other things), and you have a fast, capable, smart, and absolutely dependable system to build landing pages for your business.
Get the free preview [no-optin needed], and See how Unbounce works.
Read More:
Unbounce Review: The Only Landing Page Builder You Need
How to Create Unbounce Popups [Convertibles]
Unbounce Vs Clickfunnels: Which One Wins?
Best Landing Page Software For You to Consider [2023]
Do you use Unbounce? Have you tried out Unbounce Apps? If so, how did they work for you?
Tell me all about it on Twitter, LinkedIn, or my LinkedIn Brand page.