Why this Unbounce Vs Clickfunnels comparison, you ask? You won't appreciate what a landing page builder really does for you if you don't know what you are looking for in the first place, right?
You might think you know what you want, but you still don't (not until you deep dive and then get frustrated when you can't seem to do simple things that were promised to you before you plunder $297 or so on a SaaS tool each month).
Here's what a landing page builder should be able to give you:
An incredibly easy, intuitive, bug-free, and "truly" drag-and-drop landing page building interface (try it on your browser here) — dragging and dropping into pre-set blocks isn't truly drag and drop. Also, getting forced into using existing templates without freedom to completely change the templates is not done.
You'll need a lot of templates as options available. On top of that, every template should be completely customizable.
Proper integration with the most popular email marketing tools such as Mailchimp, Drip, and ConvertKit, full-blown marketing automation suites, and all-in-one marketing automation tools.
Integrations with CRM of your choice.
Ability to use Zapier just in case a particular integration with an email marketing tool or CRM is unavailable natively inside the app.
Tools like webhooks (just in case even Zapier can't come to your rescue).
When I wrote the Clickfunnels review, I didn't realize that it'd invoke such a strong reaction among my readers. While I stand by everything I wrote in that review, things only got worse with Clickfunnels while getting more expensive.
Plus, I also received flak from Clickfunnels fans too (which is alright and it was expected).
Here's what clickfunnels gives you:
Clickfunnels has templates too and you get change elements on those templates to get what you need (Etison editor). Unlike Unbounce, however, you are stuck with these templates. If you want something else and if that's not how the templates look like, you just can't do it.
You can build affiliate centers, membership sites, and a few other things which Unbounce can't (and doesn't want to) do.
Clickfunnels gives you actionetics — a suite of email autoresponders, email follow-ups, and email marketing tools. This is Clickfunnel's proprietary system of emails (which is nowhere as good as ConvertKit, Mailchimp or Drip)
Then, you get Clickfunnels Backpack — a suite of tools and features to allow you to build a full-fledged affiliate program.
I also wrote a review on Unbounce which will be updated to reflect a ton of new features and improvements that Unbounce now boasts of.
Here's a video on Unbounce Review
Note that Unbounce pricing has changed too and the popular landing page builder is now more affordable with pricing set it a way that you can scale according to the number of conversions (paying for results).
Unbounce also has its brand new Conversion Intelligence™ platform to unleash the power of artificial intelligence to make your campaigns convert better.
I noted that writing just reviews on either of the landing page builders won't help.
We need a wee bit more.
Many business owners and marketers are usually slapped with a choice to make and making those choices is an unnecessary hardship when the focus should be on running Google or Facebook ads, in building sales funnels that work, testing out ads and funnels, and optimizing your marketing campaigns.
In my clickfunnels review earlier, I had mentioned that Clickfunnels was unnecessarily expensive and that you could hack together the exact same functionality using other products.
That still holds true.
One of the most important alternatives to Clickfunnels was Unbounce. You also have leadpages and Instapage to consider, of course.
How Unbounce Scores Over Clickfunnels (+All Other Options)
Here's what you get with Unbounce:
A truly Pixel-perfect, drag and drop builder. Preview it here
Build stand-alone single landing pages
Build multi-page landing pages (the exact same proposition Clickfunnels makes)
Create popups and sticky bars (So you don't have to go shopping for this)
Integrate your landing pages or funnels with absolutely any other email marketing tool you are already using
Plus, if you didn't want to let some odd $39 per month go for opt-ins and popups, Unbounce's new products let you do just that — all those leads you get are also funneled into the same system you use for your landing pages.
Here's the smackdown on what you get with Unbounce:
The famous, Impeccable Gatsby-like Unbounce Builder
I tried Wishpond. I tried Instapage (and they are good). I used Leadpages (they are good too).
But nothing gets as good as Unbounce does. It's truly drag-and-drop (like truly). Plan canvas, grab hold of a piece of text and slide or drag it "anywhere" on the page and it'll drop there and sit there forever.
You can match your branding and build whatever you like. Yes, there are templates available but you don't need them. If you do use templates, you can pretty much change absolutely everything you see on the template.
Plus, you can also create sticky bars and popups (with advanced conditions like exit-intent popups, URL-based pop-ups, and popups that show up after visitors spend some time on your site.
Being smart & Flexible
Unbounce works with WordPress (that's enough for me to jump and make it my permanent buddy). Plus, it also has smart features such as:
Getting lead notifications (can also be branded) for every lead signup
URL redirects (to a destination of your choice) after leads sign up (called custom form actions)
Sending data from one form to another (post-URL data)
Parallax Scrolling
Improved UX/UI with Lightboxes (show extra data in little boxes), so your page remains minimalistic and clean.
Using full-screen backgrounds
Use Video Backgrounds and Widgets
Add Any javascript anywhere.
Take complete control of your "thank you" page experience
Use any font you want, ever (most are built-in, and you can add custom fonts that don't even exist).
Use Webhooks and API to literally make Unbounce work with anything…
Talking about Unbounce Integrations…
There's Zapier, sitting right there inside your Unbounce account. What that means for you is that you could take collect leads on Unbounce (and get instant email notifications).
Then, you could have lead information go to your Drip Email Marketing system. Or do you use ConvertKit, Campaign Monitor? Mailchimp?)
Maybe you'd also want the lead data to get into your CRM system (use Salesforce? Sugar CRM? Base? PipeDrive?)
Just because you can, maybe even get lead data into a new row of a Google Spreadsheet you maintain just for this.
Unbounce connects with absolutely everything. For anything it doesn't connect, there's Zapier. If Zapier doesn't have the app you are using, there are webhooks.
See where this is going?
Let's Talk Popups and Sticky bars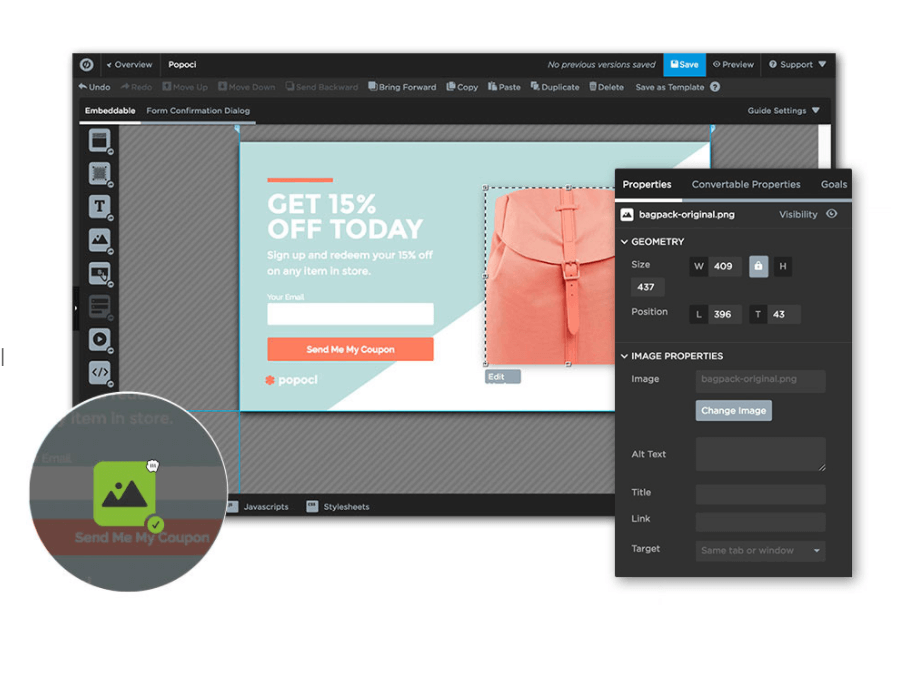 If you ever wanted to use popups or sticky bars, you have to use a random clutch of tools to make it happen for you.
For instance, use Hello bar plugin for sticky bar and then use OptinMonster or Elegant Theme's Bloom Plugin or maybe use Sumo to make all kinds of Popup Mashup happen 9 and work in tandem to start generating leads off of the traffic coming in to visit your site.
Nothing wrong with it, if you are already doing it with Sumo or any of the above.
But what if a business doesn't want to spend on absolutely every single tool out there?
That's when Popups and sticky bars from Unbounce make sense. Honestly, these new features are awesome.
Take my own case, for instance. A few popups, sticky bar (on top), those in-post forms, calls to action, and the welcome mat) are all done by using Sumo.
The exit-popup on this site (try leaving now) is by Unbounce (because I can).
Unbounce has put a lot of work into their sticky bars and popups, and you should know that.
In one fell swoop, they have popups and sticky bars with enough under the hood to give Bounce Exchange a run for its money.
Here's what's awesome about Unbounce's popups & Sticky bar:
Absolute control over design and use cases.
Targeting with URL, location, referral URL, and by cookies.
Trigger popups when visitors arrive, when they leave (exit Intent), click an element, or after a time delay.
Set custom frequencies (decide how many times a popup should pop, who should see it (& who shouldn't),
Schedule your popups and sticky bars (show up on a particular date? Run seasonal campaigns?)
Use dynamic text replacement (show what matters to your visitors by making copy adapt to visitors)
Templates (& the art of making landing pages)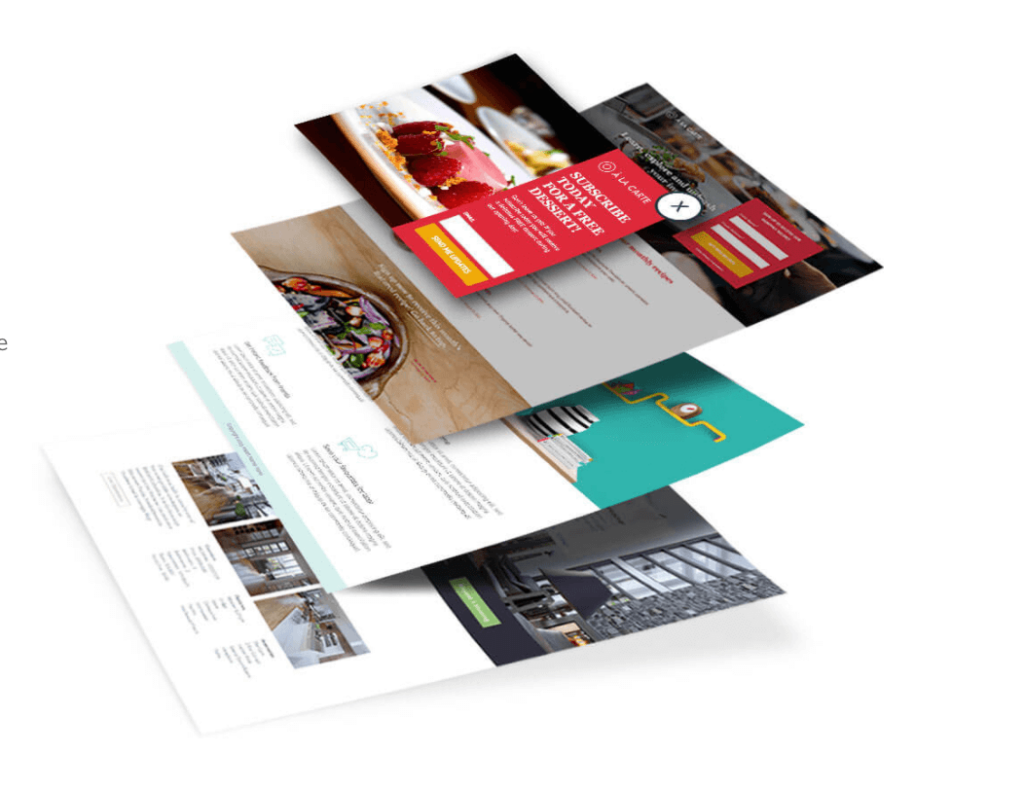 Unbounce always had templates, and they keep introducing new ones. Meanwhile, you have Unbounce templates available on ThemeForest.
As on 2021, you also have the option of working with the Conversion Intelligence™ platform and choose not to use templates at all.
There was a time when Unbounce's templates weren't exactly mobile responsive out of the box.
You had to manually set things up, drag and drop things around a bit. All the new templates are now mobile-responsive and it's easy to build your perfect landing page (which is also mobile responsive), just like that.
When you want to build multi-page landing pages, you can use the "Post URL data" feature and use the URL of the second landing page to parse data from the first page to the next one.
Here's another one of Unbounce's features I love: you can import and export templates (.Unbounce files).
In case you are an agency who wants to create landing pages and ship them out, you can. If you are a large business who'd have to transfer files to this Unbounce account or that, you can.
If you purchase Unbounce templates, you can import a full working landing page right in.
A/B Testing: The Holy Grail for Conversions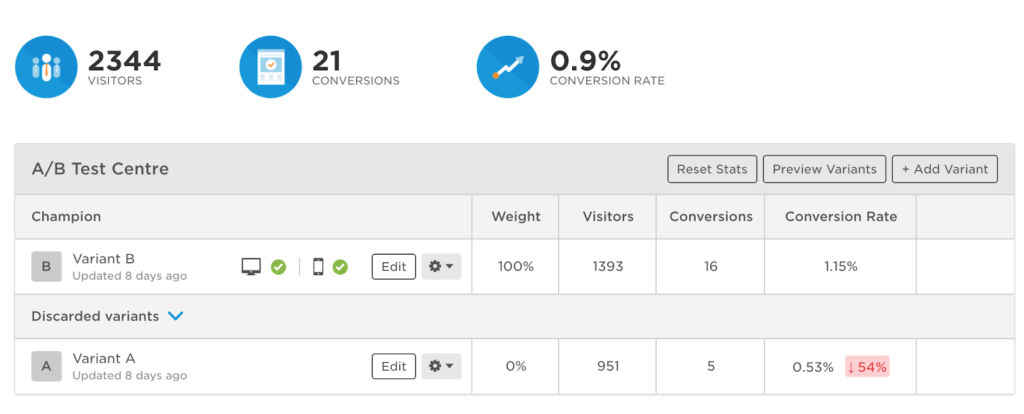 I'll be fair here: all other Unbounce competitors like Clickfunnels, Leadpages, Wishpond, Thrive Leads, and Instapage also give you A/B testing (In some cases, you might have to upgrade to a particular plan that offers it).
Unbounce offers A/B testing for any plan (even if you get a free plan). You also get to test your popups and sticky bars.
You can have as many versions of a page as you like (variant A, B, C, ….Z?), but I recommend keeping it to two variants at a time for testing (there's a reason why it's called A/B testing. Multi-variant testing is a pain in the arse).
Unbounce easily lets you edit each of the variants and every variant operates on its own (although it's the same URL that both the variants are shown on) — this also means that your Facebook Pixels, Perfect Audience or Adroll Pixels, Google's remarketing tags, and everything else you might use can live on each of the variants independently.
Security & performance
Unbounce comes with automatic SSL encryption (for all non-WordPress domains which you'd use, you can force SSL encryption with a flick of a switch). You also get 99.9% uptime, super-fast page speeds (they use a CDN) with 4 data centers around the world.
For security, they've recently enabled Single Sign On (SSO), I.P filters, two-factor authentication, and audit logs.
Unbounce Is Agency Ready
Unbounce works great for agencies, thanks to its agency-friendly features.
You can add separate clients and work off of a separate Unbounce builder and interface for each client. Plus, you get to set multi-user permissions, keep accounts separate, and group your campaigns together.
You can organize client leads, brand those notification emails that your clients get, and also archive/transfer assets (from pages to leads) to and from clients.
Unbounce Support
Unbounce has #lotsalove going around for it. While the company itself has a friendly support staff, you also get a very active community, Facebook groups, and lots of javascript wizardry that can stretch Unbounce beyond its native capabilities.
Clickfunnels Vs Unbounce: Who Wins?
Let's see:
Unbounce is a product that focuses on just helping you to build landing pages (and a few popups and sticky bars) — that's it. The entire product was built to help you use landing pages the way you should. Plus, you get to use the same landing page builder to create one or several pages, build funnels, and do whatever you please.
To help you do that effectively, it has a full set of features that allows you to do just that.
Unbounce also knows that you could be using Mailchimp, Drip, ConvertKit, Marketo, Salesforce, and a ton of other things and so it makes itself easy to integrate with anything else (plus, there's Zapier).
Unbounce's most expensive pricing plan is at $300 per month (which includes a lot). Most businesses will do very well with just the brand new plans starting at $80 per month.
Clickfunnels tries to overdo things if you ask me.
Lets you build funnels fast? Yes. But you are templated for life.
Clickfunnels wants you to use its own email marketing tools. Ok. But why? I could just use Drip or Mailchimp (each of which comes with so much power).
Allows you to build a complete affiliate system with backpack? Yes. But why? You could use Shareasale for that.
Here's the deal-breaker: Clickfunnels starts at $97 and the full suite is for $297. That's a lot of money for any average business (while taking away half the freedom for small businesses, bloggers, and everyone else needs).
For me, the winner is Unbounce. Period.
What do you think?