If you aren't using automated eCommerce email marketing workflows, it's a superpower you aren't using.
You could practically switch off all of your marketing campaigns, marketing dollar spends, and all the effort you take to promote Shopify stores and just focus on automated eCommerce email marketing workflows for all I care.

Why, you ask? No, I am not going to spew out statistics on email marketing again. You have enough of those. What you need is to implement automated eCommerce email marketing workflows.
Take action today.
I'll cut right to the chase.
Now, you can use MailerLite, Moosend, MailChimp, ConvertKit, Drip , Klaviyo or any other email marketing platform or tool that integrates with Shopify (or others like WordPress, BigCommerce, and so on).
It's important to take action; it's really not about the tech or the tools you use.
Note: Here are some expert-endorsed steps to create an email marketing strategy that works

For this blog post, we are going to focus on MailerLite. Learn more about how MailerLite and Shopify work together.
If you want to experiment, do this: Try out Shopify for free and sign up for a MailerLite account — you can pretty much use all of the MailerLite features even with a free account.
Just in case, here are email marketing automation templates
Here are at least five Shopify email workflows with MailerLite that you should absolutely implement.
Shopify Cart Abandonment (Guided)
Abandoned Browse Category Workflow
Bonus: Tips to maximize Shopify eCommerce Workflows
Welcome Series Workflow
Please. Say Hello. Be nice. Promise?
It's ridiculously easy. It's the very basic of all human interactions. Yet, most eCommerce stores just don't bother.
The automated, purchase-triggered email doesn't have to be boring, like "Hey Customer #27456. Thanks for the purchase".
Do more. Put yourself in your customers' shoes. Would you like it if you got an email like that?
As for how the welcome email works on Shopify (using MailerLite), it's simple enough.
Here's how the Welcome Email Series or Workflow looks like: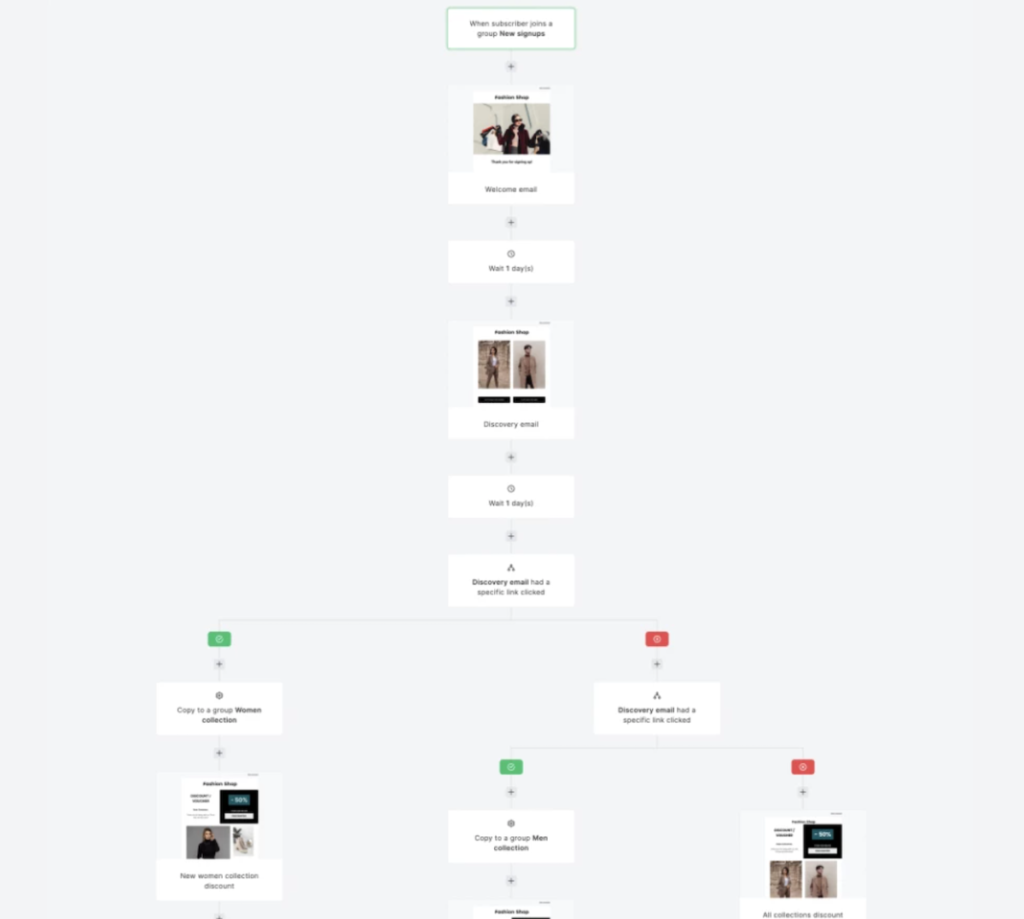 See the complete example of this welcome email series workflow
Read:
11 eCommerce Welcome Emails Fit For eCommerce
Build Automated Emails With Expert Designed Templates
Post Purchase Workflow
Got your first sale? There's nothing more exciting than that.
Don't stop (you ain't doing business for one sale).
Getting new customers for your eCommerce business is absolutely critical. However, it's only the beginning. Retaining your current customers is crucial, profitable, and certainly cheaper (than anything else you try).

More than 80% of eCommerce customers claim that a positive brand experience (before the sale) and after the sale (post-purchase) helps them trust and like your brand more.
You need an effective strategy to help build that trust, loyalty, likeability, and to "keep them interested".
MailerLite Post First Purchase Workflow helps you achieve just that. Nurture your way to customer retention.
Note that there are "feedback" centric emails and ways to bring in conversations around your brand or products as well.
This is how the Post-purchase workflow looks like: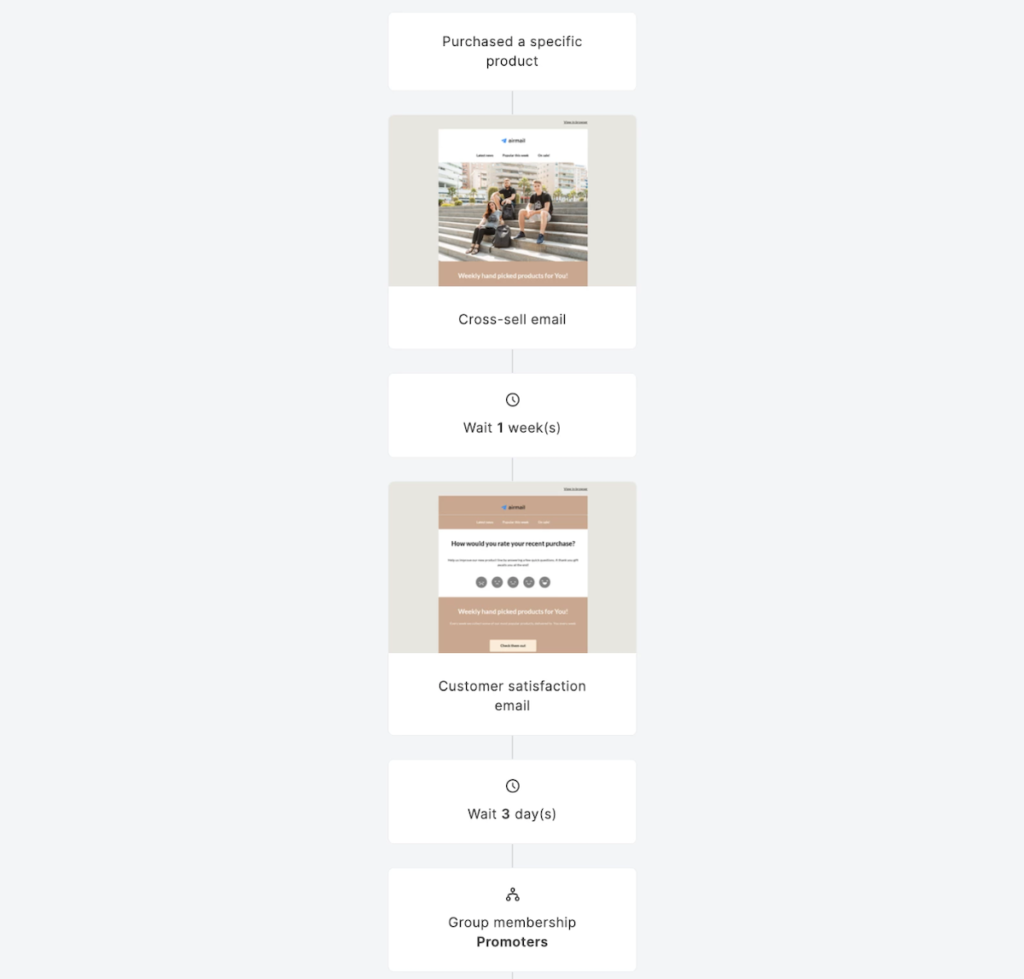 See the complete Post-purchase email workflow example
Read:
The Definitive Guide to Acing Your Post Purchase Experience With Email Automation
Customer Loyalty or Repeat Purchase Email Workflows: Build a Loyal Customer Base
Repeat customers. The open eCommerce secret sauce everyone knows but few use. As Drip puts it, it's the bread and butter of an eCommerce business.

If your customers purchased more than one product or even the same product twice, they deserve the red carpet.

To get repeat purchases, you'll need a heady mix of ingredients (all working together):
Awesome products and/or services
Obsession to tweak, change, and improve products and services (with the ability to act on feedback you receive).
Brand mindshare (earned over a period of time).
With those intangibles out of the way, here's how to use MailerLite's repeat purchase series of emails (where you tag customers as VIP). Three emails is excellent.
This doesn't include transactional emails.
Include little things to "reward" your customers: thank you notes, discount codes, special offers, custom-made offers, free shipping offers, requests for feedback, and more.
Here's the Shopify and MailerLite related Loyalty email workflow: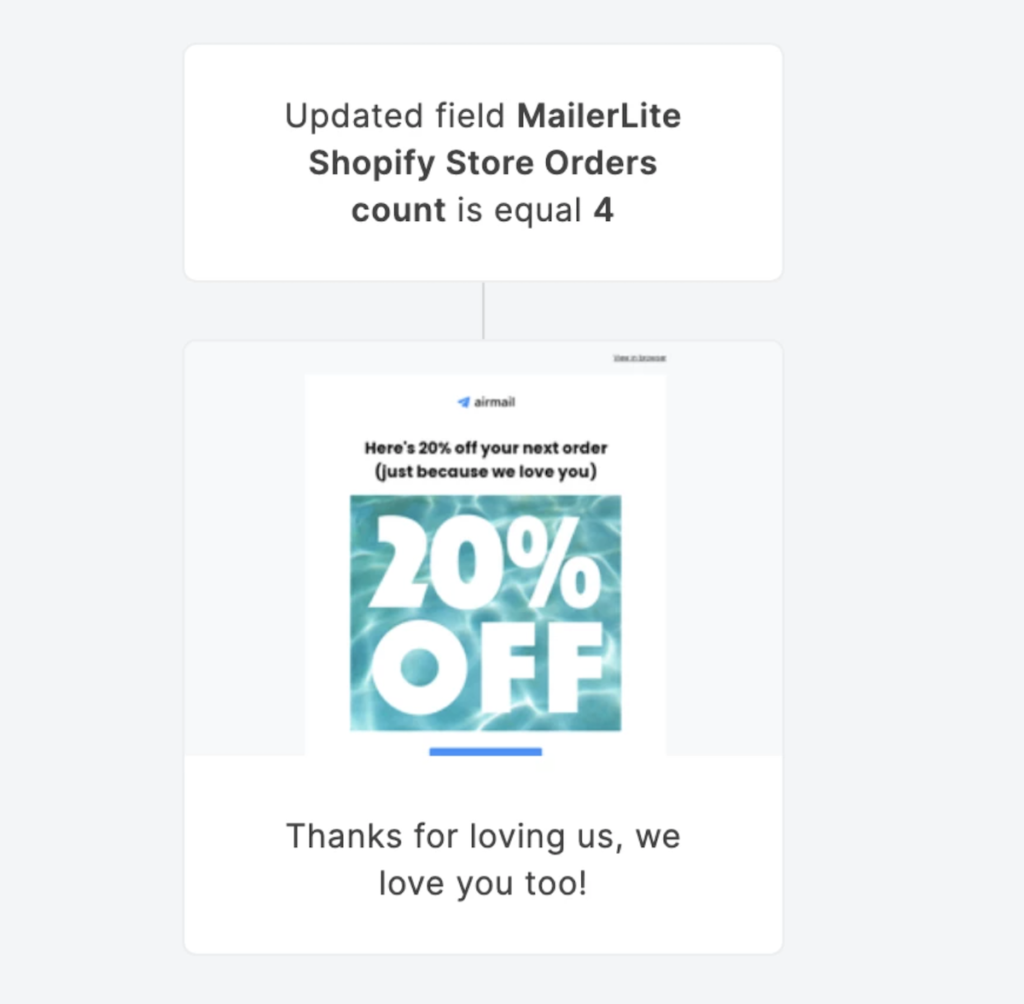 Read:
10 Examples of Innovative Customer Loyalty Programs
9 Post-Purchase Experience Strategies to Drive Customer Loyalty
Shopify Cart Abandonment Guided Email Marketing Workflow (Guided)
According to the Baymard Institute, the average shopping cart abandonment is now at 68.8%.
For all the trouble you take (the money you spend and the resources you deploy), 2 out of 3 potential customers will abandon their shopping carts.

Ouch. That hurts.
Recent research from Bluecore, cart abandonment emails are money makers. Literally.
Did you know that cart abandonment emails have the highest average conversion rate (2.63%) and click-to-conversion rate (21.78%) of any triggered ecommerce email?
The good thing about Shopify and MailerLite? You can try to minimize this leak. In fact, MailerLite offers a guided email marketing workflow tailor-made for Shopify.

Follow the wizard. Set the automated cart abandonment workflow up. You are good to go.
With a few steps, activate the cart abandonment email marketing automation workflow, brought to you by MailerLite and let the marketing automation do the magic.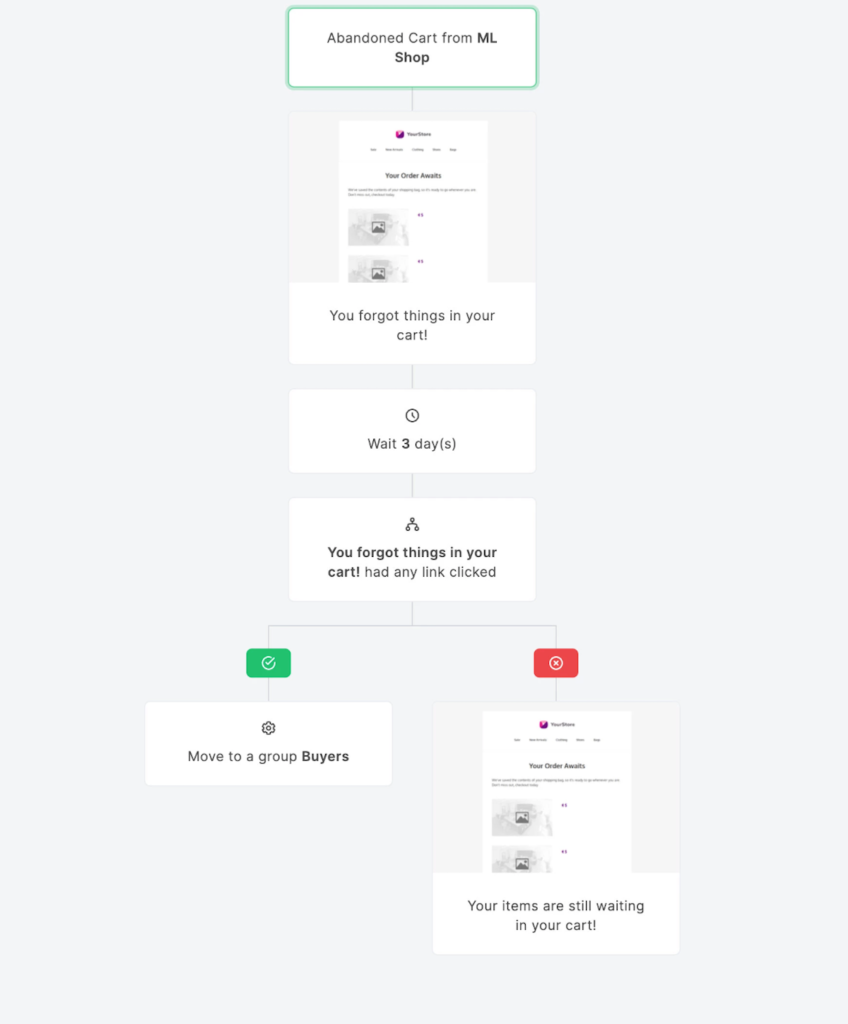 Read:
10 Abandoned Cart Email marketing Examples To Win Back Lost Sales
13 Amazing Abandoned Cart Emails (& What You Can Learn From Them)
Cross Selling & Upselling Automation Workflows
When customers buy something, they are "primed". Ready to buy. Eager to purchase add-ons, related products, or something else they didn't consider (yet).
Did you know that you could send out targeted email workflows to potential customers who just purchased your products with automated cross-selling and upselling email marketing automation workflows?
Set specific categories — can include types of product, variants of products, and more — and send out emails for that one last push to make your customers buy more.
Here's how the Cross-selling and Upselling automated email marketing workflow works: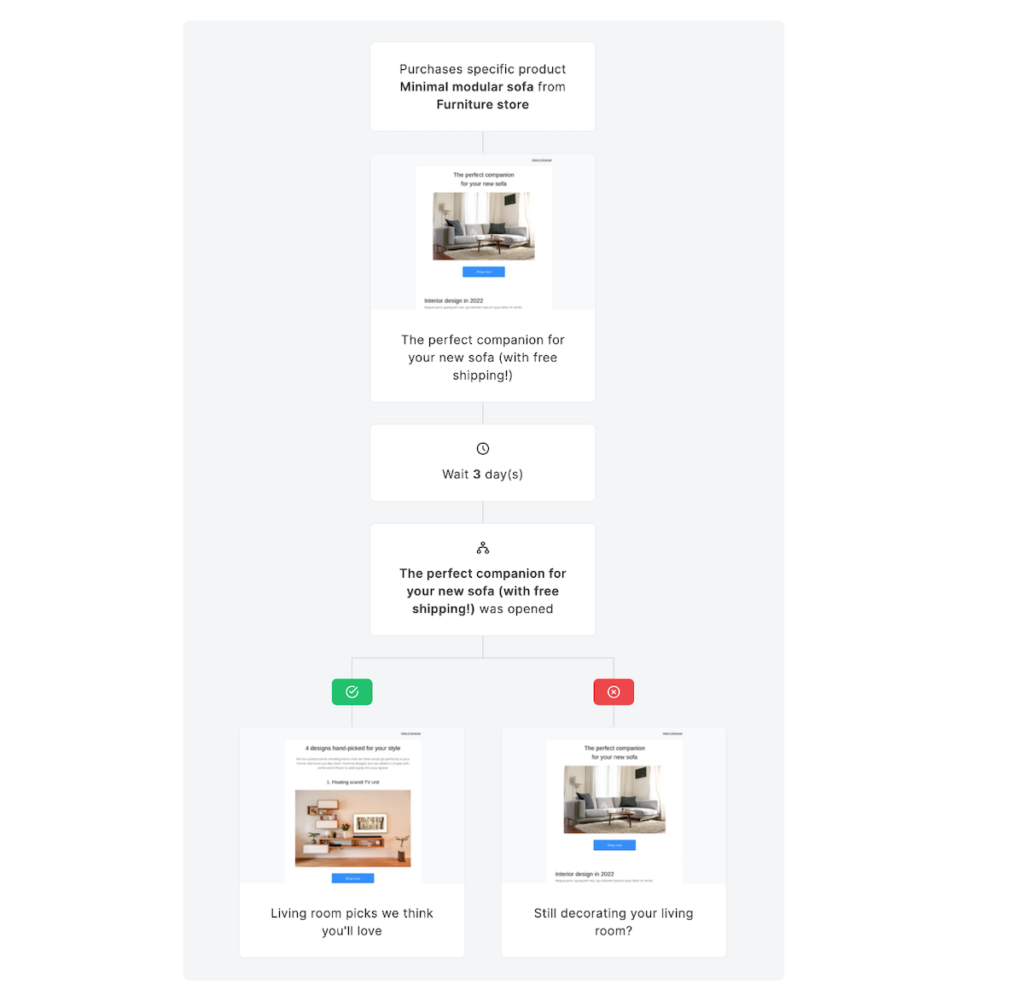 Read:
8 Non-sleazy Upselling Techniques To Sell Everything Except Your Soul
When and Where Upselling Can Actually Hurt Your Sales
Tips to Maximize Shopify eCommerce Workflows
eCommerce success has a lot to do with several things working together (not just products, brand imagery, price, offers, and more). There's also the brand, product quality, customer service, and more.
First, get to know your email marketing benchmarks — these are the numbers you should be aiming to achieve (and beat).
Don't write emails like "corporations do". Use character, personality, and some humor. Write like you write to your best friends.
Don't make email marketing emails sales-oriented. Don't push. Nurture. Relate. Have fun.
Segment your lists, tag your customers.
Master your cart abandonment emails. They make money. Period.
The "delays" — like "wait 3 days" and wait "7 days" are there for a reason. Don't overwhelm. At the same time, don't swing to the other side and never send email marketing messages at all.
Some email marketing workflows, you can't afford to ignore. Here are at least 18+ eCommerce email marketing examples with tips to convert visitors into customers
Have clear calls-to-action.
Start using these automated eCommerce email marketing workflows. Take your eCommerce business to the next level.
Start with Shopify and MailerLite — together, let the magic work for you.
Alternatives to MailerLite? Use Shopify Email.
How do you use automated eCommerce email marketing workflows and sequences for your business?
Tell me all about it on Twitter, LinkedIn, or my LinkedIn Brand page.