if you slice and dice any random list of Top video tools to consider, they are likely to be old and dusted in a few months.
The sheer rise of various types of video tools (for different applications and uses) is practically growing at a faster rate than the time you took to read this.
Video is terrific for sales prospecting, connecting with your teams, for teaching or for creating tutorials (and also sell them using the likes of MailerLite, Podia, Payhip, Thinkific and a host of other platforms).
Video is your staple for marketing (Hint: read this comprehensive guide to video marketing)
If you are the curious cat (that I think you are, and I certainly am!), here's a list of top video tools to consider in 2023:
Descript
Descript is truly underrated, given just how much time (let's just say days and years of your life in total) it saves for you.
If you have anything to do with videos (all types, varying formats, for absolutely any purpose you use videos for).
Editing videos consumers most of the time, considering all the things associated with videos. Think again about the time spent for creating, editing, managing, distributing, and marketing videos.
Descript is a free and simple option to help save time with it comes to editiing videos.
Enough said.
Read:
11+ Descript Features That Make You Go "Ooh, Wow"
How to Connect Descript + YouTube
Beedeo
I happened to stumble across Beedio, thanks to the folks at PitchGround. It's a simple, no-nonsense video automation tool that can help you create polished and smooth videos by taking your articles as inputs.
Content marketing success depends on publishing velocity: the consistent publishing cadence you'll stick to. This is, by far, the best track to be on for massive SEO success.
However, it takes resources to create content(especially new content). That's where content repurposing kicks in. However, even that takes time and effort.
Use Beedeo and cut down the time it takes to repurpose content. Not just any content, but turn articles or written content into videos.
What you can use Beedeo for:
Repurpose your blog posts as videos.
Transform any other type of content you create (such as LinkedIn articles, Medium articles, and others) into short and snappy videos.
Write up short transcripts and automatically turn those transcripts into videos.
Restream
Live streaming reaches almost 30% of the global Internet population with a lot more engagement, impact, and interest than ever before.
Not convinced? See these live streaming statistics for yourself.
Use the likes of OBS studio if you are savvy enough.
Even then, I'd recommend using Restream for the sheer amount of time it saves (connecting video sources such as OBS to live streaming destinations), multi-streaming, pushing pre-recorded videos as live streams to save you from actually doing it live, and more.
Dubb
Dubb helps you use videos for sales prospecting, sales management, and marketing.
Also, use Dubb for email outreach with video, live training, coaching, video training, video coaching, and more.
If you had to do this without Dubb, your videos would be hosted elsewhere. You'd then need to collect links for each of those videos and then place them anywhere you normally would. Further, you'd have no idea what's happening with each of the videos you create.
Sending videos within emails as a part of your email outreach? You'd not know just how effective those videos have been, or how they help you snag deals, or whether or not those videos help you generate revenue.
With Dubb, you have access to:
Creating videos (desktop recorder with webcam), or upload other videos from YouTube. Apart from the Desktop App, you also have an iPhone App, an Android App, a Chrome extension, an Microsoft Outlook Add-on, integration with slack, and more.
Hosting videos (all your videos stay in one place)
Ability to link video assets to CRM-like features such as tasks, deals, connections (contacts), campaigns, automation, and reporting.
Streamlining workflows, automation, and also features such as video page templates, landing pages with videos, and more.
Build landing pages to make more sales
Along with video, send sms campaigns and email campaigns (in addition to sales outreach) to nurture, engage, and sell better.
Scale your data-driven outreach with the help of automated workflows and drip sequences.
Get the power of managing your team's tasks, contacts, and deal flow with real-time data reporting at your fingertips.
Read:
Why Use Dubb? More Reasons Than You Think
Your Tonality Is The Secret Weapon For Better Sales Success
Loom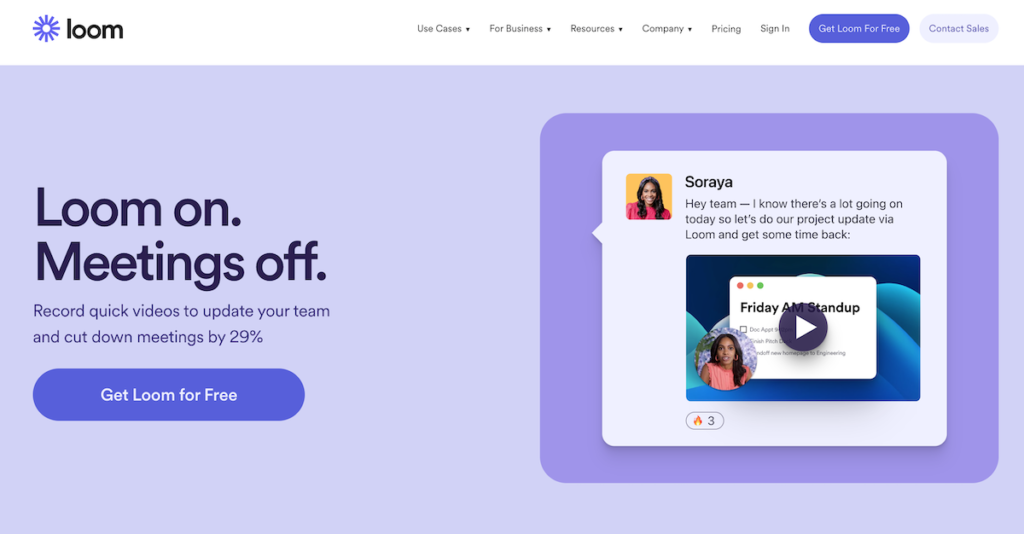 Loom isn't new to any of the lists I might have created in the past, and I won't stop listing it anytime soon (unless Loom goes out of business). It's one of the best things that happened to content creators, bloggers, business owners, business managers, and everyone else in between.
Transforming how work is done (hello Covid-19!) and shining a beacon of hope for asymmetric communication with video, Loom is one of the best video tools I used (next only to Descript).
Press a button. Shoot a video.
Send it off to team members, potential clients (If you use Loom as a video prospecting tool), or share the video on social media.
Hippo Video
HippoVideo is one of the best video prospecting tools ever.
Not only does it help you create videos (as most video screen sharing tools might help you do) but it also has a suite of features that are particularly useful for sales prospecting, pitching, hustling, doing business, and to help meet your sales quota.
Using the sales and marketing videos 2.0, take advantage of AI-powered videos to:
Deliver personalized video experiences at scale.
Make Artificial Intelligence do the work of at least 2-3 people (over a period of days)
Generate hundreds of personalized videos, unique to each recipient you'd send out sales videos to, all generated from a single video recording.
Pick from a library of pre-built video templates (for varying contexts and use cases).
Build custom workflows — in minutes — and never start from scratch again.
Don't record videos on repeat (once for each potential customer or when you onboard a new client). With hippovideo, record personalized intros and stitch them with pre-recorded videos in a few clicks.
With HippoVideo, you can create various types of videos — built for sales prospecting but can be used for hundreds of use cases, depending on your business.
Create reach outs, demos, proposals, follow-up with customers. Or create contract walk-throughs, explain monthly reports, and more.
Demio
Without the need for your potential webinar attendees to download any software whatsoever (that's just irritating), Demio makes it incredibly easy and rewarding to run and manage webinars.
Webinars boast of an incredible 77% focus rate, poll response rate of 49% to 64%, and an average attendance rate of 38% across live sessions.
Demio helps you increase audience engagement by 15% at least (and more if you do webinars the right way). Further, Demio comes with features such as automated events, integrations, landing pages for each webinar, automated emails to nurture webinar attendees, and more.
Read:
Webinar Stats for Marketers 2023
9+ Successful Webinar examples: How Brands Win With Webinars
How to Do Good Webinars [+ Why Most Webinars Suck. User POV]
Which of these top and best video tools do you love? Which of these do you use, and why?
Tell me all about it on Twitter, LinkedIn, or my LinkedIn Brand page.