If you've been wondering how to use Descript, here's a bird's eye view of how to use Descript to cut time short when it comes to recording, editing, collaborating, and publishing video and audio content.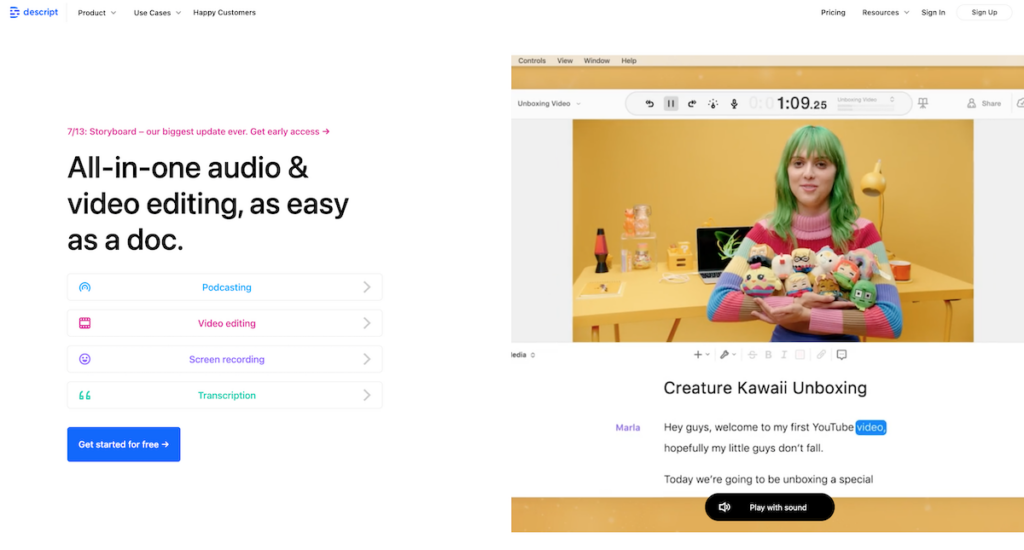 Descript is one of the best things that happened to content creators, marketers, business owners, and everyone else who has anything to do with publishing content, repurposing content, and using content marketing to further their respective business goals.
At its heart, Descript is used to capture or create, edit, transcribe, and share audio or video content. In detail, here's all that it can do:
Create Videos With Descript [Quick & Easy] 
In an effort to make video creation ridiculously easy, there have been some amazing tools out there such as Loom, Dubb, HippoVideo, and many others.
Read:
8 Fantastic Video Prospecting Tools You Should Know About
How to Use Videos For Marketing [& Get Results]
Descript allows you to quickly create videos — either screen share videos (with or without your face showing up on the screen) or full-fledged talking head videos (using your webcam or other camera sources).
Descript also allows you to control how your videos look like (with several options available inside the Descript Desktop App).

As expected, Descript allows you to plug in audio sources (such as your USB microphones) and you can also choose to add computer audio (ding ding) to your videos — all available as options the moment you are ready to record videos.
On top of these native video recording features, you can obviously drop in any media (audio or video or both) into your Descript Workspace and work with those media files as well. For instance, you could drop videos you created with Loom or Dubb and drop these files into Descript. Use webinars you run with Demio and repurpose that content.
Or you could grab your latest Restream live stream and directly integrate with Descript.
Bring in the entire video file of that live stream into Descript to work on these live stream recordings.

For instance, you could:
Create & Use Automatic Audio-Audio Transcriptions
Transcripts of your audio and video content have several use cases. Video and audio transcriptions give you text versions of your audio/video content that you could use as YouTube descriptions, repurpose as blog posts, select parts of transcripts to use on social media, and more.

With Descript, transcriptions aren't just transcriptions (although they can be used as such). Descript gives you the power to add content to your video or audio (without having to reshoot a video or recording yourself again) by using text.
With Descript, you can also:
Edit transcripts to make direct changes to your video and audio content.
Add your own voice (or voices of specific team members if you are collaborating with your team) while each of your voice samples can even have styles (casual, official, stern, fun, etc).
One click removal of filler words (like umms, aahs, and so on)
One click shortening of gaps in your speech.
Detects transcription errors automatically.
Highlight parts of your transcript, copy and paste highlights to a separate composition window (like a new file that you could work on).
Copy and paste parts of your transcripts as new files (along with the audio and video part automatically selected) and repurpose as a new video/audio file.
Sharing and Publishing Videos and Audios with Descript
Apart from sharing and collaborating with your team members on individual Descript projects, you can also share your completed projects to the rest of the world.

For instance, you can publish to YouTube directly, or you could share your project on Restream. There are several sharing options available within Descript (you'll see it when you click on "share".

Further, you also have options to export the file, export the transcription itself to extract subtitles (and work your way with associated subtitle file types such as SRT and others).
If and when you decide to share on social media, Descript also has built in options to help you add captions (along with design options for captions such as fonts, colors, and playhead highlighters).
Additionally, you can also use audiograms to give your content a strong visual presence on social media.
Descript is truly an incredible tool to help you speed up your audio or video production workflows, help you save a lifetime worth of time when it comes to editing videos, help you repurpose content, and more.
Get Descript for free now and see what you can do with it.
Here's a video on How to use Descript, By the awesome team at Descript
Use Descript Features [Comes Packed With More]
I recently wrote more than 11+ different Descript features that allow you to do so much more with Descript (than what seems obvious)
For instance, you can:
Edit videos faster than you ever thought possible
Repurpose video content and audio content (copy, paste, share)
Use transcripts that Descript generates and rewrite them as blog posts
Cut out parts from larger video or audio files — such as from Live streams, Webinars, or from Podcasts — and use them as videos for YouTube, videos for social media, and to embed videos (where relevant) inside blog posts (great for SEO).
Add logos, graphics, lower-thirds to your videos.
Add music files to your videos
Use effects such as cross-fade to make your videos look spunky.
There's more that you can do with Descript than you thought you could.