Disclaimer: This digital marketing sample plan is generic. Every business — depending on different circumstances — can approach this differently. Also, this is purely an organic marketing plan sample.
Things are slightly different for paid advertising plans.
The point is that this can be the best marketing sample plan only if you treat each of the marketing channels as different ways, aimed for the same results.
Every small business is empowered to make it big. The world has truly gone flat. The online battlefields play no favorites.
It's about how you execute your digital marketing, it's nothing.
You did start with an effort to make your digital presence count. What you ought to know is the following:
Most people have no freaking clue what it's like to do digital marketing. They just don't get it.
A meaningful digital presence takes effort and time (and little money). Read Digital Marketing: Are you willing to commit or cop out?
You'd need to give more than you take.
You'd have to think in terms of value: why should a customer spend time on your website? Why should someone else buy from you?
If you thought your customers are there for "checking you out", that's losing your marketing pounds or dollars per visit.
Your job is to prepare for the long-haul or find the right people to do it (and an occasional monthly bill on applications or tools).
You'd also have to pay for other people's services. Being cheap here won't cut it.
Marketing is worth any investment you make for it provided you are doing it right. Also, don't buy into any hype when it comes to marketing.
Marketing isn't a one-time affair. It's not something we indulge in during the holiday season or because the sales numbers seem to be going down for the last few months.
Marketing is punishing, expensive, backbreaking, thankfully, lonely, and relentless, forever, and ever.
With that out of the way, Your primary aim for marketing should be as follows: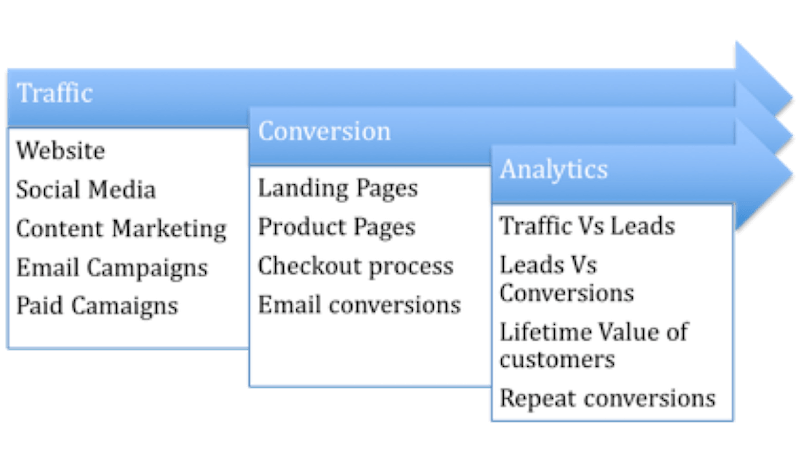 Of course, the diagram above doesn't even begin to do justice to the complicated juggernaut that marketing really is.
There are just too many variables — including marketing tools and digital marketing channels here.
Yet, you'd have to do it. That's what this digital marketing sample plan is all about.
Build Websites For a Purpose
Your website should be built with the purpose of making things happen for you, and not for looks. Your website should get you traffic, help you establish your brand, get you leads, and help you make sales.
Invest in copywriting, because the chances are that you can't do it yourself. Effective copy should be short, succinct, sweet, and to the point.
The hero section (the part of the page above the fold) is prime real estate. Use it to make website visitors do one thing that's very important for your business – and that should be an opt-in form asking for an email address with something worthwhile that you give away. Build it like front page landing page design and learn more about Sales funnels and lead funnels below:
All product pages (along with the sidebar on all pages) should have social media buttons.
Create Landing Pages Strategically
Build Landing Pages (for anything you'd want your potential audience to do, outside of your website)
Landing pages are bridge pages with an intense focus on getting your audience to signup, buy, or do something. That something is led by "call to action". This is the page where you give away something valuable, like a tool kit, an e-book, a free trial, etc.
Paid ads, social links, and even links within your website should be pointing to a landing page.
14 Winning Landing Page Tips
Why are Message Matching Landing page Tips Critical?
The Anatomy Of the Best Landing Page design
Are you Embarassing Yourself with These Landing Page Mistakes?
Read my Unbounce Review: The single best Investment for Landing pages You'll Make
Practice Purposeful Blogging
Maintain a frequency of 1-3 blog posts a week with regular publishing days through the week. It's important to post at a regular frequency and never miss it. Choose your frequency of publishing but honor it.
Each of these blog posts will have a relevant image or video where possible. We could start with unpaid royalty-free stock photography sites such as Unsplash, Pexels, SXC, and more. Or you can also try custom graphics.
Each blog post will try to have links back to our main site, links outbound to other blogs and other content. This will be a good start for your link-building strategy.
Integrate social media buttons with your blog.
The blog needs to be set-up for maximum search optimization. SEO is all about getting the balance between valuable content and a judicious use of keywords for your business.
If possible, have guest bloggers, staff writers, and others to rope in their content with a brief introduction, by line and a link back to their own website. This increases traffic for us and also makes us well known.
Email Marketing
Email marketing – in spite of the big scene about social media – is still an absolute winner. Your subscribers are worth gold. As expected, you'll need a dedicated landing page for email subscriptions alone (in addition to any signup forms on your website, on social media, and other avenues).
Learn Why You Need Email Marketing?
Check out a few email marketing stats to convince yourself.
If you are not doing email marekting, you could be sweating out the small stuff
Email marketing is not Dead, but you could have just killed it
Your list of subscribers (customers) is a great way to start a newsletter and an occasional marketing blitzkrieg
If you don't have a list, start with your previous customers. Ask them for permission and manually create a list if you have to.
Do we have auto-responder software? Some of the good ones are Drip, Campaign Monitor and MailChimp. It's not a choice to have these; it's mandatory. Pick one and use it.
We will need a well-written report, a toolkit, a free consultation, or anything else you can give away to seduce readers into subscribing with us in exchange for their email address.
Soon after each user subscribes, an autoresponder email will be sent with thank you and other details. Following this, send out an email each week: 4 per month; 52 per year.
Following this, send out an email each week: 4 per month; 52 per year.
No wait, how many emails should you send? Test it out
Some of these emails can have sales promotions, discounts, specials and other such offers you might want to do.
Social Media Management: It's Mandatory
Social media isn't exactly a bustling marketplace. It's not like you can just saunter in and sell. You can't promote. You can't pitch.
The last thing you would do on social media is to beat your chest and try to make money off it.
Yet, it's a medium like no other. It's the Holy Grail for marketing. It's almost everything a business can ask for.
Branding: The more your brand grows in strength, the more profitable a business is. Social media is free (except for your time spent). Build your brand and everything else will follow.
Serve better to sell more: The more you serve – and as you learn to get better at it – the more you'll sell. Now, that "selling" might or might not happen on social media itself. You are being watched. That's a good thing for small businesses, which had to otherwise pay for eyeballs in the "not so distant past".
Build relationships: Every thing in business is about relationships. Thanks to social media, we just have a lot of people available to make that happen.
Open gates for communication: Businesses are more open to conversations. Communication leads to trust. Customers buy only when they trust businesses.
Your name is out in the open: How exciting would it be for a business when the name of one of its brands, products, or services are mentioned at a water cooler discussion? Social media is a huge water cooler. Word of mouth just got itself a super dose of steroids. Manage these conversations. See why your name popped up. Step in and help when needed.
Play nice and laugh your way to the bank: Share information, get into conversations, relate to others, amplify emotions, and build relationships, it's just a nice thing to do. When you do, however, you are creating little bridges of opportunity. Playing nice like that has its benefits. You'd end up high on the trust radar. You'd get popular. Everyone likes to do business with popular brands.
It's all about social proof: The people talk about your business, the more you'll do business. But they won't "just talk". You've work to do – a lot of it – before people talk about you, share your content, get in touch with you, and more. Period.
You think this is repetitive? I don't care since most businesses don't do it right.
See this:
Do or Die: The only 3 Ways To Use Social Media Right
How you get Your Social Media Strategy Completely Wrong
10 Tools Guaranteed to Boost Your Social Media Engagement
Content Marketing Is Holistic
Your blog works as the main hub for all the information you'll produce. Your social media networks are the channels using which you can promote your original content (in addition to others' content). In addition to normal blogging, you can also opt to work on:
Guest posting (publishing on other relevant blogs for free with credits to you)
Creating podcasts
Creating Videos for YouTube
Making slide decks and sharing them on SlideShare.net
Producing Infographics
While I am still trying to get anywhere near this, you should check this out:
22 Companies That Grew With Content Marketing & Sweat
Guest Blogging Sucks, or Does It?
Why You Shouldn't Sweat the Digital Marketing Stuff?
Sponsored Content: Are the High Costs Worth It?
Online Communities & Forums
You are the expert on what your business relates to — on everything that relates to it. Online communities thrive on common interests such as these and you'd have plenty of opportunities to showcase your credibility and expertise. Think of it as profiting indirectly by "giving" to a community of small & medium sized businesses.
This isn't where you pitch and sell. It's where you dish out pure value in exchange for credibility (and hopefully, some traffic).
Learn How to Make Quora work for you
Now, honestly, that's there is to your organic digital marketing plan. Stop chasing brand new strategies and secret tactics. There's no magic bullet. Just make good use of a single weekend, decide how you want to go about doing digital marketing (include this plan) and then just get to work.
Do you think this marketing sample plan can help you get started? How does your marketing plan look like?