Quick question: Do you use Dropbox? What do you think is the secret behind the success of the behemoth?
Any guesses?
The answer: Referral programs.
Dropbox now claims a $1B revenue run rate and is cash flow positive.
Dropbox's affiliate program – which is a very successful program catapulting the company to stardom, bringing in more than 2.8 million invitees in the first 18 months of the company's life. Even today, it's estimated that 35% of all sign ups for Dropbox come from their referral program, according to Samuel Edwards of Entrepreneur
Dropbox spent very little on advertising and I don't think there's a major content marketing strategy behind the growth as it was for any of these companies that you and I both know about.
As on 2016, thanks to Craig Smith of Expanded Ramblings, here are a few statistics for Dropbox:
500 million users
1.2 billion files uploaded daily to Dropbox
About 3.3 billion sharing connections created
More than 100,000 new shared folders and links created every hour on Dropbox
More than 200,000 paying customers (a total of 8 million total customers)
Supports more than 20 languages
Zach Bulygo of Kissmetrics reveals how the company managed to grow as big as it did. Vikasan Veeraswamy of Referral Candy also has a detailed account of Dropbox's successful referral program.
But then, Dropbox wasn't the only company that benefited from a referral program done right. There was PayPal before it and there was also Airbnb.
All this, just to let you know that when you do a referral program right, you can see the potential it has.
Building a successful referral program is hard. Very hard.
But they aren't as easy to pull off as you think it is.
Last time I checked, there were some 51 examples of referral programs that worked great, including companies like HubStaff, Paypal, and many others.
Most online businesses think that all they need is a piece of referral program software and they all good to go and be on their way to launch a successful referral program.
It's not the case, and no one better than Ivan Kirigin can attest to that. Having worked extensively on Dropbox's referral program. He insists on knowing three things before building your referral program:
Do people like your product? Measure it. Hint [NPS – Net Promoter Score]
Ask people to refer other people. Compose invite links (or use software which we'll explore below]
Judge. Look out for metrics. Finally, decide if you should invest or change or stop completely.
You know that companies have seen tremendous success with referral programs. You also know what to do before you start.
Let's now explore some fantastic tools that make running a referral program easy for your business:
Viral Loops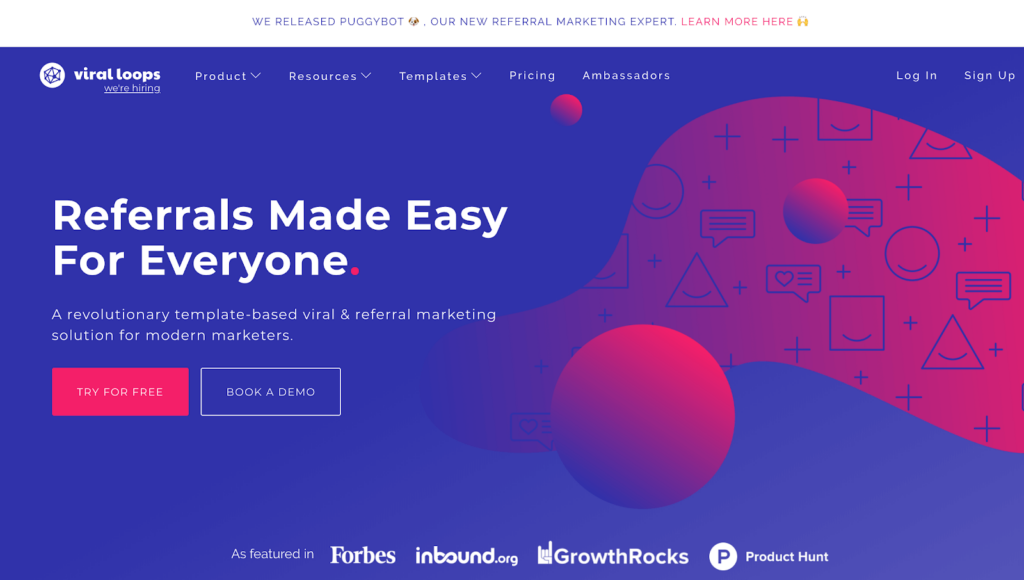 I've seen Viral loops in action (because I signed up and referred people) and it happens to be the best and most capable referral program in the entire list. Viral loops has professional referral program templates and they even made sure they listed out various campaign types that you'd probably start with, depending on your goals.
There's a pre-launch template, a giveaway template, an e-commerce template, a template for startups, and even a "milestone referral".
Referral Candy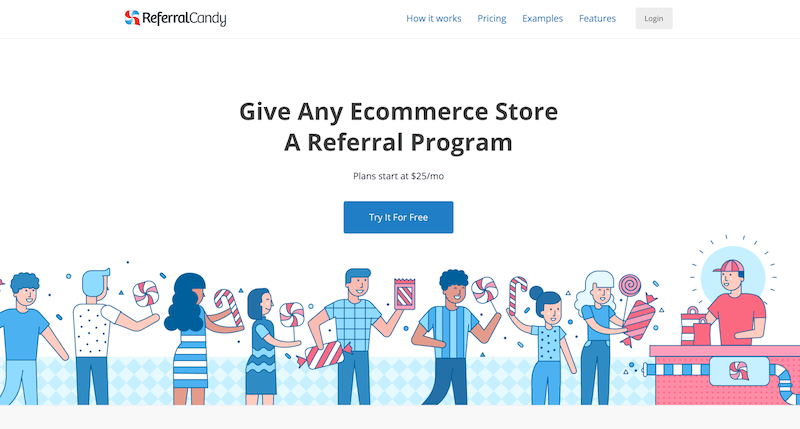 Referral Candy has been around for a while (10+ years with more than 30,000 brands exploding revenue, thanks to the fact that the referral program software just works) and they are most popular referral program software of this lot.
ReferralCandy focuses on helping you run referral programs for e-commerce stores but I don't see why you can't hack your way around it for absolutely anything else – like letting your eBook offer go viral or have people share your latest offer with their friends.
After you launch campaigns, ReferralCandy also has contacts, campaign performance reports, and analytics.
EnticeHQ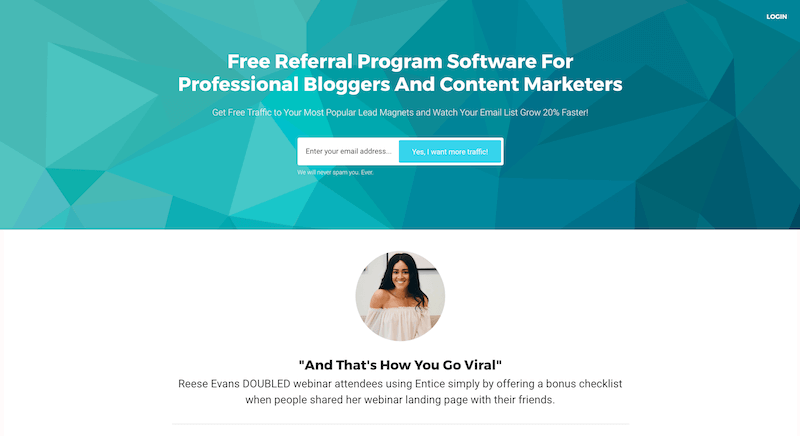 I've written about EnticeHQ earlier and while it might not be on the level of Viral Loops or Referral Candy yet (I believe Greg –the founder – is working on a "pro" version), EnticeHQ has everything you need to get started with basic campaigns (and also a WordPress plugin to boot).
If you are looking to start, like right now, without having to part with cash, I'd highly recommend EnticeHQ for two reasons:
1. Greg is an awesome guy.
2. EnticeHQ works right out of the box and is free to start with.
Referral SaaS Squatch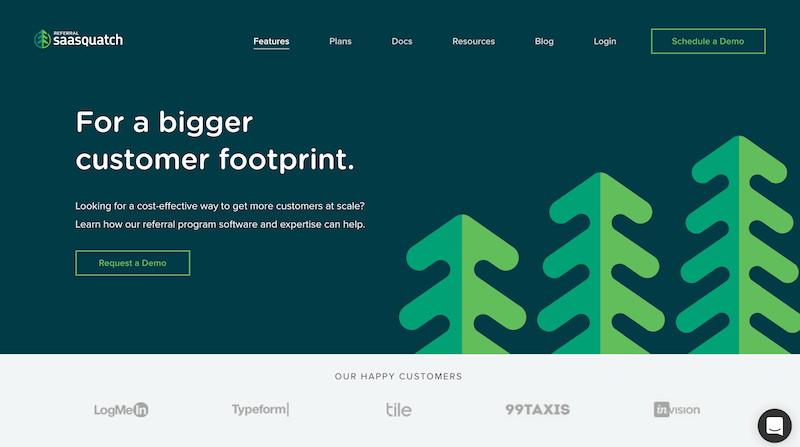 Referral SaaS Squatch seems to be focusing only on SaaS companies, apps, and software companies but you know what I'd say next: hack it to run any kind of a referral campaign if you choose to. The referral program software boasts of clients like TypeForm, InVision, LogMeIn, and others.
Referral SaaS Squatch gets you sophisticated campaign reporting, beautiful designs that enhance user experience, a secure rewards management console with automated detection algorithms, a way to weed out any activity that's shady or fraudulent, and integrations.
CampaignedApp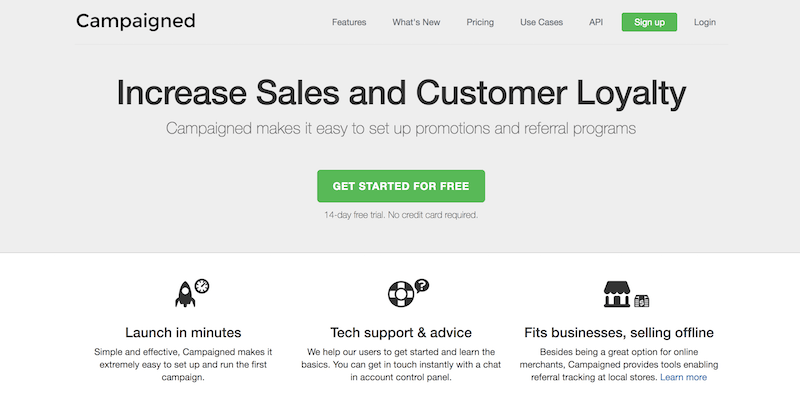 Campaigned App, the way it works, reminds me of Workflows are setup in Drip. Using custom workflows, you can design your campaigns your way. This gives you unmatched flexibility instead locking yourself into templates. You also get a landing page feature to allow you to build a promotion page (right off the bat) which you can build with a nice WYSIWYG editor.
A mobile-friendly control panel for a referrer dashboard ensures that you have your analytics for campaigns. You can also schedule campaigns, use custom user fields, use multiple currencies (if the world is your oyster) and also have payout options (if you are giving away cash).
For the pro plan, there are absolutely no limitations (I like that).
Amplifinity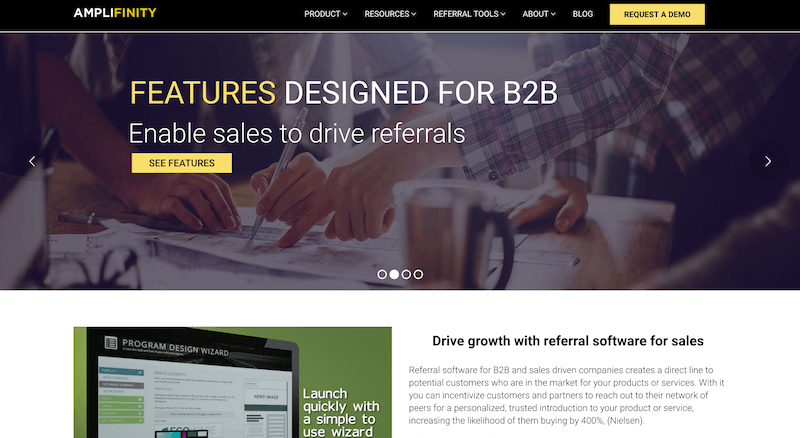 Amplifinity focuses on driving lead generation and sales for B2B and sales-driven companies. The referral marketing software is built for businesses already on the growth trajectory.
Amplifinity directly integrates with SalesForce and allows for multiple referral marketing channels while reducing the overall effort to launch and manage such campaigns. With clients such as RingCentral and Citrix, it does have the chops.
While you are at it, Amplifinity also has a handy calculator to calculate the ROI of a Referral program
FriendBuy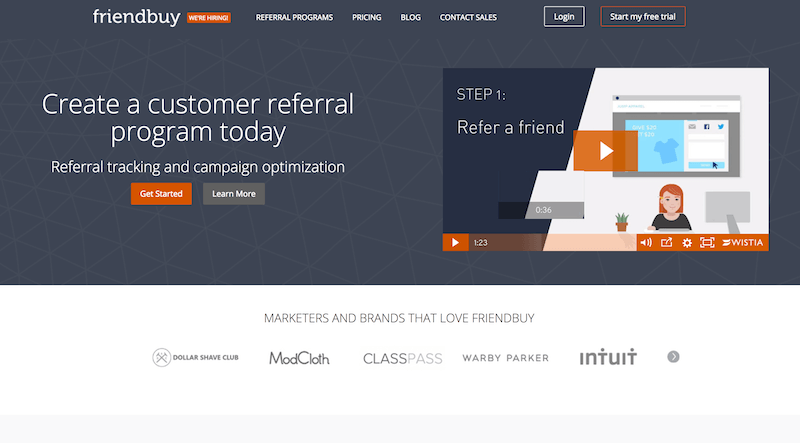 FriendBuy is an easy-to-use referral program software that also comes with widget templates that you could customize and deploy; automated reward feature (give away store credits, points, cash, or whatever), and real-time analytics.
More interestingly, FriendBuy makes use of PURLs (Personal URLs) which can be used individually by each customer wherever they want to share – including mobile messengers, instant messages, blogs, and more.
Incentivit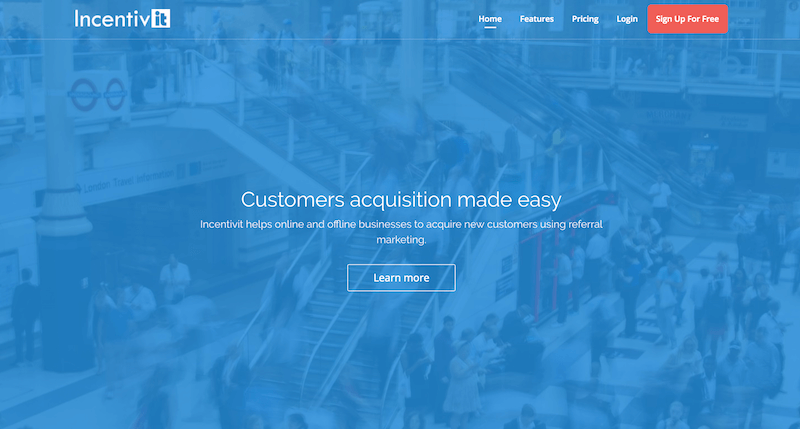 Incentivit comes with everything you need to get up and run with a referral program for your business. Some of the nifty features include a reputation builder (so you can let customers build your reputation for you), an embeddable feature using which you can put your referral program software to work on any page of your website (or landing pages), and more.
Incentivit also comes with fully-automated tracking, email notifications, enrollment notices, rewards, and reminders.
If you so wish, you can also opt to work with SMS, build custom refer-a-friend gates, and more.
Firecart

I am a big fan of drag-and-drop anything simply because it saves you time and allows you to accomplish so much with nausea-inducing decision faux pas. Firecart is a simple referral marketing software that you can use to help make your customers your brand ambassadors at scale. Get well-designed referral forms using templates, make use of a powerful referral rewards engine, and more.
Firecart comes with auto-trigger rules that can trigger off a sequence of events for referrers such as the number of referrals, conversion spends, etc.
You also have the option of using website widgets, a post-purchase email workflow or put up a referral program on your Facebook business page.
NextBee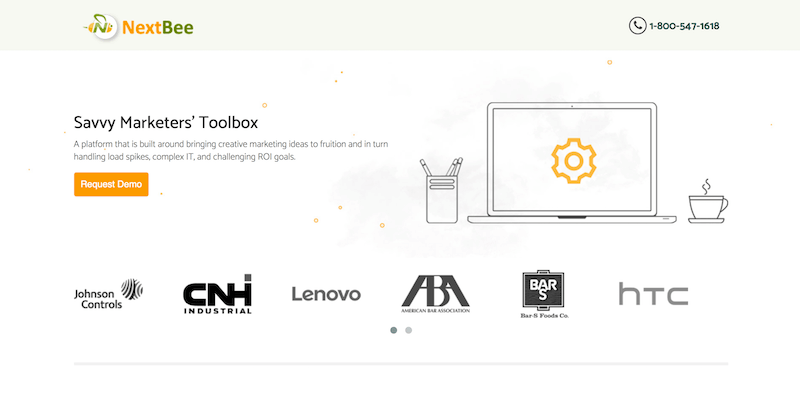 NextBee promises to take your referral marketing campaigns to another level by providing you not just the tools you need but also a CRM/ERP integration and dedicated account manager. Nextbee uses the PACE (Personal, Adaptive, Controlled, and Exciting) methodology because not all businesses are built equal and hence your referral marketing campaigns won't be the same too.
Nextbee's customer referral program solution is built for businesses looking for easy refer-a-friend and social sharing widgets while letting you give away rewards tied to sales and subscriptions.
ForewardsApp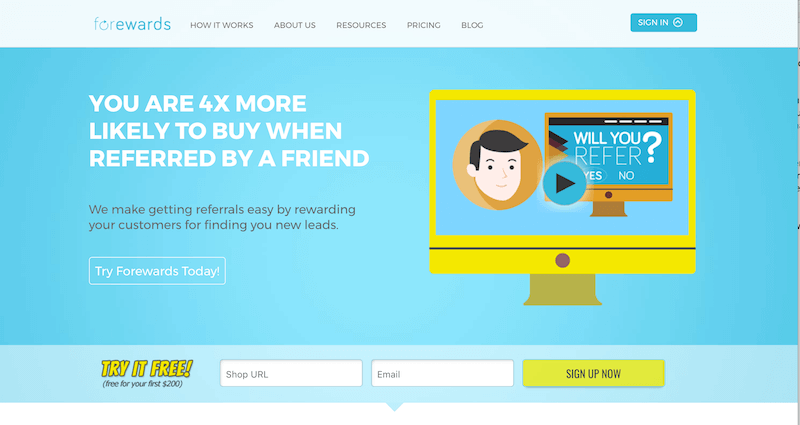 Talk about confidence and ForewardsApp lays it out flat: the referral program software is free for you to use up to $200 (in earnings?).
ForewardsApp again focuses on e-commerce stores and has a simple workflow to help boost your sales. Customers make a purchase, ForewardsApp sends an automatic message to your customer to let them refer their friends, then your customers are rewarded when their friends also buy.
ReferralClix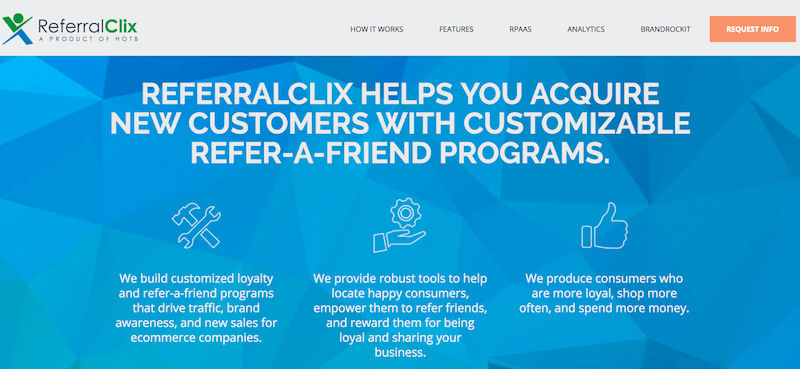 The one thing that ReferralClix – in addition to what you saw until now is a "referral process as a service" and it's best for businesses that don't want to bury their already busy heads trying to just get a flying start to a referral program.
But then, if you do choose to use the referral program software as it is, you then have access to a simple setup wizard, an ability to create relevant offers and churn out campaign specific deep links to help spread the word about the exact offer you are making for your referral program.
You also get customizable pop-ups, landing pages, emails, and message templates that you can deploy easily. ReferralClix's loyalty engine, quick e-commerce site integration, and mobile-friendly optimized software ensure that you don't break the user experience anywhere.
Which of these referral marketing tools have you used before? Let me know if I missed any?