This MailerLite review will be continuously updated, refreshed, and managed. That's how it should be, right?
Email marketing platforms are plenty. To thrive with an email marketing platform, however, there are 101 different aspects to consider (given the type of business you run, how you run email marketing campaigns, and more).
Most email marketing platforms have similar features so it could be a wee bit hard to wrap your head around the features and functionalities of email marketing platforms.
It's a highly competitive space — this email marketing thing — so email marketing platforms tend to add features (and more features) to edge themselves forward.
In this MailerLite review, we'll see how MailerLite stacks up, various MailerLite features, how it delivers on the email marketing promise, and what it does well:
Using MailerLite To Collect Leads
This is where it all starts (for you and I). The ability to collect leads on your website or eCommerce store is the first step to email marketing.
Skip this, and you'll skip everything.
MailerLite makes it ridiculously easy to create forms, embeddable forms, opt-in forms, promotional banners, and other lead generation elements to help you grow your email list.
Landing Pages
While you can always go for full-fledged, complete, and robust landing page builders such as Unbounce, Leadpages, and Instapage (if you need advanced features), MailerLite allows you to create landing pages from within the software.
If all you have is an email marketing tool such as MailerLite and your budget does not allow for additional tools, you can still make your MailerLite landing pages work for your campaigns (organic and inorganic).
Landing pages created with MailerLite are obviously locked with email marketing automations (more on this below) that you create with MailerLite — thereby giving you complete lead generation and lead nurturing capabilities within the same software.
All tied-in. Easier to manage.
Embeddable Forms
Content marketing is never about the "quality" of writing (while it's important, it's not everything). What's "everything" for your business is the results you get from all the work you put into developing and distributing content.
Your content assets — such as blog posts while you are blogging for business or eCommerce blogging — should generate results for you.
You do that by making sure that you have "lead generation elements" on your site or store — opt-in forms, exit-intent forms, slide-ins, lead generation prompts, live chat pop-ups, and so on.
One of the critical lead generation elements to use is an embeddable form. Like this one 👇
This form is embedded once (or twice or thrice) within each blog posts (and there are more than 200+ blog posts on this blog alone.
Giving your casual visitors a chance to sign up and to be a part of your segmented and well-managed email marketing list, Embeddable Forms from MailerLite are the starting point of your email marketing program.
Watch this video on how to create Embeddable forms and Pop-ups on MailerLite
Email Verifier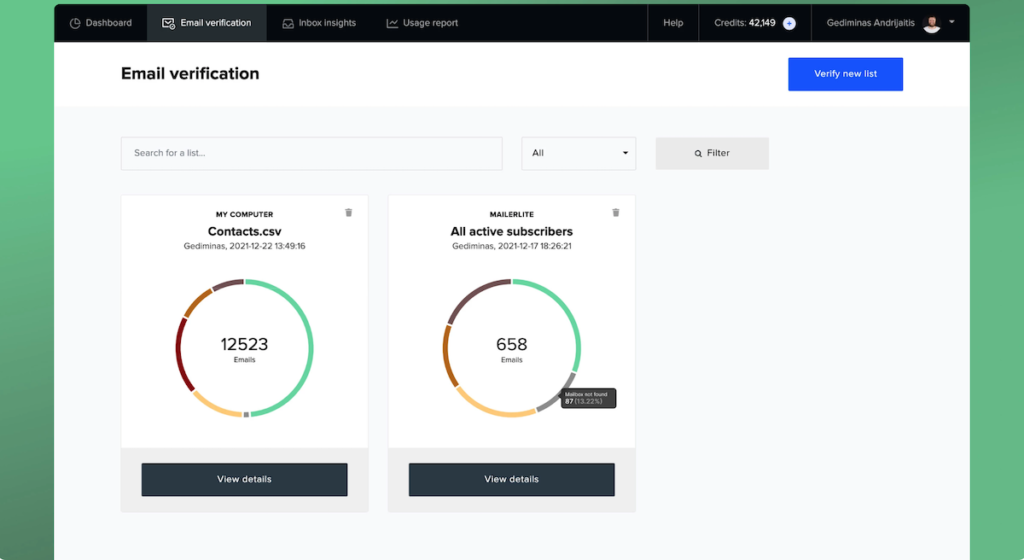 Deliverability for email marketing is a huge, "under-the-skin" and "often-not-thought-about-but-eats-you-away" issue. Out of several different factors that affect email delivery, some of these factors are easily in your control.
A few things you can work on are regular email list cleaning, checking for non-existent accounts, instant check for possible spam emails (in your email list), and others.
Entrepreneurs and marketers are too busy doing everything else and no one has time for these housekeeping tasks. That's where the Mailerlite's Email Verifier kicks in and does the job.
Email Verifier from MailerLite is an instant email verification tool cleans and optimizes your list in three simple steps. Further, you have a choice of approach in how you want to go about it: bulk email verify, single email verify (one at a time), or by using email verification API.
Verify the quality of email addresses (those that have a high probability of being unread or those that can bounce), check for disposable emails, detect errors, and catch-all email addresses.
You can also monitor email sending activity, verify sending sources, track blocklist activity (with IP checks), and more.
MailerLite Features: Email Marketing, Made Easy
Apart from the super important lead generation features that you get with MailerLite, there's a lot more in there to help close the loop and complete the story.
You obviously need features such as email editor, email designer, subscriber management, segmentation, groups, and email marketing automations.
See what MailerLite has for you:
Email Editor (Drag-Drop-Win)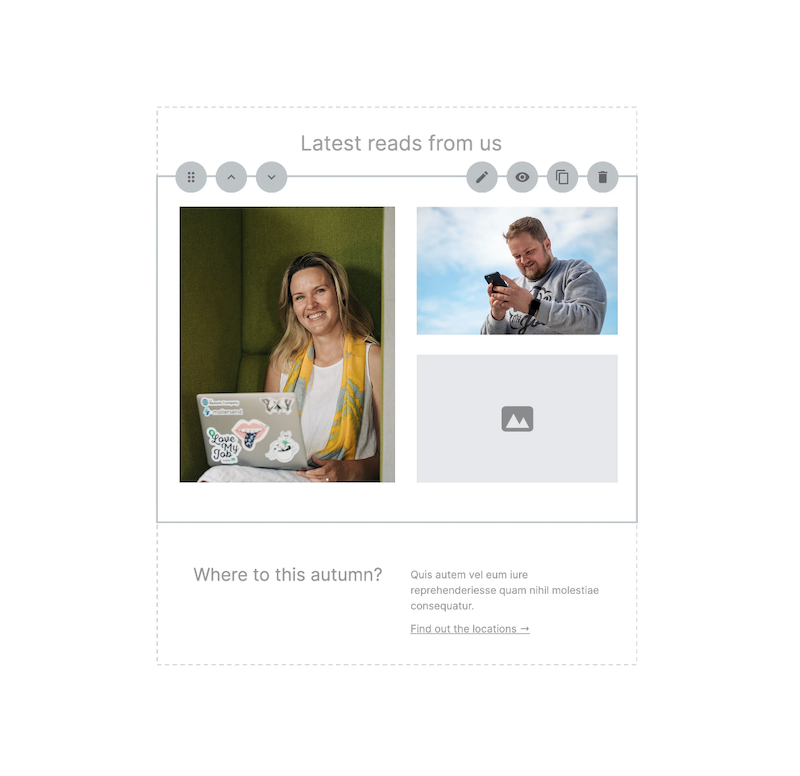 With MailerLite, you get "three" different email design editors:
Drag-and-Drop Editor [Now refreshed to add MailerLite AI into the mix]
You can design any type of email marketing campaigns that work great with your brand ethos, your communication style, or launch based on the need of the hour (sometimes, a plain text email will do instead of a full-fledged HTML style email).
How would you know what works and what doesn't? Be sure to test out your campaigns, use surveys to find out, or just ask your email recipients.
Newsletter Templates
Lots of business owners who'd like to make email marketing work for their business usually have little time to work on anything like email marketing campaign design, newsletters, and email automation campaigns.
As far as email design goes, MailerLite makes it ridiculously easy to get started with email marketing thanks to hundreds of templates you get to use, right out of the box.
With a large gallery of expertly created email templates, (available from within the email editor), deliver fantastic-looking, on-brand, and chic emails without having to bench press.
Select a template, modify the template according to your needs (along with your logo, graphics, images, typography, and colors).
If you find yourself using a particular style of email (or if you'd like to customize a template and reuse it often, you can also save your new design as a template (more on this below).
File Manager Free Image Library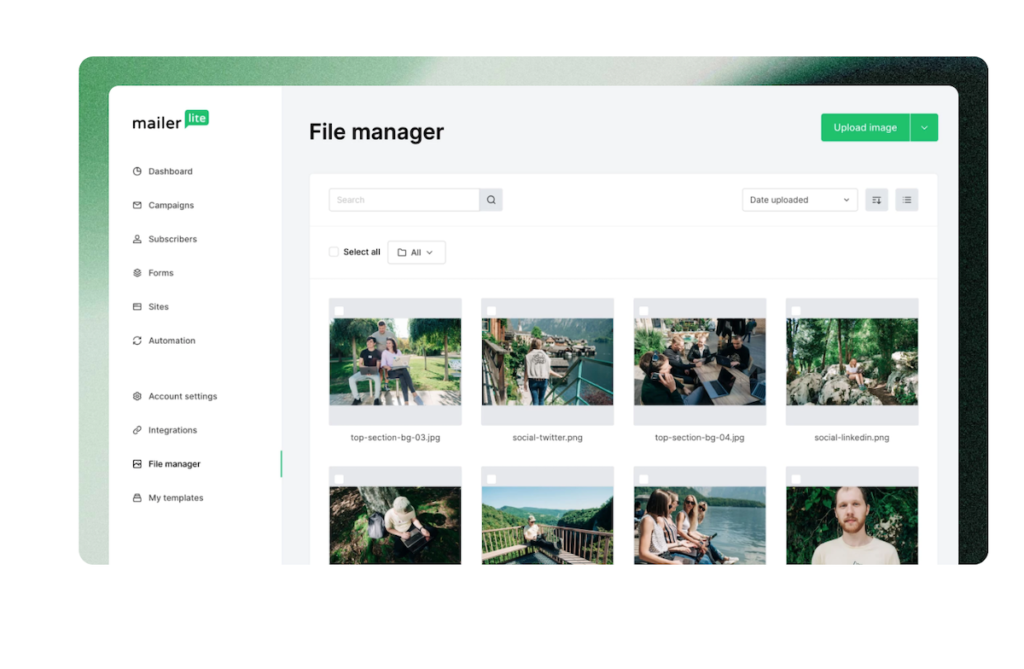 Worry-free Image management is a must-have so as to images within your email campaigns.
Your custom images, brand assets (such as logos and graphics), graphic templates, and all other images you'd like to use are stored in a "file manager" when you use MailerLite.
To organize your images and design assets, you can create folders. Sort images and even change the manner in which they are displayed.
Integrate with Google Drive, or share design assets or images with your team to allow them to access your file manager.
Further, get access to over 1 million+ images from Unsplash or grab those funny GIFs from Giphy directly from the file manager.
Email Marketing Automation
Apart from regular email campaigns such as email broadcasts and one-time emails (sent in response to an action taken — such as an email sign up), email marketing automation sequences are the bread-and-butter of your email marketing program.
It's the email marketing automation sequences you set up that provide the maximum value for the marketing dollars spent on email marketing.
You can build advanced marketing workflows using the intuitive automation builder.
Effectively, email marketing automation sequences and workflows use triggers (actions taken by visitors, subscribers, or customers on your website or eCommerce store) to automatically deliver emails or update custom fields.
If you blog for your business or if you are heavily invested in eCommerce blogging, use RSS-to-Email campaigns to notify subscribers about new content you publish regularly.
There's also a feature that allows you to send auto-resend campaigns (to those who didn't interact, engage, or open emails) to increase engagement.
MailerLite has several different types of email marketing automation that you could use. Here are some of them (starting from simple ones to slightly more complex ones):
RSS Campaigns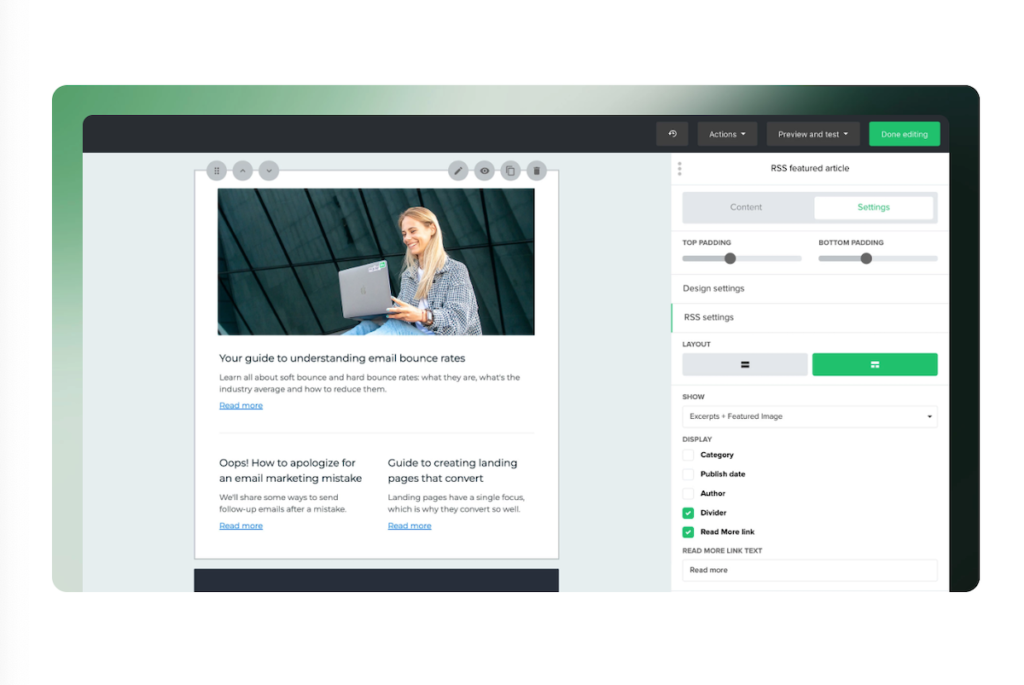 I publish 3X weekly on the fetchprofits blog.
With 3 blog posts published weekly (along with heavy engagement on social media), trying to manually create email campaigns to notify subscribers of new content published is nothing short of a nightmare.
It takes too much time. Thanks to RSS-to-Email campaigns, your subscribers will be automatically notified with a singular, auto-populating email campaign that goes out each week (or month).
RSS-to-email campaigns automatically insert your new content (say blog posts) into a pre-configured RSS-to-Email campaign template (you'll create one from an existing MailerLite RSS-to-Email Campaign template).
Enter your RSS feed URL, set the sending frequency (Once Per Week, In my case). The number of posts you want to include (usually 3 posts in an email campaign), choose a design, tweak the design, and you are done.
Your branded RSS-to-email campaign template can also pull in images from WordPress blog (there's also a WordPress Plugin available) to enhance your feed by using featured images from your blog posts.
Or, you can complete design the RSS campaigns the way you want to with the intuitive drag-and-drop builder available (see above).
This RSS-to-Email Campaign is sent out on a date and time (schedule) you control.
Auto-Resend Email Campaigns
According to MailerLite, you can reach up to 30% more subscribers when you resend emails automatically.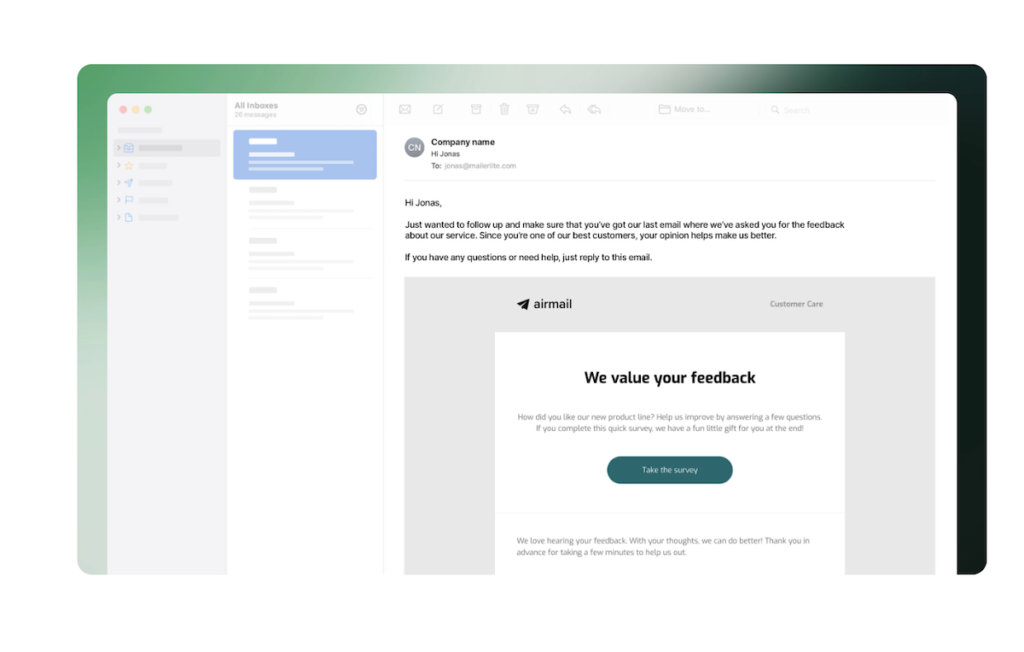 Whether it's an RSS-to-Email Campaign, a regular one-time email broadcast, or a complex email marketing automation, chances are that your emails might not be opened.
Your subscribers might have been busy or your emails could have been missed.
Give your subscribers a second chance to open your emails or newsletters with MailerLite's auto-resend feature. It gives you an extra opportunity to connect.
There are 3 types of auto-resend campaigns — each of which can have "rules" — such as subscribers didn't open or didn't click (for the last 7 days).
The fastest way is to change the subject line of a previous campaign and send it.
MailerLite (and I) recommend changing not only the subject line but also the entire content of the email. Even better? Add a follow up email (as a sequence) with a personal note.
Read:
How to Resend Emails That People Forgot to Open
Advanced Automation Campaigns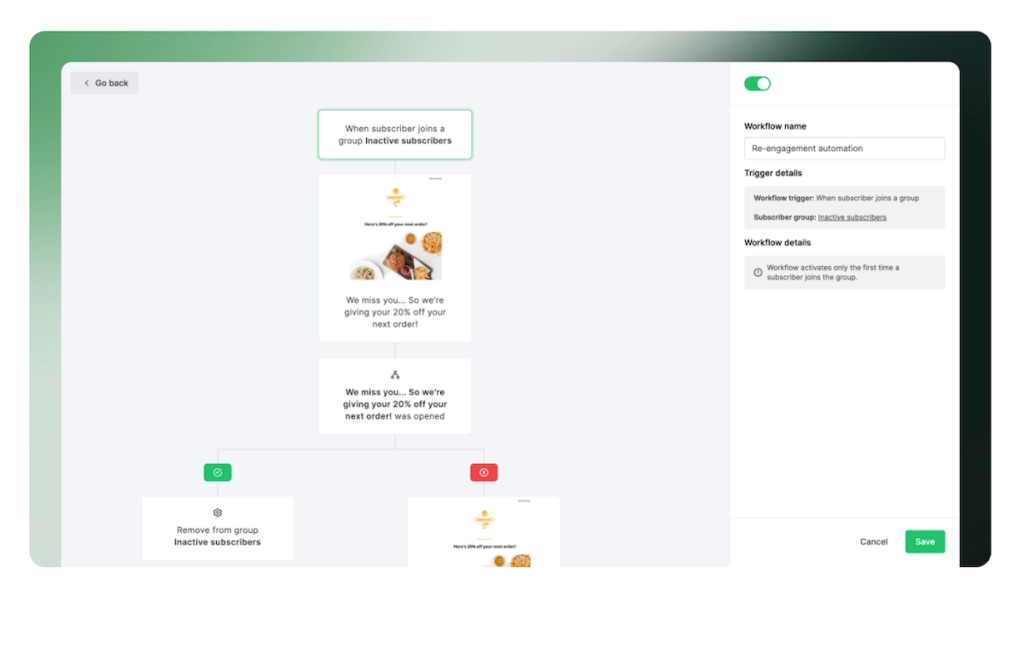 From simple "Welcome Emails" to complex automation sequences that can trigger based on actions or conditions; or sort and group subscribers or customer together, you can do it all with MailerLite.
Triggered Emails
Visitors sign-up for something you offer (like a content upgrade, an offer, a coupon code, or a newsletter). Or maybe they download a PDF document, a white paper, a checklist, or even sign up for your online course.
Visitors and potential customers, when they take some sort of an action on your site or from within your emails, you want to send out "triggered emails". Mailerlite allows you to send smart, triggered emails based on actions subscribers take.
Automated emails on anniversary dates, all sorts of transactional emails, when subscribers click on links within emails, when subscribers or visitors complete a form, and so on.
Automatically send emails or perform other actions, based on a specific event or multiple triggers…
…and that leads us to…
Multi-Trigger Automation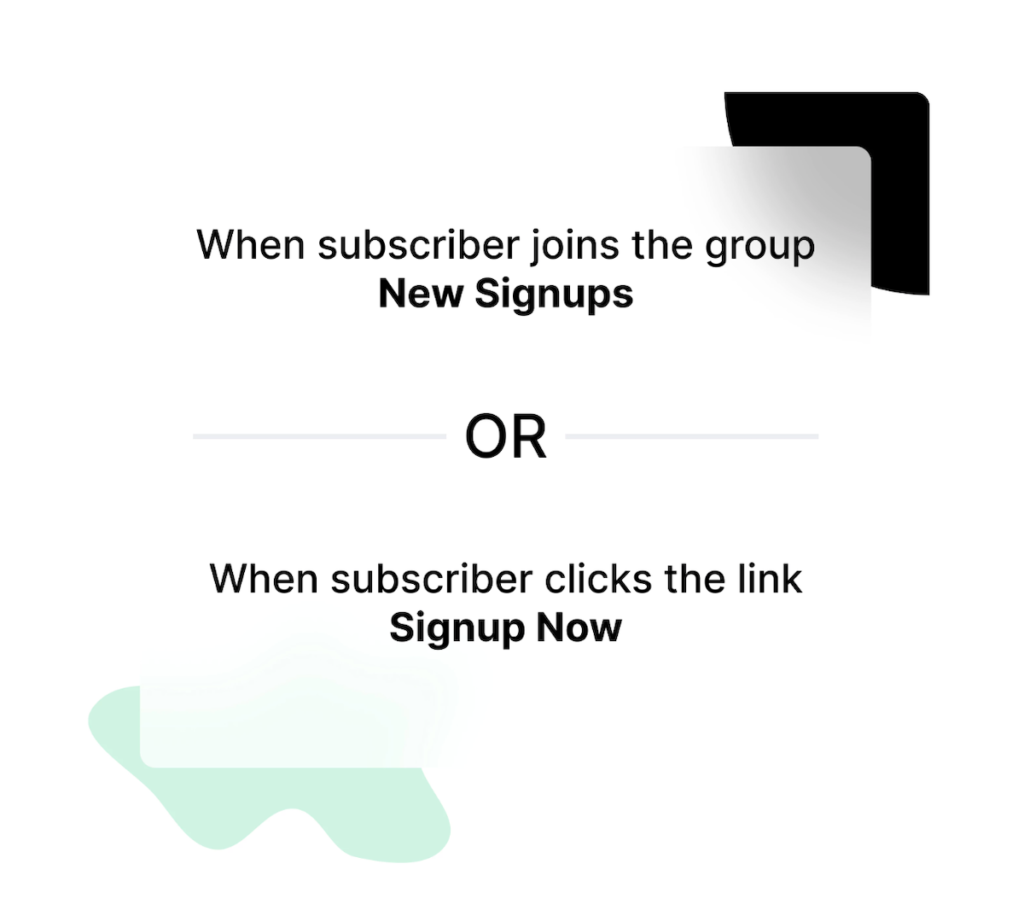 Sometimes, there isn't just one door in. Depending on how you generate leads or the actions your visitors or subscribers take, there could be multiple points of entry into your marketing system.
Potential visitors could opt to sign-in with a link. Or maybe they visit a landing page first and then sign up from there. Or, someone reading your blog post might want to sign up — each of these is a different entry point.
If so, how do you handle that?
Access next-level targeting with Mailerlite by setting up several triggers to activate one email workflow. You can add up to 3 triggers for each automation, enabling multiple entry points for one workflow.
A/B Testing or Split Testing
You might think that your campaigns are awesome. But awesome how? How do you know if your campaign is performing at its best?
You don't.
Not unless you employ A/B testing or split testing. Working in pairs (a pair of ads, a pair of landing pages, a pair of subject lines, and so on) to test one against the other, split testing is a gradual way to inch closer towards finding your campaign champions.
With zero limits and for upto 3 workflows, you can test various aspects of your email marketing automation workflows or campaigns.
Email Automation for Customer Retention
It's a smart thing to run customer retention campaigns. For eCommerce or otherwise, deploying customer retention strategies is a no-brainer.
With MailerLite, you can run:
Abandoned Cart Campaigns
From a combination of various surveys, HotJar notes that the average shopping cart abandonment rate is at an incredible 70%. That's 70 out of 100 shoppers abandoning their shopping carts (on your store?).
Triggering an email automation workflow when a shop visitor provides an email but abandons during checkout or before finalizing their purchase is awesome for customer retention.
You could do just that with MailerLite's abandoned cart emails.
Order Confirmation Emails with Upselling or Cross-selling
I've always maintained that your transactional emails should do more (than just send in deets like order confirmation or shipping updates). You can trigger automated email workflows as order confirmation emails, for instance.
When a subscriber or a customer purchases a product, you could send out another email (or use the same order confirmation mail) as an opportunity to cross-sell or upsell other products.
Build Websites With MailerLite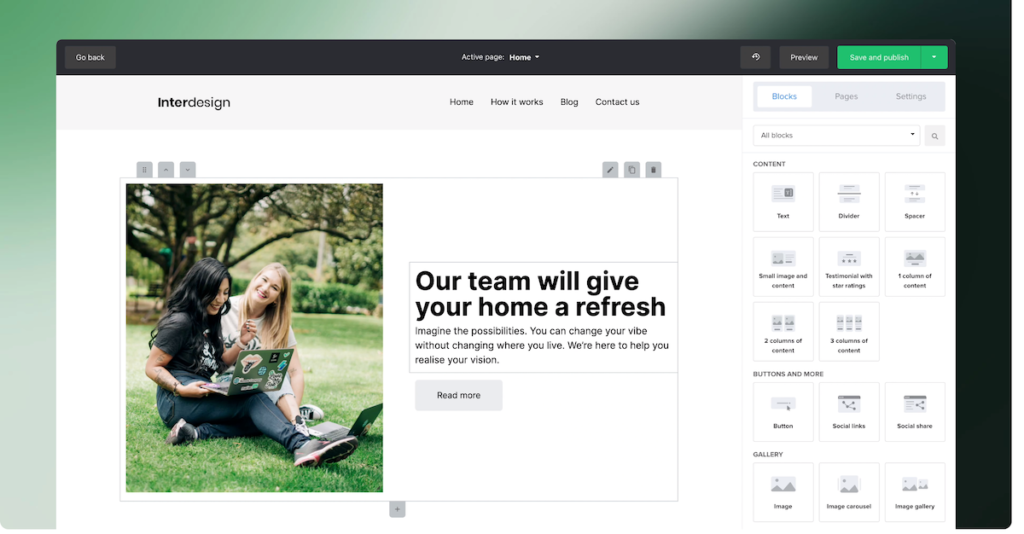 My point has always been this: design websites quickly; put the rest of the time (+effort and resources) into marketing, lead generation, lead nurturing, and branding (because these take a tremendous amount of work and time).
Most people are still stuck on "design and development".
That's why I push no-code website builders like Strikingly, Webflow, the Leadpages website builder, or the Mailerlite Website Builder.
Here's a free download for the 23+ Nocode Website Builders you can use.
I featured MailerLite as one of those awesome No-code Website Builders you could use. MailerLite — on top of everything it does — also lets you build complete websites for your business.
With MailerLite then, you get a website (drag-and-drop with no-code).
You also get all of the other features I mentioned in this MailerLite review (up and down below).
Incredibly easy way to build a website and hit the ground running. No complex code to deal with.
SEO features enable you to optimize your website (On-Page). Plus, you get social media tools, launch promotions, capture leads (with forms, opt-ins, and landing pages).
Instantly hit the sweet spot with transactional emails, automation, email marketing workflows, and more (Instead of going out shopping again).
Start a blog for your business and make blogging work for you.
Access analytics (then, act on them).
Engage and understand your visitors or potential customers better.
On top of Mailerlite direct integrations, you can also integrate third-party apps like live chat and translation plugins, Google Analytics, and Google Search Console.
Sell Digital Products with MailerLite
Did you know that you can sell digital products with MailerLite?
That's right.
Just like ConvertKit Commerce (which works in a slightly different way), MailerLite gives you a way to sell digital products and also grow your business — backed by the numerous other features such as embedded forms, opt-in forms, landing pages, and promotions.
I am a huge fan of platforms that allow you to sell digital products (without us content creators having to jump through multiple hoops or pay more just for the privilege).
Note: I absolutely adore platforms like Podia, Payhip, and Thinkific for what they do (if you plan to use any of these or Shopify, you can still use MailerLite nicely integrated with any of these platforms).
I also like Gumroad, but I hate their interface, lack of features, pricing, and more. If
MailerLite Integrations
If you wanted to build a website, launch your email marketing program, you could do it all with Mailerlite straight away.
Mailerlite Interations then allow you to use other tools in your marketing stack and you can then make it all work together.
Or, let's say you use WordPress or WooCommerce, Mailerlite does play nice. Or you can build a super eCommerce setup with Shopify and Mailerlite.
Mailerlite also works with Stripe, BigCommerce, and more.
Mailerlite has integrations with referral marketing programs, form builders, project management tools, video platforms (such as Zoom and Bonjoro), landing page software (such as Unbounce and Leadpages), affiliate marketing tools, and more.
You pick.
Email Tracking & Reporting Results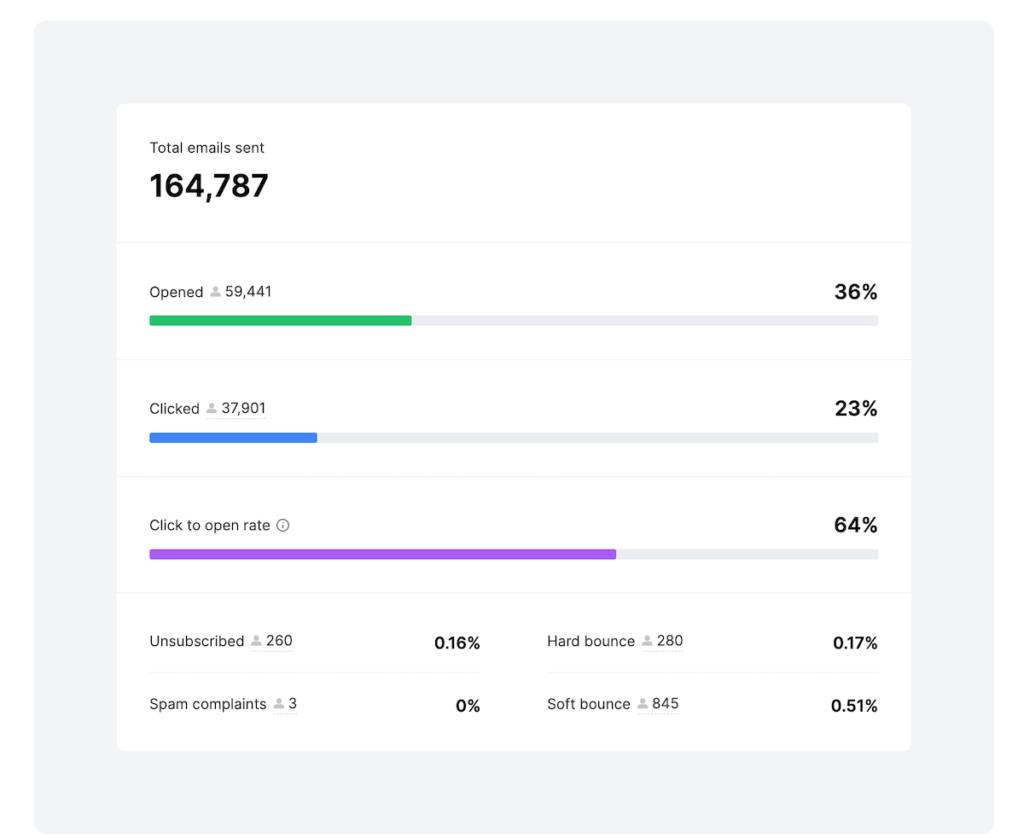 MailerLite Free Trail & MailerLite Pricing
Here's what I love about MailerLite, you could be up and running and use the complete suite of features (including landing pages, the website builder, and the email automations) even while you are on the free trial or when you use the free account.
You can start growing your email list, launch opt-ins and embed forms. Additionally, create landing pages for campaigns and/or build a new website. Further, you can also sell digital products.
Restrictions apply when you start growing (which is fine).
For up to 500 subscribers, MailerLite pricing now (2023) starts at $0 per month to $20 per month (for the advanced plan).
Get the MailerLite free trial or sign up for a free MailerLite account.
Use MailerLite? Do you think I am missing anything on this MailerLite Review?
Tell me all about it on Twitter, LinkedIn, or my LinkedIn Brand page.