WordPress forms are of a huge variety. It starts with with this humble contact form on your WordPress site, and for the simplest of the businesses, that's all you really ever need.
But then, literally any kind of input you ask of your visitors, you need forms of all kinds. You'd need forms that ask for basic information, and then you'd need forms for:
Lead generation
Create assessment questionnaires
Take quizzes and tests from your candidates or students
Acquiring information from candidates for recruitment.
For screening out clients by having them fill up short or long questionnaires
Hiring remote staff or for getting potential vendors to fill up requisite information.
With forms, you can do customer satisfaction surveys, collect feedback, gather validation data, do market research, and much more.
You can do a lot with forms. The use cases can be as varied as the types of WordPress websites on the Internet and form utilities as as varying as your needs can be.
From form builders that are WordPress sites all the way to self-hosted (build and use with anything), here are a few form builders or tools for creating forms that work perfectly for WordPress users or for small business owners who use WordPress:
JetForm Builder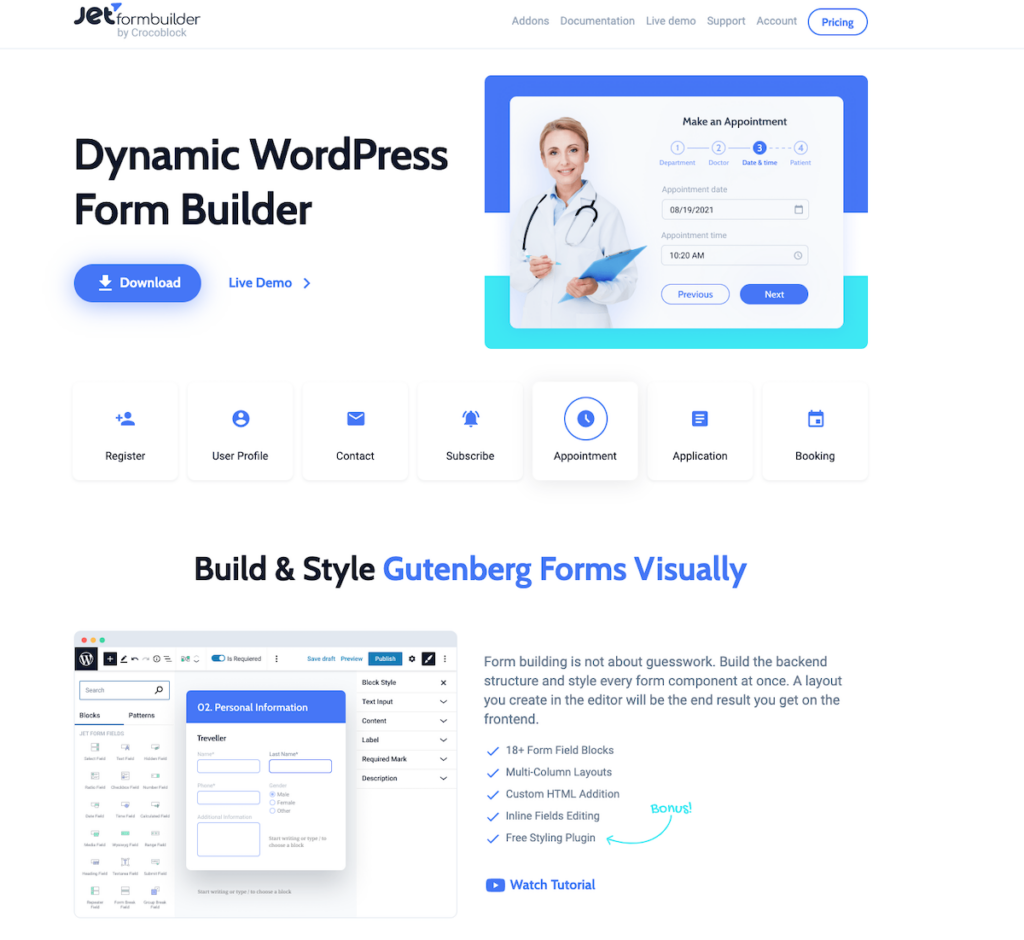 JetFormBuilder is one of the many plugins from the Crocoblock family. It's one of the easiest WordPress form plugins ever made. It features Gutenberg support and gives you the ability to create any kind of forms you need for your business.
JetFormBuilder is a dynamic WordPress form builder that covers all bases. Create forms for registrations, user profile update forms, subscription forms, application forms on WordPress, booking forms on WordPress, and more
Style WordPress forms visually (no dev needed). Further, create multi-step forms, use smart features such as conditional logic, enable form validation, and more.
Read the complete JetFormBuilder Plugin.
Google Forms
You can't start a list on online form builder apps without having Google forms as one of the options.
Create forms right inside your Google Forms account (accessible to any Google account) and you'll get several options to share and use your forms. You could embed the form right within your WordPress site. Or you could pick a link or URL and make it accessible to anyone on the web.
It's robust, free, and it's self-hosted on Google's dependable servers.
You get pretty much everything you need with general forms.
Google forms only lacks features such as attachment uploads, payment integrations, and anything else you'd want outside of Google form's basic functionality set.
WPForms
WPforms is a powerful form plugin that's built for WordPress. You get a drag-and-drop form builder that helps you build completely responsive, mobile-friendly forms.
You can start from several pre-made templates for your forms, use conditional logic for your forms, receive instant notifications (and this works great for responding to lead enquiries for you or for your team), and you have a way to view all your responses or leads in a single unified place.
Also, get a way to accept payments, donations, or online orders ( you don't need developers to do this for you).
With Wpforms, you can also create subscription forms and connect this to your email marketing platform.
In case you need, deploy fully-automated spam protection using smart captcha and honeypot.
Gravity Forms
Gravityforms is another popular plugin to develop simple and advanced forms for WordPress.
Gravityforms lets you develop absolutely any kind of form you envision or that you thought you might need.
Just like Wpforms, you get a visual editor to build professional forms for your business site. Pick your choices from over 30+ ready-to-use form fields (input fields) and also use conditional logic if you need to.
If you use gravity forms for lead generation, you can also enable email notifications to stay on top of your lead nurturing.
Of course, you'd also find file uploads and other features like "calculations" handy, depending on what kind of forms you are looking to build.
Just in case, Gravity forms also lets you build surveys, quizzes, polls, and also use video recording.
Jot Forms

Looking to generate leads? Want to collect order payments? Looking to hire talent? Want to register new guests for your upcoming event? How about an easy way to conduct customer surveys or accept customer feedback?
Jotform allows you to build forms for all those use cases above using one of the several pre-made templates or even build from scratch. You also get to use their "opt-in" forms (while I still think sumo is a much more powerful option).
Jotform also allows you to accept online payments and provides you with form analytics so that you know what works and what doesn't.
With Jotforms apps, widgets, and integrations, you can also use Jotforms with Salesforce, Dropbox, Google Docs, and more.
FormStack

Formstack is a slick and powerful WordPress plugin that can help you build absolutely anything kind of forms with its section 508 compliant, drag-and-drop, powerful form-builder.
Collect data, collaborate with your team, streamline internal processes, and make better decisions with forms working 24 x 7 in the front-end.
Formstack has several add-ons available along with conditional logic, payment processor integrations (such as the ability to accept Stripe).
You also get to import your responsive forms and also publish live forms on your own subdomain.
On the data collection front, you can do A/B testing for your forms, use form analytics, export or import data, conduct smart data routing, eliminate field bottlenecks (know why people are leaving without filling up your forms), and even get to see partial submissions on your form.
Formstack also allows you to use email login, social autofill, and use forms with electronic signature apps.
Typeform
If you ever thought building (and using) forms was a boring affair, typeform is set to change all that. It's colourful, interactive, and helps you build forms that are fun to fill up (and to create).
As with forms work, you can use typeform to build job application forms, suggestion box forms, incident report forms, lead generation forms, contact information forms, post-event feedback forms, market research surveys, branding questionnaires, order forms, and quizzes.
Typeform is so much fun that you could also create avatars, launch funny polls, and straw polls.
With typeform, you could do everything. Of this entire list, typeform is the only form builder that has fun thrown into practical and full-fledged feature set.
Paperform
If you don't like naked form builders (most of those listed above) and if you wanted forms that are visually appealing and still effective (much like landing pages), take a good look at paperform.
You can create forms as easily as you'd create docs. Type text into a page, insert questions, payment fields, other inputs, and even media as you want to.
The result is a beautiful, responsive, and almost landing-page like forms with payment integrations, subscriptions, donations, and more.
What's your favourite form builder for WordPress? Tell me about it.