Want to change how you work with WordPress? Learn all about Flywheel web hosting and the new Flywheel Growth Suite below 👇
Whoever said running a web agency, digital marketing agency, or a freelancing business is easy is lying.
Nothing about running a freelancing business or an agency business is anything closely related to "easy"
It feels like pulling teeth just trying to get and keep clients. Meanwhile, most agencies only freelancers only keep getting slaughtered like fish in the ocean (and most don't even know).
It all begins with the right foundations for WordPress websites (because there are many bad apples in this space). Plus, cheap web hosting costs you more money than you think.
Let's talk about the basics first:
Flywheel Web Hosting: Class-leading Web Hosting
Flywheel might have been acquired by WPEngine but Flywheel still retains its charm (and it's charming, indeed). Packed with managed web hosting goodness, it's one web hosting service that never lets you down.
How do I know? This site is hosted on Flywheel and it never saw downtime, ever (you can add me on Uptime Monitor and I'll challenge you to it, because I did it).
Flywheel already has a feature-set that you'll benefit from (and a few others have been added recently). Here are some of those:
Fly with Class-leading Managed Web Hosting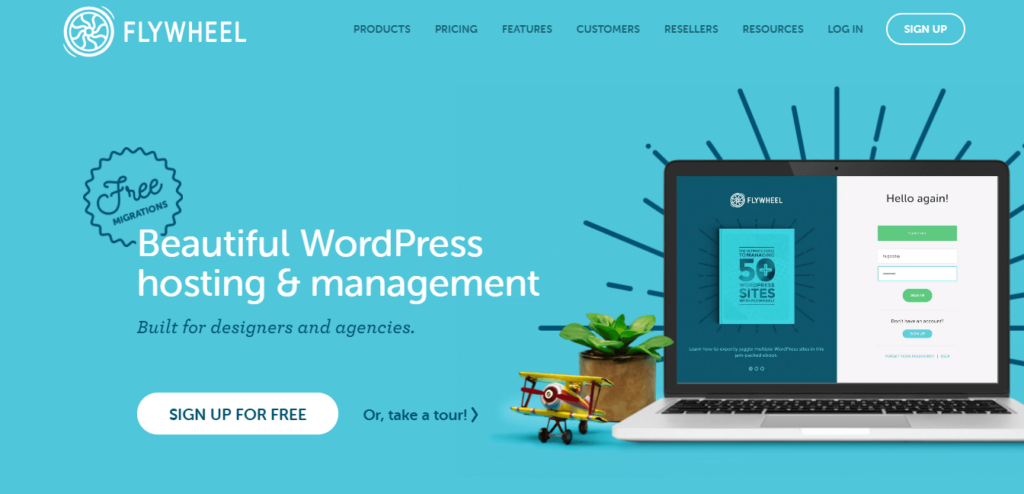 Flywheel provides you with the best, effortless, and reliable WordPress hosting (and it's like no other). With Flywheel, you get can intuitive dashboard, easy access to all your sites hosted, ways to collaborate with your team (or clients, or contractors), and growing your business (instead of digging your head in the sand with hosting-related issues).
With Flywheel WordPress hosting, you get:
Blazing-fast site speed (backed by the Google Platform) without any fancy configurations.
Staging environments (test plugins, test websites, and experiment safely)
Free CDN with WordPress-Specific caching (FlyCache)
Free SSL certificates
Free daily backups and easy FTP access
Hacker-free security, malware prevention, and
Powerful dev tools (if you are itching to tweak)
Read the Flywheel review when you can.
Also read: 12 steps to take before launching your WordPress site
Get 30+ World's Best WordPress Themes
StudioPress had (and still has) the world's best WordPress themes. They are fast, without code bloat, classic, and are built to last. Based on the Genesis Framework (which is also included with Flywheel), these are some of the best themes you can lay your hands on.
With a Flywheel account, you get free access to 30+ StudioPress themes included. Period.
Migrate WordPress Sites For Free
Do you already design and/or manage WordPress sites? You can migrate them all over to Flywheel, for free (without break a sweat, and without breaking any of your sites or your clients' sites).
The experienced pros at Flywheel manage the entire migration process. They do it well, and they do it for free.
Migrate your sites for free now
Manage Plugins Like a Pro
Did you know that you can't upload and use "any" plugin with several Managed WordPress hosts? If you are guilty of poking your finger with "any" plugin, you are playing with fire.
That's why most managed WordPress hosts don't allow you to upload a few plugins.
Those plugins that are allowed, and that you do use still need care and management though. Flywheel makes this easy as well.
Shorten your to-do list (as far as plugins are concerned) while keeping your sites up to date, and extra safe. Always.
Stay Secure with Flywheel SSH pathways
Do you need to manage your site from the terminal?
Flywheel SSH is a service that provides an easy way for developers and sysadmins to connect to their sites. Once connected, many tools (most loved and used) are available & supported by default including:
WP-CLI
MySQL
rsync, and
Text editors like Vim, emacs, and nano. You can also use utilities like curl, wget, or zip.
Flywheel SSH will give you access to all these powerful tools without having to install them on your machine. It's perfect for people who work remotely or have limited time on their hands because it saves them time by not having to download anything while being able to do all this anywhere, anytime (even from your mobile phone).
Flywheel SSH is the best way for developers and sysadmins alike to get what they need done quickly without any hassle
Note: A few notable exceptions to using Flywheel SSH include not able to viewing site logs (but can be downloaded from the dashboard), a few WP-CLI commands are not supported, and core WordPress files (including wp-config.php) are not editable.
Learn more about Flywheel SSH
Launch fast (and impress clients) with Flywheel Local
Deploying a WordPress site, managing it, and showing live prototypes to your client (or to your team) is now easier than ever, thanks to Local by Flywheel.
Take advantage of the following (in style):
Automatic and fast WordPress setup with just one click (with SSL included)
Save any site as a "blueprint" (reuse later or replicate easily) — this saves all your preset configurations, config files, templates, plugins, and local settings so that you can save time when working on multiple projects.
Use root SSH access, WP-CLI, hot-swap environments for easy testing
View, test, and debug mail sending (even without going live) thanks to MailCatcher.
Log files using PHP, NGINX, and MySQL logs.
Push and pull WordPress website builds to servers (like Flywheel and WPEngine) and switch to a streamlined workflow for creating, managing, editing, and collaborating before taking your site live.
Use Local's Magic Sync — Flywheel's differential deployment technology which intelligently recommends files to update while giving you control over specific files to sync.
Send your local WordPress sites to clients (or to your team members or co-workers) using persistent URLs and NOT going live yet.
Manage multiple usernames and passwords by seamlessly logging into your WordPress site with a single click
Use built-in tools such as Image Optimizer, Instant reload, and many other features to deploy your WordPress site with confidence.
Never lose anything to do with your WordPress site build again (for yourself or for your clients). Keep your workspace clean, workflows streamlined, and even push (or pull) files to and from Google Drive or Dropbox.
Did I mention that Local by Flywheel can be used by ANY WordPress user absolutely for free?
Learn more about Local By Flywheel now.
Use Flywheel Multi-domain SSL Certificates
Meanwhile, if you are itching to learn more, get this:
If you've ever questioned the pricing of your services, you should check out Flywheel's latest workshop. We'll discuss three different pricing models and even go over some real-life examples so you can see it in action for yourself. Check out the workshop here: Flywheel + Confident Pricing.
Do you sometimes struggle when getting a larger potential client to choose your services? Then check out this article to see how other agencies have landed big deals: Land Bigger and Better Clients.
How to Run a Creative Agency Business [Better, Smarter]
Creative agencies are always looking for ways to grow their business and take on more clients. But with so many distractions, ups and downs, struggles, issues, and real-world business problems (like cashflows), it can be difficult to focus on the right things.
What distractions, you ask? [Oh, you didn't feel the pain yet?]:
Getting high-quality clients can be like finding a needle in a haystack (which is constantly).
You can't do justice to anything the clients ask for (such as speed up my website, prevent malware intrusions, protect my WordPress site from vulnerability, or load my site in 3 seconds or less) when you host sites on cheap web hosting (and that's where Flywheel really shines through).
You have no idea which clients will stay on and who'll ghost on you. This makes revenue tracking, revenue management, cashflow management, profits, and managing your business harder than doing benchpress as a toddler.
Thanks to the uncertainty, billing and invoicing is just as unpredictable as monsoons.
If you are bogged down with workflows, documents, design assets, content assets, graphics, templates, and plugins, putting your clients first is hard (or impossible).
Since this is WordPress we are talking about (regardless of the kind of WordPress business you run), managing various apps, plugins, software, templates, and some more plugins is "uncertain, risky, prone to fail, or it might all just break your site".
There has to be a better way to run a WordPress-based business (be it content production for WordPress sites or building plugins or templates for WordPress).
That's why, Flywheel created Growth Suite.
The Growth Suite by Flywheel is one of the most powerful tools yet, built for freelancers, web agencies, WordPress specialist services, design agencies, freelance designers, WordPress service providers, and more.
It's a comprehensive suite that includes everything you need to market your products and services online, manage your clients, get paid on time (every time), and manage workflows faster (and better).
Here's what the Growth Suite offers:
As the folks at Flywheel put it,
"Growth Suite was built specifically for growing agencies and freelancers and brings all of these processes together under one roof, one umbrella, one login for client management, subscription and one time billing, growth and revenue insights, and managed WordPress hosting. "
FlyWheel Growth Suite: Features and benefits
Armed to teeth with an arsenal of tools, features, and benefits for growing design agencies, WordPress-based businesses, WordPress service companies, and freelancers, the Growth Suite does (and gives) what it sounds like: Everything you need to manage, sustain, and grow your WordPress business.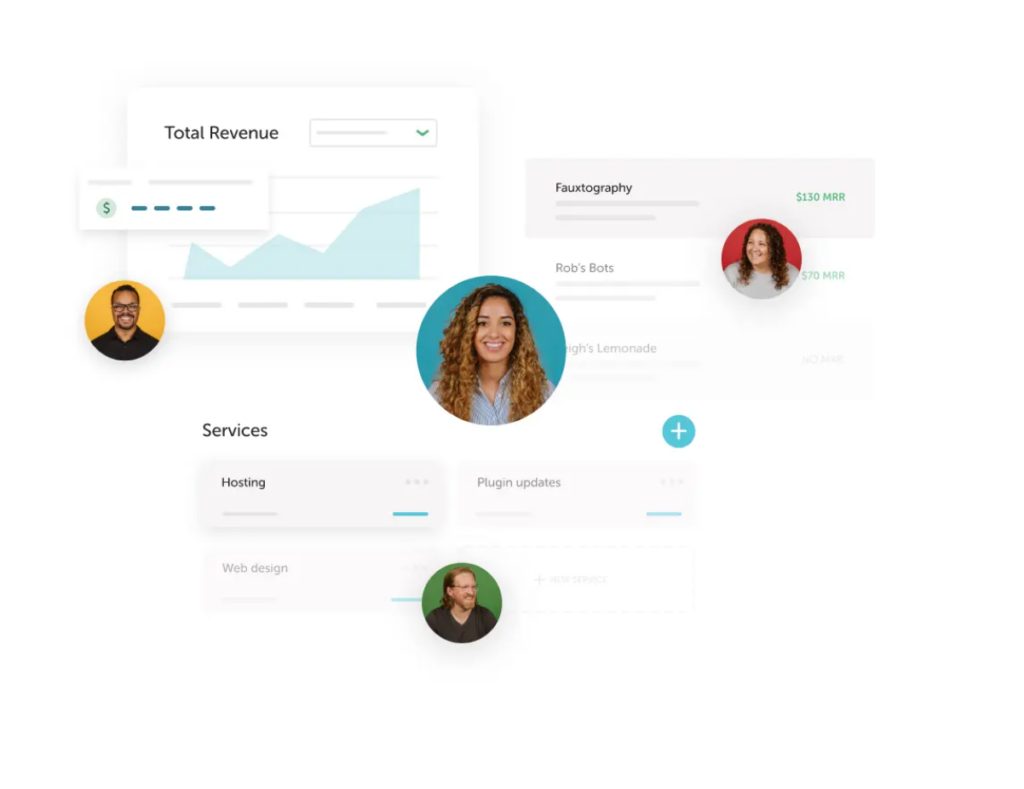 Here's a sneak peek at what the Flywheel Growth Suite offers:
Growth dashboard
The growth dashboard is your virtual cockpit of everything you need to know in a single glance. Login and wise up.
The growth dashboard also gives you cash flow insights at your fingertips
The Growth dashboard is the backbone of FlyWheel Growth suite, providing you with a bird's eye view of your financials. You can track critical data in real-time and put the spotlight on what needs attention so that you stay on top of your finances.
Recurring and one-time invoicing
Subscriptions, recurring invoicing (and the usual standard Invoicing) are the pulsating heart of your WordPress business. Take advantage of simple (yet powerful) invoicing tools that fit your client's needs (and yours).
Switch on a well-oiled machine as far as Invoicing, billing, and managing subscriptions go.
Want some inspiration to sell services for recurring revenue? Here are at least 7 services You Can Sell For Recurring Revenue
Client management With Flywheel Growth Suite
No clients = no business.
A large part of profitability comes from managing existing clients though. House all your clients and their information in a single client management system, right inside your FlyWheel account.
Looking to land your first big client? Apart from confidence, hustle, and charisma, here how to land your first big client
Client reports in Flywheel Growth Suite
Everyone advocates "value-based pricing" or "retainers". Why would anyone pay unless you show consistent value? If you do have your finger on the pulse of a clients' website growth (and success), how will you prove it?
Instead of investing in "another reporting tool", the "client reports" feature inside Flywheel growth suite helps you show (and prove) that you earned your right to bread.
Clients want to know how you Prove your value to then, and you can show off all the great work you do thanks to agency-branded reports with Flywheel.
Send your clients automated, recurring agency-branded reports. Include things like hosting stats, maintenance updates, Google Analytics, and even add custom message from you (with your brand on). The report PDFs will be accessible right in the client portal.
How cool is that, eh?
Flywheel Growth Suite: Bulk site management
Growth Suite by Flywheel makes it easy to manage your sites, pages and content with the bulk site management feature. Growth Suite you can spend less time managing sites, and more time making money.
Get a single place for you to get important information you need about your sites with bulk site management. Gone are the days of going into each site individually to make business decisions, complete tasks, and managing WordPress sites saving you time and relieving workflow hassles.
Bill Confidently with Flywheel Growth Suite: Fully integrated with Stripe
Stripe is already powerful enough and comes with bank-grade security, dependability, and several features within Stripe. Flywheel Growth Suite is fully-integrated with Stripe to allow you to securely bill your clients with confidence.
Automated communication
How many hours in a week do you spend just emailing this way or that with your clients? An Adobe survey of over 1,000 office workers in the U.S found that usual employees spent an average of 3.1 hours a day on email related to work — that's an average of 5.6 hours of your valuable time each day just on email.
Since you run your own business (and the stakes of not checking your emails — including client communication, client briefs, responses to outreach, and more — are rather high), you'll spend decided more time on email.
You can save some of this work (and hence time which is money) with the automated communication feature with FlyWheel Growth Suite.
Emails are automatically sent with your brand to your clients (on aspects that you don't need to spend time on such as WordPress updates successfully done, billing confirmation emails, and others).
Your brand, You In The Driver Seat
Flywheel Growth suite allows you to completely brand everything inside — from white-labeled temporary domains, client portal, and client emails — so that your clients know that it's you all over the place.
Meanwhile, all the awesomeness you do with your WordPress design business or WordPress marketing business is backed by the powerful managed web hosting, infrastructure, and backups by Flywheel.
Resell managed WordPress hosting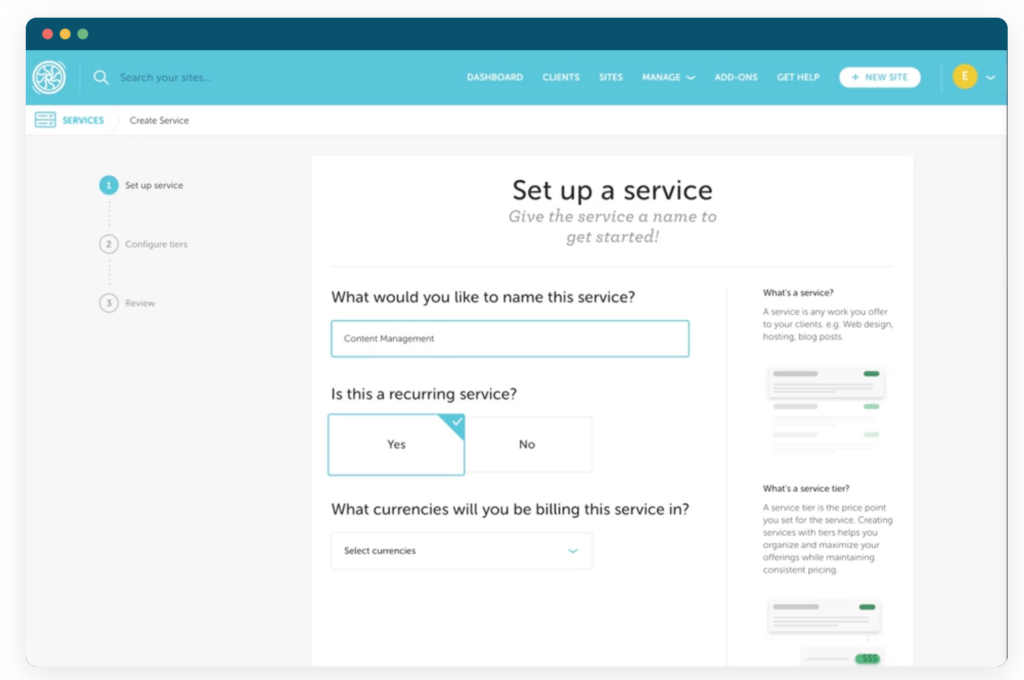 Want to make even more money with WordPress? Try to resell managed WordPress hosting.
Why? You are an expert at what you do. Your clients might not have thought about it at all (some of them still don't)
If you are a WordPress design business, take a step forward and set the right foundations for your clients with blazing-fast managed WordPress hosting, daily backups, malware protection, and more.
Are you a content marketing agency or digital marketing agency focused on clients on WordPress?
You'll need more of the above so that you focus on the back-breaking content production, design, and digital marketing side of work while letting Flywheel give you the awesome support (plus hosting, backups, vulnerability protection, and more).
Do you design WordPress sites? Do you sell WordPress themes and WordPress plugins? Do you focus purely on digital marketing (including content creation, ads, and other aspects)?
Earn monthly recurring revenue by including Flywheel's services in your monthly maintenance packages. More services to sell, more revenue, and better cash flow.
Run the show with Client portal
Get your own client portal and run your WordPress agency business the way you should be (hope this was launched way earlier saving countless man-hours).
A customer portal where your clients can securely submit payments, edit contact information, and contact you directly. All of this in place.
Brad & Timothy Don't Drink Kool-Aid
All this is not "corporate blah blah" or sales speak. There are several agencies and freelancers who've already succeed with Flywheel.
Here's what some of them have to say:
"Growth Suite is the evolution of billing for freelancers and agencies that we've been missing. It's hands-down the best way to bill your clients." —

Brad Hogan, bradsthemes.com
and…
"Everything has been seamless and all of the features are incredibly helpful. Previously, I had no clue what my monthly income was, now I'm tracking my overall ROI and making data-informed decisions."

Timothy Farzalo, Web Designer / Online Strategy / Consultations Thunderlight Media.
Don't miss out on the wonder that it is. Have you checked out Flywheel Growth Suite yet? Go and see what it's all about