Looking for eCommerce Video Tips? Be prepared for a ride.
We'll cover videos for eCommerce marketing — from reach to audience building; from customer support to conversions and sales.
Turning video views into conversions and sales is all that eCommerce video content is about.
More than 84% of consumers reported that they are convinced by videos they watch to make purchases. Videos help build a community around your brand, help grow your audience, drive traffic to your eCommerce store, and more.
It's not about going "viral", because you don't have to (it helps, but that's not even why you are in business). It's not being popular, getting likes, foraging for subscribers on YouTube, or growing a following on TikTok.
eCommerce videos are another medium (a powerful one at that). eCommerce brands use videos in a variety of ways to turn viewership or audiences into lifelong customers and strong brands.
Note: eCommerce doesn't just mean fashion, apparel, beauty products, electronics, and so on. You should also take digital products, online courses, membership sites, software, apps, SaaS, digital art, eBooks, paid live streams, and services as a part of eCommerce. Period.
Here are some eCommerce Video Tips to get that cash register ringing:
Connect with People
Katie Carson, founder of Royalty Soaps, once attended VidCon (an annual convention that pulls in top talent from YouTube, Twitch, and TikTok). For her, it was a bizarre experience. She thought she didn't belong there.
But that was alright since Katie's primary purpose was not to become an "influencer"; it was to find a way to help grow her Royalty Soaps business. That's exactly what she did.
She didn't know eCommerce videos will work. When she did a few videos though, she saw that her subscriber count went up and more than 90% of visitors to her eCommerce store were coming in through a link on YouTube.
With more 80,000 subscribers on YouTube now, she still feels that her primary motivation to even do videos is to help connect with her potential audiences. Each time she puts up a video, she'd witness a spike in her sales.
Yet, it's for the ability to connect with potential audiences is why Katie does video.
You should too.
Simplify Making eCommerce Marketing Videos
As much as you can, get yourself away from the actual process of creating, editing, and distributing (sharing) videos.
Learn how to do marketing with videos without actually having to spend a lifetime doing it.
You don't have an entire lifetime for one single marketing channel, do you?
Here are some tips:
Stay Consistent & Cut Out Inefficiency
From YouTube Influencers to Instagram Influencers; from regular businesses and eCommerce brands that use Videos to content creators — talk to anyone with any level of success with video and they'll tell you that success comes with consistency.
The consistency part? Only you can do something about it. Assuming you do get on that path, how do you keep it up?
You can't possibly be consistent without having a way to produce videos for eCommerce (or otherwise) with some sort of an efficient workflow.
Efficient video processes could be anything. I'd recommending focusing more on live streams (they are instant and there's no editing involved).
Or, if you had to do videos + editing, they don't edit. Or try not to edit videos too much by saving time on editing videos.
To help reduce time with video creation and video processing, do this:
It's about sales; not ego
Don't do videos, get on social media, write blog posts for eCommerce, or create content if you have a tendency to do it for vanity metrics. Or for going viral. Or for your ego.
If you consider all the social media networks and the video sharing giants (such as YouTube, Instagram, TikTok, and so on), the focus seems to be squarely on vanity metrics. Many videos are also focused on stupid things such as Social Flexing.
Do it this way and any number of eCommerce video tips are going to be useless. You'll soon(or later) find out that social media could be a huge time drain for your business. You'll also realize that you'd inevitably face mental health issues.
I don't know where the world is going with business in general and any specific digital marketing channel (such as blog posts, Tweets, LinkedIn posts, Videos, or Live Streams).
You have a business to run; you have a brand to grow. Stop keeping up with the joneses and do exactly what you should to help grow it.
Cut out all the rest.
Launch Shoppable Videos
While you are trying to do what you can to use eCommerce videos, roll out a few "shoppable" videos.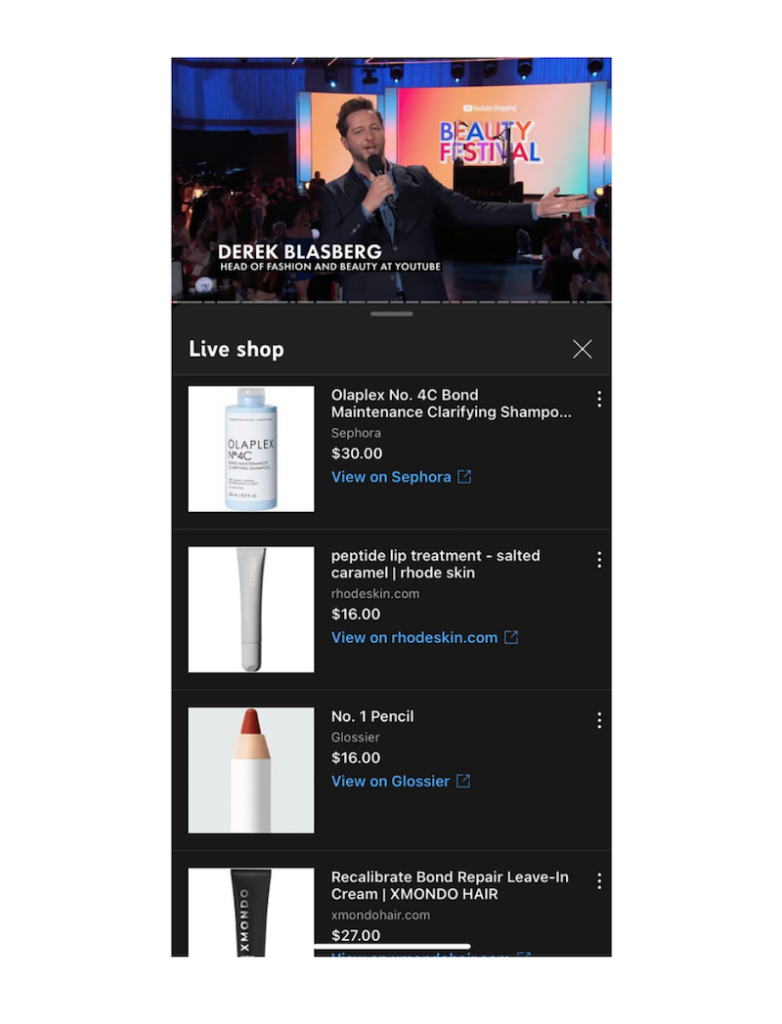 Shopify, for instance, already has support for videos on its platform. Further, you can also sell directly on YouTube videos (if you plug it in with Shopify) with YouTube Shopping.
Similarly, you have Instagram posts, reels, and stories with direct shopping features. Meta (Facebook) also has features that let you sell products (with or without videos) on their platform.
Most of your videos should be about expanding reach, building an audience, and growing a following (which will then lead to visits to your eCommerce store and hence sales).
Some videos, however, can be direct and "shoppable".
Learn From The Best
eCommerce video tips are always incomplete without some fantastic examples, right?
Many brands are taking the first step (or maybe they are already pros at it) to use eCommerce videos (for well, eCommerce growth).
Videos, in all formats, are quite popular already. Video campaigns are usually a part of overall work done for some brilliant marketing campaigns.
Here are some of the best eCommerce video marketing examples for inspiration:
8 Best eCommerce Video Marketing Examples
9+ Successful Webinar Examples: How Brands Win With Webinars
15 Best Examples of eCommerce Video Marketing
How do you use videos for eCommerce?
Tell me all about it on Twitter, LinkedIn, or my LinkedIn Brand page.