Before you even dig your head into learning How to Grow as Content Creator, just understand a few things right off the bat:
Consistency will beat talent, celebrity status, influence, and even skills.
Small is beautiful. Small can be big, and maybe small is what you really want (but just don't know it yet).
It's all about survival. Everyone's story is different. What's yours?
Content creators create "content". That's good. If you are passionate, that's even better.
All the content creator economy stats are going to do you no good if you don't grow audience, monetize your work, and make a living out of it all.
The ConvertKit's Creator Economy Report 2022 is a comprehensive view of the creator economy with 2704 creators — who amassed over 11,000 years of combined experience and $66 million in combined earnings — share their experiences.
Here are some content creator economy stats for you:
#WomenPower? More than 63.8% of content creators are female. Around 34.6% are male. 1% are non-binary.
More than 46.7% of content creators are going at it full-time. 10.6% pursue content creation as "hobby" while 42.7% are part-time content creators.
At least half (49.84%) of content creators were between 31 and 60 years old.
Social media posts are the most popular type of content created in 2022 (66%). This is followed by articles or blogs (60.6%); emails or newsletters at 67%. Many creators also dabble with short form videos, digital products, online courses, long-form video, Live streaming, books, art, podcasts, music, and more.
Read:
160+ Tools and Platforms Powering the Content Creator Economy
Get the Creator Economy Report to know more.
Good thing Happen Late [Start & Stick to It)
I started this blog (serious start and not a sputtering one) around 2017. No, I am not Neil Patel. I am not Brian Dean.
I just happened to love blogging and now I just do blogging (with very limited consulting). It worked all right for me.
It took time, though.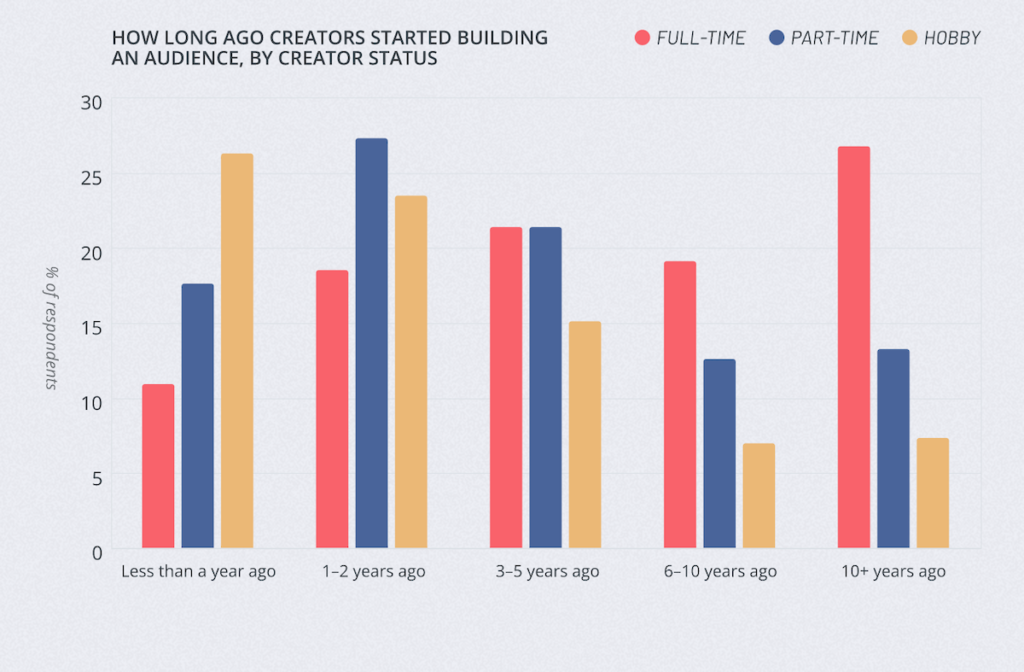 The blog makes money. For the first dollar to roll in, I wrote continuously for 3.5 years before that dollar rolled in.
The point I am making? Success for content creators only comes in with time. Don't let the thought of "Viral and overnight sensation" get under your skin and ruin it for yourself.
According to the ConvertKit report, 67% of full-time creators started more than 3 years ago. More content creators and (25% or so) began growing an audience a decade or more ago.
Content Creation Business, Is Still a Business
Terms like "freelancing", "Content Creator", "Gig worker" have this weird thing where the actual work is concerned. Those who do the actual work really know how hard and just how amazing that work actually is (notwithstanding the freedom, flexibility, and other perks).
Others (who don't do this or do it with half-ass attempts), however, have a tendency to make it all seem like it's not worth it. Or that it's not big enough. Or that it's not even a "business".
That's false.
Times have changed. Businesses have changed. As Brian Clark puts it, say hello to the:
"Rise of Personal Enterprise".
Creator Economy is an "economy" for a reason.
Millions are made (without too much capital infusion), if you do it right. So, when you sell digital products/courses or memberships on Podia or Payhip or start a physical product-based eCommerce business (including Dropshipping and Print-on-Demand) on Shopify.
Or you do blogging, live streaming, and maybe sell coaching or other services.
No matter how you cut it, it's just as much a business as Amazon is, except that the overheads are low and maybe you work alone.
Don't ever let anyone tell you anything else otherwise. Period.
Pick the Right Platform [& Stick To It]
Depending on what you want to do, you'd want to pick the right platform for it. Choosing platforms is hard and there are several options.
The only time you change platforms (and spend time or money) is when you already have sales coming through and when your needs change.
If all you needed was just a website. Pick Strikingly, Simvoly, or Leadpages Website Builder. Need more choices? There's an entire list of 23+ nocode Website Builders that you could choose from.
If you sell online courses, run membership sites or sell digital products: pick Podia or Payhip.
If you sell physical products, pick Shopify.
For blogging, pick WordPress. If you are so inclined (and if you don't mind a slight learning curve), Webflow is great.
Once you pick a platform and when your website or eCommerce site is ready, don't waste time trying to move platforms, change website(s) again — unless you make thousands or millions or more and when your needs change.
Diversify Your Digital Marketing
It's shocking that so many full-fledged businesses with access to tools, platforms, cash, and teams do such a horrible job with marketing implementation, let alone content creators (mostly one-person businesses or those with small teams).
Whatever you do, understand that digital marketing is an umbrella (with various little things in there) that complete the picture (or is it a jigsaw puzzle?).
At the very basic implementation level, you'd need:
Regular blogging, at a cadence or publishing velocity (1X, 2X, 3X, or 5X blog posts per week)
Videos: Short form videos for YouTube, Social Media networks, and as standalone content. This is in addition to Long-form videos for special access content, webinars, and live streams. If you use videos for prospecting, here are some 11+ fantastic video prospecting tools (including Dubb, HippoVideo, and many others)
Active social media presence: Share what you publish + Interact with others & Build an organic network on social platforms.
Email Marketing: Use ConvertKit (great for bloggers, online course creators, and content creators). Drip or Klaviyo for eCommerce.
Those are the main pillars — regardless of your business. On an Intermediate or advanced level, you can try adding more sources (If your budget permits) such as Meta (Facebook) Ads, Google Ads, Quora Ads, Twitter Ads, LinkedIn Ads, Reddit Ads, and so on.
Each of those platforms are sources (for reach, clicks, and traffic). Landing pages (also applicable for eCommerce landing pages are where visitors convert into subscribers or customers).
Swear By Smart Features (On Smart Platforms)
How you get the competitive edge and do more than anyone else while still being a nimble team of "One or slightly more than one" is to be smart.
Every single platform or tool I know of has several features that can help you do more than you thought you can.
Here are some examples:
Payhip allows you to pre-launch, build a complete website for free (not a dime paid upfront), and many other features to help you grow.
Descript allows you to edit, process, distribute, repurpose, and work with videos (for all purposes).
All of the platforms above have integrations with ad platforms (such as Meta or Instagram), email marketing platforms such as ConvertKit, MailChimp, and Drip. All of the platforms have access to even more features that'll make your job easier as a content creator.
There are more, and there's even more coming.
Don't just read and nod your head. Use these features, the powerful access to global audiences (thanks to Google, Meta, and others), and the power of your own content to build audiences.
Read more:
Online Course Creator Challenges: 6 Real Stories
5 Pillars of Content Creation Success
How do you plan to grow? How do you intend to grow your business as a content creator? What's next for you?
Tell me all about it on Twitter, LinkedIn, or my LinkedIn Brand page.