Would you like to learn how to Sell Courses on Shopify?
You can. Read on to find out exactly how
Choosing online course platforms was never easy. It's also one of those online course creator challenges that truly exist.
Normally, you'd want to use a dedicated platform built for selling online courses such as Podia, Payhip, and Thinkific.
No, I wouldn't suggest WordPress LMS (Just in case you mind was drifting). Also, don't even think of selling courses on Udemy.
If you are a Shopify aficionado and if you'd like to use the super powers that Shopify has (built-in), it does make sense to learn how to sell online courses with Shopify.
As such you get a host of features such as Shopify Email, Shopify Flow, a way to sell directly on YouTube, and several apps that let you do anything along with the reliability, hosting, and security of the eCommerce platform.
TL; DR: Get started with Shopify and use the app called Courses and Memberships by InflowKit.
Courses and Memberships App for Shopify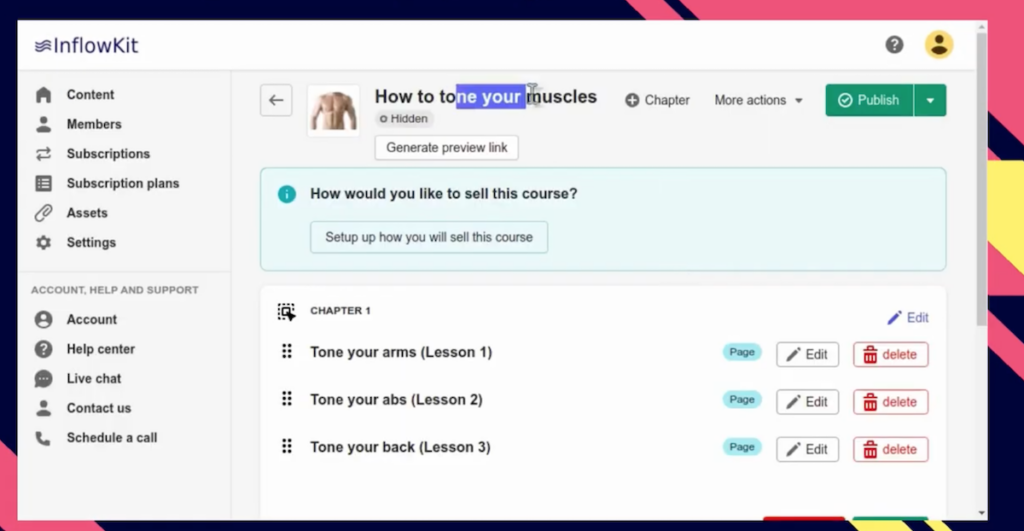 To sell online courses on Shopify, you'd need access to Shopify itself. Then, you'd need an app called Courses and Memberships by InflowKit.
Using these together, you can sell online courses (or memberships) on Shopify.
The Courses and Membership App for Shopify by InflowKit has a seamless workflow, plays well with Shopify, and has no impact of Shopify store page speeds.
With the Courses and Membership app for Shopify, you can:
Create and sell professional online courses — along with features such as tracking student progress, delivering tailor-made content to your students (or customers), and also award course completion certificates.
You can also sell digital downloads, if you'd like. Upload files such as music, virtual art, graphics, templates, and sell digital downloads on Shopify.
Note: If you want to sell physical products on a subscription basis or if you'd like to check out more options, here are some fantastic apps to sell subscriptions.
Alternative Platforms To Build Online Courses
If you don't want to go with Shopify for selling online courses (because you do have other options), here are some alternatives to Shopify (specific to selling online courses)
Podia: A comprehensive platform for selling online courses, selling digital downloads, digital products, memberships, coaching, consulting, and selling access to online communities. Podia also has a free plan.
Read:
Podia Review: Best Way to Sell Online Courses, Memberships, and Digital Downloads
Payhip: A full-fledged eCommerce store platform that helps you sell physical products (If you'd like to) or sell online courses, services, coaching programs, memberships, and more.
Read:
Payhip Review: Sell Digital Products and Online Courses, For Free
Thinkific: A long-time player in the online course platform space with ready-to-use landing page builder, communities, selling online courses, bulk-selling courses offline, monetizing online communities, and more.
Read:
Thinkific Review: Sell your Online Courses, Fully-loaded
Would you like to consider using Shopify for selling online courses? Why? or why not?
What's your most preferred online course platform to sell online courses?
Tell me all about it on Twitter, LinkedIn, or my LinkedIn Brand page.