Unounce and Stripe integration is a must-have integration which helps you add, authorize, and to sell products directly on landing pages.
Apart from a several pre-optimized layouts to choose from, using eCommerce landing pages lets you take advantage of undeniable focus that landing pages provide with frictionless checkout (backed by Stripe).
Typically, you wouldn't use landing pages for eCommerce right off the bat — not exactly used the same way you'd use landing pages for lead generation, for getting click-throughs, and so on.
But why not.
eCommerce is all the rage now. If a transaction were to happen (any kind of an event, conversion, and transaction), it better happen on a landing page where the message is clear, products are presented properly (in all their glory), and where there are no other distractions.
Unbounce Apps are the new way to use some of those popular apps (the ones you already know and love) and make these apps work, right on your landing pages without going through hoops.
What is Unbounce Stripe App?
Stripe App is a dedicated app for Stripe in the Unbounce Apps collection and helps you plug Unbounce and Stripe together if you ever wanted to collect payments upfront for eCommerce products, services, eCommerce preorders, and anything else.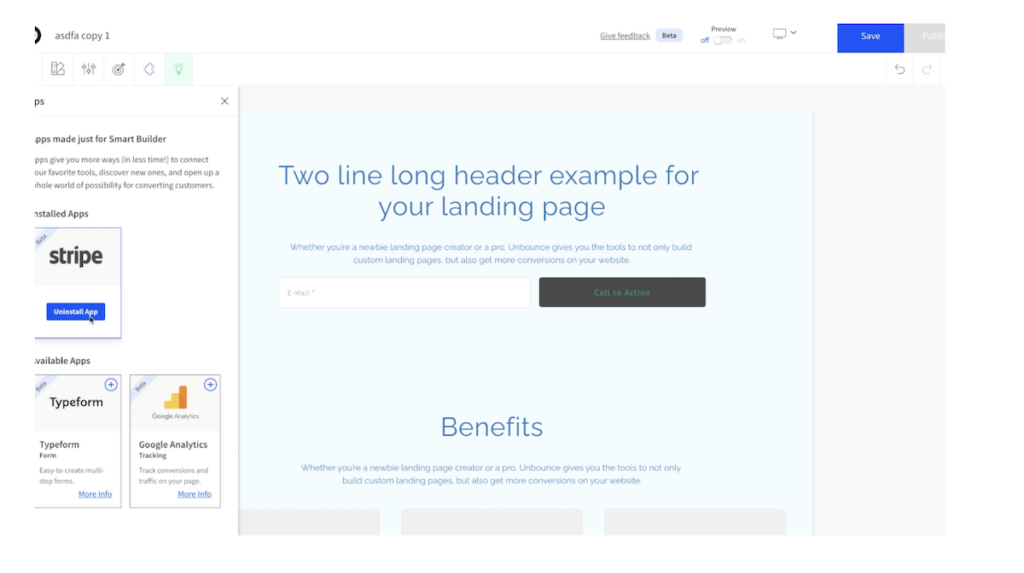 Unbounce Stripe Set Up: 6 Reasons Why You should consider
Unbounce gives you everything you need to create multi-landing pages for multiple eCommerce campaigns:
Tight integration with several apps (such as Mailchimp, ConvertKit, Drip, and others). Landing pages also work directly with Shopify. Connect with more using Zapier and Webhooks as well.
The ability to build several variants for each landing page (and test those).
Excellent Support, 24 x 7.
More specifically though, here are reasons why you should consider Unbounce Stripe combination:
It's all about presentation
How do your potential customers perceive your eCommerce brand and products? When they arrive, what do they feel? How do they connect?
You have to make an impression, within seconds. Given that multiple landing pages used should match the messaging, style, colors, and the story of the campaigns you run, you'd need a way to build multiple landing pages — fast, easy, and quick.
Unbounce landing page builder is a drag-and-drop builder that helps you whip out landing pages (single or multiple) — as many as you need, while staying on brand and purposeful.
Customize Without Coding
There isn't a line of code you got to touch (unless you do intend to add tracking pixels, work with products like Anytrack or SuperMetrics, and so on) when you create landing pages for eCommerce.
Unbounce Apps — work with a single click. Look for the app you need, click on it, and connect. The Stripe App for Unbounce is available at a click.
Apart from Stripe app for Unbounce, use Google Analytics, add Facebook (Meta) pixels, embed shoppable products, and more.
Landing Page Checkout = Revenue & Profit Goals
The Unbounce Intelligence™ Platform helps you create, manage, and test multiple landing pages with insights from billions of data points to optimize customer journeys. It makes use of Conversion Intelligence so that you focus on campaign results on not the nitty-gritty of designing landing pages for conversions.
Present your brand and products well enough and with powerful landing page copy, you have your job cut out for you.
The next thing you need is for a proper, seamless, friction-free, and easy checkout on landing pages, apart from connecting with Stripe (which you are doing anyway).
Maximize total revenue with tools designed to avoid friction at checkout, protect your business from fraud, and drive higher conversion.
Sell Global
Stripe works with more than 135+ countries worldwide and you can sell in any currency you want. Never having to jump through hoops or trying to figure out how to do it.
Launch in new markets (or precisely in the markets you choose + use local currencies), expand your business, and let customers choose their payment methods to help them pay.
High Conversion Landing Pages
Unbounce Smart Builder does the heavy-lifting by picking up the perfect design — optimized for your industry, audience, and campaign goals. It also creates copy (text) for your campaign (with you can edit).
Integrate each eCommerce landing page with the necessary apps and connect more apps with native Unbounce Integrations, webhooks, and also Zapier.
Regardless of what you sell, build payment-enabled landing pages with Stripe and Unbounce in minutes.
Test Pages, Like a Pro
With the legacy A/B testing features inside Unbounce (along with the new Smart Traffic™ feature), roll out campaigns and test landing page variants to discern what works (and what doesn't) using data (not your own perceptions, thoughts, feelings, and opinions).
Guide your campaigns to success by data-driven marketing. Add tools like Databox to the mix and you'll be able to visualize data comprehensively, without slipping through cracks.
Read:
How to Use Unbounce Smart Builder
Unbounce Apps: What Are they? How To Use Them?
Unbounce Review: Why It's the Only Landing Page you'll need?
The Ultimate Guide to eCommerce Conversion Optimization
Note: If you don't use Unbounce, you can also use alternatives like Leadpages and Instapage for similar features and create eCommerce landing pages for marketing campaigns.
Do you use Stripe with Unbounce? Or Stripe, in general, to sell services or products?
Tell me all about it on Twitter, LinkedIn, or my LinkedIn Brand page.