Do you run email sequences for your eCommerce store or for your business? There are chances that you do. There are also chances that you don't.
If you don't, launching "some welcome email sequence" is way better than no emails at all (really, your business deserves better that complete silence after a visitor signs up for something, downloads a coupon, grabs a free course, or happily takes up on your free PDF download offer).
But there are rules to create winning emails. Just as it's for most things, there are things you do and things you shouldn't be doing.
Create friendly, Non-salesly Email Sequences
By default, you should have a welcome email sequence — one for each sales funnel. Or maybe you can have email automation workflows setup in a way that they all culminate in a set of main automation sequences that are setup in a way that gets you results.
Whether you have one or many welcome email sequences, be sure to keep the first set of email sequences friendly and non-salesly.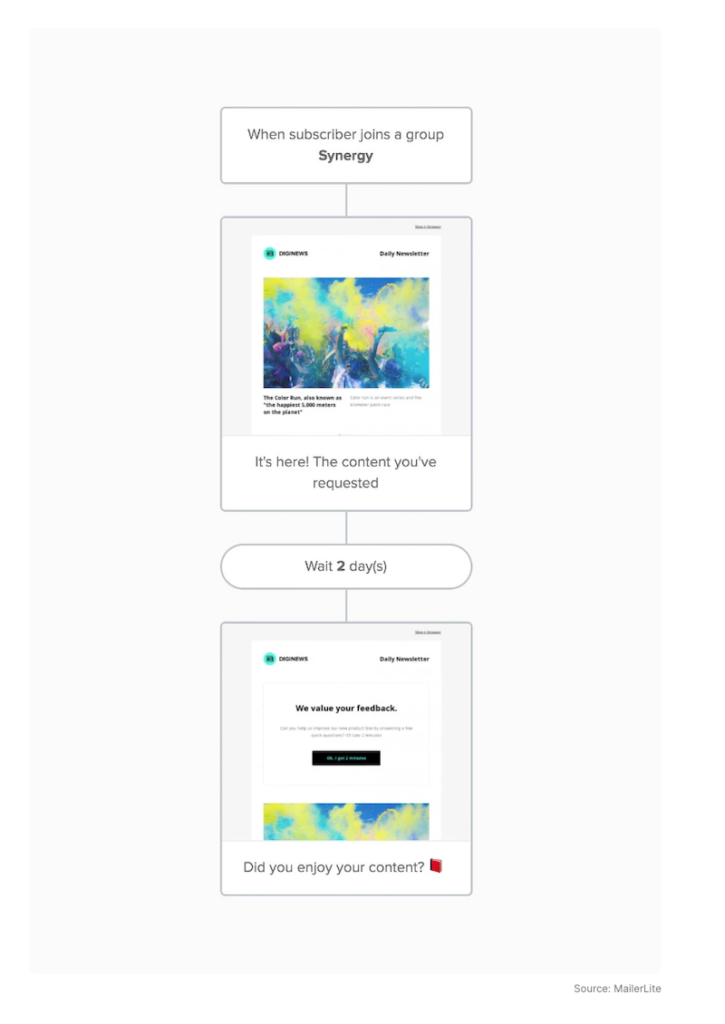 No one is going to buy if you push them too hard (on first contact).
Note: People discover you first. They take another step further by downloading something from you (including coupons). None of this means that they'll buy right away. The whole point of sales funnels (including welcome email sequences is to ensure that you build "relationships" and nurture this pipeline.
Need help getting started? Here are some resources:
Read:
20 Welcome Emails That Build Trust for Long-term Engagement
Sets of Sequences Per Sales Funnel
Let's say you have one primary lead magnet (like a course or a white paper or an eBook). You'd have a sales funnel setup as follows:
Offers for the lead magnet — with lead generation elements (such as Calls-to-action within your blog posts), opt-in forms, smart bars, slide-ins, and so on.
Landing pages to help promote the lead magnet exclusively (with a form included).
Email workflows and sequences (use MailerLite, Moosend, ConvertKit, Klaviyo, MailChimp, and other email marketing platforms). Each email workflow starts with the first email which acknowledges and/or delivers (what you promised). Later, you can have a standard email automation sequence (common for most sales funnels) built to introduce products, provide more information, and so on.
Read:
Powerful Email Marketing Automation Workflows You Should Use
Sales Offers & Pushing Products Come Later Within Email Sequences
Notice this particular email sequence below — a pre-built email (within a sequence of emails) that's created to entice potential customers to purchase with a special offer of 20% Off.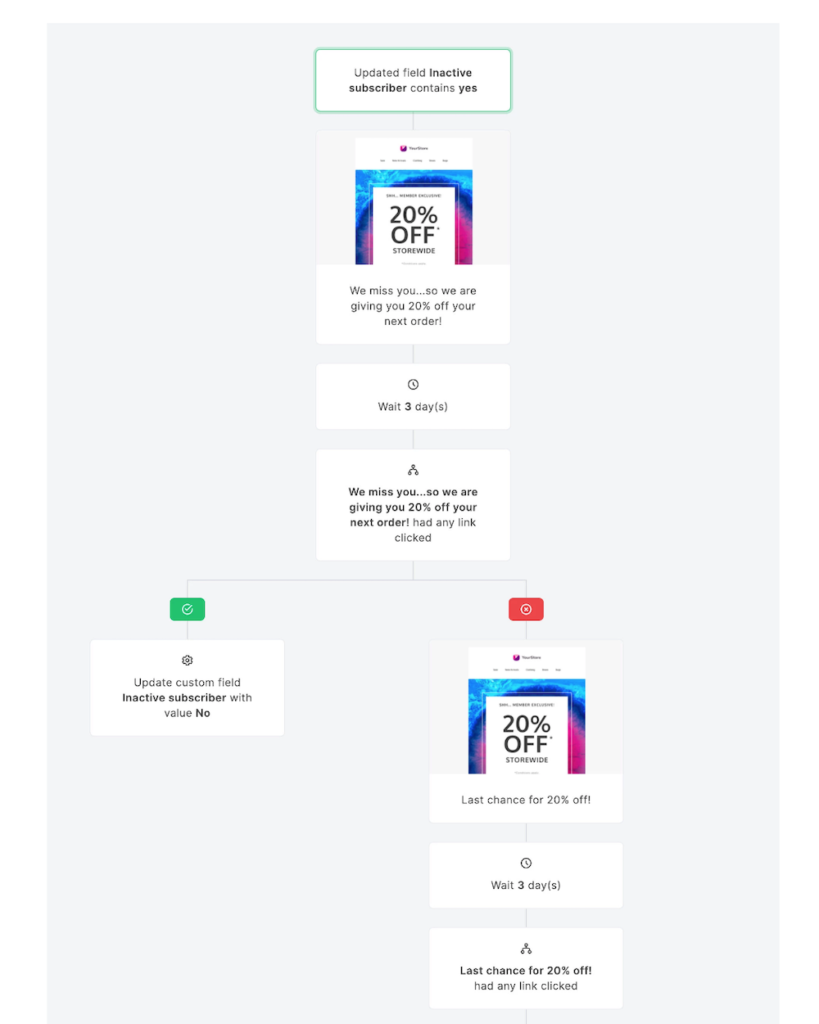 This is a "sales-oriented" email. Ideally, this sort of an email should be positioned (within the sequence) somewhere along the way (after a few emails that nurture and add value to your subscribers or maybe timed for special days such as BFCM or otherwise).
For eCommerce sales (via email marketing as a channel), these emails are thorough bred winners. With great power, however, also comes great responsibility.
That means that you strategically place these winning emails within relevant email automation sequences, avoid over-doing them, and refrain from being too aggressive.
Read:
Welcome Email Sequences Fit For eCommerce
Trigger-based Automated Email Sequences
Some email automation sequences should be completely automated (there's no possible way you could do what these automated emails do manually).
One of the most important trigger-based automated emails you should be using is the abandoned shopping cart email sequence (example below)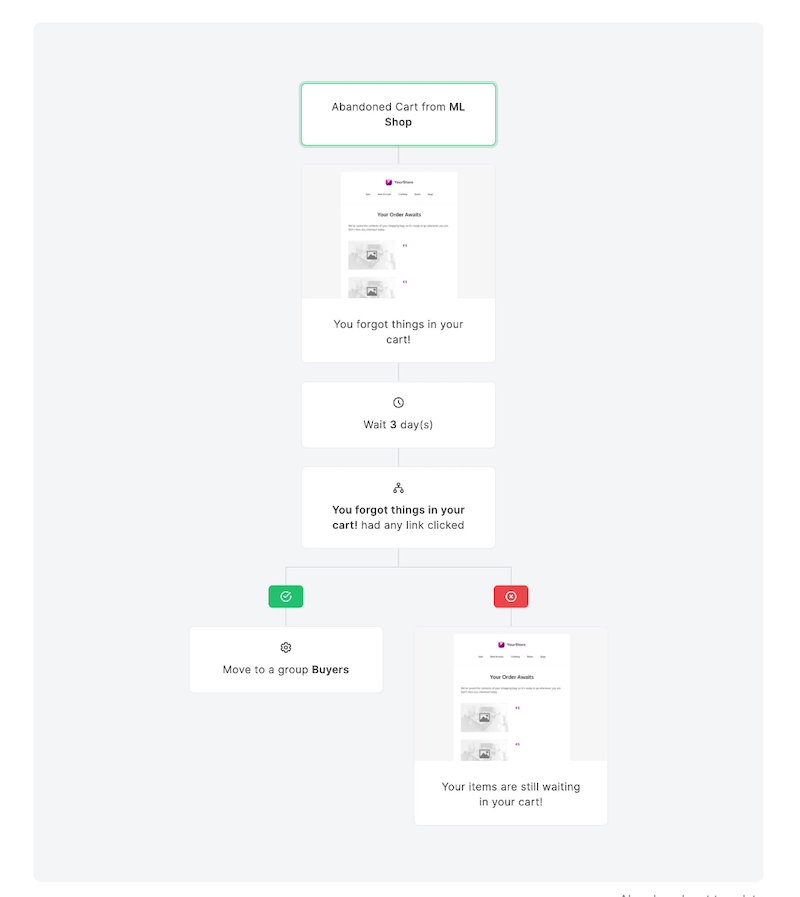 If you want to skip everything else here on email sequences, be sure to at least stick to the shopping cart abandonment email sequences (especially if you run an eCommerce business).
Read:
16 Strong Abandoned Cart Email Examples
30+ Shopping Cart Abandonment Statistics (& Strategies For Recouping Lost Sales)
Nurturing Email Sequences
Traditionally sales people would meet prospective clients or customers, introduce themselves, ask questions, provide information, and then wait to recommend solutions or products to customers based on their requirements.
At least, that's how the art of making sales was (and still is).
Push all this work to the digital arena and it's the nurturing email sequences that do the exact job outlined above.
Nurturing emails are built to help build trust. They exist to create long-standing relationships by providing more information, helpful tips, social proof, "next steps", and more.
These emails can contain helpful content, videos, and more. Some nurturing emails are also curated (much like newsletters) to help provide more information. As a part of nurturing emails, you can also push casual subscribers to watch webinars, listen to your podcasts, and attend live streams.
Here's an example: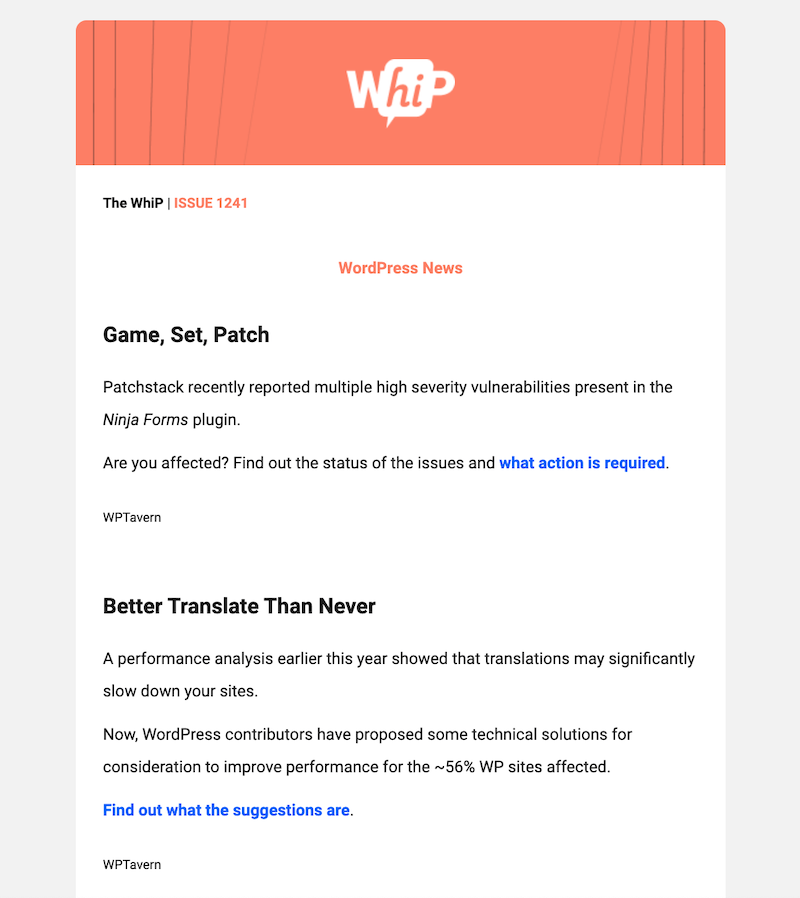 Read:
Complete Guide to Nurturing Email Campaigns That Turn Leads to Sales
How to Turn Shoppers Into Repeat Customers
Which of these email sequences find themselves a staple of your workflows?
Tell me all about it on Twitter, LinkedIn, or my LinkedIn Brand page.