Marketing your eCommerce store is perhaps the most persistent, ongoing issue merchants have. Some free Shopify Marketing tools help ease the process and get to a default "Do it first, tweak it all later" mode.
That's a good thing for Shopify merchants since you don't waste time on things you inadvertently waste time and resources on. These free Shopify marketing tools come with your Shopify subscription — and you don't need to pay any extra monthly fees.
As soon as you are setup with a good Shopify theme, get the basics in place (such as uploading products, writing eCommerce product copy or product descriptions, and connecting your Shopify store with necessary tools such as your CRM or email marketing tools.
Take some time to get your analytics (use Google Analytics, Supermetrics, and any of these analytics tools) and tracking right (use Anytrack), along with data visualization dashboards (use Databox)
Additionally, you'll want to use competitor analysis with any of these tools
Once done, you are good to start marketing your eCommerce store — presumably the hardest part of running an eCommerce business.
To make it easier for Shopify Merchants, Shopify Marketing tools help you launch sooner, faster, and more efficiently. This is how those Shopify marketing tools look like:
Note: Later, focus on customer retention, upselling, cross-selling, increasing the Average Order Value (AOV), and increasing Customer Lifetime Value (CLV)
Generate Leads With Shopify Forms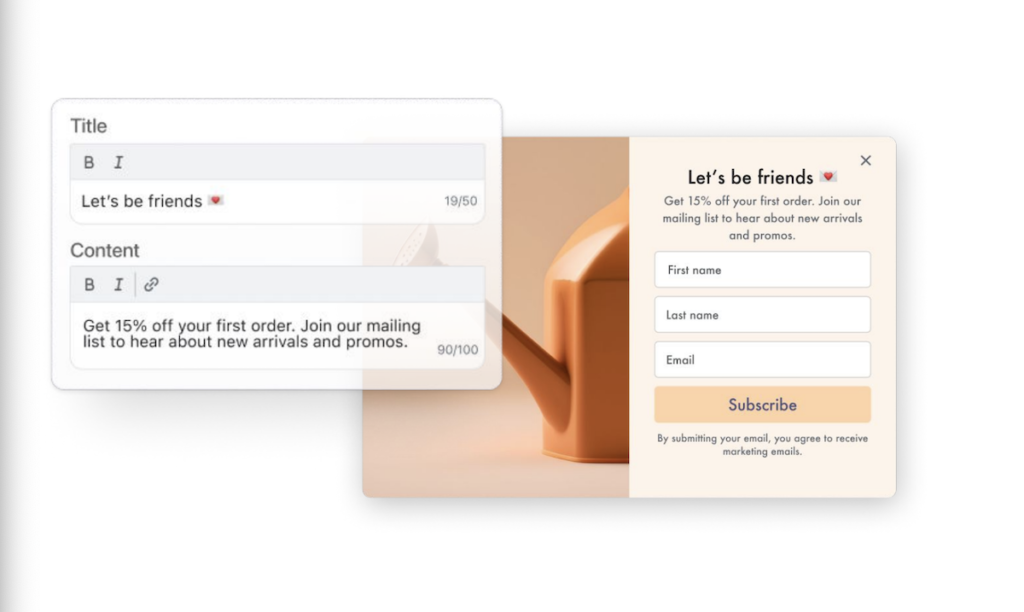 Acquiring customers is expensive. Your job is to help save costs to acquire customers. For this, make the most of every single visitor who lands on your eCommerce site.
Ambitious eCommerce brands already spend time and resources on all things digital marketing — such as eCommerce blogging, SEO (along with taking advantage of Google's SEO features), content marketing, Influencer marketing, social media management, paid ads, YouTube (and other videos), speeding up eCommerce marketing with AI tools such as Google Bard, and more to get visitors to stores.
As visitors visit and browse, find ways to capture turn them into leads.
That's where Shopify Forms kicks in. It's a straight-forward lead generation tool on your Shopify store that you can instantly use to start generating leads for your eCommerce business. Apart from the standard layout and display options, Shopify Forms also allows you to create floating bars, overlays, and add custom fields to help with segmentation (below) and personalization.
Shopify Forms also plays well with Shopify Inbox.
That leads us to…
Capture Live audiences with Shopify Inbox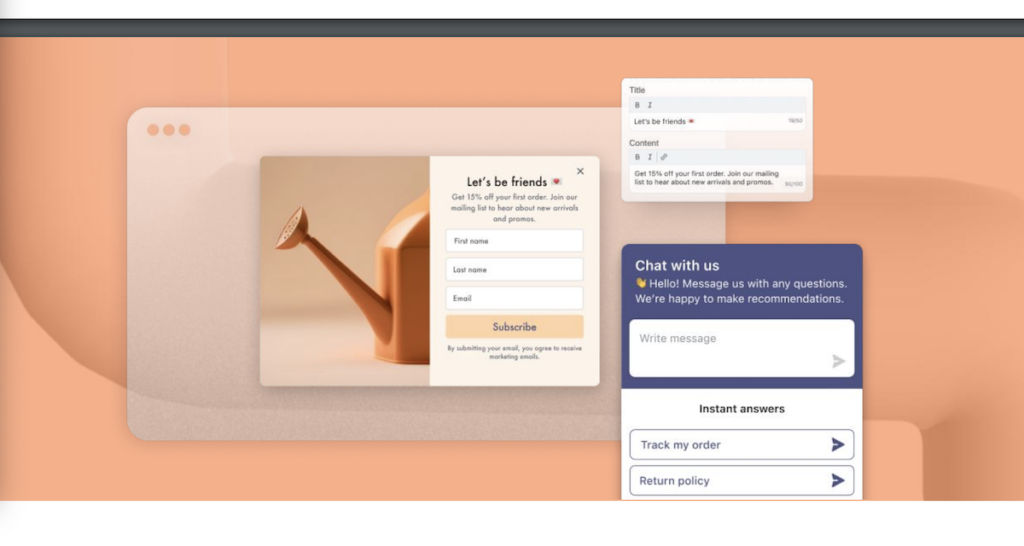 According to Shopify, more than 70% of people who start a "chat" with you on your eCommerce store are already primed and ready to purchase. When they start a chat, they can also opt-in to receive emails, offers, insights, tips, and updates from your eCommerce brand.
Shopify Inbox is a live chat option you can use for free on your store — it helps you receive and manage customer conversations, create automated messages, watch out for the chats that convert (and turns people who talk to lifetime customers). You can also share exclusive discount codes, classify messages, shoot automated emails, and fire up other automated emails (based on triggers).
Here's a case in point:
A customer opts into email marketing when they start a chat to ask questions about your product, a pre-sale question, and so on.
They make a purchase that day, and come back to browse products a few weeks later. Because they're on your list, the product browse automation fires, and sends them an email reminding them to come back and buy those things they looked at on your store.
Pricing: Free
Read:
How Wood Wood Toys Uses Shopify Inbox To Differentiate and Win Sales
3 Examples of Shopify Stores That Increased Sales With LiveChat Campaigns
Audience Segmentation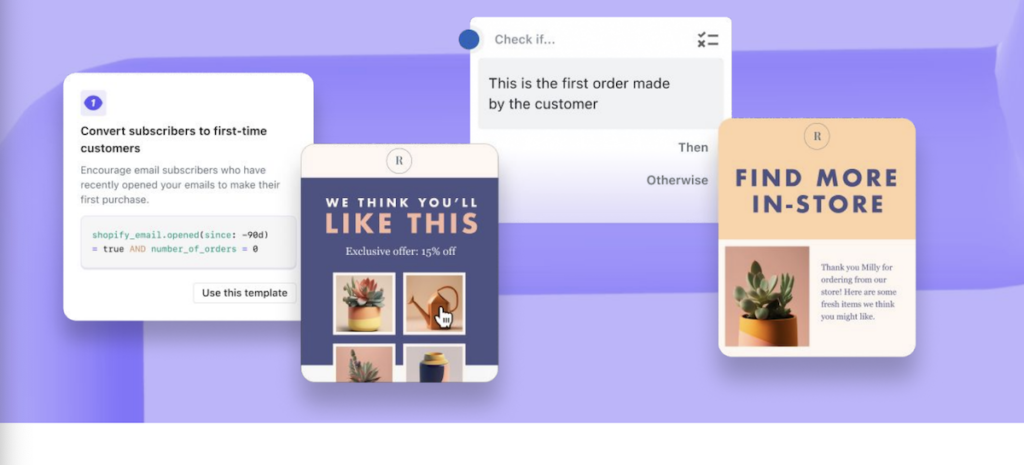 Sending a single email to a massive list of 26,000 people on your email list? You'll be shocked to know just how common this is (and chances are that you already got an email to buy something you already purchased, or your gender changed?).
Segmentation isn't just for large eCommerce brands.
Audience segmentation is the single best way to ensure relevance, boost effectiveness, and to send the right messages or offers to people at the right time (and being nice while doing it).
Segmentation tools in Shopify help you identify groups or segments of customers based on what you know about them — who are they? What did they purchase and when? What products did they ignore? The email marketing messages they opened and clicked?
Within Shopify, in your "customers" section, use pre-built templates and built-in segmentation tools to do it right (and also save time).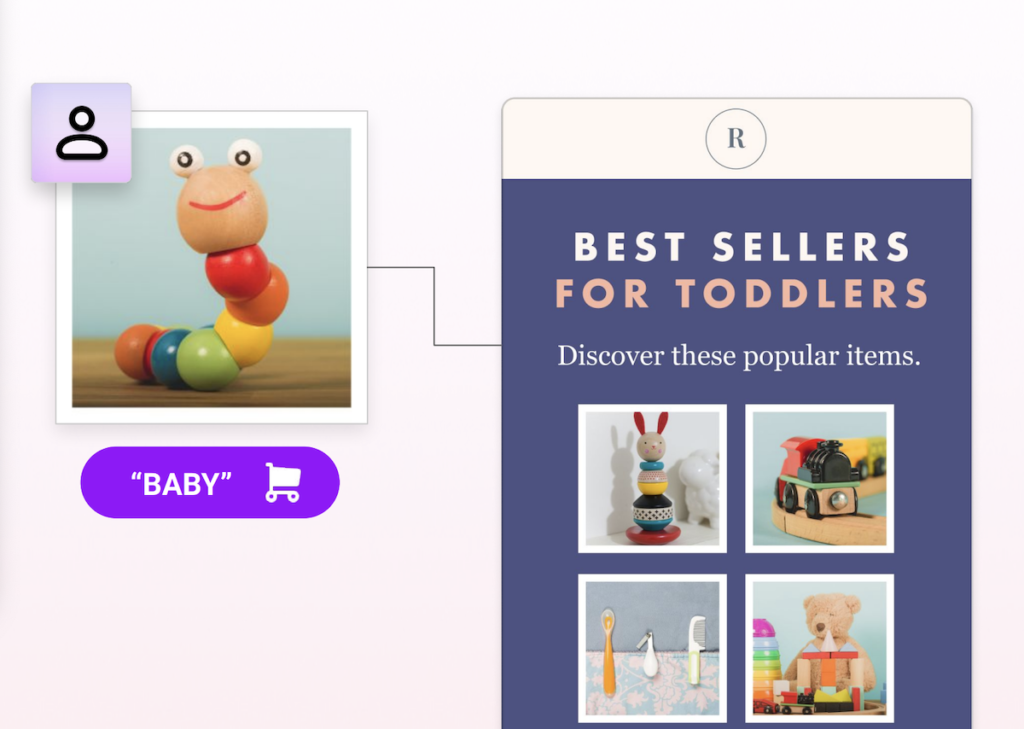 Customize templates by using filters (pre-built or from scratch) to identify distinct groups of customers or potential customers (email subscribers) and so on so that you send out the right messages (relevant ones) at the right time.
Pricing:Free
Read:
What Is Customer Segmentation? Definition and Guide
23 Customer Segmentation Examples Your Business Needs
Marketing Automation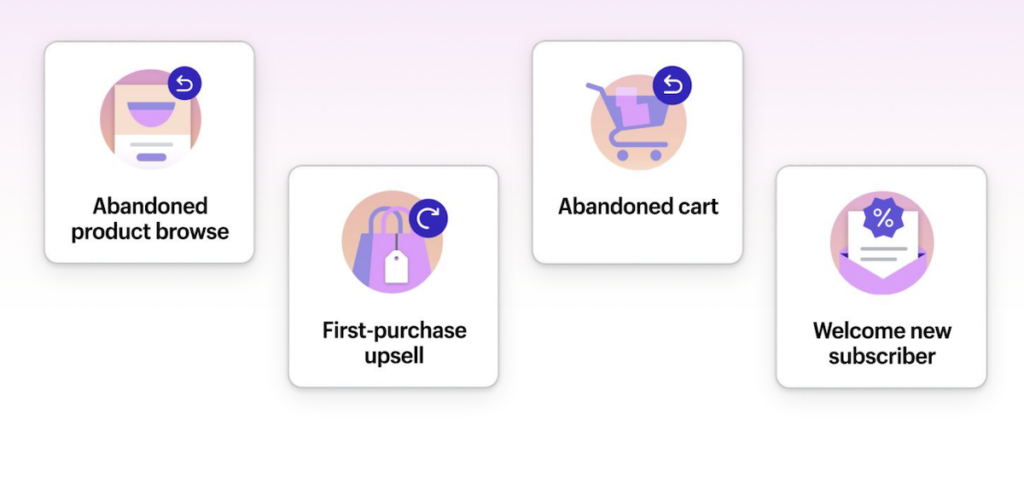 Shopify marketing automation can be as advanced or as simple as you want it to be.
With a few clicks, you can at least semi-automate your Shopify store with emails going out to welcome new subscribers or customers. Or emails trying to bring back those who just abandoned their shopping cart.
Customize your emails (pick up pre-built templates and make them your own) — with your store logo, graphics, colors, typography, and styles.
Use the Shopify email editor (drag-and-drop enough that my 8-yr old niece can do it) and customize complete emails or email marketing workflows.
One set up for each task — such as one to welcome new customers and another one exclusively set up to reengage with shopping cart abandoners.
With some advanced automation techniques, you can wait for a specific period of time before another email goes out. Or you can pull and push customers into different email workflows (when they successfully complete one).
Case in point: If customers complete purchasing a product, they are put into another workflow that's focused on upsells or cross-selling.
Or, customers complete an abandoned product purchase and are then pulled into another campaign to buy related products or best-selling products.
Or, when customers make a purchase equivalent to a $ target amount, automatically place them in a "VIP Workflow" (Pamper them, maybe? Launch an exclusive loyalty program where they are automatically enrolled with an option to opt-out?).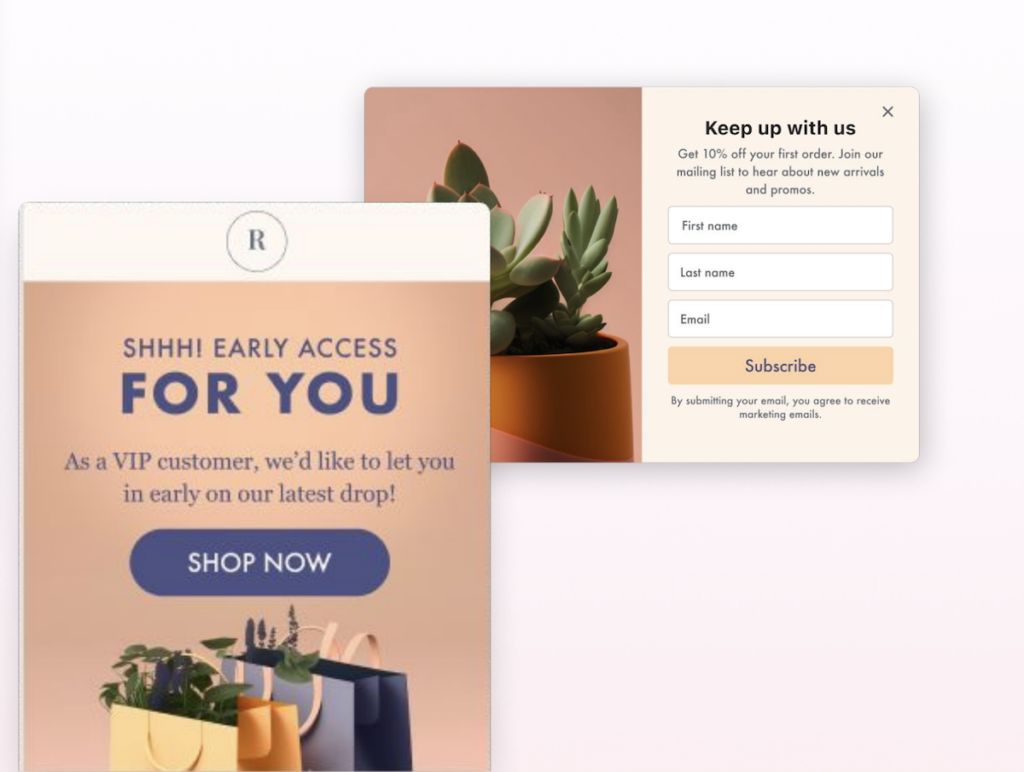 If you don't want to use Shopify automation, you can do similar workflows with other email marketing programs such as MailerLite, Moosend, ConvertKit, Klaviyo, and Mailchimp.
Pricing: Free
Read:
Top Marketing Automation Mistakes You Should Avoid
Marketing Automation Platforms: Do They Deliver?
Shopify Email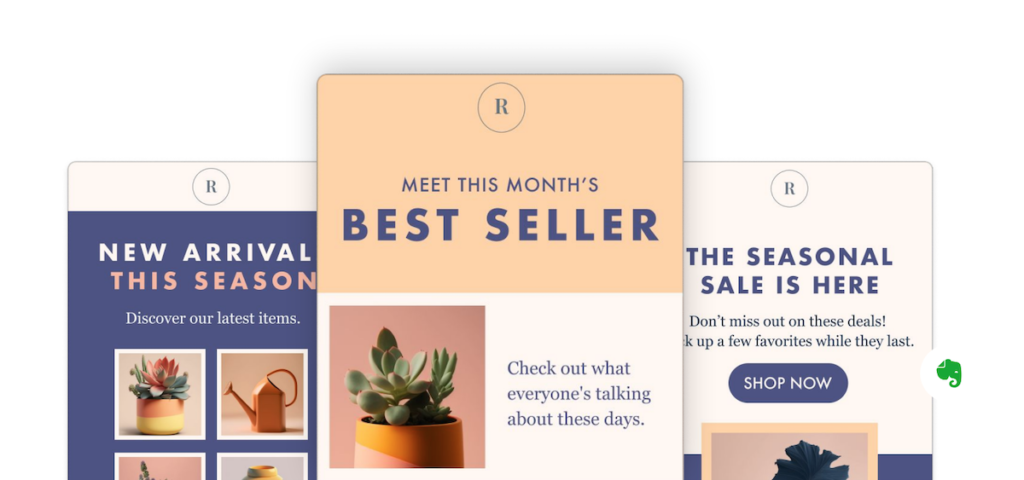 More than 92% of adults use emails with 99% of these adults checking emails every day (multiple times per day). Nothing compares to the vast potential email marketing has (still has!).
According to these OptinMonster email marketing stats, more than 77% of businesses use email as a part of their marketing strategy.
At least 50% of email subscribers buy from a marketing email at least once a month, according to Sales Cycle.
Email marketing automation alone can contribute up to 320% more revenue (than if you don't).
It's all about the simple things, and often more about consistency in sending emails (and then working to make it better).
You don't have to go to the moon and back for making email marketing work for your Shopify store, thanks to Shopify Email.
With Shopify Email — works just like MailerLite, Moosend, ConvertKit, Mailchimp, or Klaviyo — create and send emails.
Make use of several pre-built templates to make them your own and show up looking their best. The visual editor can help you edit, make changes, tweak, add content, highlight your best products (including best sellers).
Shopify Email plays nice with marketing automation (above) — and also with the other free Shopify marketing tools you'd use. Launch abandoned cart emails, cross-selling emails, upselling emails, welcome new customers, and more.
Read:
How to Use Shopify Email [Grow Your ECommerce Business On Auto-Pilot]
Pricing: Free for your first 10,000 emails every month, $1/1000 emails after that—and volume pricing kicks in after 300,000 emails per month.
What are some of these free Shopify marketing tools you swear by? Which of these do you use? How is it working out for you?
Tell me all about it on Twitter, LinkedIn, or my LinkedIn Brand page.