If you are wondering about How to succeed with dropshipping, here's the guide to help you do that — along with the resources you need.
The topic on how to succeed with Dropshipping has been covered to death already. So, we won't get into the basics of dropshipping, the nitty-gritty, the technical or operational aspects of dropshipping, and so on.
I am a marketer with an eye for results. I do things that make money (not to pander to egos).
This post is all about doing what you should do in terms of positioning products, pricing your products, the strategic stance you should embrace, and the marketing tactics that keep your costs low but still bring in sustainable profits over the long term.
However, I do understand that if you'd need to dig into the basics of dropshipping, there are some awesome resources that I trust (and that you should trust too).
Dropshipping Resources You Should Bookmark
Learn how to Start & Succeed With Dropshipping [Webinar On Demand]:
The eCommerce Blueprint: How to Start an eCommerce Business From Scratch
Free Shopify Tools You Should Use [Whether or not You Use Shopify]
The Essential eCommerce Checklist That Every Brand Should Know
Now that we got the basics covered, let's dig right into a few clever, intuitive, and sensible marketing tips to get you started
Think about "Content Potential" Of Your Dropshipping Business
Most of the resources above (and below) help you
Identify potential niches you could start your business around 
How to build Your eCommerce Store For Dropshipping

I'd like you to think about what I call "content potential" around your products, product categories, or the topic clusters that relate closely to your business.

What is "Content Potential" and why should you care? If you have potential to do content marketing for your eCommerce dropshipping business, you have distinct competitive advantages:
Content marketing has the potential to get you sustained business results (traffic, leads, sales, and a juicy Average Order Value — compared to anything else you'd try to do. 
By doing content marketing, your options for branding, brand recall, and the impact you make are a lot higher.
Content marketing automatically helps you build a community around your dropshipping business. So, instead of "being somebody in the sea of somebody", you have a chance to build strong and sustainable brands over time (even if you were doing just dropshipping).
Need examples?

Let's take a few possible ideas for dropshipping products from this huge list of trending products
One of the top products to sell are "accessories for pets, Pet Carriers, and crate accessories".
Target audience: Singles and couples with pets.
Topic clusters: For content for your blog posts, other content assets, live streams, webinars, and more could be:
"Traveling with pets"
"Airline Approved Pet Carriers"
"Documentation needed For Traveling With Pets to [Insert Destination Country"
Navigating Rules For Carrying Pets To International Destinations"
And topics around Pet Care, such as:

"How to Create Allergen-free Rooms for Pets"
"How To Decontaminate Your Pet"
"Creating Save, Loving, & Caring Environments for Pets"
You can then repurpose this content (maybe in a slightly different way) for videos, live streams, and webinars for Pet owners.
The purpose of creating all of the content above is to generate trust with potential customers (of your dropshipping store or eCommerce store), have them get into your marketing system (such as to sign up for your eCommerce store discounts or shop on your store, and more).

Note: While producing content, don't get stuck with "perfection", "grammar", "number of words in a blog post", and so on. The only thing you should be concerned about is the "value" you provide with this content and the Publishing Velocity.
Note: Content marketing is long-term marketing. If you get short term results (like sales on your dropshipping store right away), good for you. You are aiming at long-term and sustainable results though — keep your eyes on the never-ending line of carrots at the end of the never-ending stick.
So says my tweet.
Read:
How to Create an Effective Content Strategy for eCommerce
How to Boost Sales with Blog Content for eCommerce Brands
Get It Into your Head: SEO Is About Humans First, Search Engines Second
Work Your Way Around Margins and Pricing In Dropshipping
The dropshipping business model doesn't give you wiggle room as far as margins go (the difference between the suggested retail price and the cost price that your supplier provides).
Most people seem to forget, however, that you do have some room for pricing your products right.
Pricing products will rightfully take an entire book or more to do justice to. But here's the broad view of how to increase prices of eCommerce products.
Start with a USP, a defined niche (or target audience), and focus.
Do a lot of research on dropshipping suppliers to ensure product quality. Once you find the right suppliers, see if you tag add-on products (for cross-selling and upselling)
Add a "delight" component to the shopping experience — fast shipping maybe? Or bolt on freebies?
Be sure to use customer service as a competitive advantage (it's a profitable channel you probably ignore). People are willing to pay a premium for brands and businesses with great customer service. Use tools like Gorgias to make it work for your eCommerce business.
Use the Might of Social Media

On social media, if you are doing it right, you'd benefit from social media. You can use social media to:
Tap into Word-of-mouth marketing, powered by the scale of social. 
Distribute the content you create on social media as a part of marketing your products (above)
Share your live streams, share videos, and even do live selling. 
To get there, you'd have to do social media right. To do it right would mean that you'd put "value first", "engage with others", "Be social", and more.
It's not just "sell sell sell" on social media. Ever.
Read:
Get Seen on Instagram: 370+ Top Trending Instagram Hashtags to Increase Likes and Follows
Generate Leads, On eCommerce Site

Do you know of the most important opportunity that most eCommerce stores and dropshipping businesses throw away?
The opportunity to generate leads on site. At most, you'll probably see a single "pop-up" appearing on an eCommerce site when you visit.
Not enough.
First, take the effort to stagger your lead generation elements such as Popups, slide-ins, exit intent pop-ups, sticky bars, promo bars, Javascript-driven snippets, and so on.
Time them right and use them strategically. Here are a few ways to multiply the results you could get by going beyond that "single popup":
Use tools like OptinMonster, Leadpages Pop-ups, and Unbounce Pop-ups to help achieve these tactics.
Provide simple discount offers, based on products or product categories while visitors are browsing. 
Deploy exit-intent popup (with a last minute — albeit juicy — offer) just before visitors exit without shopping 
Don't show pop-ups (unless it's a cross-sell or an upsell) "after" someone purchases something. 
Make "slide-ins" appear after a visitor spends a certain amount of time on site.
Read:
17 Creative Marketing Ideas for Small Businesses
The 65 Best Marketing Tools for Online Businesses
Don't do Paid Ads, Unless
The dropshipping business model has several advantages and disadvantages. One of the noted disadvantage is the lack of control on margins and a cap on pricing (if you just keep everything the way it is — without making changes to strategy, positioning, branding, and marketing).
Paid ads are a great way to promote eCommerce businesses. It won't work by just showing ads though (there's a lot more to this).
The average cost per click of a Facebook ad (globally) is around US $ 0.44 in 2022, according to Wordstream
Here's a simple chart that shoes the average cost of paid ads across the board: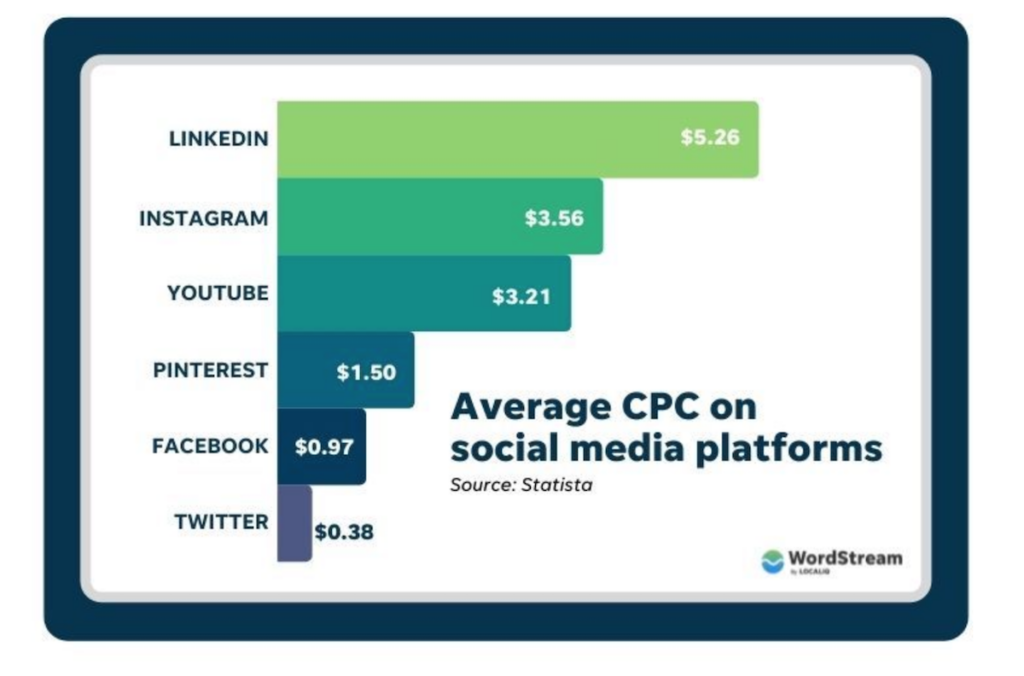 Here are some simple thumb rules if you want to determine whether or not you should use PPC for dropshipping business:
PPC (or paid advertising) has its strengths and you should be using all of the advantages it provides for businesses — regular campaigns (push for reach and traffic), lead generation campaigns (generate leads), dynamic ad campaigns (makes use of your product data feed), Google Shopping campaigns, retargeting campaigns, and more.
Ads should lead to a way to get customers into your marketing system (not direct purchases — while it's a nice bonus to brag about). Once your potential customers sign up, you should ideally use SMS marketing and email marketing to tap into the full potential of these marketing strategies.
Do paid ads for eCommerce only if you are willing to go the full mile w.r.t complete paid ads strategy which includes end-to-end email marketing. For instance, you'd need to start with appropriate segmentation first. Then, use retargeting emails, shopping cart abandonment emails, regular transactional emails, email broadcasts, and so on.
Read:
Customer Acquisition: If the Math Doesn't Work, Your Marketing Doesn't Work
25 Alternatives to Running Paid Ads to Promote Your eCommerce Business
Converting Cold Traffic: How $200K in PPC Ads Generated $1.8M in Revenue
Customer Support Is Worth Millions
eCommerce businesses — especially dropshipping businesses — are more than thrilled when they start making sales. There's something to be said for the cash register going "Cha-Ching" when sales happen.
So, you'll make some cash. Orders will roll in. Because this is dropshipping, orders will also be processed and products will be shipped.
What are you doing, meanwhile?
Knowing what I know (and what research accurately points out), the answer: nothing much.
That's certainly not how you succeed with dropshipping now, right?
Go all out with customer support.
Gorgias reports more than 8000+ brands turned the usually drab (and often ignored) customer support challenges to make another cool US $ 1 Billion and more.
While you are at it, there are at least 17+ customer support metrics you (and your team) should be measuring.
If you had to just learn one thing when it comes to how to succeed with dropshipping, it'd be to hug your customer support team tight and do it right.
With the number of eCommerce support tools and live chat tools available today, what's your excuse now again?
Read:
How to Generate Consistent Revenue from eCommerce Support
60+ Customer Support Statistics You Should Know
Dropshipping is a wonderful opportunity, yes. You have to learn how to succeed with dropshipping though, and get it right — from research to product selection; from pricing to marketing and customer support.
What do you think it takes as you learn how to succeed with dropshipping? What else is involved? What does it take?
Have insights to share? Join my community on LinkedIn. Or connect with me on Twitter or LinkedIn