The perennial "How to Generate Leads" question needs a revisit: partly because:
Lead generation basics are conveniently forgotten (with folks chasing growth hacks )
No one was listening. We all have whacky ideas for lead generation (not to mention software tools and apps). Apparently, all ideas are great (except the actual ones that work).
Generating highly-qualified leads for your business now takes more work, is more expensive, and you'd really have to move mountains to get potential customers interested.
The total number of ways to generate leads is now growing in number. There are so many ways now that a typically small business owner, eCommerce brand, a blogger, or a content creator has to put in the work continuously (don't ask me for how long?) — while experimenting, tweaking, testing, failing, making mistakes, and re-doing it all over again before getting it right.
Before we dig any further with lead generation, let's cover the basics we need (and no, don't argue or roll your eyes).
Lead Magnets: Your potential customers have choices. There are several eCommerce brands providing what you provide. Several service providers who are your competition. For your customers to truly trust you, love you, and buy from you, they'll need this burning question answered: "What's In It For Me?" or "Bribe Me!" or "Show me what you're made of". You do with lead magnets: a PDF checklist, a coupon code, a white paper, a handy guide, a brochure, a short eBook with information on how to use products, and so on.
Landing pages: Landing pages convert better (and way higher!) than regular web pages. I have the numbers but I won't insult you. If you have a way to convert a regular web page into a landing page, do it. Most of the modern no-code website builders allow you to create smashingly handsome (and high-converting) landing pages. Or pick from one of the leading landing page builders such as Unbounce, Leadpages, and Instapage.
Delivery Mechanism for Lead Magnets: You promised something (like a eCommerce coupon code or a PDF file). Now, you got to deliver it. Email is your friend. Use Convertkit, MailerLite, Moosend, and any of the other email marketing tools and they all have ways to instantly deliver what you promised. Period.
No rocket science, eh? Simple enough.
The hard part is to get people to your website and/or landing pages. Which is what we'll expound on:
Your Website For Lead Generation [Don't Read Beyond, Without This]
Please, don't feel insulted reading this. Several businesses still don't have websites. They think a Facebook brand page, an Instagram account, or a "Google Map Listing" showing up on search is more than enough. Then, there are even publicly traded businesses (some of these companies I also invest in).
Here's a little conversation on LinkedIn that you should check out (thanks to Becca Phengvath — a marketing specialist, content writer, editor, and a fellow content creator
See? I ain't the only one harping about the importance of a website — your home, your fort, and this is where you plat the flag. Your website is where you'll add "Ooh, this is so good" resources, blog posts, information about your business, display products (hello, eCommerce), and so much more.
Your website is always in your control (and you don't have to worry about Meta going out of business).
Technically, a website is also important since you can do smart things with it (add buttons, add call-to-action elements (See effective CTA examples to get inspired from) , launch pop-ups, roll out the sticky bars, and weave magic with slide-ins).
You can't do this elsewhere. Plus, your website — or landing pages on your site's branded domain — is where folks land for almost all of the other options discussed below.
Blogging For Business
Are you a content creator? Freelancer? Real-estate agent? Voiceover artist? Video Editor? Illustrator? Photographer? Major [Insert your brand here]?
Blogging gets you leads.
Regardless of what you are trying to do, put information out first.
Stay with a healthy publishing velocity. Updated, fact-checked, useful, dynamic, inspiring, easy-to-read, easy-to-understand information. Add your brand's tone of voice. Let your brand's collective personality shine through.
Don't get too stuck with grammar, edits, and trying to be the next Economist. You do blogging for business to educate, inspire, let your potential customers read (get informed), and slowly start to trust you.
With a few Call-to-action elements (like graphics, pop-ups, web elements, buttons, and links), have readers convert into email subscribers or leads.
Here's a call-to-action element (a real one).
That's it.
Read this:
Blogging Vs Social Media: A Comparison You Shouldn't Be Making
Social Media
Every has all sorts of ideas with social media. It's like 7 billion+ opinions out there. It'll only hurt you, if your ideal social media management has anything to do with business.
Approach social media for business differently than you'd if you were doing social media just to pass time (I hope you aren't in this club).
First, note that social media is a have for anonymity (and there's no proof for anything anyone says out there).
If you aren't careful (with what you read, who you follow, what you learn, and what you do), you are on a direct collision path for mental health problems and social media could potentially turn out to be a huge waste of time. Plus, social media is toxic (and so you've been warned).
Your goal on social media is to:
Share and distribute content you create (those lead magnets, blog posts, ideas, thoughts, opinions, nuggets of advice, and ask questions when you need to.
Make small conversations with folks interacting and engaging with you on social media networks.
If possible (and if you are on the path to build a brand), aim to create a community (applies on a small scale for freelancers, service providers, and content creators as well).
Build a brand (your own personal brand + your business brand or a combination if you and your business are one and the same). It takes time, but it's worth it.
The final goal of all this activity on social media (across networks — from Instagram to YouTube) is to make people click on your Link-In-Bio and head over to some of those landing pages (and/or your website).
Read:
LinkTree Alternatives: Stop Looking [6+ Options]
Free Link-In-Bio Tools: Grab These, or DIY
Videos, Webinars, & Live Streams
The end result of any video, webinar, or live stream is to have people "click through" and take action.
There are three broad ways to use video for marketing or to use video for lead generation:
Use videos, Live Streams, and Webinars for marketing (tutorials, talking-head videos, other videos, social videos) and letting audiences click through to specified links to landing pages, eCommerce sites, or websites.
Use videos, Live Streams, and Webinars as content assets, which can generate leads all by themselves (In-video lead generation). See how some of the best brands use webinars (along with videos, courses, and other assets as well)
Using YouTube (where your videos, live streams, and webinars can live at).
You can also use videos as a form of content to communicate: Videos for ads, for video prospecting, to train clients or team members using Loom, to stun your potential clients with a video message, to build your network on LinkedIn (Dubb, anyone?), and so on. [ We aren't talking about this at the moment].
Read:
7+ Video Tools: Dominate Your Marketing
Free Video Tools for Business, That Pack a Punch
Video Creation Tools: Free & Impressive
Paid Ads For Lead Generation
Paid Ads (across platforms) to generate leads; not to sell. You don't sit there hoping that your paid ad campaigns will directly lead to your cash register ringing. If this was true, any idiot with a credit card could become a millionaire.
I won't get into the specifics of paid ads management (which also includes the quality of ad creatives, copywriting for ads, landing pages, sales funnels, and automation).
The ads should give you leads. Aim for it, measure it, tweak these campaigns, improve campaigns, and measure how many quality leads you generate using this channel.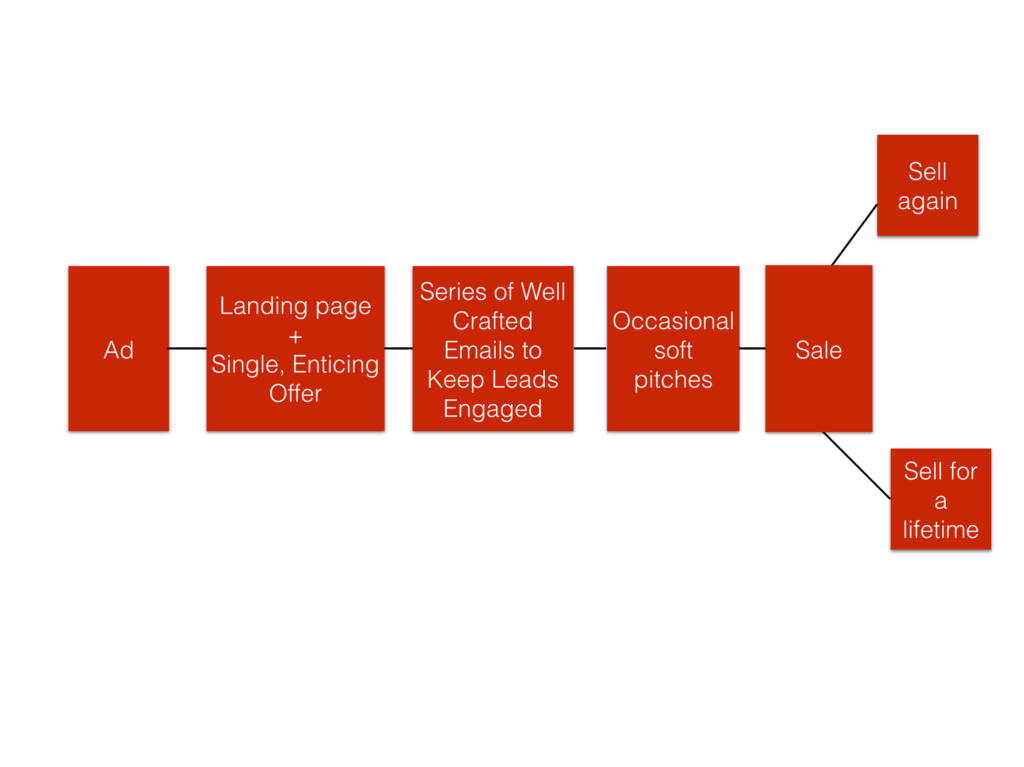 The leads generated are in turn nurtured and managed with email marketing and/or SMS marketing. Period.
What are your thoughts on how to generate leads? What are your primary methods of lead generation?
Tell me all about it on Twitter, LinkedIn, or my LinkedIn Brand page.